How can you strengthen your team's connection (and actually have fun) over a conference call? We've been working with remote teams for over a decade, and we've put together a list of some of the best activities you can play virtually with your remote, distributed, or work-from-home team.
These activities are specially selected for working well over group video calls like Zoom or Teams. We also picked activities that are easy to set up, connective and positive for your team members, and, most importantly, fun to play.
‍
1. Trivia Competition 
One of the best virtual team building activities is a trivia competition. This game is not only a classic but also a great way for team members to learn more about each other as they divulge fun, little-known facts on interesting topics. 
Trivia competitions can span any subject—they don't have to focus on run-of-the-mill ones like "hits of the eighties" (even though we love that, too). If you want these competitions to be fun team building activities, use the ready-to-play, interactive online trivia games below:
Here's how to play: 
Sign up for a free account here: https://slideswith.com/ 
Choose a deck and copy it. 
Click "Start Event" in the top right corner. 
Make your screen visible to everyone.
Invite your team to join the fun! All they have to do to participate is scan the QR code. (Each game is free for up to 10 players, but you can add more people if you'd like). 
Go through the slides one by one to answer each trivia question. Players can submit their responses using their mobile devices.
The answers and winners are revealed on the last slides of the games.
Bonus, many of these trivia games come equipped with fun features to increase engagement, including word clouds and optional live photo sharing. Also, if anyone's curious about who's in the lead, you don't have to keep score. There are leaderboard slides included in each trivia game. 
‍
‍2. Virtual Happy Hour‍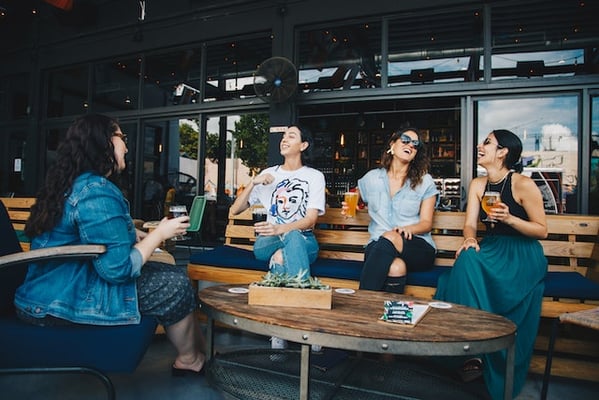 Everyone loves a good happy hour, so why not plan one for your next conference call? Creating a relaxed environment for your team is an excellent way for people to get to know one another, especially if there are new team members on the crew. 
Here's how to host a virtual happy hour:
Find a day/time that works best for your team, usually just after work or even toward the end of a work day. (Pro tip, you could pre-check everyone's work calendars if they're accessible to you, or propose days/times in a team chat, group email, or meeting.
Schedule the virtual happy hour via Zoom or Teams and send a calendar invite to your team.
Before the event, send an email telling everyone they can enjoy an alcoholic or non-alcoholic beverage during the virtual happy hour.
Once it's time for the event, launch it via Zoom or Teams (whatever you chose).
Also, if you want to keep conversations flowing during happy hour, ask fun icebreaker questions like the following: 
What fictional world would you live in? 
What would your talent be at an office talent show?
What fashion trend do you wish would go away? 
What three books would you bring on a desert island?
What would you buy first if you got a million dollars unexpectedly? 
Happy hours are online team building activities you should regularly schedule on Zoom or Teams to maintain bonds across state or continental borders. However, make sure employees know that alcohol is optional. 
‍
3. Two Truths & A Lie
You've probably played Two Truths and a Lie at a party, but it's also one of the best virtual games to date. A classic activity that always promises fun and camaraderie, Two Truth and Lie will help your team discover new things about each other while laughing the entire time. 
Creating this game from scratch isn't easy, though. If you want a template to build on, this one is easy to customize and requires no code or tech-savviness: 
Here's how to customize the slide deck: 
Ask each person on your team to email you two truths and a lie about themselves.
To access the game, provide an email address and password to create a free account: https://slideswith.com/ 
Click the game and press "copy and use this slide deck." 
On each Rounds Slide in the deck, customize it by indicating how many questions are in that round. You can also add images (you can upload photos or choose some from the built-in media library).
On each Questions Slide in the deck, customize it to say the following: Which of these is *not* true about (insert a team member's name).
On each Answers Slide in the deck, input the two truths and one lie about the team member you're focusing on.
After customizing the deck, your work will automatically save, so you can exit whenever you're ready.
Here's how to play:
Once you're ready to play with your team, open the deck.
Look in the top right corner and click "Start Event."
Share your screen with your team.
Ask team members to join the fun (the game is free for up to ten people). Players don't need to download anything. Just tell them to scan the QR code to participate. 
Start playing and getting to know your team! Team members should use their mobile devices to submit answers.
‍This game takes 15-25 minutes to play, and the template comes with free, fun features like word clouds, live photo sharing, user voting, and ratings! If you have a big team and want everyone to play, don't worry. This activity accommodates up to 250 people.
‍
4. Virtual Team Workout
A team that sweats together stays together. Not only will it help your team feel better and be healthier, but exercise is proven to increase productivity. Getting your team moving as a group has huge benefits for both them and you.
Ready to get your boot camp on? Here are some links to studios that do great stand-alone or monthly virtual streaming workouts your team can all do together:
Once you've picked the class you want to take, getting the group set up to sweat should be easy! Here's how you can set these up with your group:
If you have a larger group, you can reach out to the location or studio directly, and get a package of passes (and probably group discounts!).
Or, if it's just a few folks, send out the registration link and reimburse your workers.
Schedule a time that works for as many of your group as possible, ideally during work hours — this makes it a nice break rather than "another work function".
Exercise together! Bonus if you want to have a live slack chat or zoom call running as well so people can make commentary (for instance I might be thinking "omg bending is crazy hard.")
We'd also recommend scheduling a zoom meeting after the class: to get back to work, but also to chat about the class and see how it went for everyone!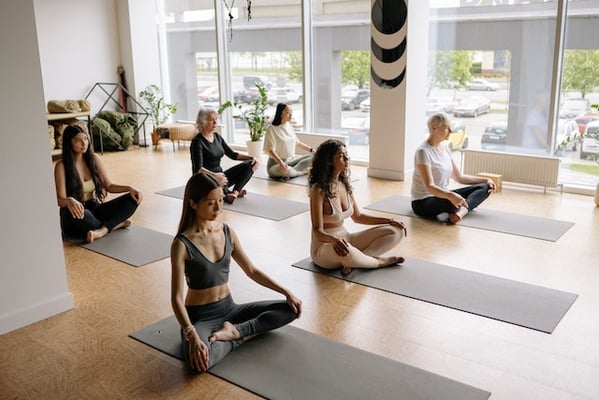 ‍
5. "Can You Hear Me Now?"
This online game may become a team favorite because it's unique, challenging, and fun. All you need to play is a virtual conference room. You can choose Zoom or Teams. Afterward, you can start having fun!
Here's how you play:
Nominate a team member to be the speaker (unless you'd prefer to be this first).
Tell everyone else they'll be artists and need paper and a pencil or pen. 
After everyone's gathered their materials, the speaker should pick an image using a random photo generator.
The speaker should describe the image for the artists to draw. However, the speaker can only mention geometric shapes in their description. For example, the person can say, "draw a small triangle with a circle at the tip of each corner." But they can't say something like, "draw a cookie" or "write the letter U." 
Once the speaker finishes giving the description, the artists should hold up their drawings to see who did best.
Tasked with offering limited guidance, the speaker will need to use effective online communication skills. And the artists will have to listen and interpret while trying not to laugh too hard at their drawings.
‍
6. No Smiling Game
Want the easiest icebreaker ever for your conference call? Try No Smiling, a childhood throwback that decreases tension so your meeting isn't stiff, boring, or awkward. This game is exactly what it sounds like and isn't hard to implement!
Here's how to play:
During your conference call, ask everyone to turn on their video.
Tell your team to try not to smile for 60 seconds while you say silly things and crack jokes.
Even if you're not funny, some people will laugh at your lack of comedic ability. 
‍
7. Virtual Beer Tasting
Do you have a team of beer lovers? If so, there's nothing like virtual beer tasting to get everyone excited and ready to bond. Most may associate this activity with in-person hangouts at a brewery, but rest assured that beer tasting is one of the most popular Zoom team building activities. All you have to do is get the beers and find a slide deck template to add drink names to the title slides. 
There are many companies that are offer guided virtual beer tastings, including the following:
Denver Microbrew Tour (schedule your event here: https://www.denvermicrobrewtour.com/virtual-beer-tasting/)
City Brew Tours (plan your event here: https://www.citybrewtours.com/at-home-corporate-craft-beer-events/gourmet-tasting-boxes/)
Common Space Brewery (set up your virtual beer tasting here: https://www.commonspace.la/virtual-events)
Once you've chosen a company for your guided experience, use this fun, interactive template to run your remote virtual beer tasting: 
Here's how to customize the slide deck: 
Access the slide deck by making a free account here: https://slideswith.com/ 
After clicking the slide deck above, copy it using the pink "copy" button.
On slide 4, input the name of the first beer your team will taste.
On slide 13, input the name of the second beer.
On slide 26, input the name of the third beer.
Duplicate slide 26 if you'll be tasting more beers (continue to make as many duplicates as necessary to account for all the beers)
Add slides to include more games in between tasting (if you'd like).
Once you've customized the template, it'll automatically save, so you can exit.
Here's how to play:
When the beer tasting event starts, launch the slide deck by pressing "Start Event" (this button is located in the top right corner).
Make sure your screen is visible to your team.
Have your team scan the QR code to join the activity. Up to ten people can participate for free. 
Once everyone has joined, go through the slide deck and enjoy the game!
With this template, your team will enjoy unique, engaging features while tasting their beer. The activity includes everything from polls to live photo sharing to word clouds. Team members must submit answers to questions using their mobile devices. Also, you can have up to 250 team members enjoy this game!
‍
8. Guess the Emoji Board
As one of the best virtual team building activities, Guess the Emoji Board is a game you have to play at least once on a conference call. It's a short activity that'll make your meetings interactive and fun, and it's a great game for team members who are still getting to know each other.
Here's how to play:

Ask each person on the call to get their mobile devices and take a screenshot of their most recent emoji board. They can find this by going to their messages and tapping on the emoji button: this will show them an array of their most-used emojis. Make sure they crop the photo to remove any additional info that's not the emoji board.
Have your participants email the screenshot to you.
Once you have them, share your screen and showcase them one by one.
As you go through each screenshot, ask your team to guess whose emoji board is displayed on the screen. Players should look at each one carefully to determine which team member's personality, interests, and communication style fits the displayed emoji board.
You can even award prizes to those who get the most guesses right!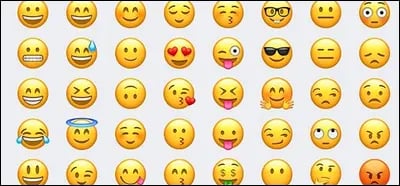 ‍
9. Scavenger Hunt Challenge 
Creative virtual team building activities are hard to find—but one that's sure to get your employees' attention is a virtual scavenger hunt challenge! This game connects your team by providing a fun, lighthearted vibe and encouraging employees to get out of their seats. 
As a photo-hunt show-and-tell game, virtual scavenger hunt challenges are online activities that require players to stop staring at their computer screen and get moving. But to make sure you have an organized and simple way for your team to share and discuss the photos they take, use this ready-to-play activity to help: 
Here's how to play: 
To access the game, create a free account here: https://slideswith.com/ 
Click the game and then press "copy and use this slide deck."
Start the event by pressing the button at the top right corner.
Share your screen with your team.
Tell your team to scan the QR code to play (it's free for up to ten players). There's no need to download anything. 
Start the scavenger hunt! Go through each slide one by one, and give team members at least 3 minutes to find the item mentioned on each slide.
Tell team members to use their mobile devices to take a photo of the items they find.
Ask everyone to submit their images.
Four photos will appear on each slide deck at random! Ask the team members who submitted the presented photos to explain the items they found.
You can include more players if you have a bigger team—the game can accommodate 10-50 people. Also, this team building activity takes 10-15 minutes to play, so it's a quick, creative way to engage your team at the beginning of a staff meeting. 
‍
10. Five Things 
Improv doesn't have to happen on stage. You can challenge your team to think quickly and get creative on your next Zoom call by playing Five Things. This team building activity will liven up your conference call by having participants list things associated with a specific topic. 
Here's how to play:
Pick a fun subject. It can be anything from breakfast to sports to countries.
Tell a team member to list five things related to that topic within 15 seconds.
Make sure to have an online timer and share your screen so players can see the countdown and feel the pressure. 
If a participant successfully names five things within the timeframe, they must choose another topic and the next player.
Any player who fails to list five items in 15 seconds is out of the game. 
Feel free to award the winner with a prize or round of applause!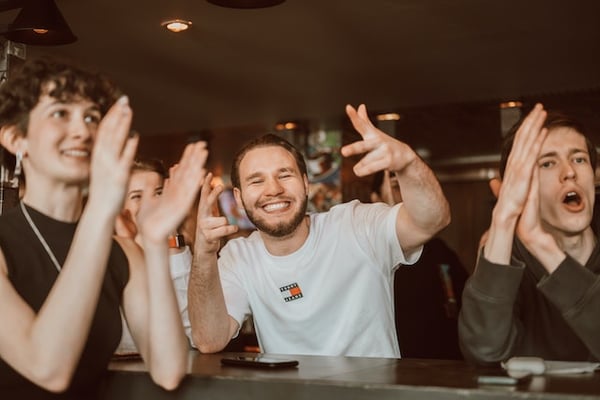 ‍
11. Virtual Escape Room
What's a better way to increase team collaboration and interaction than with a  virtual escape room? This game requires team members to find and dissect clues and problem-solve together to complete fun missions like recovering a painting from a heist, navigating treacherous seas, breaking out of prison, and finding gold!
Here's how to book a virtual escape room:
Determine three potential dates/times for your team to do a virtual escape room. Either check your team's work calendars (if you have access to them) or figure out three options in your next team meeting, via email, or in a group chat.
Once you have three dates/times, go here to book your virtual escape room: https://theescapegame.com/remote-adventures/
Scroll halfway down the page and click "View Game Times."
Scroll down to where it says "Book Now." Then, pick a date/time to do your virtual escape room using the options your team provided.
Pick the type of virtual escape room you'd like to do.
Fill out the contact and payment information.
Check your email for payment confirmation.
Here's how to play:
Look out for a separate email with a Zoom link for your virtual escape room (it takes about 12 hours after paying to receive the link).
Share the Zoom link and info with your team.
Click the Zoom link to start playing! A Host and Game Guide will be there to walk your team through the virtual escape room.
An escape room is sure to be a fun virtual team building activity that deepens camaraderie. Just make sure you consider the time and financial commitment before playing. Escape rooms run 60-90 minutes and are $30-$40 per person. 
‍
12. Team Meeting Icebreaker 
Maybe you have a new team that you're building? If so, help everyone get to know one another with conference call icebreakers! This is one of the simplest team building activities, but that doesn't mean it should be boring. Asking basic questions like "what's your favorite color or vacation spot?" isn't bad, but it doesn't peel back the layers in a unique way that increases engagement and connectivity. 
If you want your game to actually build bonds, use tools that provide fun, ready-to-play icebreaker activities. Here's a game you can immediately launch and play at your next team meeting: 
Here's how to play: 
Make a free account here (all you need is an email and password): https://slideswith.com/ 
Click above and copy the deck.
Press "Start Event," which is at the top right corner.
Make your screen visible to your team.
Ask team members to join the fun by having them scan the QR code. They don't need to download anything, and ten players can join for free. 
Start breaking the ice! Go through each slide one by one and have team members submit their answers using their mobile devices.
This conference call icebreaker is especially great if you want to instantly boost engagement at your team meeting. The game comes with fun, quirky features like live photo sharing, word clouds, polls, and ratings! Also, you can have anywhere from 3-250 team members play.
‍
13. Pancakes vs. Waffles 
A creative twist on "This or That," Pancakes vs. Waffles will force your team to collectively choose one option over another.
Here's how to play:
Ask everyone to debate whether the world should keep pancakes or waffles—the losing option will be obliterated from existence.
Each team member can advocate for their favorite, but a majority vote must determine the winner. 
After you have a winning option, pit it against a new competitor. For example, if pancakes are the winning choice, the new question could be pancakes vs. Netflix, and then Netflix vs. Disney+, and then Disney+ vs. puppies, and so on. 
The longer you play, the more intense conversations will get. Team members may even start learning each other's values as stakes increase and things become personal.
‍
Benefits of Virtual Team Building Activities 
Taking time to plan and do online team building activities is worth the effort. Playing games with remote teams leads to improved job satisfaction, increased innovation, enhanced collaboration, and high engagement levels. The last result, in particular, leads to a host of advantages. 
Reports suggest that engaged teams result in the following: 
Lower employee turnover
Boosted productivity
Increased sales
Safer workplaces
Better customer service
Reduced absenteeism 
Higher level of employee commitment 
Fewer mistakes
Stronger recruiting efforts
Better leadership
Higher revenue 
Decreased employee stress
Achieving employee engagement should also be especially important for virtual workplaces. According to an article in Harvard Business Review, remote teams tend to have more meetings. 
We found that there were 60% more remote meetings per employee in 2022 as compared to 2020 (a change of an average of five to eight meetings per week per employee). Andrew Brodsky and Mike Tolliver, No, Remote Employees Aren't Becoming Less Engaged
To prevent workers from getting Zoom fatigue or finding creative ways to miss meetings, keep things exciting by playing fun team building activities at the beginning of your conference calls. 
‍
Energizing Your Virtual Team 
Boosting interaction on virtual conference calls is easy with the games listed in this article, so try to implement our suggested activities as much as possible. Don't play one game but never implement another. Engaging your virtual team is not a one-and-done strategy. It requires consistency. So pick a fun, creative team building activity to play at your next Zoom or Teams meeting. Then, revisit this article to choose another game.