When it comes to classroom engagement, polls are a great (and easy!) way to get your students involved. Polls can be used for a variety of purposes, from gauging student understanding to voting on classroom decisions. But with so many different classroom poll makers available, which one should you choose?
Below, we will discuss 6 different tools that you can use to make classroom polls. Still not sure about how to use these classroom polls? Check at the bottom for a quick tutorial on an easy way to put together a poll for your students.
So, without further ado, let's get started!
Slides With Friends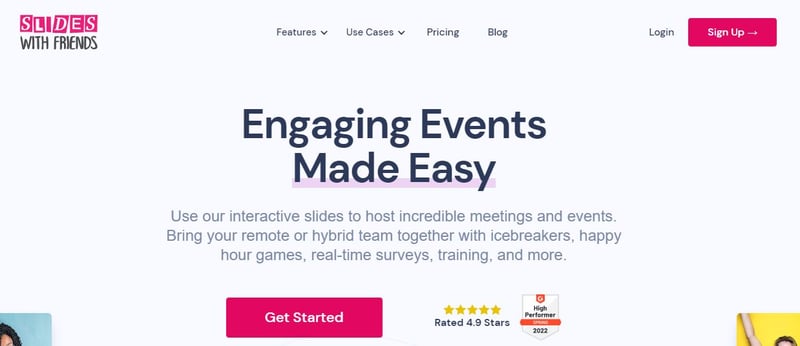 It makes sense that a software designed to make engaging with an audience easier would be the perfect tool for making polls for your classroom. Slides with Friends offers live polling, making it super easy to build interactive polls. Even better, with these polls, you'll get live feedback from your students.
Slides With Friends offers a few different ways to make classroom polls. You can use "multiple choice" to ask a questions and have students submit their answers anonymously, with their names or annoymously. You can also use the "Rating Polls", which gives students the options to answer with an emoji or even a thumbs up or down.
The final 2 poll options are "open text voting" and word clouds. Both polls give users the ability to answer the question and then vote for their top answers from all the responses. With these features, you not only get live feedback from your students, but you can also see how they are responding to the poll in real-time. This is a great way to gauge student understanding and engagement.
One of the great things about Slides With Friends is that it can be used on any device, including smartphones, laptops, and tablets, so using it in the classroom is seamless and convenient. Plus, with our premium plans, you can save and export all your answers from the polls, allowing you to track improvements, answers, or usage throughout the school year.
Mentimeter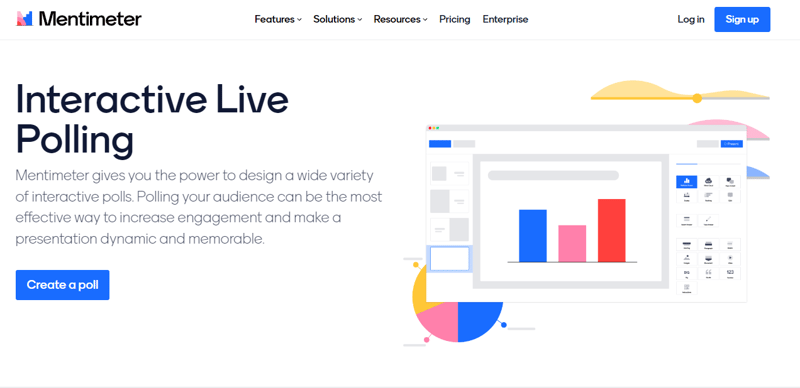 Another fantastic presentation tool, Mentimeter has long been used in the corporate world, but also works amazingly well in the classroom. Slides with Mentimeter can be created online and are easy to edit, making them perfect for student work. Like Slides With Friends, the presentations you create on this software can be accessed in real-time from smartphones.
Mentimeter also has an intuitive interactive live polling option. With these polls, you can ask multiple choice questions, add images and varying visualizations, use trend segmentation. One super convenient aspect of Mentimeter polls is the rank choice questions, which will give you more accurate information from your students.
Mentimeter offers a free plan, which allows 2 question slides and 5 quiz slides. If you want to ask more questions, their basic plan starts at $11.99/month.
Aha Slides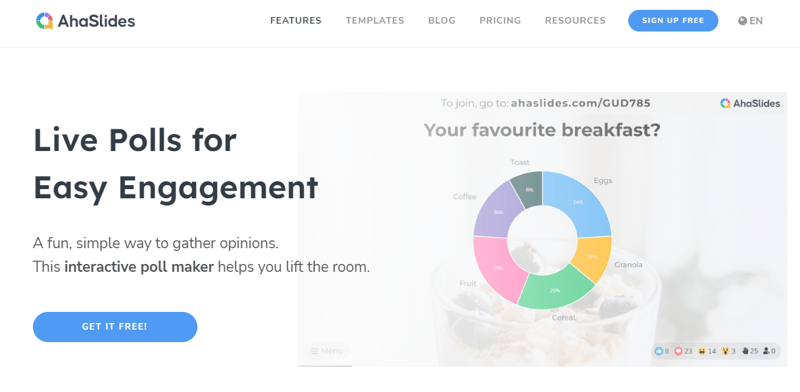 Like the 2 options above, Aha Slides is an online presentation tool you can use to boost engagement with your chosen audience - In this case your students.  Aha Slides offers a few different ways to engage with your audience, but we're going to focus on the classroom poll feature.
The classroom poll feature on Aha Slides is pretty typical - you can ask multiple choice questions, add images, and use trend segmentation. You can walk your classroom through the poll questions and show results in real time (or keep them private!). One of the benefits of Aha Slides is it offers an Answer Whenever feature, which lets students set their own paces and answer when they want. If you're running polls outside the classroom or in a hybrid classroom, this feature is great.
We're also fans of Aha Slides ability to play music in the background while people are taking their polls.
Aha Slides offers a free plan for up to 7 audience members. If you need to engage with more people, their paid plans start at $4.95/month.
SurveyMonkey

Often thought of as a corporate tool, Survey Monkey is a great way to engage with your classroom on a more personal level. With SurveyMonkey, you can use their pre-made classroom polls or create your own.
One of the things we appreciate about Survey Monkey is while we're all about live polling, this tool allows you to email out your polls to students, so they don't have to answer them immediately. For more complex classroom work, this gives students time before needing to answer their polls. However, you can still go over responses in your classroom! You also have the ability to export all responses into an Excel spreadsheet for easy tracking and analysis.
SurveyMonkey offers a free plan that allows up to 100 responses per survey. If you need more responses, their paid plans start at $39/month.
Typeform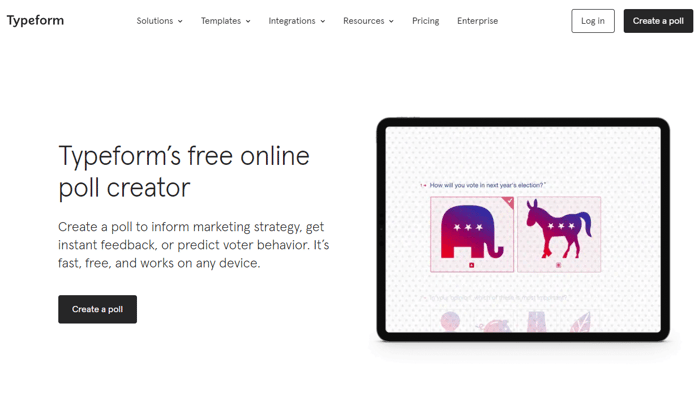 Typeform is a bit different than the classroom poll options we've talked about so far. With Typeform, it's all about aesthetics. Yes, it still offers the option to create forms - including classroom polls - they're just so much more beautiful than your typical tool.
One of the things we love about Typeform is its easily shareable. You can share your classroom poll via social media, email, or even by embedding it on your classroom website. Typeform also offers the ability to see responses in real time, which is great for classroom discussion.
Typeform offers a free plan that allows up to 10 responses per month. If you need more than that, their paid plans start at $25/month. However, they also offer discounts for teachers, so reach out to them when you make your account!
Kahoot!
Kahoot! is most well-known for its fantastic classroom games and it became a staple for teacher's everywhere during virtual teaching. A lesser known aspect of the learning tool is its capability to run polls for the classroom.
While Kahoot! might be a bit more complicated to use, it has some pretty awesome features. Our favorite is the slider, which lets your students answer questions on a scale. Plus, the polls on Kahoot! offer up to 6 answer options, a recent update from its previous 4.
And keep an eye on the software because it's going to be launching Student Passes, which will give your students the ability to make polls themselves!
With Kahoot!, you can also use ready-made games or create your own and their plans start at $3/month for teachers.
Using Slides With Friends to Create Classroom Polls
It can be a bit overwhelming knowing where to start in creating a classroom poll. If you need a bit more guidance, here's how you can make your own custom classroom poll in just a few minutes.
Create an Account and Copy Poll the Audience
In order to make changes to a slide deck, you need to create a Slides With Friends account, then find the deck you want to use (in this case the Poll the Audience slide deck), and copy it to your account.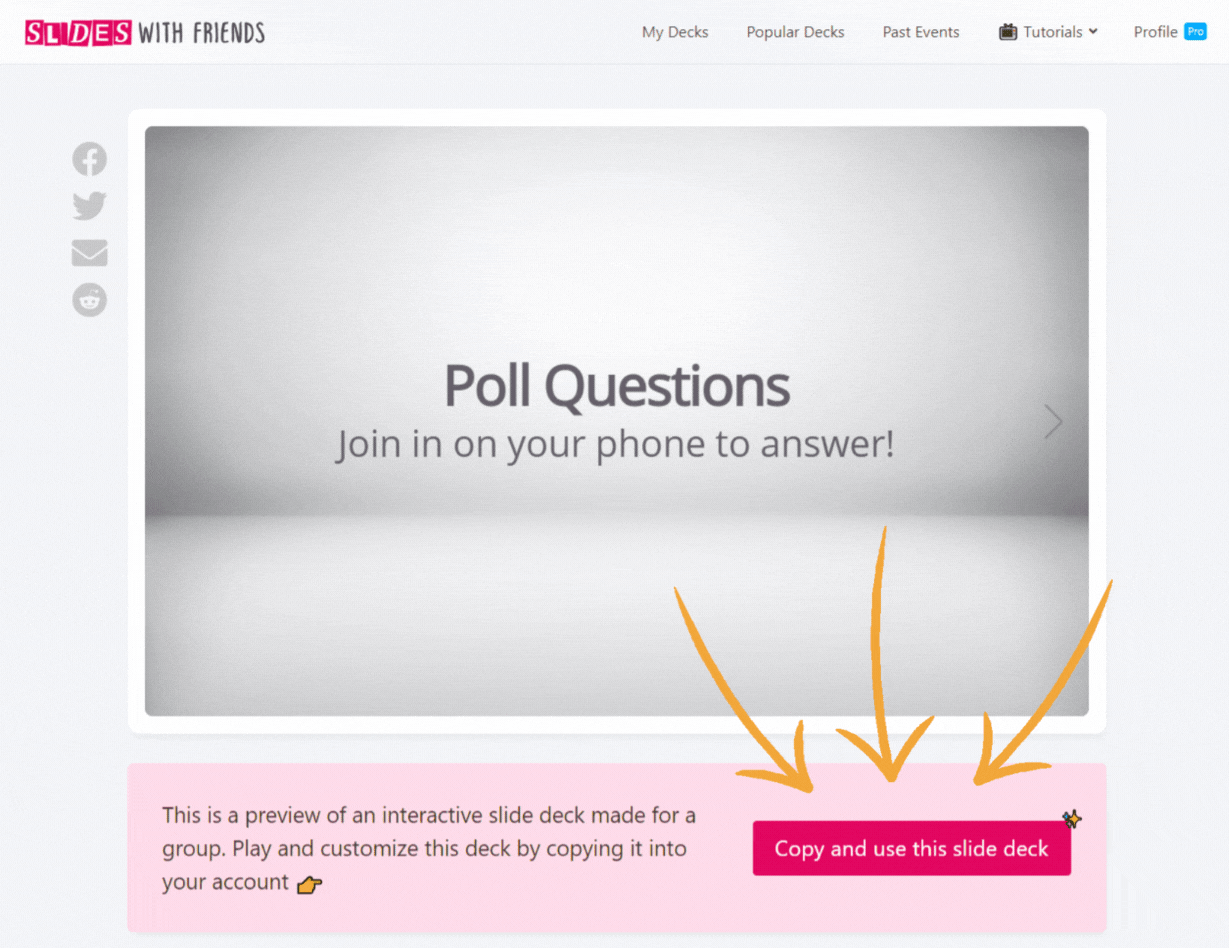 From here, you can make all the changes you want!
Add your Questions to the Deck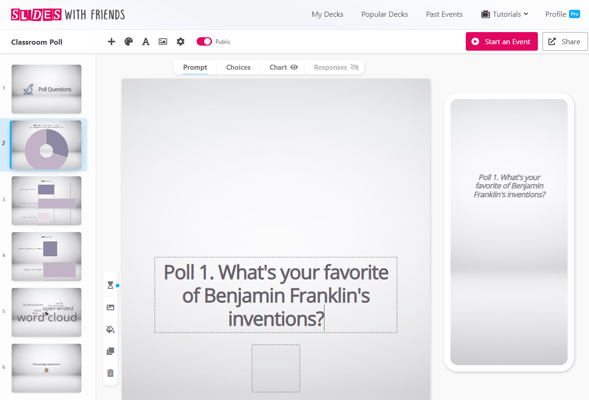 Once you've got a copied deck in your account, it's time to add the questions! You can use the existing slides and just change out the questions to ones you want to ask your class.
Add your Answer Options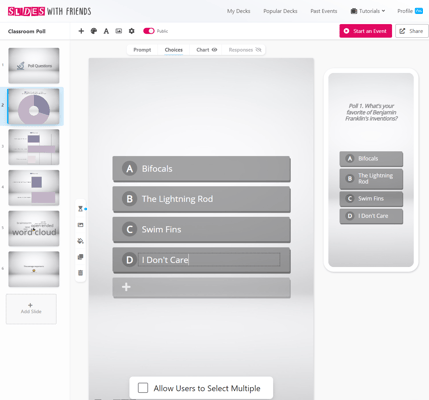 Move on over to the choices tab for the slide you're working on and add in the poll answer options. Today, we have Benjamin Franklin on the mind, so we're going to get opinions on his top inventions.
Decide How You Want to See the Answers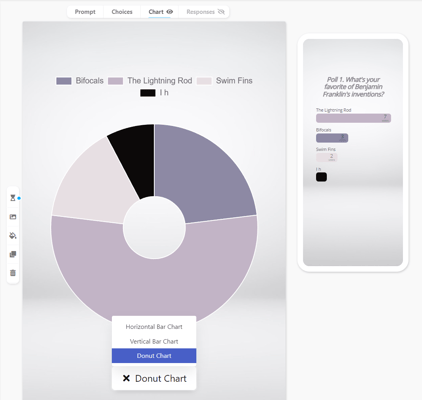 Slides With Friends offers 3 different ways you can view the answers: Horizontal Bar Chart, Vertical Bar Chart, and Donut Chart. Pick which one you'd to use.
Now's a good time to decide whether or not you want the responses to be seen by the entire classroom. While you can see the Responses, we recommend keep this off for the rest of the group.
Create More Questions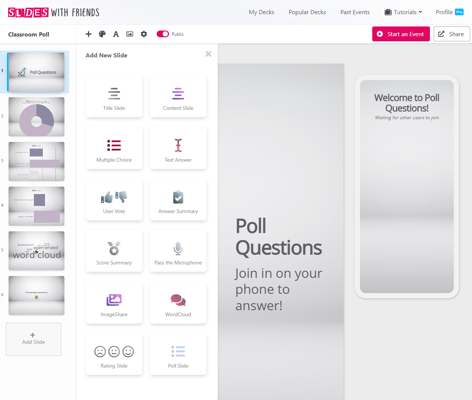 There are a variety of poll options you can use to ask your students questions and keep engagement in the classroom. Continue adding the slides you need, in the style you want, to your classroom poll
Launch your Event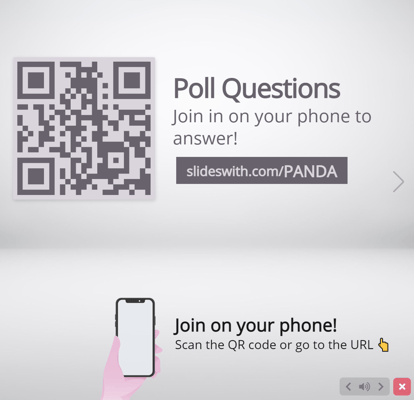 Once you're done creating your classroom poll, you can click the Start an Event button at the top of the deck and share your screen with the class so the students can join on their phones.
And just like that, you have your classroom poll!
Now that you know a bit more about each of these classroom poll makers, we hope you've found one that is right for you. Whichever poll maker you choose, your students are sure to appreciate the opportunity to have their voices heard!