Virtual beer tastings are one of our favorite virtual innovations to have come out of spending so much time online in the last few years. We love a good beer here at Slides With Friends. We also miss being able to run to the local bar to grab one with our friends and family. Thankfully, many of the breweries we already know and love offer tastings virtually.
First, if you want to try running your own beer tasting with your group or team, we have you covered! Here's a pre-made slide deck you can use to make it an interactive and super engaging, fun experience. All you have to do is get the beers to everyone.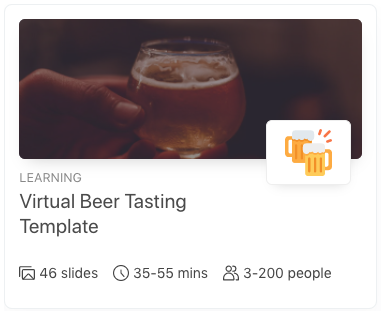 Or, want someone to run something for you (and take care of all the shipping?) Gather your team and sign up for one of these 11 virtual beer tastings, perfect for any occasion or taste preference!
The Top 11 Guided Virtual Beer Tastings
We've broken our top virtual beer tastings down by looking at what they include, how much they cost, and if they have any fun extras to take the experience to the next level.
We hope you'll take this list and plan the absolute best night in for you and your crew!
1. Denver Microbrew Tour
Denver Microbrew Tour is a company that runs a variety customizable tours through the city of Denver, including new weed dispensary tours. So when the pandemic hit, it made sense for Denver Microbrew Tour to take its services online. Now, you can book 60 to 90 minute guided walkthroughs with the tour company, all with your very own expert MC.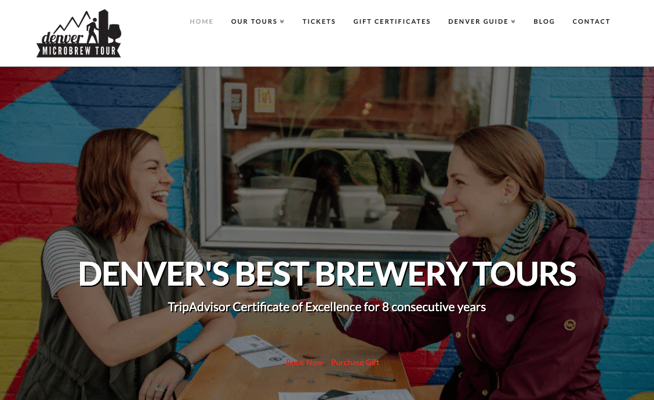 What's Included
With the Denver Microbrew Tour Virtual CraftBeer Tasting, you'll get a guided walkthrough on:
• How to taste beer like a snob
• How beer is made – with a virtual tour!
• A guide on different beer styles and ingredients
• A Denver history lesson
If you're hoping to zhuzh up your event, you can choose from several beer-themed team building activities, like Truth and Lies or Shark Tank – Craft Beer Edition.
Pricing
The Denver Microbrew Tour costs $200 for the first 5 screens ($40 a person) and $20 for each additional screen.
Extras
There are so many extras with the the Denver Microbrew Tour, or what they call Experience Enhancers. You can have packs of 3, 4, or 6 beers shipped to you, upgrade to a beer and cheese tasting, or purchase a variety of swag.
With their Beer Tasting Toolkit, you'll get tasting glasses, malted barleys, fresh hops, and so much more!
Why We Love It
One of the biggest reasons we love Denver Microbrew Tour is the flexibility it offers when it comes to buying the beer. At their base price, you get a recommended beer buying list, which you then go and purchase yourself. This gives you and your guest's flexibility in their choices, as well as how much they want to spend.
We also appreciate Denver Microbrew Tour considers the non-beer drinkers of the group, offering alternatives so everyone can have a good time.
2. City Brew Tours
City Brew Tours offers hour-long Beer and Cheese Pairing Experience, where they'll send you curated tasting boxes just for the occasion. The tasting is also hosted by a beer expert guide employed by the brewery.
What's Included
With your Beer and Cheese Pairing Experience, you'll get a goody box full of yummy treats and beers, as well as an informed and energetic guide to walk you through each sip and bit. You'll get:
• 3-5 craft beers
• A variety of cheeses
• Artisanal chocolate
• Smoked meats
Just keep in mind, each tasting box is different and what's included may vary. However, the team at City Brew Tours is more than willing towork with each group to make sure you get exactly what you want in your tasting box.
Pricing
We had a little trouble finding the exact price of these tours, as City Brew Tours does require you to contact them to get a custom quote.
From what we can tell, the basic price for their Beer and Cheese Happy Hour is $20 a person, but that requires you to purchase your own beer and cheese.
Extras
The extras are endless at City Brew Tours, because you really can build your own box. They offer branded pint glasses and bottle openers, custom cards, and even non-alcoholic drinks.
In the winter, they often offer mini fondue kits!
Why We Love It
The variety offered by City Brew Tours is unmatched. The signature tasting boxes are already packed to the brim with delicious snacks and cheeses, plus fantastic varieties of beers.
We also love how City Brew Tours can accommodate smaller groups as well as larger corporate events. While prices will vary with larger groups, and you'll want to reach out to get a custom quote, the flexibility is very appealing.
3. Common Space Brewery
Common Space Brewery lets you build your own package, so you know you'll get the exact beers you and your friends want. You can also add on all sorts of fun things, like pint glasses, snacks, or even a comedian! Your guide will play MC for the event, so you can sit back and relax.
What's Included
Common Space creates completely custom Virtual Beer Tastings, so you decide what's included from start to finish. However, some of the specs we've seen for their public virtual beer tastings include:
• 8 Common Space cans of beer
• A tulip glass
• Live beer tasting
• A Q&A period
Keep in mind, because of the custom aspect of Common Space virtual beer tastings, the final decision on what's included will be up to you!
Pricing
Because you will customize every aspect of your virtual event with Common Space, the prices aren't set in stone. Going by the prices we've seen for past events, the cost is about $50 a person. However, Common Space works with a variety of budgets, so reach out and get a quote!
Extras
There are a bunch of fun additions you can add to yourvirtual beer tasting with Common Space. We're most excited about the pint glasses and snacks, though they also have a comedian and trivia host!
Why We Love It
While we do wish there was more pricing information for Common Space, we appreciate the brewery works with each customer to customize a virtual event that works best for them. Because of this flexibility, you can probably get a good deal on a beer package within your budget.
4. Ballast Point
Ballast Point has worked for over 2 decades to craft unique twists on classic beers. Known for the art on their labels as well as their gold-medal winning IPA, Ballast Point brewers took their talents and passions for beer virtual. Now you get to share in their love of the brew!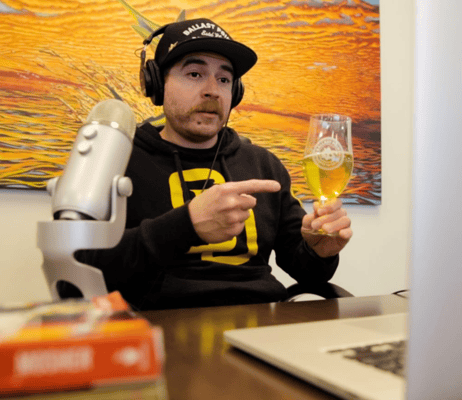 What's Included
Each pack in the Ballast Point Virtual Beer Tasting experience includes:
• 4 Ballast Point beers
• Merchandise
• A knowledgeable brewer
You can reach out to a representative to add more merchandise, from stickers and pins to barware and signs, to your pack.
Pricing
The Ballast Point virtual tasting costs $27 a person, with an additional $13 in shipping costs if you don't live near one of their locations.
Extras
Ballast Point keeps it rather simple, not offering a ton of extras with its packages.
Why We Love It
We're big fans of all the interesting flavors and brew methods used by Ballast Point. For example, they currently have limited edition, seasonal chai imperial porters, blood orange lagers, and habanero IPA. Different, but that's what makes virtual tastings so fun! You get to try things you wouldn't normally keep on hand.
5. Other Half Brewing
Other Half Brewing may only deliver to the East Coast (Beast Coast!), but for those of you able to take part in their virtual tasting events, you're in for a treat.
What's Included
The Other Half Virtual Tasting Event keeps things simple. While you can make additions to a package, the basics include:
• 4 16oz Other Half beer selections
• A 45-60 minute interactive session
During the learning part of your Other Half virtual tasting, you'll learn about the history of different beer styles and the tasting notes for each sample.
Pricing
The base price for an Other Half virtual tasting event is $40 a person, which include administrative fees and beers. Shipping costs extra, though at the moment Other Half only delivers to DC, NY, NH, PA, VA, and VT.
Extras
For an additional $10 per person, you can add glassware to your virtual beer tasting. You can also add a t-shirt to your package or more beer, which is charged at cost.
Why We Love It
One of the things we appreciate best about the Other Halfvirtual tasting event is it was designed for larger groups. If you're leading a corporate or team building event, a one hour happy hour with Other Half Brewery will mesh seamlessly into your schedule.
6. BareBottle Brew Co
BareBottle Brew is famous for its unique takes on sour ales, IPAs, and lagers. For those wanting to create a virtual beer tasting around those 3 beer types, you'll definitely want to try out this little West Coast brewery.
What's Included
The BareBottle Virtual Happy House Boxes come in 3 different package options. We recommend checking them all out, but our focus is Package 1: Virtual Happy Hour Box. With this box, you get:
• 6 bottles/cans BareBottle beer
• Detailed tasting notes
• Serving temperatures
• Food pairing suggestions
With this box, you can opt to get just the goods, with or without an instructor.
Pricing
The price for the Package 1 box, without the instructor, is $60, which includes shipping and tax. If you want to add a tasting guide, the award-winning Michael Seitz, it's an additional fee of $700.
Extras
There are all kinds of extras offered with BareBottle's different packages. You can stickers, bingo cards, wine, kombucha, or coffee.The brewery also offers custom glasses and coasters.
Technically, because it's an add-on, getting your own tasting guide is also an extra with these packages. Despite the extra cost, we highly recommend including the guided tasting in your plans.
Why We Love It
BareBottle Brew has committed itself to using local ingredients, something we admire so much. As a result, when you purchase any of their products, you also support small businesses and farms in the San Francisco Bay area.
Also, BareBottle is another company that takes those who don't drink into consideration. You can opt to get handmade kombucha or hibiscus soda if you'd prefer not to consume alcohol.
7. LA Beer Hop
LA Beer Hop offered beer tours of LA before the pandemic. Once almost everything went virtual, they seamlessly moved their programs online, now offering craft beer boxes and virtual beer tastings.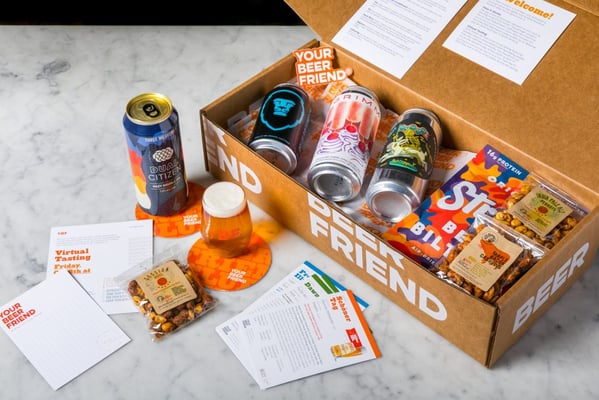 What's Included
The LA Beer Hop Virtual Beer Tasting is packed full of goodies. With your purchase, you and your group will get:
• 4-6 Craft Beers
• A tasting glass
• Custom tasting cards
• A complimentary beer snack
• A Certified Cicerone tasting guide
The tasting is designed to be a Q&A, so there will be alot of interaction during the hour-long event.
Pricing
The minimum for a virtual beer tasting with LA Beer Hop is $800 for 10 packages, or $80 a person. Of course, any extras you add will cost more.
Extras
There are several extras you can add-on to your package, no matter how many people you have coming to your LA Beer Hop virtual beer tasting. From LA Beer Hop swag, like totes, mugs, or cozies, to t-shirts and glasses.
Plus, the brewery will custom design food pairings to go with your beer tasting if you want to make your event even fancier!
Why We Love It
Because LA Beer Hop can accommodate up to 300 people, we love how easy this virtual tasting is for corporate events. And because no one has the same needs, LA Beer Hop offers plenty of alternatives, including gluten-free and non-alcoholic packages.
8. Confetti Hoppy Beer Tasting
Confetti is a team building company that has curated and created some of the most unique and interesting virtual experiences. Our favorite, of course, is their virtual beer tasting.
What's Included
Confetti proves why it's considered at the forefront of remote team building with its Hoppy Beer Tasting event. With your purchase, you'll get:
• Invitation designed for your guests
• A beer buff guide
• Beer tasting kit
• 4 different cans of beer
• Address collection form
And as an added bonus, Confetti insures all your packages, so if something goes wrong in transit, you can get a replacement.
Pricing
There are 3 different kits available through Confetti. The Beer Tasting Kit and Winter Beer Kit are both $75 a person. The Beer and SnackKit is $100 a person, but worth it!
In addition to the per person cost, there is also a $300 instructor fee.
Extras
There are no extras available through Confetti.
Why We Love It
Confetti's Hoppy Beer Tasting is one of the only options on our list offering a fully virtual or hybrid event experience. We like this because you can either do it fully remote or host it at one location and have the guide stream in live.
9. Kapow!
Kapow is a software and tool you can use to find, book, and manage virtual events. The company specializes in corporate packages, making their virtual beer tastings great for larger team building.
What's Included
There are a lot of virtual beer tastings available at Kapow, but we're focusing on the Beer, Cheese, and Chocolate option. With the base package, you get:
• 3 beers
• Gourmet cheese
• Artisanal chocolates
• Certified cicerone guide
Plus, Kapow handles all shipping and scheduling, so this is a hands-off event you get to enjoy.
Pricing
The price for the Beer, Cheese, and Chocolate virtual tasting is $72 a person.
Extras
For an extra $33, bringing the total to $105 per person, you can add an extra beer, extra cheese, and 2 meat sticks to your tasting. The upgrade also includes a koozie and artisanal chocolate bar.
Why We Love It
We adore the event options offered through Kapow. You can pick between beer, wine, or sake. And don't get us started on the spirits tastings! From bourbon, whiskey, and rum to tequila, scotch, and gin, there are endless options!
10. Craft'd Company Virtual Beer Tastings
Craft'd creates unique craft beer events, from brewery tours to tastings. They've taken their skills online and now offer private virtual tastings.
What's Included
With the Craft'd Private Virtual Tasting, you get:
• 4 Beers
• Tasting notes
• Suggested food pairings
• Inside look at breweries
However, Craft'd will work with you to make sure you have everything you need to make your event a success.
Pricing
To get your custom quote, you'll need to contact Craft'd directly. We did some research and found the price listed on Elevent at $95 per person, with a 15 guest minimum. We can't confirm that will be the cost for you, so reach out to Craft'd if you're interested!
Extras
Craft'd offers branded beer glasses, YETI can holders and coolers, as well as snack packs. Their charcuterie inspired snacks are curated from grazy.
Why We Love It
Craft'd is a company built around hosting events, from social to corporate. We love knowing they're experts at what they do, making the planning of an event with them painless.
‍
Bonus! 11. Chicago Beer Experience
Just too good not to include. For those looking for a bit more of a DIY virtual beer tasting experience, the Chicago Beer Experience is here to help. They'll provide the basics so you can build out your event just the way you want.
What's Included
The Online Beer Tasting Course: Sip of Chicago seems pretty bare bones, but truly offers a foundation for you to build your own virtual tasting. In the package, you'll get:
• A 1.5 hour course led by the founder of the Chicago Beer Experience
• Beer style basics
• Fun Chicago-themed stories
• 4 beer style recommendations
• Beer judging sheets
• Quiz questions
While you'll have to buy your own beer for this course, their guide will walk you through what styles you should purchase.
Pricing
The cost for access to this course is $20, the least expensive option on our list. You'll get immediate access to the pre-recorded video, materials, and guides.
Extras
There are no extras available with this virtual beer tasting.
Why We Love It
We appreciate the Chicago Beer Experience provides the support you need to pick out beers within your budget. All without taking away from the overall experience. And because you're getting the supplies yourself, there's no need to pay extra for shipping!
How to Run Your Own Remote DIY Beer Tasting
You don't always have to leave hosting beer tastings to the professionals. Throwing your own remote beer tasting from home may seem intimidating, but we're here to take out all the guesswork. Unlike some of our other virtual events, like Holiday or Retirement Parties, you need to give yourself at least a week or two to planand get everyone set up with their beers. But no worries! Following these simple steps will have you ready to be a professional beer tasting host in no time.
1. Pick Your Beers
The best part of the beer tasting process is you get to pick all the beers! And of course, this will require vigorous, dedicated research on your part.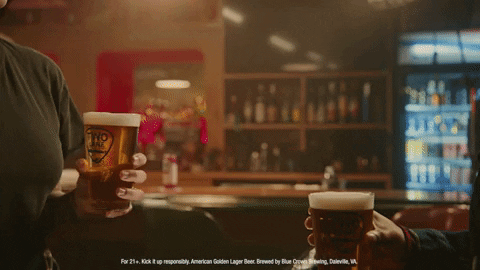 When hosting a beer tasting event, you want to choose a variety of beers that will appeal to all your guests. Consider the different beer styles, colors, brewing methods, and alcohol levels. If you want to take your event to the next level, you can select different types of beer from all over the world. Our favorite option is to curate a few of your favorite locally brewed beers! Not only will it make getting your product easier, but it also supports local businesses.
If you want a more collaborative approach to your beer tasting, have each of your friends contribute their favorite for the lineup. You can keep everyone's suggestion a secret and have people vote at the end of the tasting which beer belongs to whom.
2. Create – Or Find – a Tasting Sheet
In order to keep track of the beers you're tasting, it's helpful to have a tasting sheet. You can create your own specifically for your group or use a pre-made one designed by the experts.
We like to keep things simple and recommend using the Tasting Sheet by CraftBeer.com.
3. Send Out the Invitations
This goes without saying, but to host a virtual beer tasting from home, you have to let people know! Send out invitations with the time of tasting, giving everyone time to pencil it in.
In the invitation, also give a brief outline of what your event will look like, as well as how long you think it will last. Setting expectations, especially in world of Zoom Fatigue, will give your invitees peace of mind.
Finally, if your guests need to purchase anything before the event, send the list with the invitation. Again, clear expectations make for better, smoother events.
4. Get the Beers to Your Guests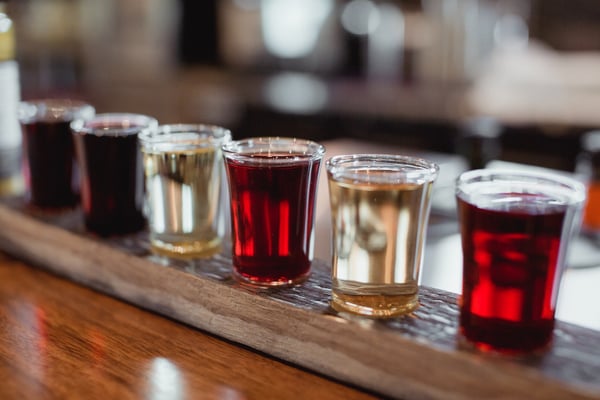 Here's where things can get tricky. In order for your group to go on a beer tasting journey together, you want to be drinking the same beers at the same time. As the host, it's up to you to decide how you want to get the supplies to your invitees.
One of the easiest ways to make sure everyone has the same beer is to pick a store everyone has access to and build your beer list around what's available there. Then, you can order the drinks and snacks to be delivered to your friends or give them a shopping list for them to pick it up.
If you have very specific beers you want the group to sample, you might need to purchase everything yourself and ship them to guests. Just make sure you pack everything so there's no slippage and plan the event well after the expected delivery date, just in case of delays.
5. Create Your Virtual Event Slide Deck
Before you send over the Zoom link to your crew of beer tasters, take the time to create a virtual event structure to keep your beer tasting moving along.
You can create your own slide deck with Slides With Friends so you can add all the beers you've picked in to the presentation. For each beer, you can include a brief description, a word cloud for the tasting notes and a rating slide to discover each beer's ranking. Or you can use a pre-made deck!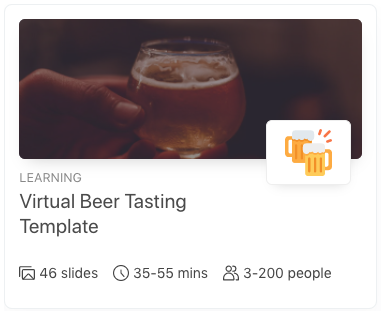 6. Get to Drinking!
Now that you've put in all the hard work, you finally get to have your beer tasting with your friends. Using the tasting sheet provided above, go through each beer you picked and give time for the participants to describe what they think about each beer after their first sip.
If you really want to take your tasting seriously, note the appearance, aroma, body, and flavor of each beer and write it down. However, we think using a word cloud honestly makes this process easier and much more entertaining!