The best way to engage your group in a live meeting or event (while not wasting valuable time) is to make it interactive — let your people participate. Live polling is one way to do this, and is proven to increase audience engagement: Experts agree that active participation increases the enjoyment of your audience and retention of your information.
"Incorporating the right type of online real-time polling ... has overriding benefits."
Journal of Research in Innovative Teaching & Learning, "Real-time polling to help corral university-learners' wandering minds"
Here are the 6 best tools online to ask poll questions / run interactive polls, whether you're remote on a video call, or in person in a meeting or conference room.
1. Slides with Friends
SlidesWith is a great all-around presentation solution to get poll results live. There are dozens of templates ready for use with live polls, word clouds, quizzes, team building games, and live photo sharing. You can start your own deck from scratch or use lots of super-fun ready-to-play games.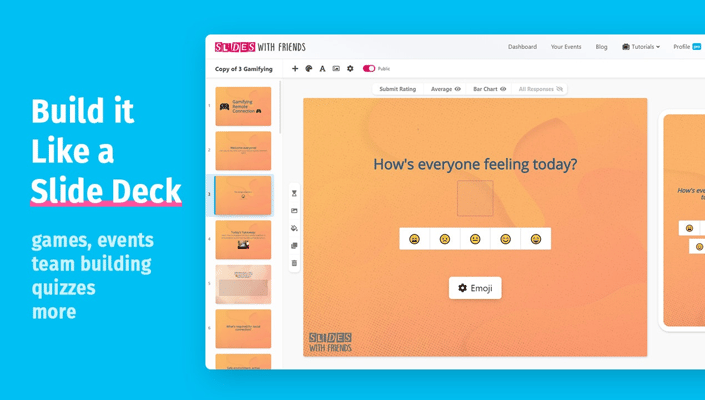 Features
Slides With Friends comes with pretty much everything you'd need to create live polls / run live polls, then collect instant feedback. Interactive slide options include:
Select an answer (ask multiple choice questions or play live quizzes)
Poll the audience with different options to display rating poll results like graphs, donut charts, per-responder (run multiple polls, add images, get real time results)
Word cloud (your audience sends in words and then votes to make words bigger)
Live quizzes with text answers (ask trivia or "name-it" questions, the tool automatically score the answers)
Audience vote slides (Let players vote on other player's answers, see live results)
Live Photo share (Add images and display to the group)
Players join on their mobile device with a QR code scan or custom URL (so, no downloads needed), and easily send in answers, emoji, sounds, and more, during your event or meetings real time.
Biggest advantages: Accessibility, Thoughtful pre-made templates, Good design, Robust free account
This tool works wherever you can share your screen, so you can use it on Zoom, Google Meet, Microsoft Teams, Webex, or in a conference room.
It also comes with tons of free and ready-to-use game templates: think of them like Kahoot decks or Jackbox games that you can edit any way you like, and then play with your group. This takes away a lot of the work you'd have to do to create your own content from scratch. Just pick a template that meets your needs and play during your online meetings!
For instance, here's a "Poll the Audience" Template you can use (it's free with up to 10 players). You can edit the questions on each slide to ask your group exactly what you want.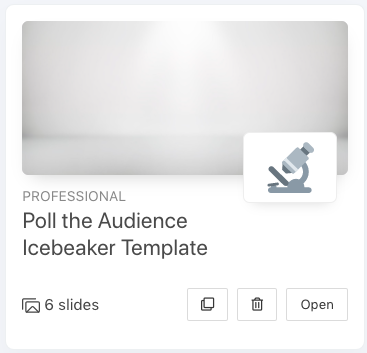 Biggest Disadvantage: Downloadable CSV for event results only available on upgraded accounts
The ability to analyze complex data in relation to the polls taken during repeated training sessions or seminars can be enlightening and help you improve your presentation for future events.
Slides with Friends has an event recap you can access any time for free (so you can download images of your cool word clouds, see your event stats, and more), but if you want your full details in a manipulatable excel format, you'll need to upgrade to a paid account.
Sli.do is one of the more basic slideshow presentation platforms with polling for your audience. It allows for brainstorming with a word cloud or Q&A as well, but little else. This platform offers a very basic free option, as well as three other annually billed subscription levels to meet the needs of small to medium-large companies or non-profits. The Enterprise package is particularly impressive (but comes with a hefty price tag).
Biggest advantage: Comprehensive analytics tools
Sli.do is particularly helpful for larger organizations with frequent training and team building due to unparalleled comprehensive analytics tools. You can review Q&As, which participants led the group in responding, see all of your polls at a glance, and easily create infographics from multiple choice questions.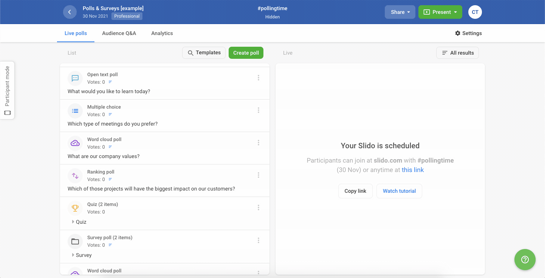 Biggest disadvantage: Limited interesting or connective uses
Sli.do can be a dry and survey-only forward tool. If you want to wow your audience, or seem like you put a ton of work (when you really didn't) into an interactive presentation, this tool is a little lacking.
3. Poll Everywhere
Poll Everywhere is an interactive application that can be implemented almost anywhere, anytime. For instance this is the only platform here that integrates with Slack on this list.
This service is designed to scale up as you grow your audience. It offers the most subscription options starting at low fees for small meetings and reaching up to a $12,000 per year Enterprise plan. The Teams and Enterprise options are on the expensive side, although they are feature rich.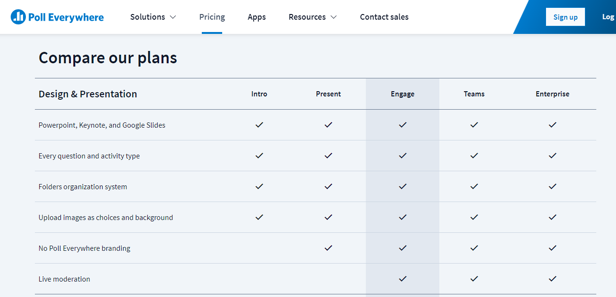 The biggest advantage: Best free and start-up packages for live polls
The free version gives you more features than others listed, starting with a 25-attendee roster (compared to 7 to 10 participants with other apps). It also lets you add polls and unlimited real time questions.
If you have a single meeting or seminar, a cheaper one-time live polling and presentation plan rich with more poll features is available.
The biggest disadvantage: Free and "Present" live polling options very limited in features
None of the free live polling tools include analytics or moderation capabilities, but Poll Everywhere's lower-level paid version doesn't offer them either. You must pay for the more expensive "Engage" option for these features, regardless of the size of your business and the frequency of your events.
4. Aha Slides
Aha slides is one of the most affordable live polling services, and they offer a lot of perks that aren't available with more expensive options.
The free version is the most limiting of the services listed here, but the features of the Essential and Plus plans are affordable options for freelancers and solo entrepreneurs running a small meeting. You can pay one-time, or you can subscribe for holding regular online or in-person events.
Even large companies can take advantage of this affordability when detailed analytics and sharing is not necessary, with the upper level service accepting up to 10,000 attendees.
The biggest advantage: Idea sharing and other interactive features
In addition to live polls and brainstorming word clouds, Aha also offers sliding scales, idea sharing, multiple choice, and even a spinner wheel for a variety of attendee participation that encompasses all types of learners.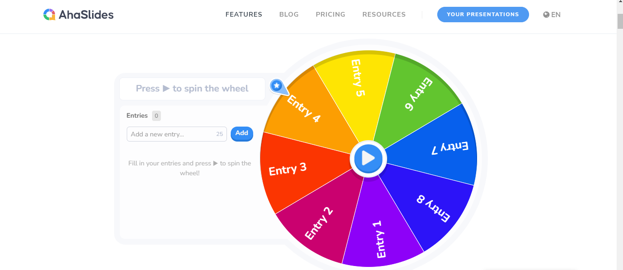 The biggest disadvantage: Only basic analytics and presentation options
Aha Slides is one of the easier live polling platform to learn and use to create, but that simplicity means that you don't have a lot of the same advanced features offered by other polling tools listed here.
5. Mentimeter
Mentimeter is simple, which means you don't spend a lot of time choosing features and options as you build your presentation. In comparison to other solutions, the free version only excludes the data reporting and limits you to 7 attendees for small meetings.
The biggest advantage: Language accessibility for a global workplace
Mentimeter has a tool that allows for multiple translations within the same live presentation. This means that you can reach anyone in the world and still get the same audience participation that you receive in your hometown.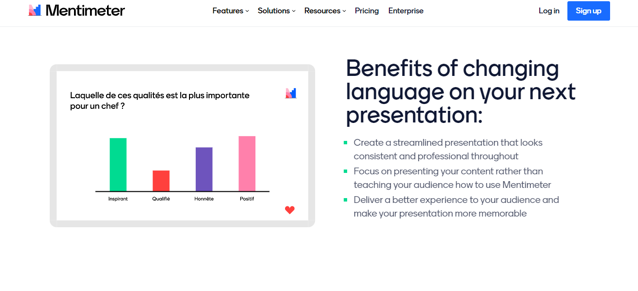 The biggest disadvantage: No automatically generated reports
While you can export data from your surveys, Q&As, and live polls, Mentimeter differs from other services in that you can export raw info, but the platform doesn't generate reports for you. This makes the analytics information less helpful.
6. Vevox
Vevox is one of the more expensive tools that includes live polling and other interactive features to keep your participants engaged. Unlike the other tools here, you can gather all types of anonymous feedback and surveys to help you improve future presentations.
Vevox is unique in that it doesn't have different service levels. Although a free option is available to get you started, the paid version is the same for everyone. An individual plan is $50 per month, with the Enterprise plan giving you a $5 discount per user.
The biggest advantage: Most comprehensive free version
Vevox offers one of the best free versions, although it is only available for use with PowerPoint and Microsoft Teams. it allows an astounding 500 participants, and the only features excluded in the free subscription are analytics and reporting.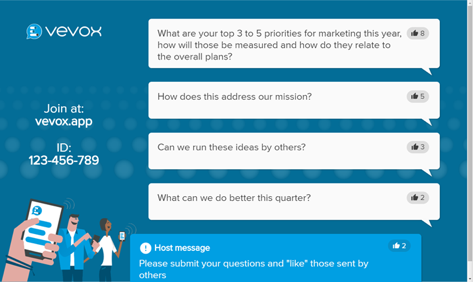 The biggest disadvantage: Works best with Microsoft products
While you can use Vevox's polling applications in other environments, it was really designed for use with Microsoft products, including Windows, PowerPoint, and Ms Teams. Those integrations are seamless, but using the service with other platforms may be more complicated.
Why real time polling is useful
Regardless of what platform you choose, there is no doubt that live polling is a useful tool to keep an audience engaged. Like several of these options, your remote participants often do not need to download an app to see your screen on their phone or tablet, which makes this a very easy way to collect information.
Collecting data about particular attendees, including their responses to particular questions, is especially useful for training programs in which you need to measure performance and knowledge. At the same time, anonymous feedback is vital and not offered by all packages. Consider carefully how you will use the live poll tools to help you determine which is best for you.