Trivia games are always a great way to have fun, break the ice, and interact with people. These activities have a special way of building and deepening relationships and increasing engagement, which is why companies, teachers, and happy hour hosts are implementing them. 
"Who doesn't love a good trivia game? They can liven up a company meeting, kick off a lunch-and-learn or get a Zoom happy hour off to a good start. Topics such as sports, pop culture and movies can break the ice immediately."
- Stephen Baer, A Little Gamification Can Go A Long Way In Retaining Employees
Because trivia games have so many benefits, it makes sense to want to host and play them as well. However, before launching any activities, you should consider using a platform to help you quickly build your game and make it the best possible. For ideas on which ones to use, here are eight trivia game makers that are easy to navigate and full of beneficial features. 
1. Slides With Friends
Slides with Friends is one of the best platforms to use to build your trivia game.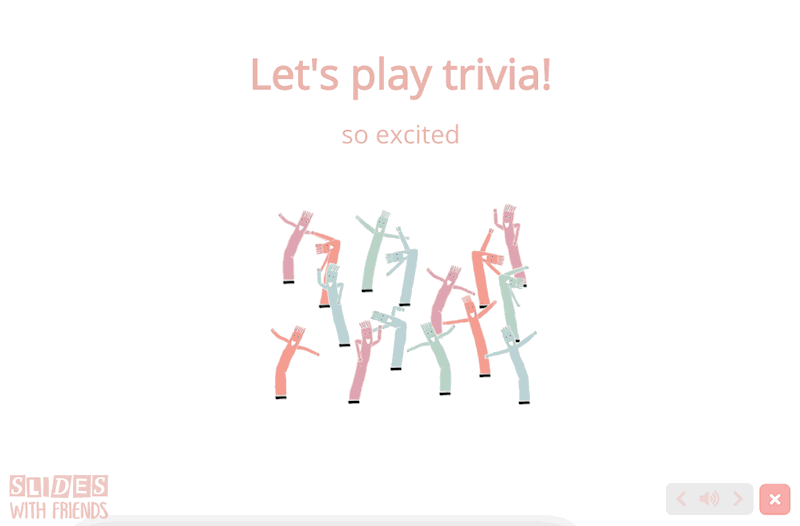 It's super easy to create your own trivia rounds. SlidesWith works like making a PowerPoint presentation: each slide is a question, and then as you advance through slides, your group can send in responses and get auto-scored as they go, using their phones to answer. You can start from scratch or grab from tons of pre-made trivia game decks:
To play any of these, you'd just make a free account, copy the deck, and invite your group to join! They can play using their phone or computer.
Every slide deck is customizable, so you can perfect it for your own group. ‍You can change the question types, colors, backgrounds, and fonts. You can also add a logo to match your branding. If you want to make your trivia game from scratch, you can use Slides With Friends' Trivia Game Template. ‍‍Building a game is also simple. It requires zero code or tech-savviness, primarily because Slides With Friends has a pretty intuitive interface that makes features easy to find and add. 
Best features: Live interactive features and super-easy trivia. Slides With Friends is great if you're looking for a trivia game maker that provides many interactive features. With this platform, your game can have live polls, live word clouds, live photo sharing, ratings, user voting, pass the mic, multiple choice, text answer questions, timers, and more. You can even add a leaderboard to show the top players after each round. 
‍
2. TriviaMaker 
Whether you want to host a meeting, boost student engagement, make homeschooling fun, or have a virtual party, TriviaMaker is there for you. This versatile platform lets you make trivia games for virtual or in-person gatherings. It offers five different game styles: grid, list, trivia, wheel, and tictactoe. That way, you can choose the best look for your activity and group. 
TriviaMaker also offers three plans. The basic one is free, but the premium and enterprise plans require a paid subscription. You can cancel a paid subscription anytime, so it's a convenient platform that doesn't lock you into anything.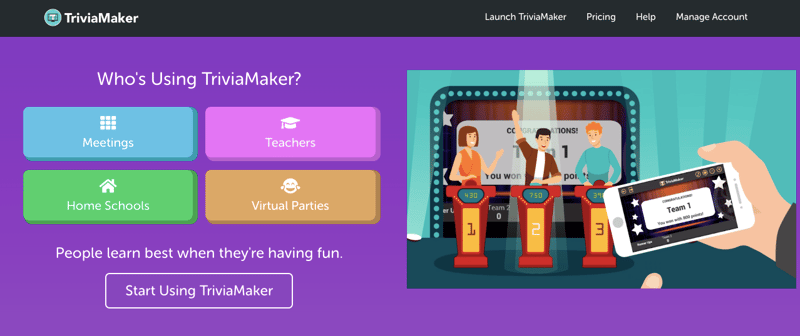 Best features: Cross-platform technology 
One of the best things about TriviaMaker is that it's a cross-platform technology, meaning you can create a trivia game on iOS, Android, or a web browser. Once you've built your game, you can stream it on your phone, tablet, computer, TV, or projector. 
‍
3. Opinion Stage 
Opinion Stage is an online trivia quiz maker that varying brands, marketers, publishers, and educators use. This platform provides trivia quiz templates you can enjoy or customize. You can update a template's font, color, logo, and design by using custom CSS. 
Opinion Stage also lets you add social sharing buttons, giving you the opportunity to share your game on different social media channels. Those who want to play can access your activity using their desktop, tablet, or mobile device.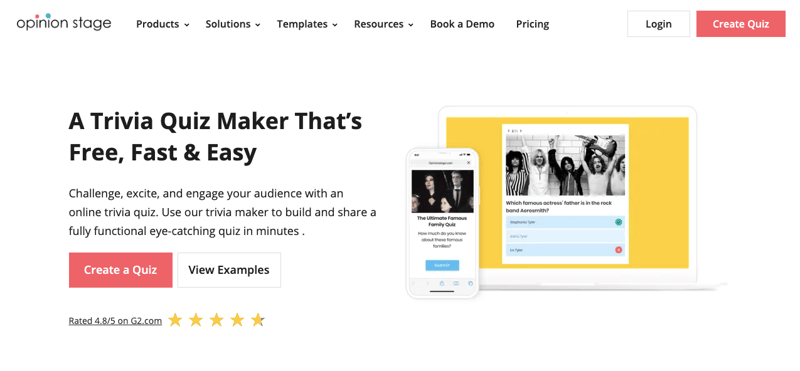 Best features: Advanced trivia reporting 
One benefit of Opinion Stage is it provides detailed reports regarding quiz results and your trivia game's performance. With this platform, you'll have a dashboard that gives insight into engagement, conversion, user behavior, results, and the time each user takes to answer every question. If you want to analyze the information more closely, you can export all of this data to a CSV/XLS file. 
‍
4. Sporcle 
With more than one million user-created quizzes, Sporcle offers trivia games spanning many different topics. Its most popular trivia categories include sports, music, geography, history, literature, movies, television, and "just for fun." You can create a trivia game that falls into one of these categories or make a game on a totally different topic.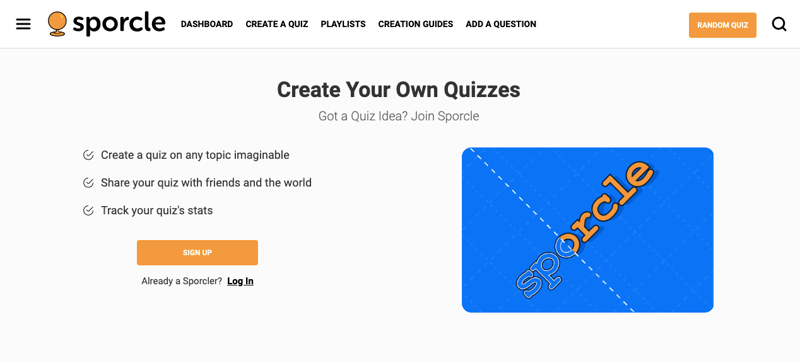 ‍Best features: Convenience 
The best reason for using Sporcle is that the trivia game you want to create is probably already available on the platform. Since Sporcle has over one million trivia activities, you can probably find what you're looking for and skip the process of making a game.
‍
5. Quiz Maker 
If you need a platform that will let you build a trivia game in a matter of minutes, Quiz Maker might be a great option. It has free and paid versions. With the free plan, you can create up to 10 questions and determine your own answers. With the paid versions, you can create unlimited questions and answers. 
Quiz Marker has many templates you can customize, and the platform's trivia themes fall into various categories ranging from movies to geography to emotional intelligence. When making your game, you can also add a leaderboard and timer to ensure your activity feels like a competition.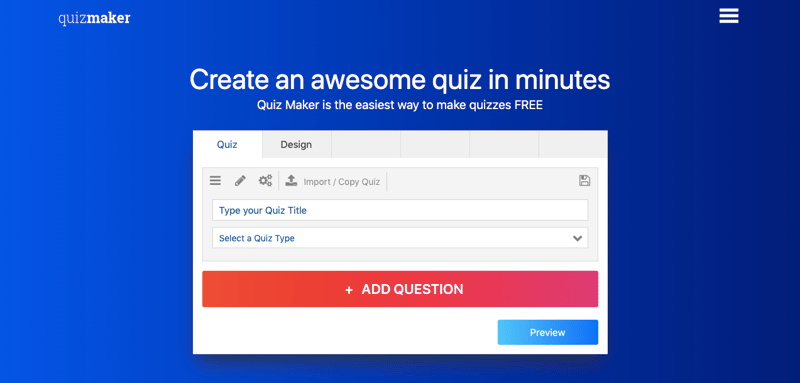 Best features: Auto-graded quizzes
Something interesting about Quiz Maker is that you can automatically assign certificates to trivia players based on their grades or score. You can even provide multiple certificates for different grades. 
‍
6. Typeform 
Typeform is a tool you can use to create forms, surveys, and trivia games. It has a built-in photo and video library to help bring your questions to life, and Typeform offers many templates you can customize to fit your needs. This trivia game maker is also easy to use since it's a no-code builder.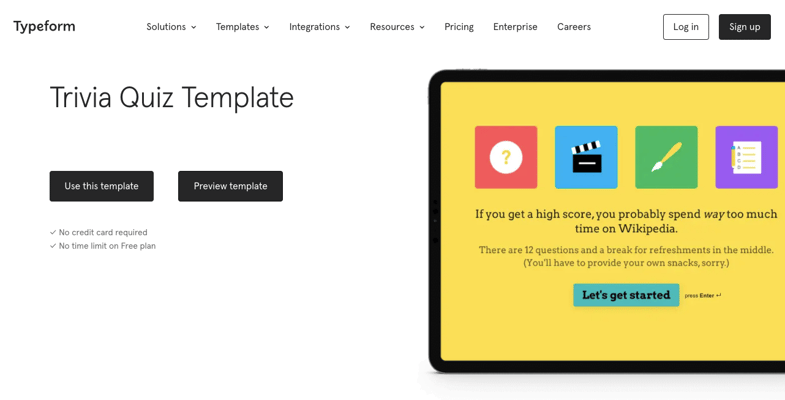 Best features: Customization and integration
With Typeform, you can personalize your trivia game to the fullest. You can pick the colors, fonts, and backgrounds for your game, and you can add videos, images, and even gifs to make things more fun. Additionally, you can include multiple types of trivia quiz questions. You can personalize your game with number fields, rating fields, and dropdown questions. 
Once your trivia game is ready, you can integrate it with different platforms. Typeform offers over 500 integration with Zapier and provides integrations with Hubspot, Airtable, Slack, Pipedrive, and more.
‍
7. QuizWitz 
QuizWitz is an online trivia game maker that provides party games and the opportunity to host a custom-built game. With this platform, you can personalize your activity with different questions and round types. When your game is ready to launch, up to 1,000 people can join the fun if you have a premium subscription, and players can answer questions using their smartphones or tablets.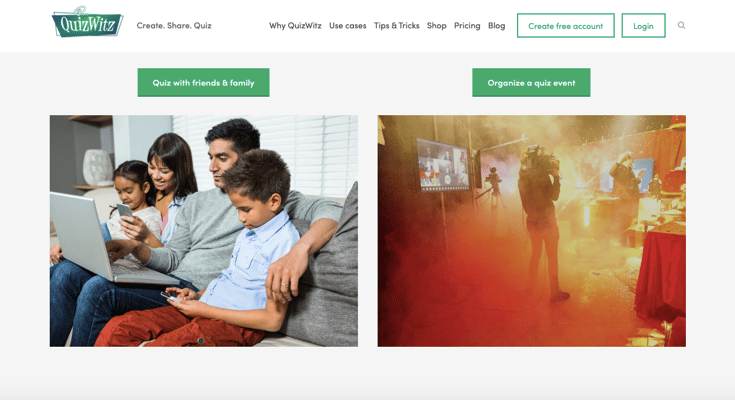 Best features: Quizmaster app 
After making your trivia game, you can use the platform's Quizmaster App to organize and control your activity, whether online or in a venue. For example, with the app, you can add script lines using the quiz editor and host the trivia  game live on Zoom, YouTube, or Twitch. 
‍
‍8. Crowdpurr
If you're having an event, Crowdpurr may be a great trivia game maker for you. This platform lets you build fun and interactive live-audience trivia games to test your group's knowledge. 
With Crowdpurr, your activity can have various types of questions like multiple choice, text answer questions, numerical answer questions, and image and video-based questions. Players can access and enjoy your game using their mobile devices, and you can show the correct answer to questions after everyone responds. Additionally, you can present live rankings to showcase the top players.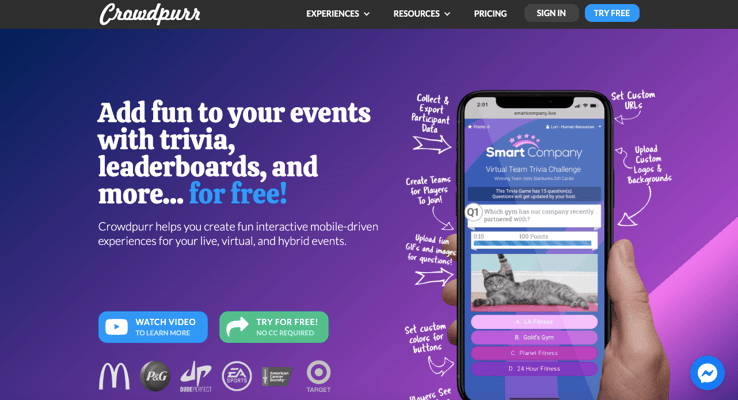 Best features: Trivia game options
Crowdpurr is unique because it provides several different trivia game types to ensure your group has the best experience possible. 
The first type is countdown trivia, which is the standard style where people get more points for correctly answering questions quickly. The second type is survivor trivia, where players must answer every question correctly within a specific timeframe to proceed to the next round. The top scorers are the "survivors." The last game type is team trivia, which allows groups to break up into teams and compete.  
‍
Build on a Foundation 
With a trivia game maker, you can skip hours brainstorming ways to format, structure, or make your game. The platforms on this list offer you a foundation to build on to ensure your activity is up and running in a timely manner. So, don't start from scratch. Launch your trivia game quickly by using a fun, simple platform.
‍
And, if you want to just play a game right now with your crew, that's easy! Here are a bunch of great ready-to-play trivia games you can get started with right away:
Just click on any deck, make a free account, and launch your game like a PowerPoint presentation. You group can join on their phones! Then play along and see who the smartest trivia player is :)