Work has gone remote, and for some of us it's here to stay —it looks like people will be working remote for years to come. Just because your team is scattered throughout lots of geographic places doesn't mean you can't still come together as a group to have fun! There are many creative ways to create connection and improve team communication even when working remotely.
Virtual scavenger hunts bring remote workers together for some lighthearted fun. Teaming up for a non-work challenge is exciting and a great way to bring your team closer together. Today, we're going to go over the 6 steps you can follow to successfully run an entertaining virtual scavenger hunt for your remote team.
‍
Ready-to-Play Interactive Scavenger Hunt Game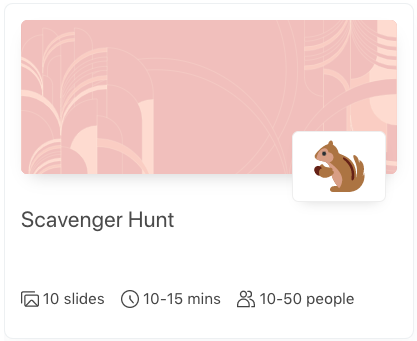 Don't want to do any prep work? Here's a ready-to-play Slides With Friends Scavenger Hunt Deck with a fun, already-written find-it list and built-in interactivity (players share finds by sending a photo!). It's free to use with up to 10 players.
‍
Free Downloadable Virtual Scavenger Hunt PDF Lists
Want to just send a pretty, already-thought-out, find-this-item list to your people? We've taken all the guesswork out with our easy-to-follow virtual scavenger hunt guides.
Our Traditional At-Home Scavenger Hunt guide is a great basic list to use, to let people dash about their homes to find the right common items.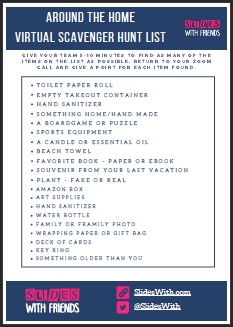 The Photo Challenge Scavenger Hunt gets teams digging through their phones to share just the right picture to get points.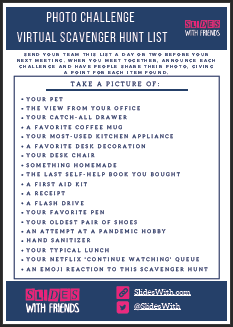 And our Riddle Scavenger Hunt list is ideal for teams, having them solve clues together before finding the item to win the game!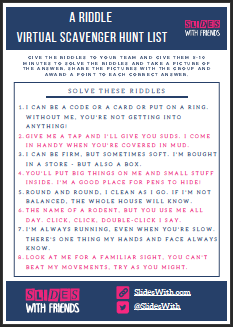 How to Host Your Own Virtual Scavenger Hunt
Unlike many of the Ice Breaker games you can find online, hosting a virtual scavenger hunt will require a bit more planning. So if you want to plan it all yourself, read on for the best way to do this! 
1. Create Your List
There are several different types of virtual scavenger hunts and lists you can use for your team building exercise. However, each type of list will require a different set of rules and will have a different run-time. One way to decide on a list is to determine the goal of your virtual scavenger hunt.
Is it an icebreaker for before a meeting? You'll want a shorter list that won't take as much time to get through.
Is it just a fun way to break up the day? If so, pick a hunt everyone can play on their own from their desk.
Are you trying to encourage a group to work better together? Then you'll want to break your group into teams and present them with a more challenging hunt.
Answering these questions will help you to determine the type of virtual scavenger hunt list that will be most beneficial for your group.
Check out our Virtual Scavenger Hunt Guides below to see if one of them might be a fit for your event.
2. Pick a Time and Invite Your Participants
Because we're looking at scavenger hunts specifically for team building, you're going to want to plan your event during the work day. We recommend having your virtual scavenger hunt mid-week and either in the morning to start the day or mid-morning to break up morning and afternoon work. Having any group activity is difficult at the end of the day, when everyone is looking forward to going home.
Also, plan your hunt at least a week in advance. A week gives you plenty of time to plan and for other's to prepare themselves (we love you, introverts!) for the activity. The more time you have to plan, the more successful your event will be.
3. Decide on a Game Master
Ideally, the person in charge of the team will be the game master for your virtual scavenger hunt. However, if this isn't their preference, choose a game master with good communication skills and the ability to motivate participants.
If possible, it would be helpful for your game master to have an email distribution list detailing all employees who are participatingin the game. That way, they can easily remind them of the upcoming event.
4. Communicate the Rules
Once your team is all together, set clear goals at the beginning of the hunt and make sure everyone knows what they need to do to win. Plan for potential problems and any questions participants might have so you can keep everything moving smoothly.
The time limit for each person or team to find any given object on the scavenger hunt list needs to be clearly communicated and enforced. Make sure you have a way of letting everyone in the group to know when time is running out. You might want to test how long it takes you, on average, to find each item on the list to determine the best time to give to the team.
This is also the time to communicate how you'll be scoring the game. There are 3 main ways you can decide to score your virtual scavenger hunt.
Scoring Olympic-Style– In this option, you'll give the maximum points to the first person who comes back, fewer to the second person, and the least amount to the third person. We recommend using this scoring method for smaller groups.
Scoring Per Round– With this method, the first person to get back gets the point for the round,with no other points given. This scoring system works best with large groups and for team scavenger hunts.
Scoring Per Person– Finally, you can give points to anyone who finds an object in the given timeframe of each round. We like this method because participants are racing against the clock instead of each other. However, the likelihood of a tie is increased in this situation, so make sure you have multiple prizes!
5. Pick a Prize – One the Team Wants
Prizes work as fantastic incentives to keep team members involved and attentive during your virtual scavenger hunt. Plus, they're just a great way to celebrate!
Depending on which scoring system you used, award the prize to the person or people with the highest scores after all rounds of the hunt are completed. If you're unsure of what the best prize for your group would be, just ask! Participation increases when the prize is something everyone could use, like an Amazon gift card.
An added bonus to gift cards is you can email them directlyto the winners, eliminating the logistics of getting a prize to your remote team members.
6. Evaluate the Results
The fun thing about virtual scavenger hunts is while your team thinks you're just having fun together, you're actually buildingconnectedness and boosting morale. The last step of hosting a virtual scavenger hunt is to see:
1. If your team actually enjoyed it
2. If it improved connectivity and attitudes
Our favorite way to decide if teams enjoyed an activity is to *gasp* just ask. Using Slides With Friends Word Cloud Deck,you can ask your team what they thought of the virtual scavenger hunt. They can use words or phrases (and vote on others) they feel best describes the experience. We also offer a Rating Slide and a User Vote to make gathering feedback simple.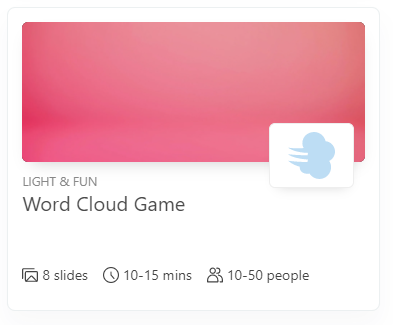 And remember those goals we discussed in Step 1? This is when you decide if you met your original goal. You might be surprised what comes out of your virtual team building activity!
Different Types of Virtual Scavenger Hunts
Even virtually, there are several different ways you can lead a scavenger hunt. We've picked a few of our favorite types of hunts, so you know which one to prepare for your next team building activity.
A 'Traditional' Hunt – Just Online!
Just like in a traditional scavenger hunt, this first type involves a list of things to find and a set amount of time to find said things.The game master announces the item to find, starts the timer, and gives a point to the first person to find the item or whoever finds the item within the time limit.
It's a lot of fun seeing co-workers dash off-screen in an effort to find the right item on time. While this traditional hunt doesn't involve as much team work, it's a classic and so much fun!
We recommend having 10-15 items for people to 'scavenge' and giving 30-60 seconds for each item to be found.
A Photo Challenge Scavenger Hunt
A photo-based scavenger hunt challenge is an easy way to get your group interacting without having to leave their desks. There are 2 ways you can provide hunt prompts to your team. The first is to send a list to your group of photos they should take before your get-together and then have the group share their photos at each prompt.
The second option for a Photo Challenge is to have everyone to share pictures they already have on their phones. You might get fewer responses this way, but it's a shorter challenge and super easy to customize.
No matter which challenge option you pick, our Scavenger Hunt Deck has an easy to customize photo challenge section, ready for you to use with just a few clicks!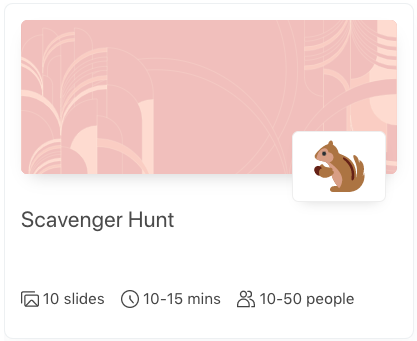 A Desk Scavenger Hunt
Finally, you can have a simple desk scavenger hunt! Make a list of items typically found on a desk (like a pen) or more general items (like something yellow). While seated at their computers, with their screens on, see how many people can come up with an item for each prompt.
We recommend a desk scavenger hunt as an ice breaker at the start of a remote meeting.
Benefits of Playing Games with Remote Staff – When a Game is More than a Game
Leading a virtual scavenger hunt is a lot of fun, but there are other benefits to including these types of games with remote teams. Studies have consistently found team building creates more engaged, productive workers. More importantly, team building activities, when done well, improve communication across the board.
Despite its reputation for being, well, lame, team building is the most important investment you can make for your people. It builds trust,mitigates conflict, encourages communication, and increases collaboration.
– Brian Scudamore, Forbes
Virtual scavenger hunts are a great way to get people moving and interacting in an environment in which they're already comfortable, their homes. In these cases, a little competition and collaboration decreases the distance and disconnect so many remote workers feel. Sharing in these moments breaks down communication barriers, motivates and engages employees, and is, quite honestly, a fun way to take a break from work.
‍
What is a Virtual Scavenger Hunt?
Hopefully, you've participated in a scavenger hunt before. But just in case, let's go over the basics.
A scavenger hunt is a game where participants are given a list of items to find or tasks to complete. A virtual scavenger hunt just moves the location of the game online, through programs like Zoom or Slides With Friends.
And now that we've covered our bases, let's get down to the nitty gritty!
‍
Where to Find Virtual Scavenger Hunt Hosts / Guides
If you aren't up for creating and hosting your own virtual scavenger hunt, there are some fantastic companies that offer ready-made hunts and games. With these professionals, you can sit back and truly join in on the fun with your team!
Watson Adventures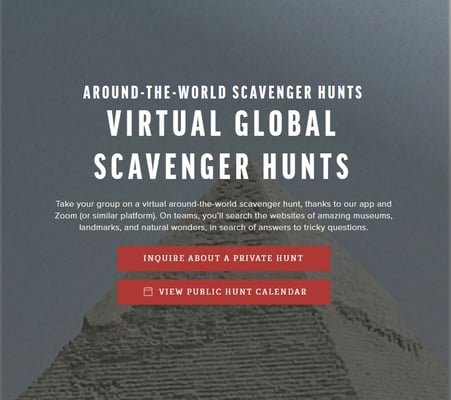 Watson Adventures offers in-person and virtual scavenger hunts, some designed specifically for remote teams. Their Around the World Scavenger Hunt is an absolute banger and will have your whole team excited for your next team activity.
Let's Roam Team Building
Charlie Harding, the CEO of Let's Roam, knew the importance of scavenger hunts for remote workers when he founded the company.
In a world of uncertainty, we wanted to bring joy back into the homes of people all around the globe. This new scavenger hunt is educational and interactive for the participants, but it is also a way to virtually connect with friends and family that you aren't seeing right now, due to social distancing.
- Charlie Harding
Let's Roam Team Building makes scavenger hunts designed specifically for your team! You'll get a professional facilitator to walk you through such a fun and engaging hunt.