Are you managing a hybrid or remote team? If so, it's important to foster connections among your employees. Just because team members work from different spaces doesn't mean they want to feel that space between them, so how can you foster better and deeper relationships? Play these 16 virtual trivia games for team building.
1. Future of the Workplace 
Your team may be forward-thinking with its remote or hybrid setup, but is anyone up to date on the latest predictions and facts regarding the future of work? Find out by playing Future of the Workplace!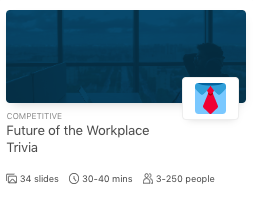 Packed with fun and tricky premade questions, this virtual trivia game tests people's knowledge on everything work-related, including the top video call platforms and remote whiteboard software companies. This game comes with uniquely-styled questions like ratings and word clouds to keep players engaged. Employees can submit answers using their mobile devices to keep things simple. 
2. You Don't Know Jack
Trivia games are so much better when there's a timer to add a little pressure! You Don't Know Jack doesn't just require players to answer questions correctly but also quickly. There's a time limit for each round, so your team members will have to think fast on their feet. The questions combine pop and high culture to create a fun time while the competition heats up.
3. Back to the Office
Is your team coming back from a holiday break?
Then, kick things off with Back to the Office, a virtual trivia game for team building that will increase engagement so much it'll feel like your teammates never left.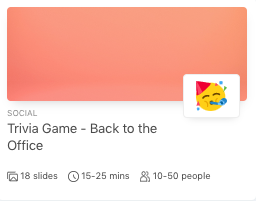 All the questions in this game focus on reunions. Some are easy, like "who hosted the recent 'Friends' reunion?" while other poll questions, like "which food is a part of a good family reunion?", take a little more thought.
The game is packed with fun features like image sharing and user voting to keep the energy up. And this interactive activity includes a leaderboard, so people will know who's in the lead, guaranteeing some friendly competition.
4. Who Wants to Be a Millionaire?
Have fun with this traditional game now available online! Who Wants to Be a Millionaire? will definitely get your team excited to hang out and bond. It comes with fun questions to test players' knowledge on a variety of topics and each question escalates in difficulty to spice things up.
This virtual trivia game for team building lets 15 people play at once, and you can approach the activity in multiple ways. For example, your group can brainstorm the answers together or each team member can take a turn playing while everyone else watches. 
5. Work/Fun Balance 
Want an online trivia game that also has icebreakers? Then get ready to play Work/Fun Balance!
This trivia game has every fun feature you need for team building, including ratings, image sharing, user voting, and pass the mic. It also combines an eclectic mix of premade questions like "which horoscope sign has a crab" and "what type of pastry is used to make eclairs?" to ensure there's a question for everyone.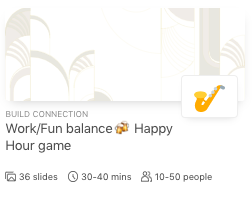 There is a leaderboard after each round, so players can see how they're faring against their teammates. They can also use their mobile devices to submit answers quickly. 
6. Online Jeopardy
Does your team love a good game of Jeopardy?
Then, why not play it virtually? Online Jeopardy is just as fun as the TV show and has many virtual trivia games that your team can enjoy. You can even access previously aired Jeopardy episodes for your teammates to play!
7. Logo Trivia 
Your team may think they know today's greatest brands, but do they know them well enough to recognize their logos? Find out by playing Logo Trivia. This virtual game for team building covers everything from logos to startups to business-related fun facts.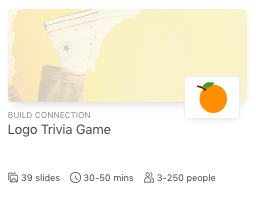 It also puts a twist on traditional trivia games by adding quirky features like image sharing, user voting, and word clouds. Logo Trivia is an interactive game that players can enjoy using their mobile devices, so it's guaranteed to keep people's attention and excitement from beginning to end.
8. Frost's Virtual Holiday Trivia
If you're looking for a virtual trivia game for the holiday season your team can play, you may enjoy this activity. With Frost's Virtual Holiday Trivia, your team is invited to Frost's new ice hotel to hang out in the lounge. 
While enjoying the virtual space, your team members will answer three rounds of holiday-themed trivia questions. Whoever answers correctly will get a point, so the competition will definitely heat up. But don't worry—things will cool down when your teammates answer icebreaker questions that randomly pop up in the game.  
9. Happy Hour Hang
Are you planning a remote happy hour? Why not complement it with the Happy Hour Hang virtual trivia game? This team-building activity is the perfect icebreaker and get-to-know-you game. The questions span various topics, including science, food, and history! The deck is also interactive, so players can enjoy unique features like pass the mic, image sharing, text answers, and more.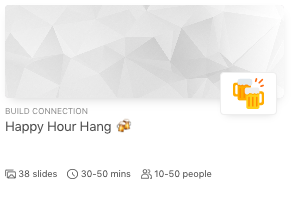 Even better, your teammates can submit answers using their mobile devices while they use their other hand to sip their beverage of choice and hang out.  
10. Poppy Quiz
Want to play an online trivia game that has a topic for any and everyone? Then, play Poppy Quiz!
This virtual activity has more than 200 topics and each one includes popular categories like athletics, TV shows, movies, science, and literature. After choosing a topic, you can add your team to a virtual room where the game will begin. 
Players will have ten seconds to submit an answer to each question, and the game will provide points based on who answers accurately and quickly. There's also a bonus round where people can get double the points.
11. Movies: A Quick Trivia Game 
What would this list be if it didn't include a virtual trivia game about movies? This activity only takes 10-15 minutes to play, so it's perfect if you're in a time crunch or simply want to enjoy a fun team-building activity before diving into the nitty-gritty of a meeting.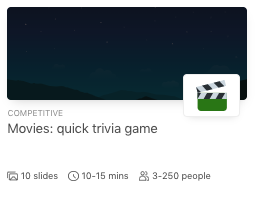 Movies: A Quick Trivia Game will reveal who's the biggest film buff on your team. The premade questions focus on action movies like the James Bond films and Disney favorites. The online game may be short, but it's sure to attract lots of laughs and a little competition as team members submit answers using their mobile devices to see who's the real movie nerd.
12. Virtual Beach Staycation
Tell employees to put on their favorite beachwear and come play Virtual Beach Staycation. This online game for teams will be guided by Captain Furling, who will welcome you and your colleagues onto his virtual luxury yacht. 
The tropical adventure will lead to a beautiful beach in Cancun, where your teammates will hear ocean soundscapes. But don't think your team will be able to relax. For this trivia game, team members will answer questions about summer pop hits, top travel destinations, and travel-themed movies. 
13. All About the Benjamins 
Benjamin is a common name, making it easy to remember. But how easy is it to recognize the differences between all the Benjamins you know? Let your team find out by playing All About the Benjamins.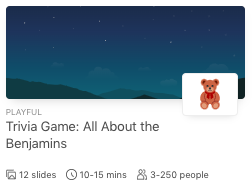 This virtual trivia game for team building will test who can get specific about the eight most famous Benjamins to exist. The activity also comes with a leaderboard slide, so employees will know who's leading, and they can provide responses using their mobile devices to make sure no one sees their answers.
14. Trivia Murder Party
A popular Jackbox game, Trivia Murder Party will be a hit among your team members. The questions are creepy and tough, but they provide your team with the opportunity to stop a murderer from completing his next kill. It's an unusual game, but a surefire way to create memories and deepen connections on your team. 
15. Who's the smartest?
It's time to finally determine who's the smartest worker on your team! Guaranteed to spark friendly competition, Who's the smartest? trivia game will keep your employees' attention from beginning to end as they try to answer questions that get progressively harder.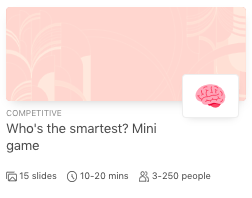 This interactive activity comes with word clouds, ratings, and text answer questions to keep things fun and light as team members compete. And, of course, this game has two leaderboard slides so everyone knows how they're doing. Players can submit answers using their mobile devices. 
‍16. Virtual Trivia Time Machine 
Take your employees down memory lane with Virtual Trivia Time Machine! This online game lets players walk through multiple decades, including the '60s. It's fast-paced and full of questions that will bring a sense of nostalgia. This game also comes with a show host, who will get everyone excited to play by sending them to fun breakout room mixers. Additionally, the show host will heat up the competition by splitting players into teams.
Bring the Party Online 
Virtual trivia games are always great team-building activities, so pick the one you want to play. Then, send a virtual invite to your colleagues! We guarantee this type of meeting is one event where your teammates won't hesitate to respond with "yes".