It should come as no surprise that most employees dislike meetings. While your team may not tell you directly, you've probably heard friends who work at other companies complain about how boring or counterproductive their meetings are, and they aren't alone in their feelings.

A recent survey conducted by consulting firm Korn Ferry polled 1,945 workers and found that 51% of professionals believe spending hours in meetings and on calls prevents them from making a true impact at work. Even worse, 67% of employees say excessive meetings distract them from completing their best work.
"Meetings aren't necessarily bad, but the way we prep and lead them can sometimes derail productivity."
- Senior executive at Korn Ferry for CNBC Make It

So, what's the best solution? Well, if you want employees to find meetings beneficial, you need to use out of the box meeting ideas to spice things up. That's the only way your team will enjoy their time together—and deep down, you know it's true because you've been in bad meetings, too.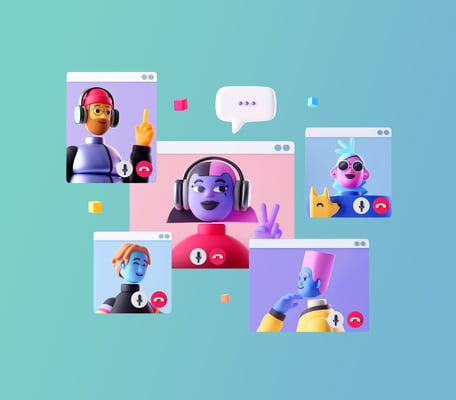 7 Out of the Box Meeting Ideas

There are many ways to make team meetings exciting. One of the best is to have unique, interactive games. This tactic leads to several benefits like inclusive conversations and teamwork. Additionally, games are great, regardless of your industry and can work for virtual events, classrooms, hybrid meetings, and more.

However, they're not the only tools at your disposal. Enhancing the success of your meetings can also happen by incorporating unique topics that foster dialogue and different locations that boost creativity.  

But if you're reading this and wondering, can we please get more specific, don't worry. Here is a list of seven out of the box meeting ideas that center on fun games, topics, and locations.
‍
1. Play an Icebreaker First

Whether you're gathering in-person or virtually, icebreakers are a great way to kickstart your team meetings. With engaging poll questions, you'll get your employees excited to continue chatting. Even better, this type of game leads to multiple advantages, including:

A relaxed environment that encourages participation
Instant rapport between team members
An eagerness to collaborate and dive into group work

Still, keep in mind that the best icebreakers are questions that relate to the reason for your meeting, so try to personalize your poll questions if you have time.

Mini Activity Group Icebreaker Game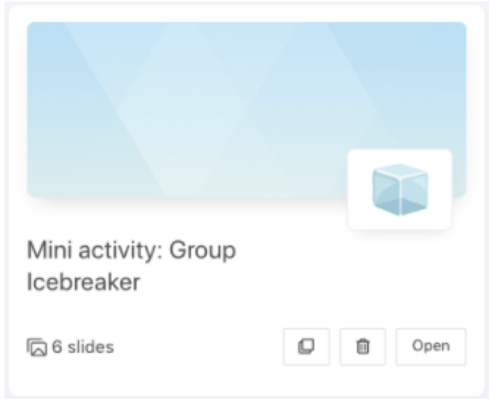 Unique and fun, this icebreaker activity provides a quick way to warm up your crowd. It's great for small and large meetings, and it comes with poll questions that are safe for work.  

This game allows your attendees to do all sorts of things, from live word clouds to uploading silly photos. All your attendees need is a phone to submit their answers.

If you're having a virtual meeting, your team's responses will automatically show up on your screen, which you'll have to share. However, if you're in person, the results will be available on whatever monitor you're using.
This icebreaker game is completely free if you have ten players or fewer. It's also customizable, so you can personalize the poll questions as much as you want.
2. Switch up the Scenery  

If your employees work at the company's office or are remote but live in the same city, get creative with your meeting's location. Invite your team to a park, cafe, or co-working space to help prevent boredom and increase employee engagement.
Or, if you're remote, have your team members get out of the house and call in from a park or a cafe, especially if the weather is good on a particular day — and share why they picked that particular location.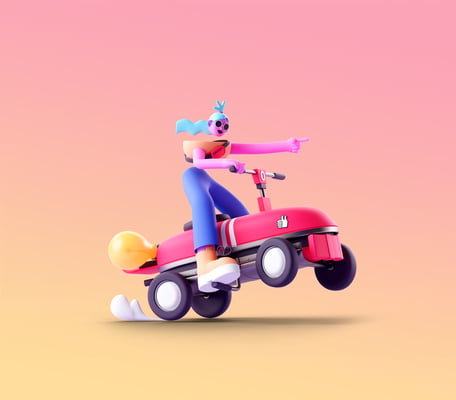 Just make sure you pick a venue that's free to enter or at least has low-admission costs. Also, confirm that it's okay to meet at the desired location. For example, if you're going to a co-working space, find out if you need to be a member to visit (the last thing you want is to have your team show up only to turn around).
3. Do a Scavenger Hunt

A scavenger hunt is a fun game to get your employees out of their seats and immediately engaged. Also, they're perfect for in-person and virtual meetings.

If you've gathered in a physical location, simply write a list of items on a whiteboard. Then, ask attendees to go look for them. The first team member to find everything wins.

For online meetings, the same rules apply. The only difference with virtual scavenger hunts is that you'll want to share the list of items to find on your screen or in the chat.  If you want to just run a quick game without doing any prep work, here's a great pre-made and ready to play "Interactive Scavenger Hunt Game", where folks send in photos of their finds. Free to use with up to 10 players.

You'll also need to get creative with the items you list. Some good suggestions are an empty takeout container, an Amazon box, a receipt, and a key ring.
4. Use Interactive Meeting Tools

Before you dive into the primary reason for your meeting, another topic should take precedence: the heartbeat of your team. You never know how employees feel at the start of a session, so getting their feedback early is best. Then, you'll understand what type of energy and dynamics may be present.

Also, getting clear on the goals for your meeting is equally important. You want to make sure everyone is on the same page and agrees on the priorities. That way, each attendee sees the value of your time together.

Interactive Meeting Kickoff Activity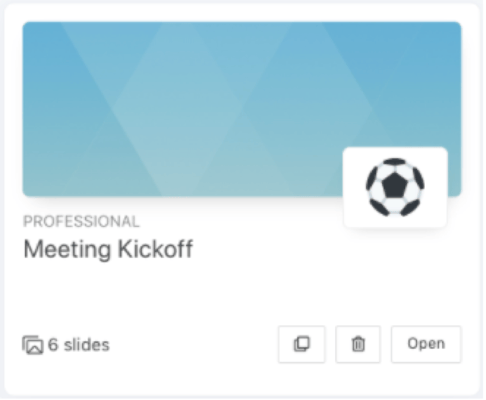 A fun way to jumpstart your meeting, this interactive activity will ensure time with your team is productive.
This activity comes with pre-made questions. And like the Mini Activity Icebreaker Game, your employees will need to submit their answers on their phones. Responses will show up in real-time on the screen you're sharing or the monitor you're using in person.  

Of course, you can tailor the questions to meet your specific needs. You can also have up to 250 people participate in this kickoff activity if you have a Slides With Friends' paid plan. But if you have a smaller team, you can stick with the free version, which allows ten people to join the fun.
5. Pick a Theme & Dress Up

If you have a monthly or weekly meeting, why not spice it up with a different theme and have attendees dress up? You can ask team members to look like their favorite cartoon characters or do an 80s theme that gets everyone in their best grunge or aerobic attire.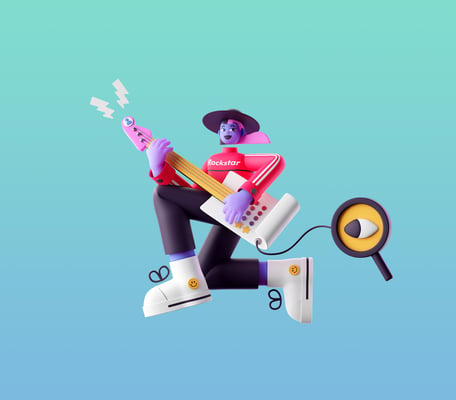 Either way, this out of the box meeting idea is an excellent opportunity to lighten up the mood, boost excitement, and get the creative juices flowing. After all, putting together a costume requires creative thinking, so your team will be ready to brainstorm before the meeting even starts.
‍6. Have Fun With Two Truths and a Lie

Another out of the box meeting idea is to play Two Truths and a Lie. For this game, tell your team members to introduce themselves by telling two truths and one fib.

The statements don't need to be incredibly personal or intimate. Having everyone focus on their hobbies, interests, and unique experiences is enough to make this game a hit.

When a person shares their three statements, all your team has to do is guess which ones are true and which one is a lie. If you want to make it a friendly competition, keep score to see who has the most correct guesses. There's a simple way to do this using an interactive SlidesWith "Two Truths and a Lie Template" deck that's teamplated and ready for you to input your team's truths and lies in a pre-made format.
7. Give Out "Most Likely To…" Awards

Do your employees know each other fairly well? If so, start your meeting with a brief award ceremony. When everyone comes together, have them give each other awards using different categories, like "Most Likely to Set a World Record" or "Most Likely to Write a Bestselling Book."

Not only will this game give attendees a chance to acknowledge each other, but it'll also test how well your team knows one another, leading to closeness and deeper bonds.
Get Creative and Have Fun

The most important thing to remember when having meetings is to create a fun, engaging environment. It doesn't matter if you're planning for a weekly, monthly, or annual meeting. Take the time to implement these out of the box meeting ideas. You won't regret doing so. And your attendees will appreciate you for taking the extra step to make your time together worthwhile.
‍