If you're hosting a conference, you should know one thing: the expectations are different. These days, people want to participate in the events they attend, and experts confirm that gatherings must have an interactive component to be successful. 
Karen Harris, the CEO of cmi, a management agency that represents a roster of speakers internationally, added that "Speakers who are used to standing on stage and delivering a canned speech aren't going to make it. The demand is definitely up for the attendee to be a participant in the conversation rather than just a passive listener."
- Mark Murphy, The Next Time You Attend A Conference, Expect It To Feel Different 
This insight may be information you already know, but increasing participation at your event is easier said than done. If you've never thought of ways to engage an audience, you may be racking your brain, wondering how to make your conference more interactive. But don't worry. For ideas on how to get attendees to engage and participate, there are ten tips you can use.
1. Have a Great Host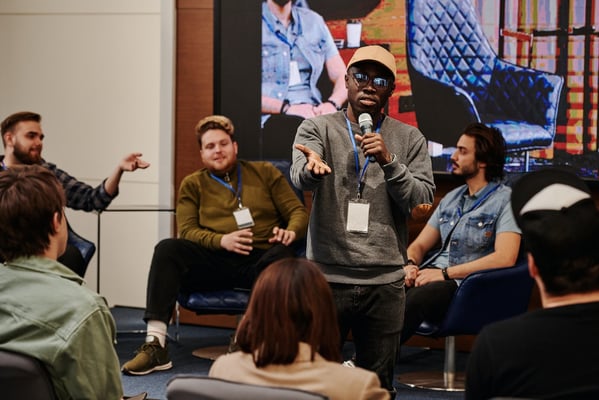 You can't have an interactive conference if you don't have a host who's comfortable interacting with people. The best thing to do is to hire a professional who understands how to make your attendees feel like royalty. This person should be attentive and alert, knowing how to ask engaging questions and play off people's comments in a fun, appropriate way. 
They should champion attendees by listening to them, gathering their questions, and using their input to guide the conference. And a good host should be a master at having intriguing conversations with speakers that they know audience members will love.
2. Diversify Topics & Hire Keynote Speakers
Another great way to make your conference interactive is to include a range of relevant topics. For example, if you're having a marketing conference, discuss current trends, the industry's future, ways to have engaging staff meetings, remote team-building ideas, and other intriguing topics. 
‍With a diverse list of subjects, audience members will be excited to attend every session, and they'll be more likely to interact if there's a good keynote speaker at each one. The presenters at your event should be knowledgeable and engaging, so don't hire people who will simply give a PowerPoint presentation. Instead, find keynote speakers who are genuine thought leaders that know how to energize your conference.
‍3. Provide Time for Q&A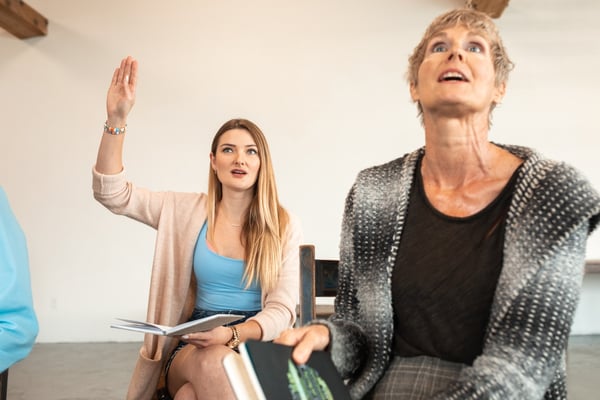 When your event covers interesting topics, you can bet your guests will have questions. The best way to gather and address them is with dedicated time for Q&A towards the end of each session. So, encourage speakers to leave room for questions in their presentations. For example, if they're allotted one hour on stage, they can use 40 minutes for their presentations, while the last 20 minutes are for Q&A. 
4. Use Live Polling and Feedback Tools
One of the easiest ways to increase participation at your event is with live polling and feedback tools. This technology is the perfect way to keep your attendees engaged during and between sessions. 
With the right tool, you can ask questions and garner input using live word clouds, ratings, user voting, quizzes, and live photo sharing. These activities will give your moderator and keynote speakers additional ways to increase interaction, and there are multiple tools that offer these fun features.
For example, Slides With Friends provides pre-made, ready-to-play decks for live polling and feedback. That means you don't have to create a game to make your conference interactive unless you choose to customize a deck. Additionally, attendees can use their mobile devices to submit answers, so it's easy for them to enjoy this tool as well.
5. Incorporate Visual Content 
Presentations with nothing but bulleted lists and a sea of words will no longer cut it at conferences. People want to engage with unique content that catches their eye and gives them a reason to focus. That means speakers must have visual material, like infographics, videos, and interactive PowerPoints. These assets will do wonders in keeping your audience's attention so that they respond to questions, ask questions, and participate in activities. 
6. Make Your Event Social Media Friendly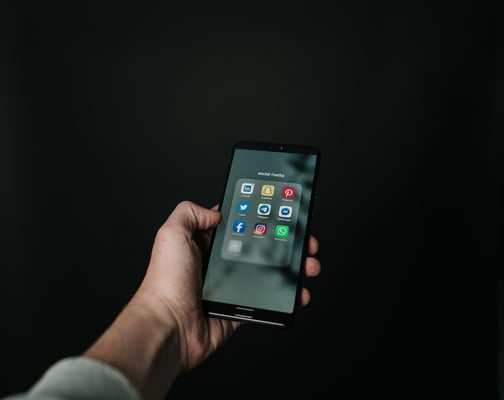 Without a doubt, your event should be social media friendly. Attendees should be able to connect, share, and learn the latest updates about your conference on all the major social media networks.
You can do this by implementing the following tips: 
Create an event hashtag for guests to follow and use when posting about your event
Hire a social media manager to post and share top moments from your conference
Have photo-worthy environments and encourage people to take and share pictures
Launch a social media contest to attract engagement and award the winner
Social media is all about connection, so it should be a primary part of your conference engagement strategy. And if you use it properly, attendees will feel a part of your event, whether it's virtual, hybrid, or in person. 
7. Offer Networking Opportunities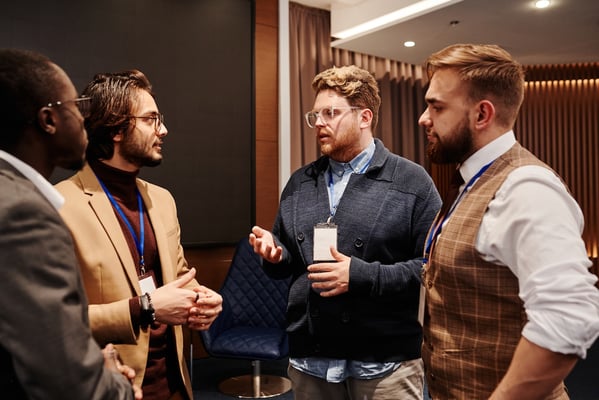 Events provide relationship-building opportunities, and you need to ensure your conference delivers multiple chances for people to connect. You can easily achieve this goal with breakout sessions, happy hours, or fun hangouts before or after tackling a particular day's agenda.
And these ideas are not limited to in-person conferences. 
You can have virtual breakout sessions, virtual happy hours with icebreaker games to boost conversations online, and virtual hangouts like online workouts. Every networking opportunity you offer in person can also happen virtually, so make sure you give online attendees a chance to connect with others as well.
8. Alternate Between Solo and Panel Sessions 
Listening to one speaker can be powerful, especially when the presenter has a deep understanding of what they're talking about and delivers insights in a fun, unique way. However, it's also great to invite a panel of speakers to discuss and debate some of the hottest topics your audience will find interesting. 
Your conference should have a mix of both solo and panel sessions. That way, your attendees can hear a range of voices, learn different opinions, and ask questions to various experts. Giving your audience many people to listen to will give them many reasons to participate.
9. Have Games & Giveaways 
Everyone loves friendly competition, so why not have it at your event? Games and giveaways are two of the best tactics to make your conference more interactive, and they're not hard to incorporate. You can have attendees play short, pre-made trivia games before a particular day of the conference starts. That way, guests are amped before the first session begins.
Additionally, during a session, you can ask keynote speakers to do a giveaway. For example, if they recently published a book, they can give one to whoever answers a question correctly.  
10. Offer Live Entertainment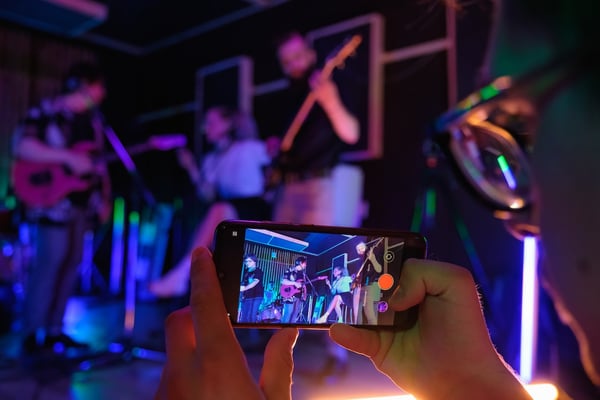 Attendees will likely lose their initial steam and excitement as your event goes on. This response is natural. Even with great speakers and interesting topics, people can eventually get tired at a conference.
‍However, if you want to energize and re-engage your audience, consider using live entertainment. You can hire a comedian, musician, or someone intriguing, like a magician. You can also provide entertainment at the end of the day and offer drinks, food, and games to create a hangout where people can unwind and truly have fun. 
Meet Expectations at Your Next Conference
Making your conference interactive isn't as hard as you think. With the right strategies, you can get your audience so excited to participate that they can't wait to attend your next event. So, take time to figure out which tips you want to implement to get your guests engaged. Then, you can host the fun conference people expect.