These days, attracting an audience to your conference is only half the battle. You still have to engage and excite guests during your conference, which is no easy feat. You hear people complain all the time about events being boring, primarily because the content at conferences is boring.
"Is it events that are boring or those who facilitate them? I've seen people captivate audiences with a piece of written text … I've also seen a lot of technological gizmos that are utterly tedious. Most conferences fail because the gist of the content that underpins them is weak, uninteresting, and uninspiring."
- Yann Gourvennec, CEO at Visionary Marketing, Quoted in 2 Million Professionals Polled On How To Make Virtual Conferences Better— Here Are Their Top 10 Hacks
We don't always have control over the information and content we're sharing — but we have ultimate control over *how* we share it. So how do we present the content we need to share, in ways that delight and excite? The single most surefire way to energize any group is to enable interactivity and let our audience be a part of our content.
This is easier to do than you might think! It can be as simple as playing a silly group icebreaker in advance that warms up your attendees to be receptive to your content. Or it can be as in-depth as creating an entirely interactive presentation that keeps your audience energized by letting them play along with your talk step by step. No matter which end of the spectrum you land on, using interactive energizers is a winning strategy.
Here are a ton of conference energizers — using both tech tools that are great, and good old fashioned tech-free interactive methods you can use for in-person, virtual, and hybrid gatherings!
1. Play a Conference Energizer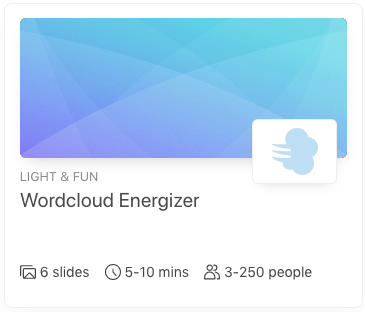 Get your conference going! This game is an interactive word cloud pump up session — ask your audience feel-good questions and lead them into excited, positive thinking about your event or talk, without much work on your end.
This is an interactive slide deck that you can present to your attendees on a projector or TV screen (if you're in person), or you can use it for a remote or hybrid conference by sharing your screen (eg. through Zoom, Hopin, Webex, MS Teams, etc). Your audience can join in on their phones to submit answers and interact as a group. It's free for up to 10 participants.
2. Run a Simple Q&A Session
A simple but effective conference energizer is a Question & Answer session. This is a tech-optional way to interact: folks are generally quite comfortable with both in person and remote Q&As that aren't fancy in their implementation.
In person format tips: Depending on the size of your conference, best practices are the "we're going to pass the mic around, raise your hand if you have a question" format, or the "we've set up a mic stand in the aisle, get in line to ask your question" format.
Remote/hybrid format tips: Using tech tools to help enable your group to share their questions might be beneficial here. Whether it's simply having folks send in questions in the Zoom chat, or using specific interactive conference Q&A tools There are lots of options like Slides With Friends, Slido, Hopin, and more that will let you let your audience ask questions and send in responses.
This activity is especially great if you have a well-known keynote speaker or are covering an interesting topic that'll lead to questions. Providing the opportunity for attendees to ask what's on their minds is an excellent way to increase interaction and engagement. 
3. Use Live Polls
Run a simple "show of hands" type poll where you ask fun questions like "Who here is already an expert in this topic?" or "who's actually wearing pants?" (If you're remote, that is ;) Here's a giant list of great poll and icebreaker questions you can choose from.
If you have a really big group or are remote/hybrid and can't really see your audience, you can use tools to get a live poll of everyone, and ensure everyone in your audience has a voice. This pre-made and ready-to-play Conference Icebreaker poll game is a fantastic way to get attendees warmed up, excited, and ready to hear your discussion! This conference poll deck does the work (of coming up with questions and displaying your group's answers live in real time) for you, and is also totally editable (eg. you can change any of the poll questions, add your own brand, etc).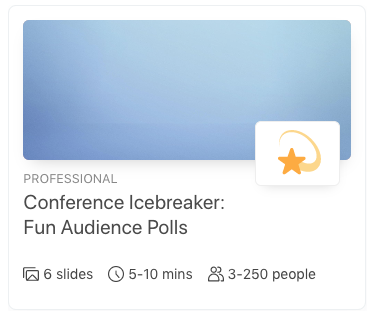 It works a lot like a powerpoint slide deck presentation, except your participants can join in using their phones or computers, and send in answers to your poll questions live as you ask them. Then it displays graphs of the answers people selected.
4. Have a "Birds of a Feather" Session
Help your guests network by doing a Birds of a Feather Breakout Session. This works best in-person, and requires no tech!
Start by setting up stations in the conference center and have a 'host' at each station. Then announce the options, and which location people should go to, for each. For example, if you're running a conference for tech startups, you could have 4 tables: VC Funded, Angel Funding, totally bootstrapped, and side projects. If you're running an event that has Social Media tie-ins, you could grouppeople at 3-6 tables, based on Instagram or Twitter follower numbers.
Have the host facilitate smaller group discussions and let people mingle & network. This activity will allow guests to meet and talk about specific topics of interest. You can also include guest speakers to help guide conversations and ensure interactions continue to flow.
7. Offer Swag Bags  
To energize and excite your audience, provide swag bags at your conference. You can offer anything, including pens, notebooks, canteens, or T-shirts. You can also use these bags to provide any materials, books, or branding items you and your other hosts want attendees to have.
Make sure you hand out items purposefully. For example, give gifts to guests who attend multiple sessions, win a game, or ask great questions during Q&As. With an incentive, attendees will remain engaged and eager to participate. 
8. Play a Trivia Competition
Instill some friendly competition in your group by seeing who knows the most! You can use some of these ready-to-play trivia games through our interactive tool, or you can put together your own questions and do show-of-hands.
For example, if you're running a travel-themed conference, try testing your attendee's exotic location knowledge with the Travel Trivia Mini Game. This pre-made activity will allow attendees to see who's been where and who recognizes famous destinations best. It's a great, ready-to-play mini-competitive game for a fun way to get your conference going.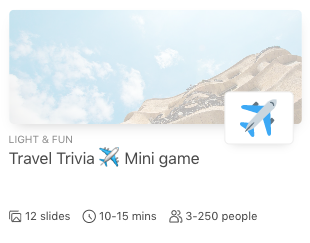 Check out tons of other themed trivia games, that you can grab and just play out of the box. Or if you want something totally specific to your group, you can create your own! Here's a template that you can start from that works great for you to just add in your own trivia questions (like you would add new slides to a slide deck).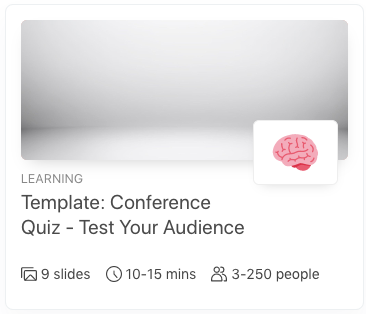 These customizable activities are free for up to ten players. Also, the only thing guests need to participate is their mobile devices. 
‍9. Take a Meditation Break  
Help your guests unwind while staying connected with a guided meditation break. This idea is perfect for guests who want to de-stress and slow down between sessions. Also, it brings like-minded people together to help foster connections. 
One of our favorite ways to meditate in large groups is through Guided Meditation. You can hire a local narrator or use a script to lead the group through steady, purposeful breathing. Add a few long stretches to get the most out of your meditation break.
‍10. Run a Scavenger Hunt
There's nothing like a little friendly competition to engage and energize your audience! And the competition doesn't have to be challenging to work. You can host something as simple as an in-person or virtual scavenger hunt.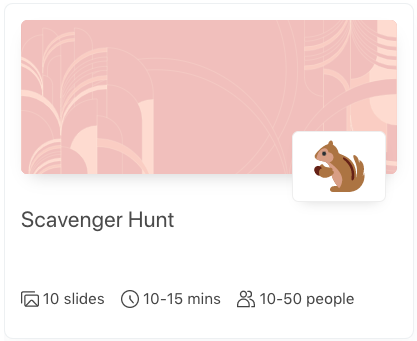 You can use our pre-made Scavenger Hunt deck as a starting point for leading out a large group scavenger hunt. With larger groups, we do recommend doing a photo scavenger hunt, so participants don't actually have to run around to find items.
11. Play a Group Team Building Game
Encourage connection at your conference with Team Shenanigans, one of Slides With Friends' most popular decks.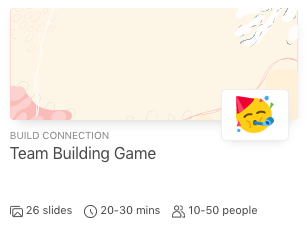 This fun customizable game has pre-made questions and unique features, including image-sharing slides, word clouds, polls, and ratings. There are multiple rounds in this activity, and players can participate by submitting responses on their phones. 
Team Shenanigans is free for up to ten players, but you can add participants by getting a paid plan. Once you know who's participating, share your screen so that attendees can access the game. 
12. Do Speed Networking
Speed networking is always a great conference energizer because it's fast-paced and centered around interacting with others. For this activity, give guests the opportunity to meet for a limited amount of time. You can either provide prompts and questions to get the conversation flowing, or let the group go with the flow.
If you're hosting a remote conference, the meetups can happen in virtual rooms and rotate so that everyone can make as many connections as possible. With an in-person conference, set up tables in a room and have guests move from one to the other to meet people. To help foster conversation, offer fun topics for attendees to discuss. 
13. Have a Conference Movie Night 
Do you want to help your guests kick back while cultivating bonds? Then, host a conference movie night. This idea is great if your attendees have had a long day of sessions. Allowing them to hang out and watch a good movie will be the perfect way to process their day with others. Also, if your event is in-person, you can have popcorn, pizza, drinks, and candy available to provide a movie theater feel. 
14. Play "Never Have I Ever" (conference friendly)
Boost the mood of your conference with this office-appropriate game of Never Have I Ever by Slides With Friends.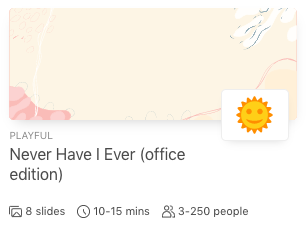 This pre-made, ready-to-play activity is perfect for a breakout or networking session because it fosters conversations and helps people get to know one another. It only takes 5-10 minutes to play and is free for up to ten players. 
Once you're ready to launch the game, share your screen with audience members. Then, have participants answer questions using their mobile devices. 
15. Gamify Connections 
You can motivate even the shyest person to open up with this conference energizer. Gamified Connections incentivizes people to interact with others during your conference. For example, with this activity, you can award points to people who make a certain number of connections at a networking session.
The audience member with the most points can get a prize. 
16. Give 1:1 Sessions with Experts
Another great conference energizer is 1:1 sessions with experts. Guests will love the opportunity to discuss their challenges privately with people specializing in specific areas. The sessions also don't have to be long. To ensure as many people as possible have a chance to speak with an expert, make each session 10 minutes. Also, have attendees submit their questions before their time slot. That way, the expert can prepare a thoughtful response.  
17. Play a Super-Quick Team Building Game 
Foster deeper connections with the popular Team Building Game by Slides With Friends. This pre-made, ready-to-play deck is full of fun features like polls, image sharing, ratings, and word clouds. All the interactive prompts in this activity are geared to help your attendees come together and feel good.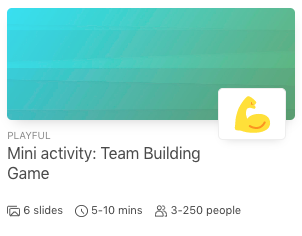 It's free to play for up to ten players unless you have a paid plan. When you're ready to launch the game, share your screen with guests, and tell them to submit answers using their mobile devices.  
18. Give a Cooking Lesson 
Give your attendees a fun way to bond with each other by hosting a cooking lesson! You can set up a mobile kitchen on stage and bring in a local chef to walk your attendees through making the meal. Then, of course, serve some of that yummy food! This conference energizer provides a unique opportunity to network and hang out. You can host this activity during a lunch break or at the end of the day.
But for this idea to work for remote conferences, send attendees the recipe before the lesson starts, and consider sending a gift card to help them buy ingredients. 
19. Play a Controversial Questions Game 
Unique and full of fun office-appropriate questions, the Controversial Questions Game by Slides With Friends is the perfect conference energizer to kickstart your event!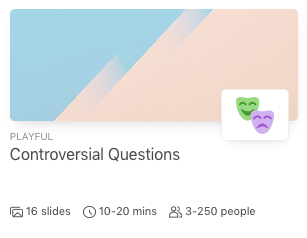 This ready-to-play icebreaker has tons of interesting and easily debatable questions like "Should you tell someone if food is stuck in their teeth?" With this customizable game, you'll get people talking and energized in no time. 
20. Play Harry Potter Trivia 
Few things get everyone amped, but Harry Potter is definitely one of them. So let your guests kick back and have fun with this exciting, pre-made Harry Potter Trivia Game by Slides With Friends.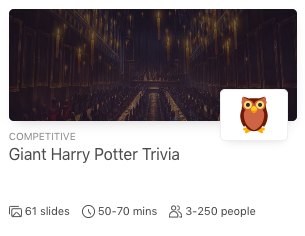 This wickedly fun game will spark friendly competition as attendees compete to see who's the best wizard. It's great for a happy hour or networking session. Also, it comes with multiple rounds and displays the top scores after each round to show who's the most knowledgeable wizard at your conference. 
21. Have a DJ or Live Band 
Want to end your event on a high note? Then, hire a live band or DJ to help wrap up your conference. You can schedule a daytime or nighttime gathering for attendees to hear the music. If you want to make things even more fun, have drinks, food, and games available. 
And dancing. Always dancing.
Enhance Your Event With Conference Energizers
Creating the best experience possible is crucial to having a great event. So, if you want to ensure your gathering is successful, use the conference energizers in this article to get guests amped and excited to be there.