Creating a space for people to gather is one of the most rewarding tasks you can accomplish, whether during daily meetings or larger conferences. But that fulfillment can quickly dwindle if your audience doesn't enjoy your conference. 
More people are starting to criticize conferences and wonder if they're truly necessary, especially given how much they cost. If you consider some business conferences, one ticket to a major event can cost thousands or tens of thousands of dollars. 
"In recent years, there has been growing criticism of conferences, with more and more questions being asked of their relevance, worthwhileness and, of course, cost-effectiveness. It is perhaps the last factor that puts people off attending, with tickets to major events costing in the thousands, or even tens of thousands, of dollars."
- Heikki Väänänen, Forbes Contributor, All The World's A Stage - Why Conferences Are Still Invaluable To Your Business
But it's not just business conferences that people are becoming wary of attending. It's any type of conference. People don't want to come to an event that bores or displeases them, which means you must do an incredible job at engaging your audience. 
The Top 22 Conference Activities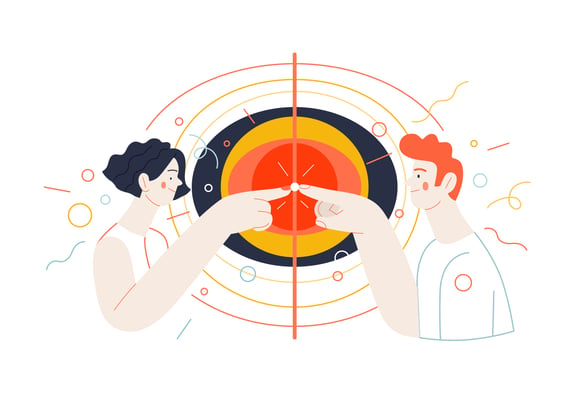 If you want to deliver an outstanding event experience, you need to incorporate conference activities to engage and interact with your attendees. Including varying activities will give guests a reason to see the value of your conference and join the next one. But do you know which activities to include? If not, here's a list of 22 fun conference ideas you can use.
1. Poll Questions
A list of conference ideas has to start with poll questions. This conference activity is a perfect way to begin your event because it'll immediately help people interact and have fun.   
Icebreaker Poll Questions
Free to play with up to 10 players, Icebreaker Poll Questions comes with four unique questions for attendees to answer.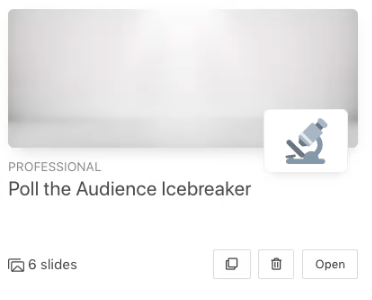 This ready-to-play deck is available with Slides With Friends and includes multiple-choice and live word cloud questions that you can customize. Your audience can join the fun and submit their answers using their phones. Their responses will be displayed on the screen for everyone to see and give feedback on. 
2. Table Teams 
If you need conference ideas for an in-person event, table team is great. All you have to do is transform assigned tables into teams. From there, have each group create a fun, unique name and mascot. Then, throughout the event, foster interaction with group discussions, team projects, and problem-solving activities. 
3. Scavenger Hunts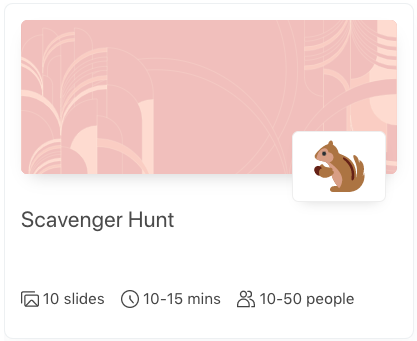 A scavenger hunt is great for an in-person or remote conference. For example, if your event is in-person, give attendees a list of items to find that relate to your discussion and are hidden in the room. On the other hand, for a remote conference, enjoy a virtual scavenger hunt by providing guests with a list of items to find. The list can include anything from a takeout box to a house plant. 
4. Graffiti Boards
For this conference activity, use a corkboard or large whiteboard for attendees to share comments, lessons learned, business cards, or messages. Then, they'll have a fun opportunity to connect, network, and learn from one another. 
5. Mini Trivia Game 
Everyone loves trivia, so why not play it at your conference? This activity will provide friendly competition among your guests, encourage interaction, and significantly increase engagement. 
Biggest Movie Nerd Mini Trivia Game
Test attendees' film knowledge with this ready-to-play Slides With Friends Movie Trivia Game. Attendees can submit their answers with their phones.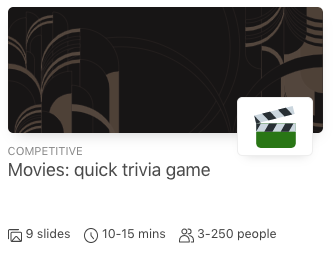 This in-person and interactive virtual conference idea is super fun. It includes six pre-made questions about movies and covers some of the biggest hits like Finding Nemo, Star Wars, and Hunger Games. You can indicate how many points a question is worth depending on how difficult it is to answer. Additionally, you can reveal the scores and winner at the end of the game, so everyone knows who's the biggest movie nerd.  
6. Panel Discussions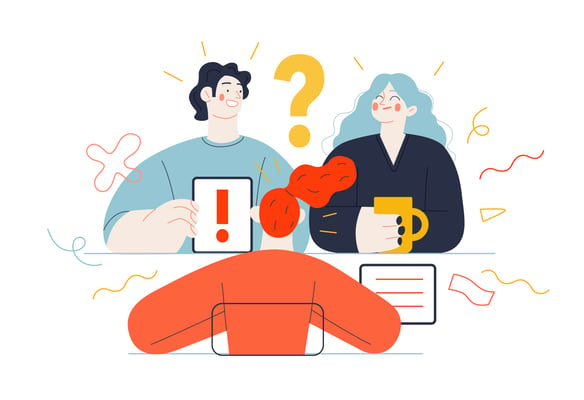 A great way to keep a conference interesting is with panel discussions. This conference activity will help prevent lecture-style presentations, which can easily bore participants. Panel discussions are also incredibly beneficial if you let attendees submit questions beforehand. That way, they can participate and help dictate what they learn from each expert.  
7. Ask Me Anything 
One of the most common but fun conference ideas is Ask Me Anything. If you're speaking at an event, this conference activity allows attendees to ask questions about life, work, sports, or whatever else they want to learn from you. 
8. Trivia Competition 
Get your attendees engaged and excited with friendly competition! A trivia competition is one of the most fun conference ideas, and it's an easy way to help guests relax, interact, and meet new people. 
Fun Fact Trivia Competition
Want to see who knows the most random information? Use this ready-to-play Fun Fact Trivia Competition deck at your in-person, hybrid, or remote conference!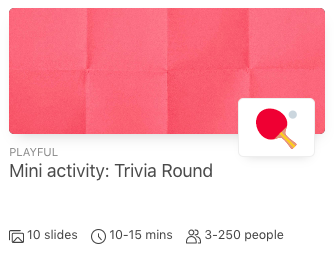 The game takes 10-15 minutes to play and includes five quick, random trivia questions. Participants can submit responses on their phones, learn the correct answer after each question, and see who won the game. You also can determine how many points each question is worth and update slides to customize this activity. 
9. Human Spectrogram
This is one of those conference activities that sounds difficult but is much easier than you think. The activity starts by telling attendees to stand up. From there, you'll ask questions, and participants should respond by walking to the area of the room that indicates their answer. 
10. The Solution Room
You'll start this conference activity by providing everyone time to think of an obstacle they're facing. Afterward, you'll do two human spectrograms. The first will showcase how difficult attendees believe their challenges are to solve. The second will indicate how much experience each guest has to offer.
From there, you'll divide attendees into small groups. Then, each participant should walk through their problem and let their group brainstorm ways to solve it. During this step, give groups 7 minutes to address each issue. After the game ends, do another human spectrogram to see if participants feel more optimistic about their concerns.
11. Meeting Icebreaker
Maybe your event has breakout sessions? In that case, you need conference ideas to help engage a smaller group.
Meeting Icebreaker Questions 
Warm-up your audience with pre-made icebreaker questions in this Meeting Icebreaker Deck!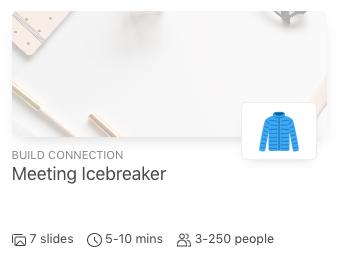 Fun and unique, the Meeting Icebreaker game comes with tons of uniquely-styled questions, including rating slides, live word clouds, and live image sharing. You can update the questions to tailor them to your discussion. Or, you can simply enjoy this ready-to-play deck, which even comes with sound to increase audience engagement. Regardless of what you choose to do, this activity is one of the greatest interactive virtual conference ideas that also works for in-person events. 
12. World Café
For this idea, break everyone into small groups and have each group sit at a table. From there, ask a question, and give the group 15-20 minutes to discuss. 
After the round ends, each group member should move to a different table. However, someone in the group can stay at the table to host the next round and welcome the new people. Overall, this activity should include two or more rounds. Once attendees complete all of them, move forward with a large group discussion to see what everyone learned. 
13. Silent Disco Talks
Silent Disco Talks are a fun opportunity to showcase several experts to guests. If you're running a conference, provide participants with wireless headphones that have different channels. Then, let attendees decide who they want to listen to—they can tune into one speaker or switch between various presenters. The benefit of this conference activity is that you'll ensure guests always hear information that interests them. 
Just make sure your attendees respect the silent experience by withholding claps. Also, have speakers wear sound blockers so they're not distracted by others in the room. 
14. Fishbowls
With this activity, 3-6 attendees should sit in the center of the room. They're the only ones who can talk at any one time. Everyone else should sit around the individuals to listen and observe. However, to increase interaction, put a few open chairs in the inner circle. That way, audience members can sit in a chair to make comments or ask questions. 
15. Discussion Circle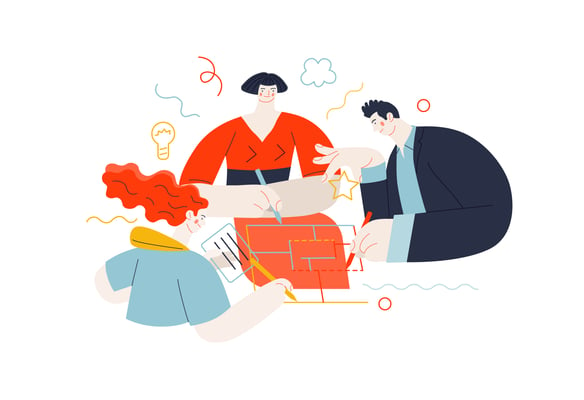 This conference activity has a similar setup to fishbowls. Specifically, listeners must sit around participants who are speaking. But the key difference is that anyone can walk into the inner circle to talk. People can also step into the circle to stop someone else from talking. Of course, no one should monopolize the conversation. You should give participants a maximum amount of time to speak before they have to "retire." 
The great thing about a discussion circle is it allows guests to hear many perspectives. You just need to make sure the discussion doesn't get boring. So, have some topic ideas to keep things going.
16. Talent Show
A list of fun conference ideas wouldn't be complete without a talent show. This activity is great for in-person or remote conferences. For this idea to work, you'll be the presenter who introduces each participant. Ideally, you should have 8-10 acts and give each participant around 5 minutes. Once all the acts are over, have audience members vote for their favorite.
17. Braindates
With this activity, you'll help create small group or one-on-one sessions called "braindates." If you want to do this successfully, attendees must offer knowledge on specific topics and request knowledge on certain topics before the conference. Afterward, you'll match participants based on their responses. Then, participants should schedule a time to network and learn.
18. Group Check-in
If your in-person, hybrid, or remote conference spans multiple days, you may want to check in with attendees to see how they're doing. That way, you know how everyone is feeling and how to maintain their interest.
Group Check-In Game 
Check the pulse of your event with this pre-made, ready-to-play deck Take the Temperature slide deck.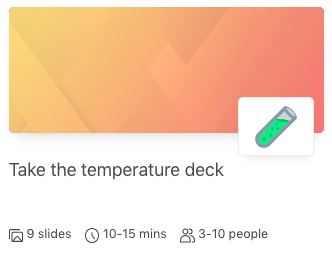 This conference activity is easy—attendees can use their phones to submit responses. The deck also comes with many interactive features that allow participants to share and see photos, rate how they feel with emojis, and vote for words in a word cloud while watching the terms live-update by getting bigger or smaller based on people's responses. You can also tailor the questions in this deck to fit your discussion. 
19. Virtual Event Gift Bags
If you're speaking at a virtual conference, keep your audience engaged with event bags, like ones they'd receive at a regular conference. Have them arrive at each guest's house, but make sure the bags include items related to your session. For example, maybe you're doing a round table discussion. In that case, the event bags should include cards with discussion questions or statements. Then, each attendee can read their cards to jumpstart a conversation. 
20. Social Media Contest
This idea can be a fun conference activity, especially for remote events. All you have to do is create a hashtag for your gathering. Then, ask your attendees a question. 
For instance, ask them to share a photo of where they're tuning in from and include the hashtag in their post. With a remote conference, you may see attendees submit images from a beach in Costa Rica or a jungle oasis in Bali. Because of that, it might be hard to select a winner, but make sure to choose the person with the best setup. 
If you'd like to keep your conference private, use a Live Photo Sharing slide deck to get the same engagement and results without the social media element.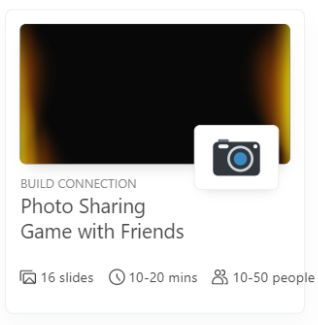 21. Virtual Beer Tasting Session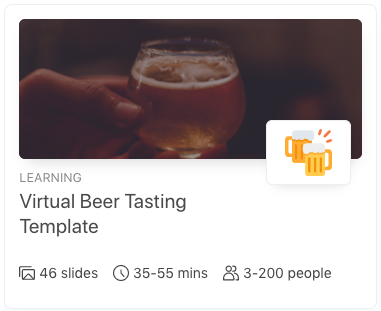 If you want to create a unique opportunity for attendees to connect, have a virtual beer tasting by using our Virtual Beer Tasting Template. Many companies offer this activity and provide the host and drinks as well as unique features like history lessons, beer-making tips, cheeses, and meats. 
22. Travel Trivia Game
Does your conference draw an international crowd? If so, why not capitalize on that by talking about traveling? This conference idea will see who knows about the world's most famous attractions and spark conversations about people's trips.  
Mini Travel Trivia Game
Discover the most well-traveled audience member with this ready-to-play Travel Trivia Game by Slides With Friends.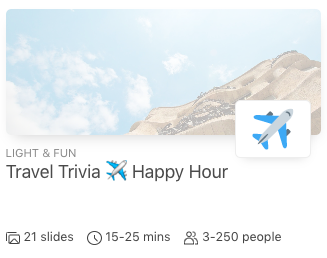 This deck features questions and pictures of different places to test if participants recognize what's being shown. Players can submit responses using their phones, and the correct answers will be revealed at the end of the game. Winners will also be displayed at the end, and you can present a prize to congratulate the highest scorer. This pre-made deck will surely be a hit, but you can also customize it if necessary. 
Spice Up Your Event With Fun Conference Ideas 
Having a successful event isn't impossible. All you need to do is implement fun activities for your guests to enjoy. Whether you use interactive virtual conference ideas or in-person activities, you'll help attendees see the value of your event. So, take advantage of the conference ideas on this list. Then, people will be excited to attend all of your gatherings.