According to a recent survey, workers would rather go to the dentist, talk about politics at a family dinner, or call Comcast before attending a bad meeting. Pretty dire, right? Poorly run events are the last thing your employees want to join, which is why they may feel uneasy about the calendar invite you recently sent. 
"Would you rather attend a bad meeting or... Go to the dentist? Talk politics at family dinner? Watch C-SPAN in a waiting room? Call Comcast? If teeth cleaning, table fights, nonprofit television or on-hold music sound better to you, you're not alone: When employees were posed the "would you rather" scenario, these were the top four responses, according to a survey of 757 U.S. workers in 2019."
- Hayden Field, Survey: Here's How U.S. Workers Really Feel About Meetings
Despite people's underwhelming feelings towards meetings, you can save the mood, boost productivity, and improve the effectiveness of your event by doing a simple meeting pulse check. A pulse check is a technique group leaders can use to 'take the temperature' of the group, checking in on moods, attitudes, and general understanding.
By taking the pulse of your group and understanding where they're at mentally, you can prevent negativity from festering and bring focus back on the topic at hand. The method is a fantastic, quick way to grab your attendees' attention. However, checking the pulse of your employees during a meeting isn't possible without the right strategies. If you want to do an effective meeting pulse, here are five tools and methods you should use.
1. Employee Wellbeing Check-In
Sometimes, your employees won't be open to sharing their feelings without anonymity, making it critical to have a tool that allows your workers to submit feedback without revealing their identities. 
When your meeting starts, give employees the option to anonymously share their thoughts about the meeting topic, their day, and their roles. With this sense of privacy, your employees will deliver raw feedback that will help you tailor your session to your workers' needs. 
A fun and easy way to check the pulse of your employees, the Wellbeing Check-in Game is a great way to start your meeting.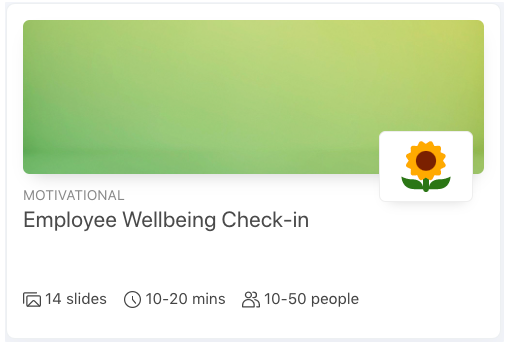 The SlidesWith slide deck comes with several questions that ask your employees to privately share how they're doing, whether they feel motivated, and what their thoughts are about your leadership team. These questions will allow you to get inside your employees' heads to see how you should enhance the meeting and improve the overall morale of your team. Additionally, the game includes live word clouds, live photo sharing, and multiple choice questions to keep things interesting. 
The Employee Wellbeing Check-in is free for up to ten people and only takes about 15 minutes to play. You can use the pre-made questions that come with this activity or change them to fit your team and topic. Once you start the activity, your employees can use their phones to submit their answers. 
2. MeetingPulse 
If you notice your employees are disengaged and disinterested during your meeting, you need to find a way to capture their attention. One way to do this is with MeetingPulse. 
This tool provides polls, raffles, and surveys to help you interact with your attendees. The point of the games is to foster engaging and effective conversations—that way, your employees see the benefit of your meeting and don't associate it with another lousy workplace event.
The only thing to keep in mind with MeetingPulse is the free version only allows you to enjoy the interactive games for one meeting. Assuming you have multiple events per month, this may not be the best tool if you need a free option. You don't want to find yourself in a situation where you have to decide which meeting is worth bringing out engaging games and activities. 
Every meeting you have is important, so it's critical to go into each one ready to excite your workers if your meeting pulse is bad. If you can't do a paid version of this tool, you should carefully consider if MeetingPulse is the right one for you. 
3. Share Accomplishments
Another great way to check the pulse of your employees is to ask them to share recent accomplishments. These achievements can be professional or personal. It can be as fun as starting a new passion project or finishing the Ironman Triathlon. 
The point is to see if your workers have anything positive to say. When someone is in a good mood or engaged in the workplace, they tend to have uplifting comments, so if your employees are quick to share accomplishments, that's a good sign of a great meeting pulse.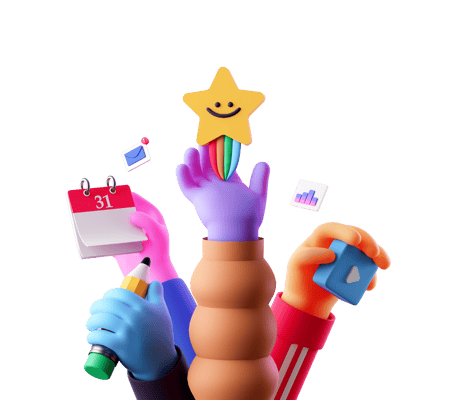 Conversely, if your employees are slow to mention their achievements or do so begrudgingly, you may need to find a way to get them ready and excited so that your meeting is a success. It's also best to implement this method at the beginning of your event so that you know how to proceed. The best case scenario is everyone shares their accomplishments and you start the meeting positively. 
4. Temperature Check Game 
When all of your attendees arrive at your meeting, you should take a temperature check to understand the mood of your group. Maybe someone on your team is struggling or has something exciting to share. Whatever it is, you need to create a space to gently check in with your employees. 
Have your employees submit their feelings and thoughts anonymously with the Group Temperature Check game.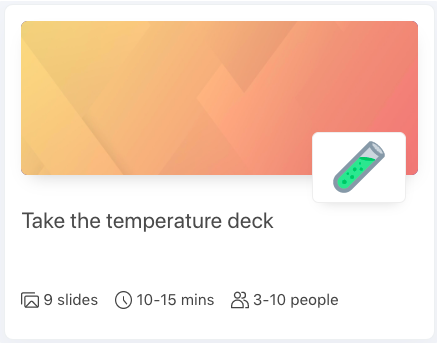 This interactive activity includes word clouds and live photo sharing to provide a fun way to check the overall mood of your attendees and create a sense of community. The game comes with pre-made questions and prompts like "what have you been struggling with lately?" and "share a photo of something you're proud of." 
The Group Temperature Check game offers a simple way to examine the pulse of your employees while building camaraderie, closeness, and engagement. You and your attendees can play this game for free with ten players or fewer. All you need is a mobile phone and a screen. 
It'll take about 10-15 minutes to play, but the time will go by quickly and be well spent. After you do a temperature check, you'll not only start on a strong note, but you'll also know how to make your meeting even better. 
5. Ask for Input and Feedback
Throughout your event, you can do a quick meeting pulse by simply asking for input and feedback. For example, maybe you're gathering with your team to do a project kickoff meeting. If that's the case, during the event, ask attendees how they feel about the scope of the project, the tools and methods you'll use to complete the project, and everyone's specific roles and responsibilities.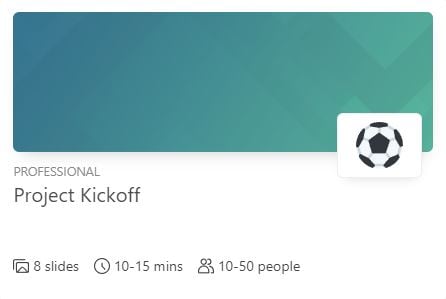 Interacting with your team and getting their feedback throughout the meeting will be a great way to check in with how they're feeling and whether they find your meeting beneficial. Just make sure you don't overdo it by constantly asking for input. Garner feedback at the most critical points of your event to see how things are being received. 
The meeting pulse determines success‍
Checking the pulse of your employees at every meeting is crucial. How your team feels will determine whether your event is a success, making it imperative to do a meeting pulse before and during your time together. Only then will you know how to enhance your meetings and make them beneficial for everyone involved.