It's easy to be optimistic about the future of a new project. But if you've been in project management long enough, you know that optimism doesn't equal success. Most projects don't go according to plan, so much so that research suggests there's significant room for improvement.

A new report by Project.co lists the following issues:

Only 16% of people say they "always" hit their deadlines for a project.
20% of people admit they miss or forget tasks "regularly."
A mere 42% of people find it easy to understand what their other team members are working on at any given time.
92% of people believe collaboration with their team must get better.

Undoubtedly, it's challenging to execute successful projects, but that doesn't mean it's impossible. One way to see positive results is to start having effective project kickoff meetings.
What Are Project Kickoff Meetings?‍
A project kickoff meeting is the first step to completing any assignment properly. It's the initial meeting between you, your project team, and any stakeholders. The latter could be a client or internal executives, depending on the type of project.

However, in both situations, the goal is the same: explain the purpose of the project, establish common goals, and dive into the requirements everyone must fulfill to get the assignment done. A project kickoff meeting aligns you and everyone involved, increasing your chances of completing the task by the deadline.
What Not To Do at Your Kickoff Meeting

There are common mistakes you should avoid if you want to have productive meetings that jumpstart your projects.

Keeping that in mind, here's a brief list of missteps you should avoid:
Don't come with a weak agenda
Don't invite more people than necessary
Don't show up late if you want to prevent frustration
Don't let the conversation veer off-topic
Don't miss opportunities to make your meetings fun and engaging

These guidelines are easy to follow, and they apply to virtual, hybrid, and in-person meetings. So regardless of where your discussion happens, remember to avoid the above mistakes. That way, your project kickoff meetings are beneficial for everyone.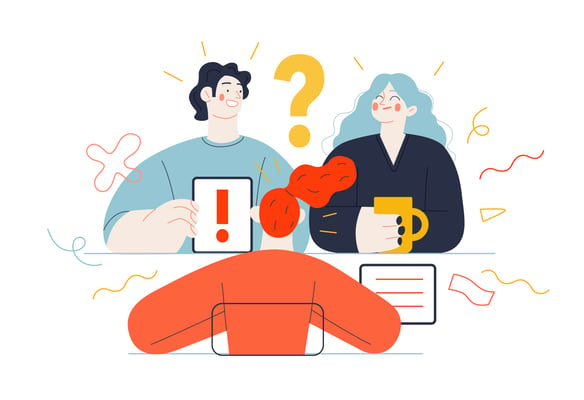 How To Run a Successful Project Kickoff Meeting

Now, it's time to explain what steps you should actively take to have effective kickoff meetings. After all, the last thing you want is to look unprofessional or unprepared, so implementing best practices to ensure everything runs smoothly is a great idea.
1. Create an Agenda

Before your kickoff meeting starts, develop an agenda. It should include the list of things you want to cover, potential questions you want to ask, and any helpful materials like the timeline or project plan. Also, share the agenda before your meeting begins—that way, your attendees can come prepared and ready to go.
2. Start With Introductions

It doesn't matter if your project is internal or external. Start your kickoff meeting with introductions. Maybe someone is new to your team and doesn't know everyone. Or maybe your team is working with a new client. In both cases, introductions are necessary. They're a great way to get people up to speed on everyone's name and role.
3. Do a Project Kickoff Game

During your discussion, try to increase engagement right off the bat. You can easily do this by playing an interactive kickoff game that focuses on the reason for the meeting. Even better, this strategy will allow you to gauge everyone's thoughts on the project before it even starts, giving you full visibility into the points you'll need to discuss to make your meeting a success.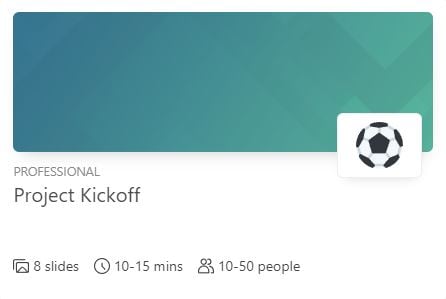 Short but engaging, this game is a great way to warm up your audience and understand what needs you should address during your meeting.

10 minutes, 10-50 people‍
It only takes 10 minutes to play and comes with pre-made questions, like "what's top of mind about this project for you" and "what would success in this project look like." Your attendees can use their phones to submit their answers. Responses will show up on the screen or monitor you're using.

You can enjoy this game with up to 10 people for free, and up to 250 if you upgrade. And you can personalize the kickoff questions to your attendees and project.
4. Dive Into the Project's Background

Projects don't spring up out of the blue. They happen after people discuss them, so give your attendees the background information they need. Briefly dive into the ideas and pain points that led to the current project so that each person understands why they're at the meeting.
5. Explain the Project's Purpose

After you dive into the past, you'll want to discuss the future. Explain the project's purpose by outlining how it'll positively impact people's lives. One of the best ways to keep your team motivated is with a shared goal, so rally everyone around the benefits your project will provide to ensure each person is excited to help.
6. Outline the Scope

Once everyone has context, you need to flesh out the details. Talk about the deliverables, milestones, budget, and timeline. And make sure your attendees understand each piece. The last thing you need is for someone to deliver the wrong deliverable at the wrong time or do something that's significantly over budget.
7. Walk Through Tools and Methods

Setting the scope doesn't matter if you can't track anything. That's why you need to discuss the tools and methods you'll use to track your team's progress and spending. Additionally, use your project kickoff meeting to walk through the collaboration tools you all will utilize and take note of who needs access to them. For example, you may need to invite your client to a private Slack channel.
8. Agree on Roles

At this point, everyone at the meeting should know what to expect. But does each person know who's doing what?

Your next step is to assign roles and responsibilities. Walk through who's responsible for each deliverable, who's contributing at each milestone, and who's approving each part of the assignment. This clarity will allow your attendees to walk away knowing their specific action items.
9. Answer Questions

Even if you're thorough during your meeting, open the floor for questions. Give everyone a chance to ask for clarification or any additional materials or insights they'll need to do their job. Your project kickoff meeting should leave everyone feeling encouraged and equipped, but that can only happen if each person receives an answer to their question.
Experience Alignment and Clarity

With a detailed project kickoff meeting, your attendees will walk away with alignment and clarity. And those two ingredients are what make a project successful. When everyone is on the same page, it becomes much harder to fail, and that's why kickoff meetings are so important.

They create and solidify the foundation for your project, so don't skip or underestimate the importance of having them. If you want to complete projects as efficiently as possible, have a meeting to jumpstart the process and unify your team.  
‍