We're pretty big fans of icebreakers here at Slides with Friends – Which is why we have icebreakers for large groups, virtual icebreakers, and Thanksgiving icebreakers.
As the holidays approach and those dreaded holiday parties are put on the schedule, it's time to think about how you're going to keep conversation flowing.
You're going to be shocked at our suggestion: Icebreakers!
We've put together 100 of the best, most entertaining icebreaker questions you can use for the beginning of your meetings, your next holiday party, or for a fun midday break.
Holiday Icebreaker Questions for Small Groups
The questions in this section require a bit more conversation, which is perfect for smaller groups or teams.
Use our Holiday Icebreaker Questions slide deck and copy-paste any of the questions below to really get your next holiday party off to a fun start.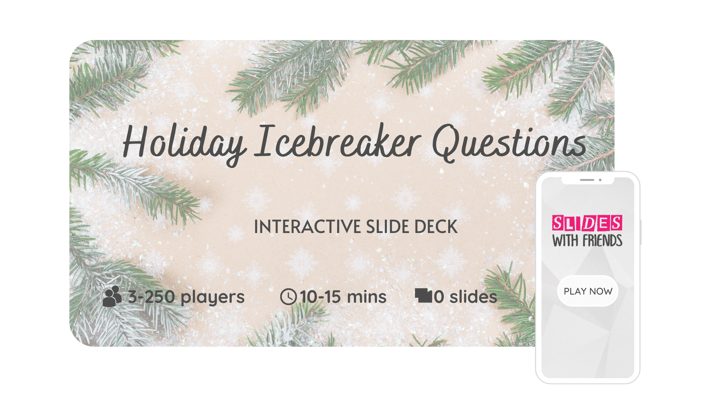 1. What is your dream holiday vacation?
2. What's your favorite snow day memory?
3. What's the weirdest holiday tradition you keep?
4. Do you prefer to celebrate the holidays with just immediate family or with extended family?
5. What was the best gift you've ever received?
6. What's your favorite holiday smell?
7. Have you ever returned a Christmas gift?
8. If you were to write a letter to Santa now, what would you include on your wish list?
9. Did you ever believe in Santa?
10. Have you ever re-gifted a present?
11. Which character from a holiday movie do you relate to the most?
12. What's your favorite holiday tradition?
13. What's the most elaborate gift you've ever given someone?
14. Which TV show had the best holiday episode?
15. How many languages can you say 'Merry Christmas' in?
16. If you had to assign the names of the 7 dwarves to your co-workers, who would get what names?
17. What's the most obscure Christmas song you know?
18. Do you have a New Year's Eve tradition?
19. Do you have a new year's resolution? If so, are you comfortable sharing it with the group?
20. What's the best advice you've been given in the new year?
21. What's something that challenged you in the last year?
22. What is something you're looking forward to in the new year?
23. How do you toast in the New Year?
24. What's the best NYE party you've been to?
25. What 3 things would you put on your bucket list for the New Year?
Holiday Icebreaker Questions for Large Groups
Questions for larger groups need to be a bit more to the point. Word clouds are a perfect way for everyone to share, but also to keep focus on just a few of the top answers.
Use the Slides with Friends Word Cloud Energizer and let your team type in their answers. Then, they'll be able to vote for their favorite responses.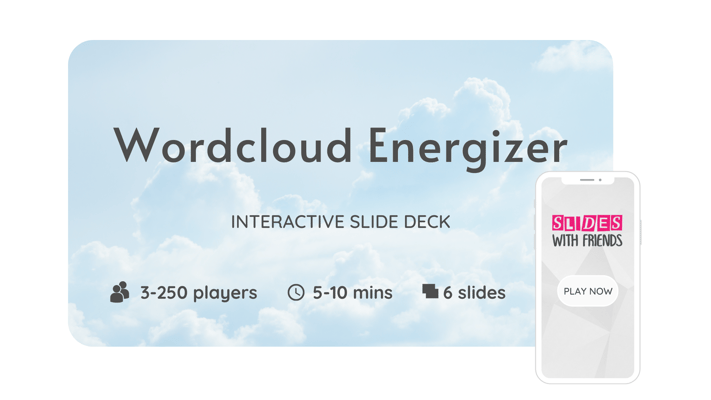 1. When is the appropriate time to start listening to holiday music: Before or after Thanksgiving?
2. What are you most thankful for this year?
3. What Thanksgiving food is seriously overrated?
4. Was it cold or warm during the winters where you grew up?
5. What's the coldest place you've ever been?
6. What's your favorite winter sport?
7. Finish the sentence: It wouldn't be the holidays without…
8. What holiday treat should be available all year long?
9. What 3 words would you use to describe the holiday season?
10. What's your favorite winter drink?
11. What's the most interesting holiday meal you've had?
12. What's the best holiday movie?
13. How do you enjoy your downtime during the holidays?
14. If you could pick a Christmas song to be your theme song, which one would it be?
15. On average, how many Hallmark movies do you watch during the holiday season?
16. What country do you think would be the best place visit during the winter?
17. What's your favorite holiday?
18. Yes or no to decorating cars during the holidays?
19. What's the most important decoration to have during the holidays?
20. When do you do the majority of your holiday shopping – In advance or the week of Christmas?
21. Have you ever seen the ball drop in Times Square in person?
22. Who is the best New Year's Eve television host?
23. Have you ever made a new year's resolution and stuck with it?
24. What trends do you hope to never see in the New Year?
25. What one word would you use to describe this group of people?
This or That Icebreaker Questions
Whether you're looking for quick, no-mess icebreakers or controversial questions to get the office talking, these are the icebreakers for you.
Simply copy our Poll the Audience slide deck to your account and fill in the existing slides with the below questions.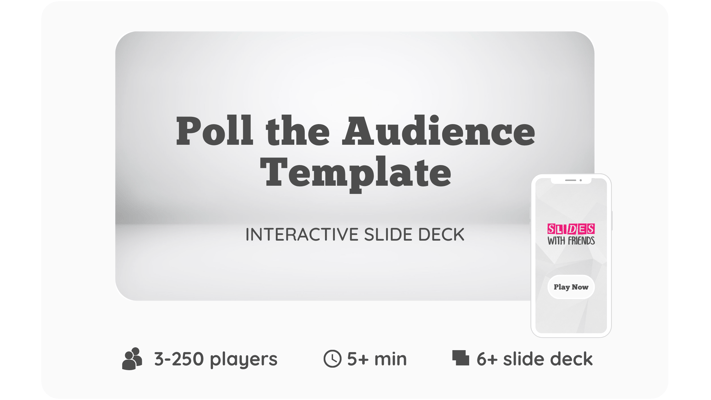 1. Winter or summer Olympics?
2. Ice skating or sledding?
3. Turkey or ham?
4. Apple pie or pumpkin pie?
5. Thanksgiving Day parade or football game?
6. Thanksgiving lunch or dinner?
7. Homemade or canned cranberry sauce?
8. Egg nog or apple cider?
9. Present or gift card?
10. The Office's Karaoke Christmas or Moroccan Christmas?
11. Mulled wine or hot chocolate?
12. Gift bags or wrapping paper?
13. Pumpkin spice or peppermint mocha?
14. Small holiday gathering or large holiday party?
15. Frosty the Snowman or Rudolph the Red Nosed Reindeer?
16. Shopping in the store or online?
17. The movie Elf or The Grinch?
18. Matching pajamas or ugly Christmas sweaters?
19. Open presents Christmas Eve night or Christmas morning?
20. Dress as Santa Claus or an elf?
21. Live Christmas tree or artificial?
22. Multi-colored lights or plain white lights?
23. Stay home for the holidays or travel?
24. White elephant/Yankee swap or secret Santa?
25. New Year's Resolution or no?
Holiday Trivia Icebreaker Questions
Looking for something a little competitive for your next office holiday party? We've got some great trivia icebreaker questions you can use to get the team talking – and competing.
Use our Holiday Happy Hour slide deck and its already existing questions or copy any of the questions below. Just make sure to include the answers (we've added the correct ones!) to the question slides.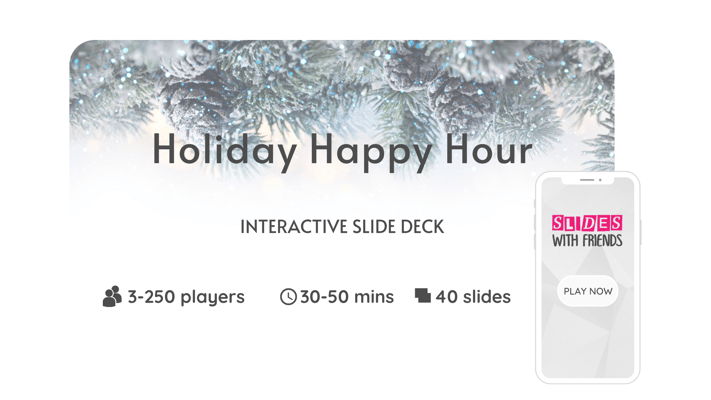 1. In the Northern Hemisphere, winter is December, January, and February. What 3 months is winter in the Southern Hemisphere? (June, July, August)
2. What show made the phrase 'winter is coming' famous? (Game of Thrones)
3. What is the word for when animals sleep during the coldest months? (Hibernation)
4. What is the name of the Hindu Festival of Lights? (Diwali)
5. What is the biggest shopping day of the year (in the United States)? (Black Friday)
6. What are the names of all of Santa's reindeer? (Dasher, Dancer, Prancer, Vixen, Comet, Cupid, Donner, Blitzen, and Rudolph)
7. What are the presents for each of the 12 days of Christmas? (Partridges in pear trees, turtle doves, French hens, calling birds, gold rings, geese laying eggs, swans, milking maids, dancing ladies, leaping lords, piping pipers, and drumming drummers)
8. How many ghosts are there in A Christmas Carol? (4)
9. What alternative names does Santa Clause go by? (Kris Kringle and Saint Nick)
10. What is one insult used to describe the Grinch in You're a Mean One Mr. Grinch?
11. What type of Christmas will Elvis have without you? (A Blue Christmas)
12. What are you supposed to do under the mistletoe? (Kiss)
13. What are the 3 gifts brought to baby Jesus in the nativity? (Gold, Frankincense, and Myrrh)
14. What mythical kingdom was ruled by an evil White Witch for a never-ending winter without Christmas? (Narnia)
15. True or False – Jingle Bells was written to celebrate Christmas? (False – It was written as a Thanksgiving song)
16. How many days of Kwanzaa are there? (7)
17. How many days of Hanukkah are there? (8)
18. What was Frosty the Snowman's nose made out? (A button)
19. What's the name of the 'spy' parents use to hide around the house and report to Santa about whether children are being naughty or nice? (The Elf on the Shelf)
20. What beverage company has used polar bears, penguins, and Santa Claus in its holiday advertising? (Coca-Cola)
21. What is the name of the horned Austrian figure famous for punishing naughty children at Christmas? (Krampus)
22. In Spain, what fruit do you have to eat 12 of to get luck for the New Year? (Grapes)
23. What is the translation of the title of the song "Auld Lang Syne"? (Times Gone By)
24. What is the most common New Year's Resolutions? (To lose weight or exercise more)
25. What is the most popular drink served on New Year's Eve? (Champagne)