Thanksgiving can be awkward. Especially if you have guests or new family members joining you at the table.
The best way to keep the conversation flowing and your crew engaged is by being prepared. And what better way to prepare than having this list of fun Thanksgiving icebreaker questions?
And we'll give you so much more than the classic: What are you most thankful for this year? (Though that's always a winner!)
Taking dinner online this year?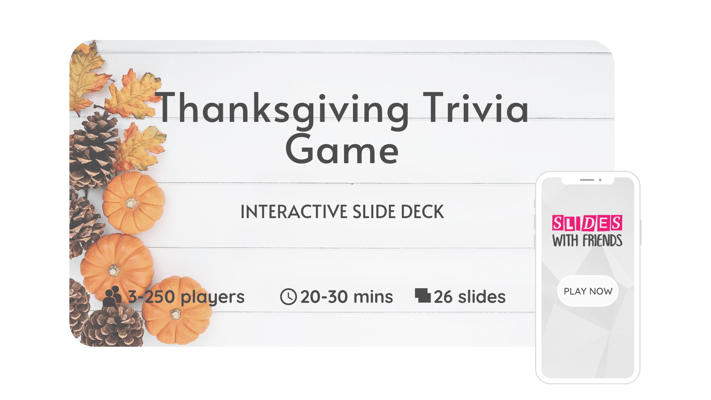 Plug these questions into our Thanksgiving Trivia slide deck for large groups to have just as much fun virtually!
25 Best Thanksgiving Icebreaker Questions
1. What's your favorite Thanksgiving pie?
2. If you had to pick between being at the Thanksgiving parade or the Thanksgiving football game, which would you pick? Why?
3. What's your favorite Thanksgiving tradition?
4. Do you think marathons (or any physical activities) are acceptable Thanksgiving Day activities? Why or why not?
5. Who here has participated in Black Friday shopping? Share your craziest story.
6. Which is the better flavor: Pumpkin spice or caramel apple?
7. If you were tasked with recreating Thanksgiving, what foods would you add and what would you take away?
8. What is the worst Thanksgiving food you've ever had?
9. What's the best Thanksgiving food you've ever had?
10. Which TV show had the best Thanksgiving episode?
11. What's your favorite Thanksgiving memory?
12. If you could invite one person (living or dead) to join you for Thanksgiving dinner, who would it be?
13. Who has the worst job: Those cooking the Thanksgiving meal or those cleaning up after it? Which would you prefer?
14. Who here would make the best news anchor?
15. What sport makes no sense to you?
16. What's your favorite dad joke? Share it!
17. If you had to be a character in Clue (game or movie!), which one would you be and why?
18. What would you like to do more of this coming year?
19. What new book/TV show/movie have you been enjoying this month?
20. If you could play one winter sport (and be good at it!), which would you play?
21. What's one place famous for being cold that you would like to visit?
22. If you could only celebrate one holiday for the rest of your life, which would it be? Why?
23. Pick one of these transportation types and tell a story about a memorable trip you've taken in one: Planes, Trains, or Automobiles.
24. What's one item on your bucket list you'd like to accomplish before the end of this year?
25. What are you looking forward to the most in this post-Thanksgiving, pre-Christmas season?
Keeping your group a little more intimate this year?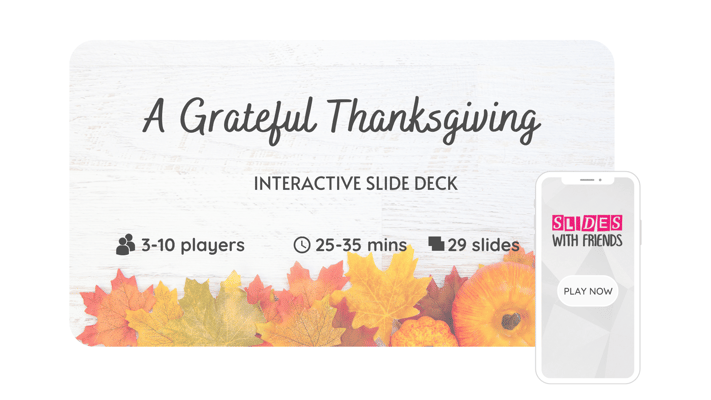 Our Grateful Thanksgiving slide deck is the perfect option for smaller groups wanting to dig a little deeper in their conversations. With thought-provoking questions and a mindful eating practice, your students, friends, or family will leave this conversation feeling relaxed and reconnected.
Why We Love Icebreakers
We're big fans of icebreakers here at Slides with Friends, especially during the holidays. Whether you're in the boardroom or the classroom, icebreakers lower boundaries and get your group interacting.
The Cornell University Center for Teaching Innovation found icebreakers create a relaxed environment, encourage students to speak up, and improve ownership within the classroom. Even better, icebreakers were found to ready students for future group work by increasing rapport within the classroom.
And we haven't forgotten you team leaders and managers!
Icebreakers are fantastic in the workplace, too. While the questions may seem funny and a little bit pointless, they actually increase interaction between co-workers. The end result? Co-workers have greater empathy towards each other and feel more aligned, like they're part of a community.
Icebreakers serve an important role, but even more so during the holiday months. We all get busy during the last couple months of the year and things naturally get a little hectic. Taking the time to slow down, reconnect with the people around you, and revel in the season of thankfulness helps bring things into focus.
While icebreakers aren't the end-all-be-all, they bring a little levity and holiday cheer to stress environments. And awkward dinner parties.
So, grab your team, students, or friends, copy-paste a few questions into one of our slide decks and remember why you're thankful this season!
We hope you enjoy your holidays!