We've already given you the best Thanksgiving Icebreakers and an assortment of Holiday Icebreakers. Now it's time to get specific with some Christmas Icebreaker questions.
Plug these questions into one of our many icebreaker themed slide decks (more on that later) and you'll be the toast of the party!
Christmas Icebreaker Questions
1. What's your favorite Christmas tradition?
2. Do you have a favorite holiday snack?
3. What's one dish you can't do without on your Christmas dinner table?
4. What's your earliest Christmas memory?
5. Do you wrap your presents or put them in gift bags?
6. Do you open presents Christmas Eve night or on Christmas morning?
7. Is Die Hard a Christmas movie?
8. What's your gift giving process?
9. What's the best Christmas candy you've ever had?
10. Is there a holiday movie you watch every year?
11. If you had to travel for the holidays, where would you want to go?
12. Have you ever had a white Christmas?
13. If you had to pick one store to receive all your presents from, which store would you pick?
14. Do you prefer buying the perfect present or receiving a present?
15. What's the best outdoor snow activity?
16. What's your favorite winter Olympics sport?
17. If you were an elf, what would your elf name be?
18. You're left home alone and there are bandits trying to break in. How do you booby trap your house?
19. Have you ever had a real scrooge moment? Share the story with the group.
20. What's the worst Christmas present you've ever received?
21. Do you prefer buying your presents in-person or online?
22. What's the perfect Christmas beverage?
23. What's your favorite Christmas flavor?
24. Do you have a 'holiday hack' that helps you get through the season? Share it with the group!
25. Where is the best place to see Christmas lights?
Using Slides with Friends for Holiday Celebrations
We've spent a lot of time and energy recommending different slide decks for your specific needs. And with our many articles on different icebreaker questions, you have plenty of content.
But, we thought we'd take a little bit of time to explain why we recommend certain decks for varying situations. After all, one of the best things about Slides with Friends is the ability to create your own decks.
We hope this brief explanation will help you make the best choice for your next slide deck.
Word Clouds
We LOVE word clouds. And with good reason. They give everyone in a group, no matter the size, a chance to contribute and then vote on what they believe is the best answer.
Because word clouds allow everyone to answer, but quickly narrow down the most important or most popular responses, they are perfect for large groups. We often recommend using a word cloud format for all-hands or larger meetings because they prevent clutter.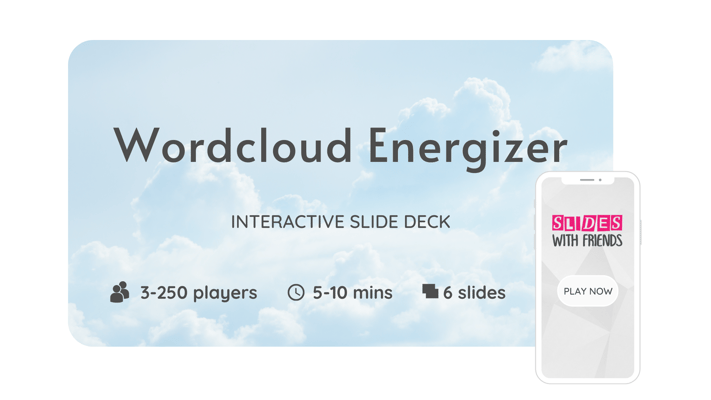 You can use the 25 Holiday Icebreaker Questions for large groups, plug them in to our Word Cloud Energizer deck, and within minutes have an event ready to run – No matter the size of your group.
Tea vs. Coffee
We call it Tea vs. Coffee here at Slides with Friends, but more commonly used phrases for this type of icebreaker is 'this or that' or 'would you rather'.
Another great option for larger events, this or that slide decks are perfect for groups who don't know each other very well yet. The questions are often harmless and don't dig too deep into personal lives.
We also recommend tea vs coffee type answers when you're short on time. Attendees can get in and answer multiple questions with very little thought and it often only takes a few seconds.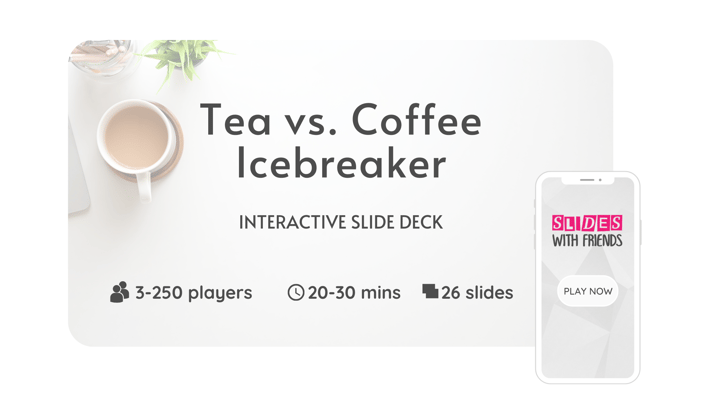 So, if you're short on time, have a larger group, or are working with people who don't know each other well, plug your questions into our Tea vs. Coffee slide deck.
Photo Scavenger Hunts
Sometimes we just need a break, which is when we recommend using a photo scavenger hunt. Great for virtual work teams or students needing a break from classwork, our scavenger hunts work best with smaller groups and if you have a chunk of time available.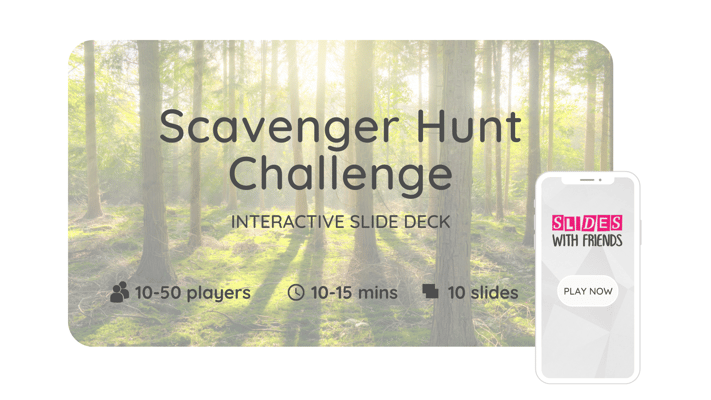 Keep in mind that photo scavenger hunts are asking people to share a little glimpse into their lives, so tread carefully. Our Scavenger Hunt Challenge is great for mid-sized groups and classrooms, but keeps the sharing casual.
Icebreaker Games
To finish, let's look at our Icebreaker Game slide deck. It's the best basic slide deck for any of your icebreaker games. It includes a variety of different elements, word clouds, polls, and image sharing, so you get the best of all the above.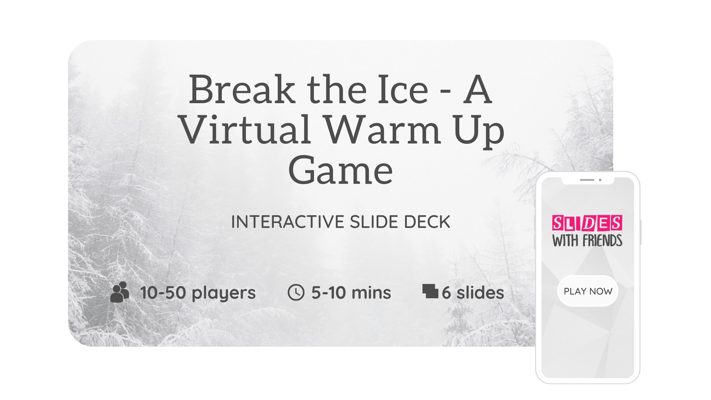 Even better, we have several holiday specific options, meaning less work for you. Want to play a little trivia with your co-workers? Check out the Office Holiday Happy Hour. Looking to get to know your group a bit better? Use the Holiday Icebreaker Questions deck.
No matter what your goals with your group this holiday season, we've got the questions and the decks to make it easier!