Trivia is always fun, but because it's a long-time favorite, it's easy to run out of fresh ways to play.
‍Fortunately, there are plenty of new group trivia games you can enjoy anywhere and everywhere, including in the office and classroom. Here are 12 ideas you can use to spice up your trivia game. 
1. Who's the Smartest?
Is someone secretly sitting on fun facts or trying to keep their knowledge under wraps? Find out by playing Who's the Smartest? trivia game.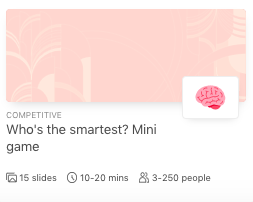 This activity has one-of-a-kind questions like "how many episodes are there in The Office (U.S. version)?" and "what's the longest bone in the human body?" The game only takes 5-10 minutes to play, and everyone can submit answers using their mobile devices. 
2. PSYCH!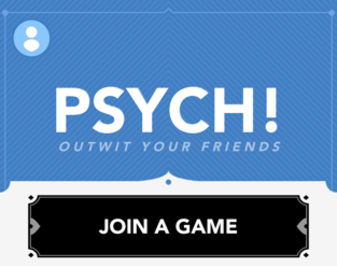 Quizzes, tricks, and laughter can happen at the same time. At least, that's the case with PSYCH!. This trivia game lets you choose a category with your group. Then, each player can use their phone to submit fake answers to real trivia questions. 
When all the answers have been submitted, they'll pop up on each person's mobile device, and the real answer will be hidden among the fake ones. People will get points for choosing the correct answer and psyching others into choosing a phony one.
3. Random Trivia Generator  
Spice things up with a game of Random Trivia Generator. This activity includes various categories like entertainment, science, books, and art, so there's a topic for everyone to enjoy. You can also create your own questions to test your group's knowledge on something particular. Just make sure to take note of each player's scores so that you know who's winning. 
4. Hangout at the Zoo
Everyone (who's a trustworthy human being) loves animals, but who's the most knowledgeable about them? Find out by playing Hangout at the Zoo.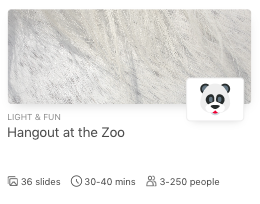 This online trivia game for groups has different types of fun questions, including user voting slides, ratings, and multiple choice. It also asks about many kinds of animals, like dolphins, snails, bears, and elephants.  
Players can submit answers using their phones and see who's leading the pack by checking out the leaderboard after each round. 
5. QuizBreaker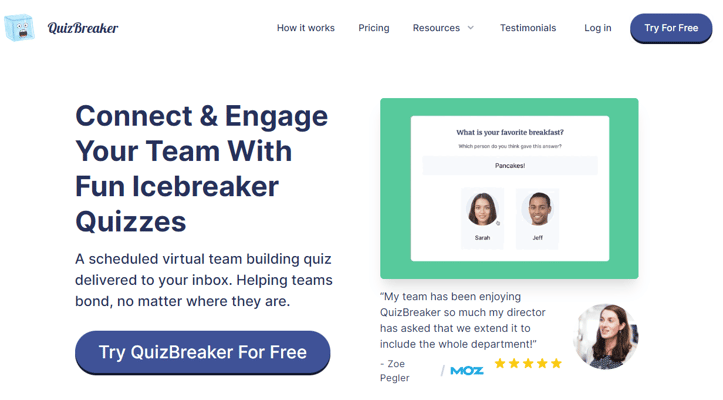 Want to see how well your group knows each other? Then, play QuizBreaker. This game can be particularly fun in the workplace because it's all about seeing how well people know each other.
You can test how connected your team is by having them answer questions like "who said this?" For example, one prompt can be, "Was it Zach or Alex who said their favorite book series of all time is Harry Potter?" The only thing is that you want to make sure people answer enough questions correctly or this quiz may be what breaks seemingly solid relationships. 
6. Travel Trivia Mini Game
Maybe your group is coming together after a long holiday break or time spent apart due to traveling. If that's the case, play Travel Trivia to give everyone a chance to talk about their trips.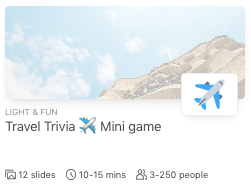 This game has 7 premade, customizable questions and a leaderboard, so everyone can see the top scorers. Players can also respond to questions using their mobile devices. Just make sure your screen is visible to ensure group members can see the game and prompts. 
7. Living Facts
How much does your group know about the U.S. and its citizens? You can find out by playing Living Facts. This activity shares interesting insights about Americans and the United States today, but you can also access trivia games that will challenge your group's knowledge of U.S. history.
To play, simply share your screen if you're gathering virtually or make your monitor visible to your group if you're playing in person. 
8. Trivia Crack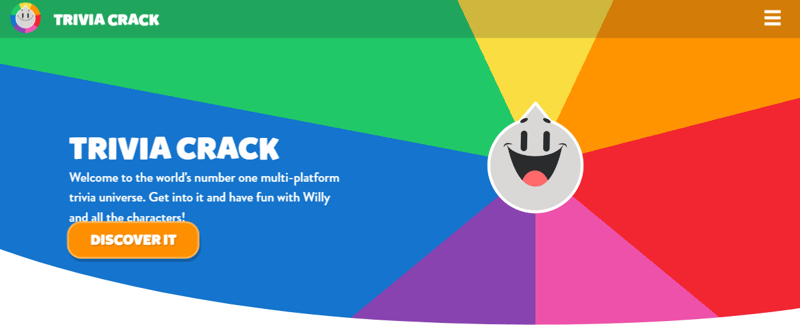 This online trivia game for groups is accessible via iPhone and Android. The goal of Trivia Crack is to win all six characters on the spinning wheel. Each character represents a category, like pop culture, sports, science, or geography. The first person to get all of the characters is the winner.
9. Logo Trivia Game
It's one thing to recognize a logo. It's another thing to know the company associated with the logo. Find out who can make the most connections between logos and companies with this popular trivia game. This activity is great if you manage a design team or teach a design class. The Logo Trivia game will not only speak to your group's interest, but also engage them with word clouds, ratings, multiple choice, user voting prompts, and more fun trivia questions.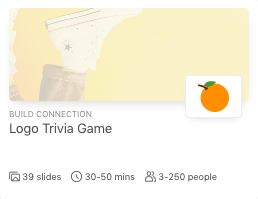 Players can use their mobile devices to submit answers and see who's winning by looking at the leaderboard after each round. 
10. CrowdPurr
Maybe you want to create your own live virtual trivia game. If so, CrowdPurr will let you do it at no charge. This free online trivia game for groups lets you brainstorm and create multiple choice questions and other prompts to craft the best activity possible. Once you start playing, your group will also have access to a leaderboard, so everyone can see who's winning.
Trivia with a twist
Get your group excited about trivia with new, unique ways to play. Try any of the games in this article and watch your group have the time of their lives.
Subscribe for more articles like this
Subscribe to our newsletter for research-based content on community building, remote culture, and employee well-being. Get critical tools for a remote world.