A recent survey found that modern businesses believe webinars play a critical role in sales, marketing, and lead generation. This insight makes sense, given that 53% of marketers think webinars are the top-of-the-funnel tool that provide the most high-quality leads.
However, just because webinars deliver some success doesn't mean they're executed properly. 
More often than not, the every day webinar is boring. Also troubling is that webinar attendees experience burnout and video fatigue at a significantly higher rate today than ever before. 
Webinars are a key content strategy for modern business… Yet, audiences are experiencing video fatigue and burnout at a far higher rate today with webinars than they have previously.
- Vaibhav Jain, Giving Digitally Transformed Event Audiences What They Need In 2022
Fixing the boring webinar problem requires businesses to be more strategic about how they engage their audiences. If you're planning one, it's no longer acceptable to simply create a presentation, provide new information, and call it a day. For your webinar to be a hit, you must interact with your audience to keep their attention and interest.
‍If you're wondering how to do this, don't worry. Here are seven webinar engagement strategies you can use to grab and keep the attention of your audience.
1. Provide a Live Chat 
One of the easiest ways to increase engagement at your webinar is to have a live chat option. With this feature, you'll give attendees the opportunity to chat with you and each other, leading to a sense of community and togetherness, even though everyone is meeting virtually. 
You can also enhance attendees' experience by having some of your coworkers create group chats where audience members can meet in smaller numbers to talk about the webinar. Having smaller groups, will also give you a chance to provide custom content based on a group's needs, leading to more meaningful and personalized conversations.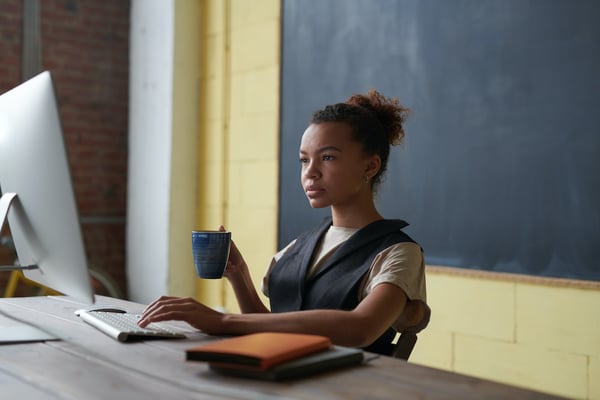 2. Host a Q&A
You can't have an engaging webinar if you don't offer time for Q&A. These sessions are critical to interacting with your audience and fostering two-way communication, and they're not hard to implement. You can approach Q&A's in two ways. 
First, you can have a dedicated session at the end of your webinar. All you have to do is share a link to a live meeting room that will appear at the end of your webinar. Then, tell everyone you'll be in that meeting room to answer any questions.
A second option is to have moderators answer questions as they appear in the live chat. Depending on how many attendees you have, you may need multiple moderators. These people should either answer questions immediately or within a reasonable timeframe. 
3. Include Trivia and Quizzes
When you're meeting virtually, you need to get creative with how you interact with your audience. Two of the most out-of-the-box webinar engagement strategies are trivia and quizzes. These offer fun ways to see what your attendees already know about a particular topic and test what they've learned during the webinar.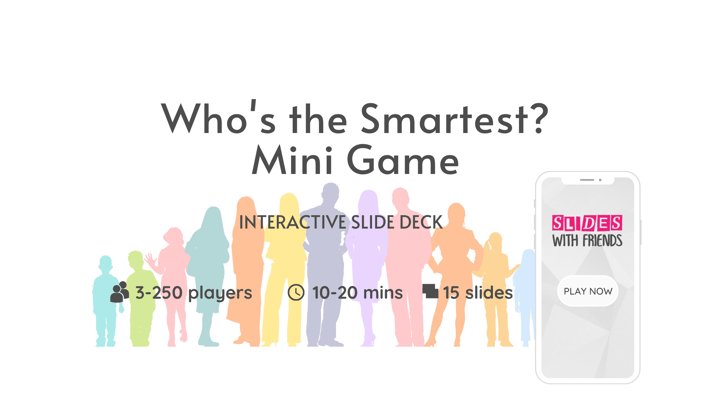 Some popular quizzes you may enjoy are Who's the Smartest? Mini Game and Future of the Workplace Trivia by Slides With Friends. Both are interactive, premade, and customizable activities your audience can play—the only thing they need to submit their answers is their mobile devices.
4. Have Breakout Rooms
Another great way to increase interaction during your webinar is with breakout rooms. These provide an excellent way to mix up the format of your event so that attendees don't listen to keynote speakers back to back.
With breakout rooms, you'll allow your guests to meet in smaller groups and gather with like-minded people to discuss a particular topic. People will also be able to ask questions, network, and connect with other attendees, leading to more engagement and conversations.
5. Incorporate Live Polling 
When people come to a webinar, they don't want to just listen to speakers drone on and on about a particular topic. Instead, they want to interact with them and participate in the discussion. One of the ways to increase interaction is with live polling tools.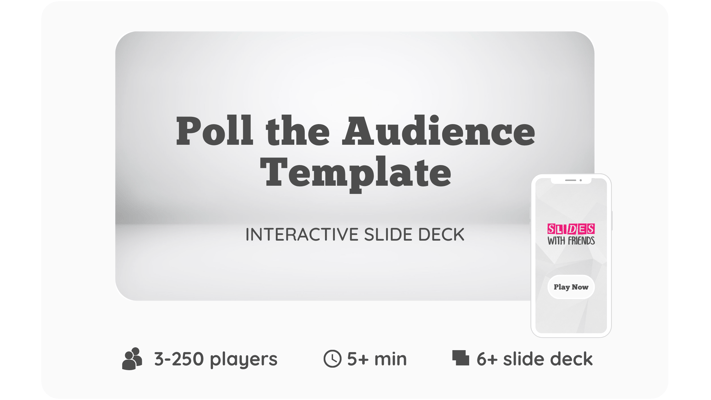 There are many ready-to-play polls you can use during your webinar to ask attendees questions and receive their feedback or thoughts. However, you can also create your own fun interactive poll using the Poll the Audience Template. This slide deck will allow you to create a poll from scratch to ensure it matches your specific needs.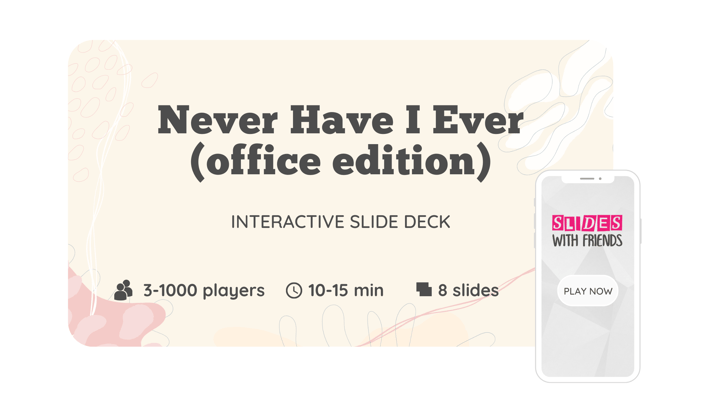 Or you can use polls as a break from your presentation. One example of a fun poll is Never Have I Ever (Office Edition), a premade Slides With Friends game audience members can play to get to know other attendees. This activity is one of many popular, customizable polls for virtual audiences that's sure to get your attendees excited and engaged.
6. Do a Break Activity  
How long will your webinar be?
‍If it's more than a couple hours, you should host a break-time activity that fosters interaction.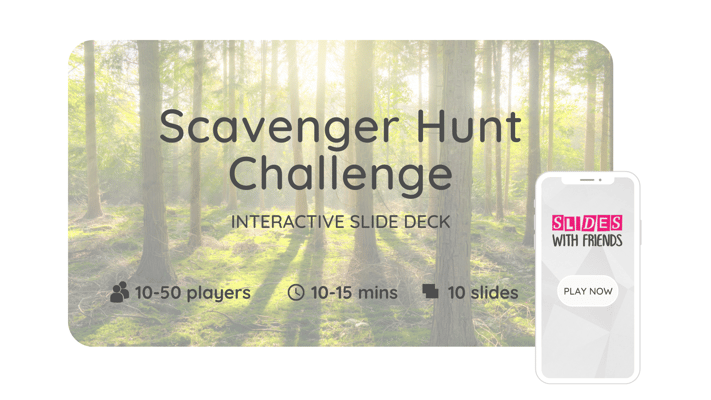 ‍For example, you can have everyone play a virtual scavenger hunt and ask people to present the items they found. If you'd prefer something more conversational, you can do a virtual happy hour and invite attendees to eat a snack and unwind while playing a few quick games.
This webinar engagement strategy will not only engage your audience, but also re-energize them so that they're ready whenever you start the webinar again. 
7. Play an Icebreaker Game
An excellent way to lighten up the mood and boost engagement right off the bat is with an icebreaker for large groups. Games foster interaction between your attendees and set the expectation that you'll want attendees to engage and chat with each other during the webinar.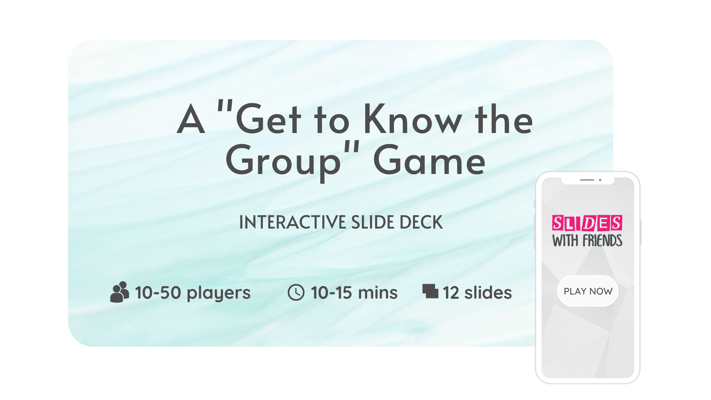 One great icebreaker you can use to get the conversation going is the Get to Know the Group Game. This Slides With Friends icebreaker has multiple unique features like user voting, ratings, word clouds, image sharing, and polls. Attendees can submit answers using their mobile devices, so it's the perfect interactive game for a virtual audience, and it's short, so it won't eat up too much time. 
Make Engagement the Foundation of Your Webinar
Webinars are great tools to enhance any marketing or sales strategy, but you have to approach them properly. With people feeling increasingly fatigued and burnt out from webinars, you can't use traditional methods like an informative presentation to have a successful webinar. You need to implement creative webinar engagement strategies to get your audience to connect and interact, so use the tips above to deliver the experience your attendees seek.