Quizzes are an essential part of the school experience. And as teachers, you're going to create, oversee, and grade thousands of quizzes. Thankfully, creating an interactive quiz experience doesn't need to be as arduous as it once was. With intuitive online software, you can create your quizzes with a few clicks and let the computer do the grading!
We've put together a list of our favorite interact quiz makers for teachers, as well as a brief tutorial on how to use our #1 choice.
Hint – It's Slides With Friends!
Slides With Friends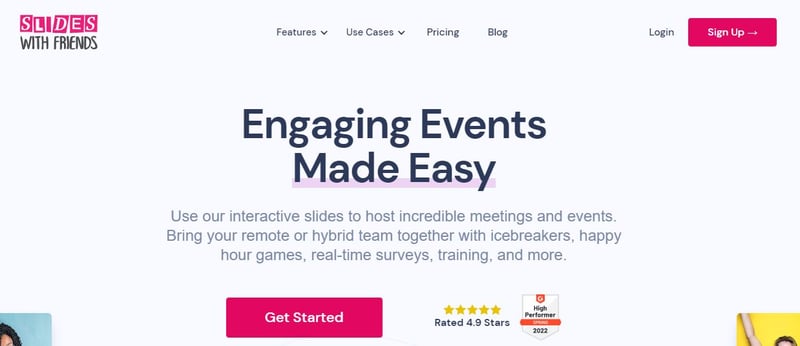 Slides With Friends offers several options for making interactive quizzes teachers can use live in their classrooms.
The best part?
The quizzes are easy to make and so much fun for students!
Slides With Friends offers dozens of ready-made quizzes designed to help teachers save time and make classroom quizzes just a little more interesting. From options like a classic Classroom Quiz to more zany options like the Who's the Smartest Mini Game, you can simply copy the quiz, launch it, and have it running in moments.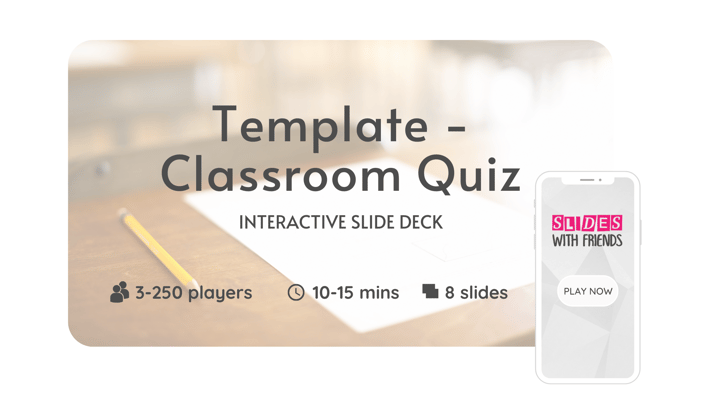 Want to customize one of our quizzes for your specific class?
Not only does Slides With Friends offer an intuitive, beginner friendly editing process, it also provides quick tutorials to help with any hiccups along the way.
Because Slides With Friends can be integrated with the most common video calls or used on a TV or projector, these quizzes work for in-person or virtual teaching.
Our free plan allows you to host up to 10 people. At just $8 a month, you can host up to 50 people, save and export your event data, and get our newly released moderator tool!
Typeform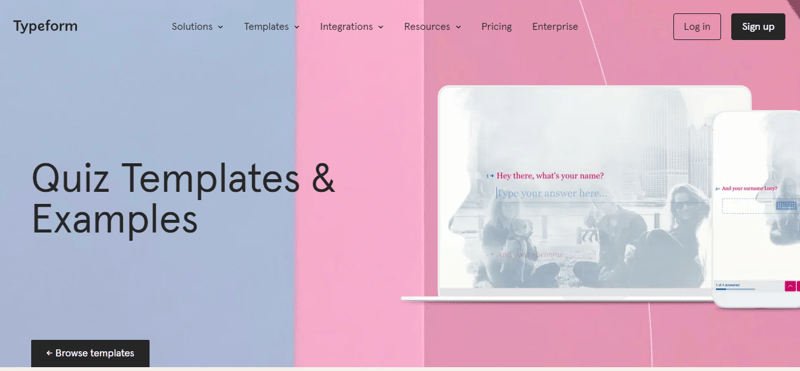 While Typeform can be used to create a wide range of forms, the online software really shines with its interactive quiz maker.
For teachers, the platform is very intuitive, with drag-and-drop editing tools so you can put the questions you want in the style you want right where you want. Plus, to make things more engaging and eye-catching, you can easily add a variety of visuals – Including gifs!
We also appreciate the quiz templates Typeform offers for teachers. With options like Geography Quiz, Vocabulary Quiz, or Science Quiz, you can quickly customize an already created quiz and be ready to go in minutes.
Typeform also makes it very easy to share your finished quiz. You can embed, email, or share the link with your students.
With the Typeform basic plan, you can get 10 responses per month. The next plan is the Basic, which is $25 for 100 responses a month.
Mentimeter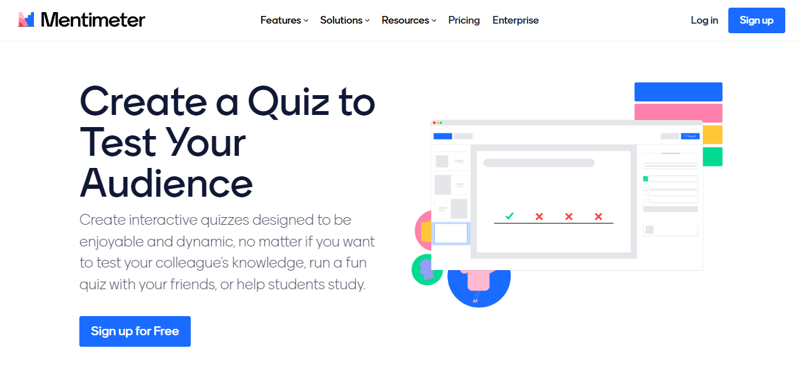 If you're looking for a tool for all your presentation needs, Mentimeter is a great choice. And while you can use it for polls, surveys, or word clouds, it is an ideal solution for classroom quizzes.
Like the above options on our list, Mentimeter does offer educational quiz templates, so you don't need to start from scratch. From math and science to English and Italian, there are some amazing options available. However, Mentimeter also makes it easy to create your own quiz. As your students work their way through these custom quizzes, they can see the right answers and you can get their results in 1 place.
With the Mentimeter free plan, you can have up to 5 quiz slides and 2 question slides. For $11.99 a month, the next tier of plan, you can get unlimited questions, import your quizzes, and even export your results to Excel.
Paperform
The first word that comes to mind with Paperform is posh. The form builder was designed for the market world, but has seamlessly moved into education. With Paperform's education software, you can create assessments, schedules, and, of course, quizzes.
Paperform offers several educational templates you can use as a base for your interactive quizzes. You can either use the templates as-is, or adjust them to meet your specific needs. One of the best things about Paperform is these quizzes really can be made quite beautifully if you have the time.
There are a few downsides to Paperform, unfortunately. The first is, as mentioned above, you'll need time to learn the software. If you plan on using the software for more than just quizzes, it works well. However, it might seem bloated if you just want a simple quiz maker.
The other problem with Paperform is its price. The lowest plan is $20 a month, though this does offer an unlimited number of forms with up to 1,000 submissions.
ProProfs Quiz Maker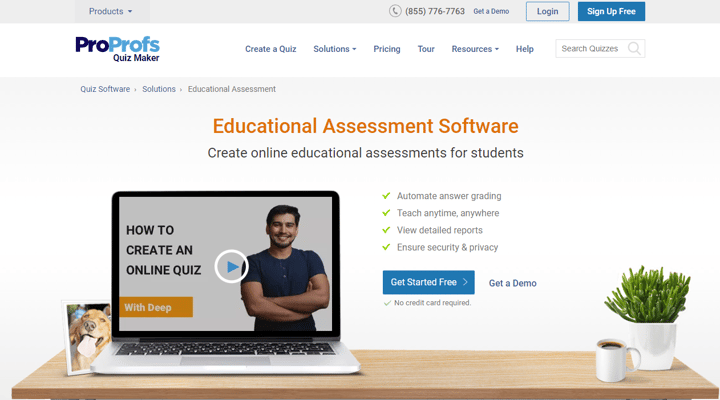 ProProfs Quiz Maker was designed specifically to help educators, which makes its software so intuitive. The platform is secure, offers assessments in 70+ languages, tracks reports and stats, and even offers pre-made questions for varying subjects.
While the number of educational templates available on ProProfs Quiz Maker aren't as plentiful as on other options, the process for making your own quiz is easy. You can add images, graphs, or other media to the quizzes to grab and keep your students attention.
We're big fans of the affordability this quiz maker. While there is a free option for up to 10 students, the next level is for 50 students and only costs $3.99 a month. The education-centric design of this software really makes it one of the best.
Quiz-Maker
Completely free for teachers and students, Quiz-Maker is a simplified version of all our favorite interactive quiz makers. If you're looking for a basic classroom quiz you can put together with a few clicks, this might be the choice for you.
Quiz-Maker does offer quiz templates, though they're mostly the fun ones like you'd see entertainment sites, but also makes creating your own educational quiz very straightforward. You can even add a timer to these quizzes to make them a bit more competitive.
One interesting way Quiz-Maker works to lighten teacher's loads is through its AI based feedback system. When a quiz requires you to give feedback, the platform will notify you. As you give feedback to the needed students, the AI will learn your phrasing and begin to suggest comments as it learns your writing style.
The automation of this process makes grading so much easier the longer you use Quiz-Maker, which we think is well worth the more simplified software.
Using Slides With Friends to Make an Interactive Quiz
We've given you several interactive quiz makers in this article. But no matter what the benefits, it can be difficult to know how to go about making your own, customized classroom quiz.
Let's look at the easiest way to create an interactive quiz for your students using Slides With Friends.
Create an Account & Copy Classroom Quiz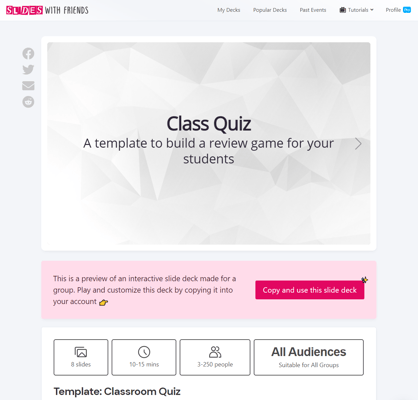 The simplest way to get your classroom quiz up and running is by copying a quiz template we already have in our Live Quizzes section.
Today we'll be starting with the Template: Classroom Quiz deck. Once you've created an account, you can find this template under the 'Education' tab.
Copy the deck and now it will be ready to customize!
Add Quiz Questions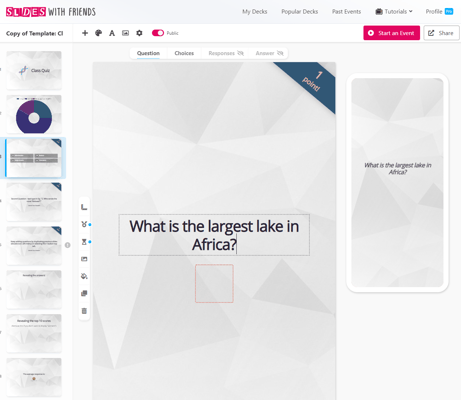 Once the deck is yours, you can go through the existing slides and simply swap out your questions for the ones currently there.
I'm going to make this a geography quiz, I'll change out the "What is the powerhouse of the cell?" question for the one below.
Add Answer Options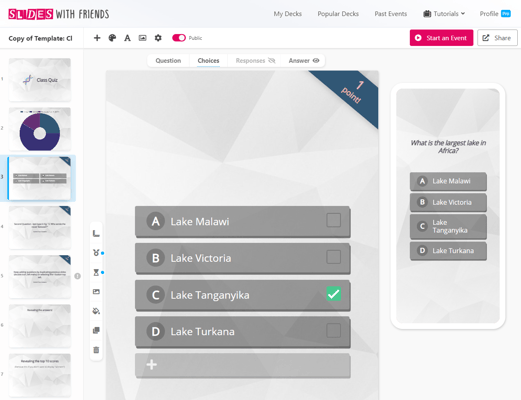 Here's the fun part!
Type in the various answers and make sure to tick the box with the correct answer.
At the top of the page, you can decide whether you want students to see their responses and/or their answers. On quizzes, we don't recommend showing responses. However, we do recommend showing the correct answer!
Hint – It's fun to add a timer to the question as well as award points to keep students moving and to add a layer of competition. For this question, we gave 45 seconds to start once the answers show on the slide.
Add a Content Slide for More Info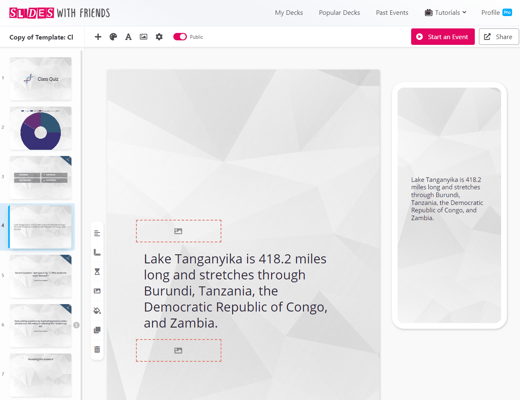 If you want to add a little more information to your answer, click the + at the top of the page and add a content slide.
Repeat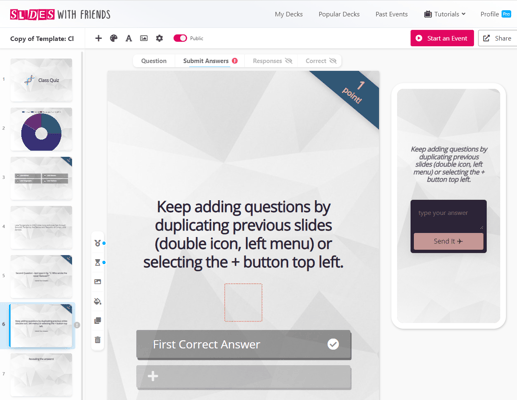 Continue adding slides to create your entire quiz, either through duplicating previous slides and switching out the information or by adding like we did with the content slide.
Launch the Quiz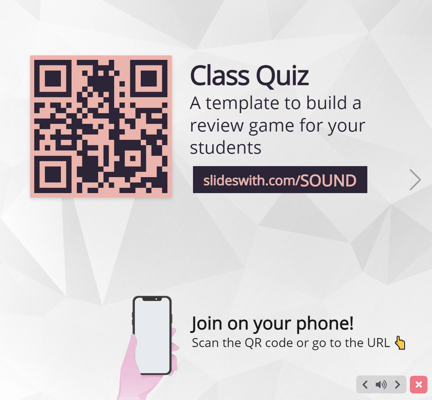 Once your quiz is complete, click the 'Start the Event' button in the top right-hand corner, pick your advanced options, and then launch!
Now your students will be able to join on their phones and you can control the deck from your computer or phone.