Interactive lessons have been foundational to teaching since the start of modern education. After all, using real-world scenarios and experiences to supplement a lesson only makes learning more relevant to students.
And while most teachers know interactive learning backwards and forwards, the global pandemic and resulting move to online school completely derailed traditional learning. Now, virtual and hybrid learning is still common and the question is: How can lessons be made interactive when online?
If you're looking for an engaging and effective way to teach your students online, the answer might be right under your nose.
Hint hint - It's us!
Slides with Friends is a simple, comprehensive way to create interactive lessons that are both fun and educational! With our tool, you can produce unique presentations tailored specifically to your student's needs, allowing them to go beyond just reading from assigned texts or watching videos. We're going to take a deeper look at interactive online lessons today, including items to include in these lessons and how to easily make an interactive lesson quickly with Slides with Friends
Let's get started!
The Value of Interactive Lessons
We'll make this quick because we know we're preaching to the choir.
It's no secret that active, interactive lessons are much more effective for a student's learning and long-term retention than just talking at them.
For instance, when students are allowed to discuss questions and opinions relevant to the lesson or engage in group activities, they become invested in studying the material. This encourages students to think critically and ask thoughtful questions to deepen their understanding of new concepts. By actively participating in the lesson rather than simply listening, students can retain information better through repetition and recall.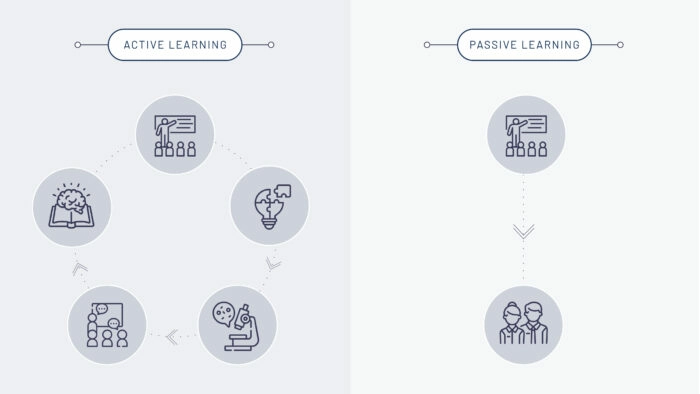 Interactive lessons can also foster collaboration between students and expand their insights on lessons even further. Ultimately, interactive learning supports critical thinking skills that bring far more value for both educators and students alike.
And while all the benefits of interactive lessons are true in the classroom, they're just as true online. When teaching virtually, it's easier for students to zone out, resulting in a disconnect from their learning.
That's why online interactive lessons are so crucial for online learning.
Thankfully, there are several items you can add to your virtual lessons to increase and maintain interaction among your students.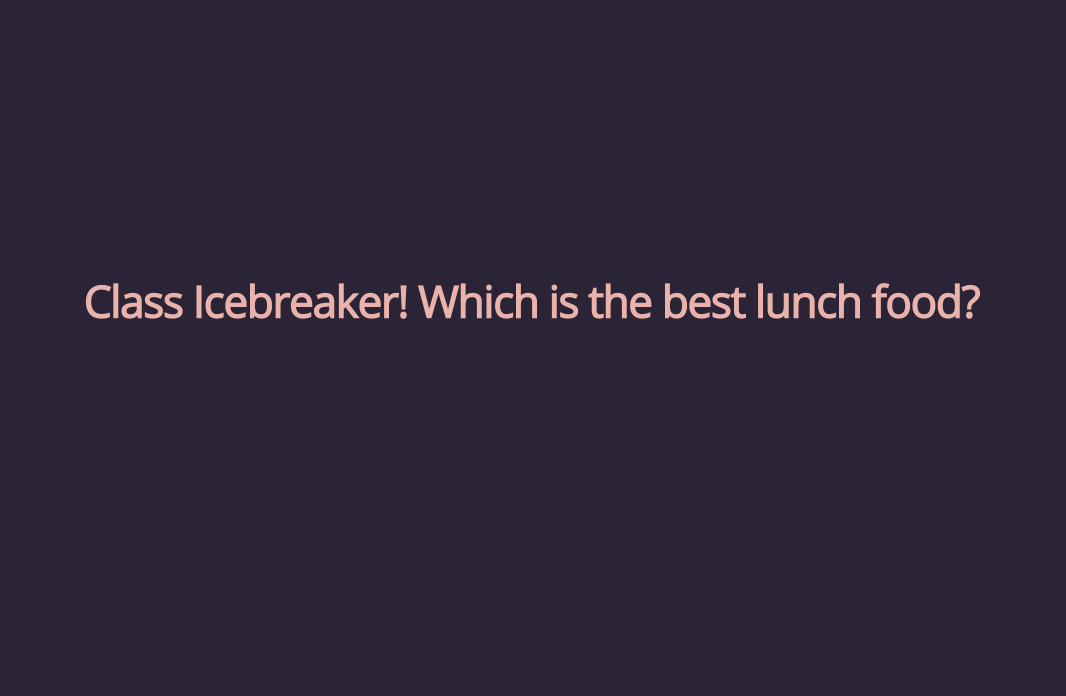 Activities for Interactive Online Learning
Let's look at some proven components you can add to your online lessons to make them more interactive.
We've matched each recommended - and researched! - activity with one of our many slide decks to make incorporate these methods into your next lesson.
Read to the end to see how to quickly craft your own slide deck.
Learning Games
We're a bit notorious over here at Slides with Friends for loving a good classroom game. We're talking Review Games, Learning Games, and even Science Games. And we're not pro-classroom games just for kicks, there's actual science behind why games are fantastic educational tools.
A study by UMass-Amherst, Centre for Teaching and Faculty Development, found games help motivate and engage students, helping them achieve more in the real world.
But enough of the science.
The fact is, games in online classrooms improve student interaction.
And you can improve classroom engagement by using a few Slides with Friends online classroom games.
For instance, our Hangout at the Zoo game is a great way to have fun while also learning more about animals. You can even add an accompanying image or video for more variety to the game. And, like all the best games, using this deck adds just a little bit of competition to learning.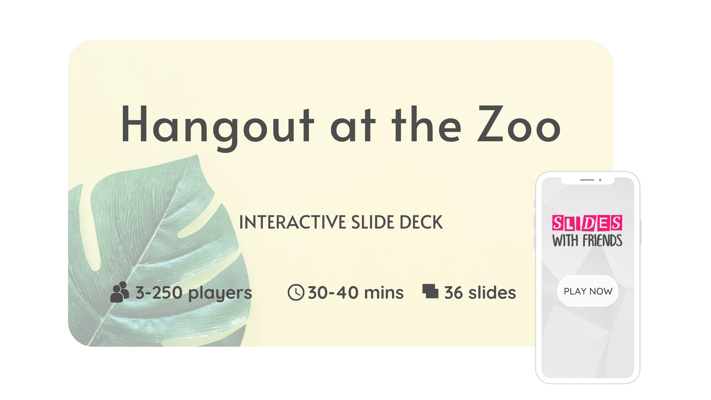 The gamification of lessons may seem like taking the easy way out, but it works and will be sure to keep your students attention.
Group Projects and Presentations
We know group projects and group presentations have a bad reputation. Many a meme showcases why people hate working in groups.
But there are reasons educators keep using these methods! Group projects and presentations allow students to learn about collaboration and communication while giving them a chance to learn at their own pace. Plus, nothing prepares students for the workplace more than having to work with others!
With Zoom breakout rooms, you can bring group work to your online lessons, giving students a chance to work together before putting their newfound knowledge into action and showing the rest of the group.
One of Slides with Friends' newest features allows you, or your students, to upload their PowerPoint presentations to our platform, giving everyone with a phone or computer a chance to interact with the project.
With a few quick clicks, you can make any group presentation interactive, allowing students to not only work together but then share with the class in a way that increases their engagement.
Slides with Friends can be used by your students to showcase their presentations.
Once the presentation is done, you can use a Q&A slide deck to help review the knowledge and discuss any topics which may have come up during the presentation. This allows students to ask questions and allows for further discussion on key points.
But we'll dive deeper into Q&As below.
Live Q&As
And here we are! Diving deeper into live Q&As, or inquiry-based learning.
Live Q&As are an online learning staple. They allow students to ask questions, engage with peers, and get answers from you in real time. Even deeper, a study by Pharmaceutical Education found Q&As also stimulate recall, promote comprehension, and build critical-thinking skills.
And these questions aren't just for the students. Live question-and-answer sessions give you a chance to see gaps in the lessons, allowing you to adjust them for the next time.
With Slides with Friends, you can use live Q&A sessions to keep online learning interactive. With our Word Cloud Energizer, students can submit their thoughts anonymously and vote for the questions or topics they would like to know more about.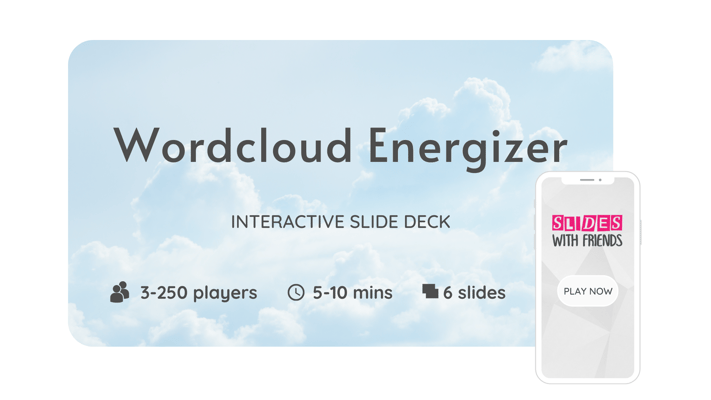 Post- and Pre-Lesson Polls
Like live Q&As, pre- and post-lesson polls give students a chance to ask questions, share feedback, and give their opinions with the safety of anonymity. The Cornell University Center for Teaching Innovation found polls support active critical thinking while helping educators check in with students, gauge interest, and assess understanding.
We've also found polls provide an interactive learning environment, while also normalizing mistakes and encouraging self-reflection. While using polls in a traditional classroom is fantastic, they're especially helpful with online lessons. Because it's harder to gauge how a student is engaging with a lesson through a screen, taking time to poll provides concrete answers and offers a peek into the minds of students.
Slides with Friends offers several templates that make it easy to create and share a poll in virtual classrooms. While the answers to these polls, like our Poll the Audience slide deck, are anonymous to the group, you as a teacher can see who's answering. As a result, you can adjust your lessons as needed.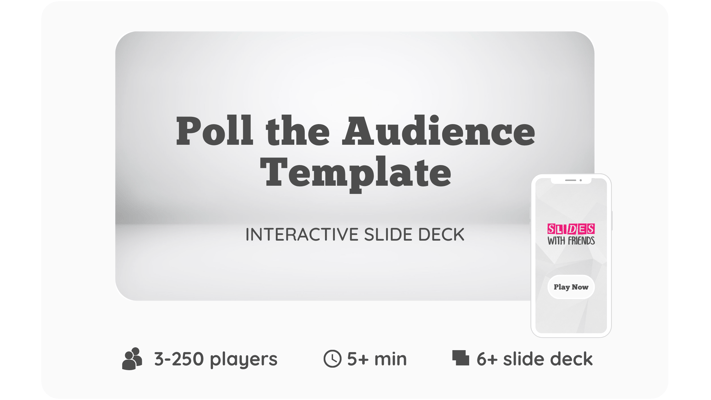 Live Quizzes
We know online learning isn't always the same as in-person lectures, which is why online quizzes are so important for helping students test their knowledge and engage with the material. While polls are about collecting thoughts on a topic, quizzes have right or wrong answers and show how well students understand the topic.
Online quizzes are so popular with educators now, the University of Sussex Educational Enhancement Department recommends giving quizzes before and after each lesson. Not only will this show where students stand, but also how they've improved post-lecture.
With Slides with Friends, you can create online quizzes that give real-time feedback to ensure everyone is understanding the content to the best of their abilities. We even have several pre-made decks you can use for basic quizzes, like our Grammar Quiz or Reading Comprehension Quiz.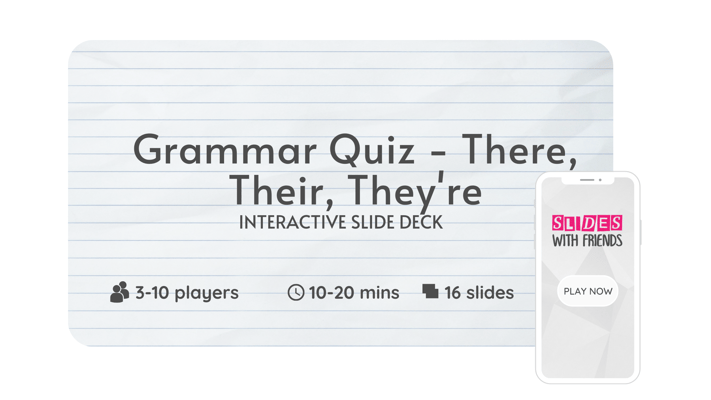 Each quiz deck can be customized for your subject matter. Plus, with our Pro Membership, you can export the results and data to keep in your notes for the year.
Creating Online Interactive Lessons with Slides with Friends
Here's the best part - Slides with Friends makes crafting interactive lessons so easy. Once you have an account (free or premium!), it only takes 3 steps to get started.
1. Choose a Pre-Made Deck - Or Start from Scratch!
Click on the 'Popular Decks' tab or the 'Create Your Own Slide Deck'. Customize an existing deck or use our simple deck creator to make your own games or review material.
2. Launch the Deck
Click 'Start an Event' when you're ready to go. Share your screen through Zoom and have students join on their phones using our QR or URL code.
3. Enjoy!
Finally, watch your group interact and engage throughout the lesson as you go through the material.
It's that easy to get started on your interactive lesson at Slides with Friends.
Add More Interaction to Your Online Classes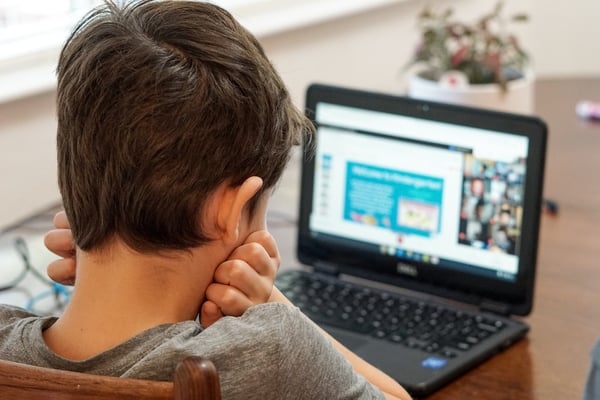 In the modern world, educators need to incorporate interactive elements into their lessons. Making students excited and engaged during virtual learning can be a challenge, but with the right tools and tips, teachers can increase engagement in the classroom.
An interactive lesson can help foster an environment conducive to learning by utilizing engaging tools like Slides with Friends. With this platform, teachers have easy access to features that can easily be used to create dynamic and informative presentations. With a few simple teaching tips and tricks, you can encourage student participation while furthering their understanding of the material.