Here's a list of great group trivia games to play live with your team or students. If you're looking for free online trivia games (as well as premium options — they're often worth it) that work for groups in person or remote, you're in the right place.
These're all great for getting your group engaged with trivia games that are fun, easy to play, and easy to set up.
‍
1. Play an Interactive Trivia Game Deck
Slides With Friends is one of the top trivia building tools on the internet. You can make your own, or you can use the ready to play, super-fun trivia games already built.
Below are some great ready-to-play trivia games that you can present (like a PPT) to your group. You all join in on your phones and compete by sending in answers to see who gets the most points! Choose your game deck and get ready to play (and enjoy).
Each game has a theme, and scores are calculated automatically. All the games show the winners at the end (and some even have additional fun activities like word clouds and Cards Against Humanity type play). Select a game, copy it into your account, launch your presentation and share your screen with your group. You all join in on your phones, and then you advance the game like a slideshow, answering questions as you go
Here's a quick overview of each, and you can find them above as well. The Office Trivia game is a clever interactive game deck with 4 rounds of fun trivia about the American version of the Office. Classic Disney Trivia is a game testing your knowledge from Disney latest golden age. Harry Potter Trivia asks questions about the wizarding world. Travel Mini Game: Perfect for a short break with a group that loves to travel. Movies: Quick Trivia Game: All about popular movies and characters. Who's the Smartest?: A combination of trivia topics to discover who in your group is the biggest nerd. Happy Hour Hang: An intense trivia competition for the pub trivia regulars of your group.
Overall the Slides With Friends trivia game player is our favorite tool.
2. Build a Game Using Kahoot!
There are games galore available for fantastic group trivia activities on Kahoot! And with so many options, you're sure to find something just right for your team. Try a few of our faves:
Because Kahoot! was originally a game-based learning platform, all its games are super SFW and your classroom.
‍
3. Play Who Wants to Be a Millionaire?
Keep it classic with the free version of Who Wants to Be a Millionaire you can play virtually with your group.
Tip: Only one person can play this version at a time, so let everyone take a turn and offer more "poll the audience" life lines than Regis would!
‍
4. Play You Don't Know Jack
A hilarious take on a trivia challenges, You Don't Know Jack offers multiple trivia games all hosted by the notorious Cookie Masterson.
Because You Don't Know Jack offers dozens of games that can be played in-person or virtually, you're sure to find just the right one for your group.
‍
5. Play online Jeopardy
Another TV show inspired game, Jeopardy translates perfectly to in-person or remote group trivia games.
We have 5 suggestions for playing Jeopardy with your group:
Create your own game on Slides with Friends.
Use an existing SWF slide deck.
Use the free Jeopardy Labs to create your own Jeopardy board.
Stream an old episode with your group.
Use the official Jeopardy! App.
Check out How to Play Jeopardy on Zoom for detailed instructions on how to launch your Jeopardy trivia game!
‍
6. Create an Image Quiz Trivia
Your team will enjoy the challenge of trying to place where exactly they saw the images used in this trivia competition. There are 2 different ways you can play this visual trivia game with your team or group:
Collect pictures of different objects or landmarks – Bonus points if you use places or items from around the classroom or office.
Gather your group on Zoom and click through each image. Give about 15 seconds per image.
Have everyone write down their responses in the Zoom chat and share with the group at the end.
Award a point for every right answer. Winner gets a prize!
‍
Bonus: Check out Where in the World are These Landmarks? for more image fun.
‍
7. Play Guess Who
Another classic that takes little to no explanation, you can play Guess Who by reading out the clues or putting them in a poll slide deck. Either way, the easy to start game of guess the person from the clues is perfect for short, quick bouts of trivia.
Find our favorite prompts here:
‍
8. Play Family Feud
We promise we're not just listing all the '90s game shows!
But sometimes a classic is a classic for a reason! And Family Feud is easy to explain and perfect for larger groups, allowing you to play in teams.
Classic: One member from each team goes in a head-to-head to come up with the highest listed answer.
Tournament: Teams face off in successive rounds.
Fast Money: Teams have to give the top 5 answers with a time limit of 20 seconds.
Or do a combination of all 3!
‍
9. Check out Psych!
Psych! is a fantastic way for your group to test how well they know each other – And how well they can lie to each other!
To play, the group is given a prompt and then has to come up with a fake answer.
Then, all the fake answers are mixed together with the real one.
Will you be able to tell the difference between the truth and the lies?
Will you be able to lie well enough to trick your group?
Get the Psych! app to find out!
‍
10. Use TriviaNerd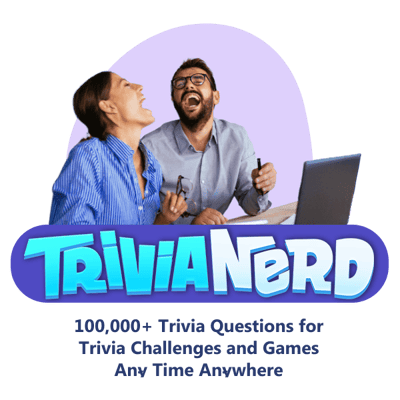 If you and your group are looking for some serious trivia options (and multiple trivia games!), you might be ready for TriviaNerd.
You can create your own games or pick from one of the thousands of existing decks that already exist on the platform. There are unlimited categories to choose from, plus it's free for up to 5 players.
‍
11. Try PoppyQuiz

Built to be a social trivia app, PoppyQuiz makes it extremely easy to gather your group and start playing ready-made or customizable trivia games.
Create a free account.
Pick from 1 of over 200 topics of quiz. Or make your own!
Invite your friends from right inside the app.
Play and let PoppyQuiz keep score.
Each match of PoppyQuiz has 6 rounds and a bonus round, which sounds like a lot, but it goes by fast as everyone gets more competitive.
‍
12. Free Trivia Game Decks from Slides with Friends
Slides With Friends can let you play live interactive group trivia games.
Since these are so much fun we pasted some more SlidesWith games to choose from, here. The Slides With Friends trivia game player is our favorite tool!
‍
How to Make Your Own Trivia Deck
Nothing gets a group more engaged than when activities are personalized for them (not joking! Check out the research!).
Use personalization to your advantage by creating your own trivia deck for your next group game. Simply:
Log in to Slides with Friends and copy our Trivia Game Template to your account.
Add trivia questions on topics your group loves or even about members of your group.
Invite the team to your trivia game with a personalized game code.
Play!
Your group will appreciate the effort you made, not knowing it's super easy to build one of our game decks!
‍