Giving a presentation is hard enough without worrying about getting crickets from your audience. Whether you're presenting an idea to your colleagues, speaking at a conference, or lecturing in a classroom, making your presentation interactive is a surefire way to increase audience engagement (and enjoyment).
With years of experience, we're experts in the field of interactive presentation software. We've put together a list of the top tools you can use to get your group interacting, engaging, and having a great time during your talk.
Without further ado, here's the list:
‍
1. Slides With Friends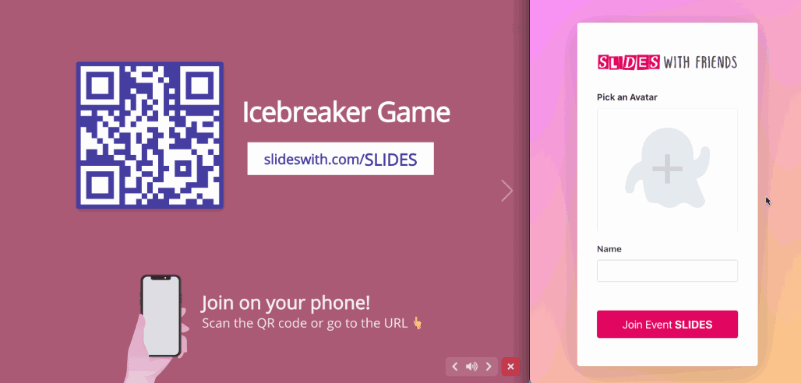 What is Slides With Friends?
Slides With Friends is an interactive presentation tool that offers slide decks similarly styled to PowerPoint—but this tool is different from PowerPoint because its slide decks have interactive features to engage your audience. Those features include live polls, ratings, live word clouds, videos, gifs, live photo sharing, live trivia, live quizzes, and more. 
How does Slides With Friends work? 
After creating an account, you'll have access to hundreds of presentation templates that fall into different categories, some of which are conferences, trivia, happy hour, team building, and education. Once you pick a slide deck template, you can customize it by changing the colors, fonts, images, and backgrounds. You can also add or remove interactive features based on your preferences.
When you're ready to start your presentation, all you have to do is share your screen. Then, your audience should scan the QR code to join the fun. Participants can submit responses to your presentation questions and engage in your activities and games from anywhere using their mobile devices!
‍Pros of using Slides With Friends:
Live features: With live polling, word clouds, photo sharing, charts, graphs, quizzes, and trivia, your audience will stay energized during your entire presentation! 
Real-time insights: The many live features provide real-time updates to keep your audience engaged, intrigued, and in the know!
Easy to use: You don't have to be tech-savvy to customize a slide deck or build an interactive presentation from scratch. Slides With Friends offers an easy and clean user experience. 
Customizable: You can choose from a plethora of design options, like changing the background, updating font pairings, creating color palettes, and much more. 
Mobile-first: Some interactive presentation software asks audience members to download an app to submit responses. With Slides With Friends, all people have to do is scan a QR code and submit responses using their mobile devices.  
Cons of using Slides With Friends:
Need a paid plan for larger audiences: Ten people can engage with your presentation for free, so if you have a larger group, you'll need a paid plan. The good news is that those paid tiers are affordable, so you don't have to worry about breaking the bank.  
‍Main Takeaway
The simplicity and fun, unique features that Slides With Friends offers makes it one of the top interactive presentation software, which is why everyone from teachers to speakers to managers use it. The slide decks are straightforward, and the templates are easy to customize—and when you're ready to start your presentation, participants can join without any hassle or downloads.
‍
2. AhaSlides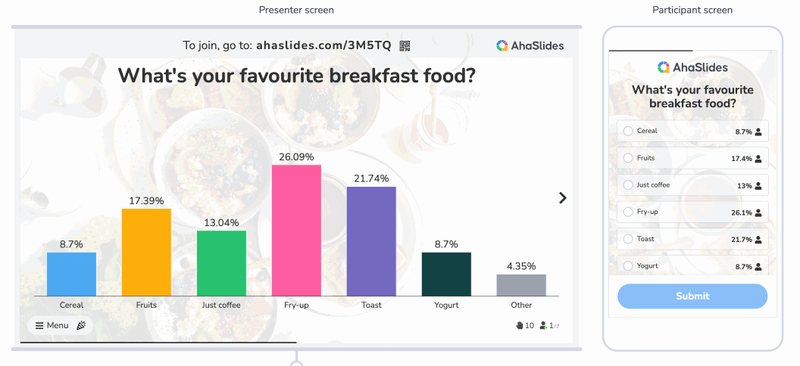 What is AhaSlides?
AhaSlides is another interactive presentation tool that makes it easy for you to engage your audience. Similar to Slides With Friends, this tool has tons of customizable presentation templates, and they fall into many different categories like work, games, meetings, surveys, and holidays. Each template comes with interactive features to entertain your audience, including word clouds, a spinner wheel, polls, Q&A, sliding scales, and quizzes. 
How does AhaSlides work?
Getting started with AhaSlides is easy. After signing up, simply build your presentation from scratch or choose one of the many templates that AhaSlides offers. Once you're ready to present, make sure everyone can see your screen and ask your audience to join the fun by using the QR code or URL link. 
Pros of AhaSlides:
User-friendly interface: AhaSlides has a similar setup and style to many other interactive presentation tools, so the learning curve is minimal. 
On-slide editing: This software provides more options for on-slide designs and editing. 
Cost-effective: All of AhaSlides' plans are affordable. Its most expensive one is under $20/month.
Good for large groups: You can interact with up to 10k participants during your presentation, making this tool great for big conferences and large events.
Cons of AhaSlides: 
Limitations: There aren't many different types of surveys and poll questions you can ask. 
Customizing photos: All of your images on AhaSlides must be square.
Can't undo: If you make a mistake while building your presentation on AhaSlides, you can't undo any changes. 
Main Takeaway
AhaSlides is a great interactive presentation tool that lets you achieve the same goals and add the same interactive features as other software. You may especially enjoy this tool if you want something that's budget-friendly—but beware that the low cost comes with some serious drawbacks, like the inability to undo mistakes and add different types of images. 
‍
3. Mentimeter
What is Mentimeter?
‍Mentimeter is an audience engagement platform that lets you build full presentations with interactive features and slides. This tool lets you add live polling, surveys, word clouds, Q&As, and quizzes, as well as Truth or Lie, Guess the Number, and This or That slides to engage your audience. It also offers many presentation templates for you to build on and customize. 
How does Mentimeter work?
Once you sign up, Mentimeter will ask a few questions to understand how you plan to use their service. Then, the software will analyze your responses to suggest specific templates based on your needs. If you don't like their recommendations, you can access all of Mentimeter's templates to find what you want. 
After you create your presentation and are ready to launch, your audience can respond to your questions, react to your content, and ask questions using any device. All of their responses are anonymous, too—and their feedback will appear on the screen immediately after they submit them. 
Pros of using Mentimeter:
Feedback gathering: Mentimeter is great if you want to gather insights from your audience or gauge your audience's sentiments about a particular topic. 
Customization capabilities: You can tailor every template to fit your needs. You can even include your own branding. 
Integrations: Mentimeter is a corporate-friendly tool that integrates with Zoom, Hopin, Microsoft Teams, and PowerPoint. 
Cons of using Mentimeter:
Restrictive free plan: The free version doesn't offer a lot of features and comes with many restrictions. 
Expensive paid plans: If you want to access more features, you'll need a paid plan, but Mentimeter's paid tiers are significantly higher than other interactive presentation tools. 
Steep learning curve: Mentimeter isn't intuitive—some features are complex, so first-time users may struggle.
Inefficient customer support: Because of the company's location, the support team and support hours will be an obstacle for users in different time zones.
Editing restrictions: On-slide editing is not possible. Instead of editing content on the actual slides, you'll have to edit text fields on the side. 
‍Main Takeaway
Mentimeter has many features you need to make your presentation interactive, but accessing those features comes at a hefty cost. Also, because Mentimeter isn't intuitive, implementing certain elements can be difficult and time-consuming. However, if you're tech-savvy, Mentimeter could be a powerful and useful presentation tool. ‍
‍
4. Slido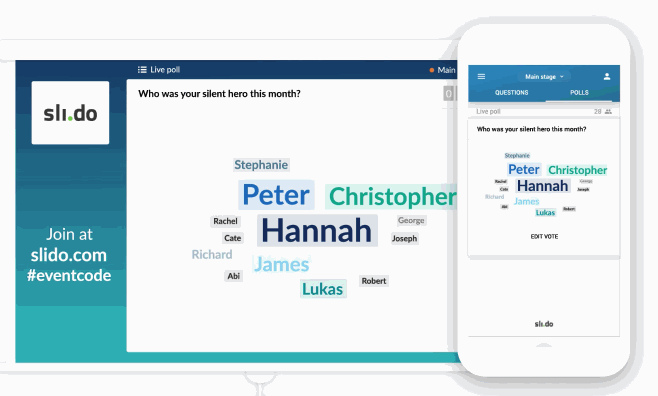 What is Slido?
Slido is a Q&A and live polling platform that lets you interact with your audience during your presentation. With this tool, you can ask poll questions and receive audience feedback in real time. Your audience can also submit questions and vote for their favorite ones. Because of these features, Slido is an interactive presentation tool that's best for Q&A sessions, Ask Me Anything, curating and brainstorming ideas, quizzes, and feedback gathering. 
How does Slido work?
Slido integrates with other presentation and video conferencing tools like Microsoft Teams, Vimeo, PowerPoint, and Google Slides. After signing up, you can access the tool and add its polling and Q&A features to your presentation slides. Once you're ready to present, your audience can join the fun by using the event link or QR code to participate. People can submit their responses using their mobile devices or laptop.
Pros of Slido: 
Integrations: Because it has so many integrations, you can use Slido on essentially any presentation builder. 
Good for large groups: Slido lets you add up to 5K participants, so it's good for large grounds. 
Cons of Slido: 
Learning curve: Many users believe Slido is hard to learn and comes with too many steps for presenters. Some needed multiple explanations from other users on how to utilize the tool. 
Limited features: All you get with Slido are polling and Q&A options, so you won't have many ways to engage your audience. 
Limited free option: The free plan has very basic features. With this plan, engaging your audience will be challenging.
Expensive: Slido is one of the more expensive options, with the enterprise plan reaching $200/month. 
Delays: Some users have experienced delays in displaying participants' responses on slides. 
Main Takeaway 
Slido is a good tool with great integrations. But its features are limited, and its plans are expensive. If you add the learning curve some users complain about, you may not find many benefits in using Slido—however, it's still worth considering if you care about integrations.  
‍
5. Vevox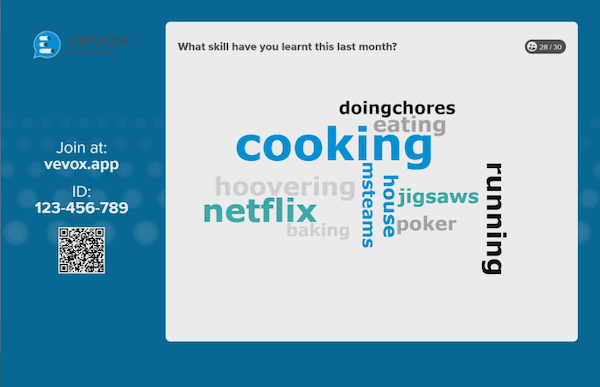 What is Vevox?
Vevox is a live polling, quiz, and Q&A platform that helps you engage your audience. This interactive presentation software integrates with multiple tools, including Powerpoint, Blackboard, and Microsoft Teams. 
With Vevox, you can gather anonymous feedback to ensure everyone has a voice, gauge your audience's views on topics, and jumpstart a fun, competitive atmosphere with a quizzing experience. Vevox also lets you showcase participants' responses with unique visuals like word clouds.
How does Vevox work? 
After signing up for Vevox, you can use its integration feature to convert slides on your presentation into Vevox polling, Q&A, or quiz slides. During your actual presentation, participants can interact with you by scanning a QR code or entering an event ID, both of which will be present on your Vevox slides. Audience members can submit their questions and responses from anywhere and on any device. 
Pros of Vevox:
Great free plans: Vevox has two free plans—one for businesses and one for educators. Both allow up to 100 participants to interact with your presentation, and each tier provides integrations with Microsoft Teams and Powerpoint. 
Easy to run: Most users believe Vevox is easy to use and run. 
Integrations: With Vevox's many integrations, you can use the presentation tools you prefer. 
Cons of Vevox:
Expensive: Vevox is one of the most costly interactive presentation tools, with plans reaching $799/month. 
Poor design for end-users: Some presenters have expressed issues with how answer options appear on end-users' mobile devices. 
Best for Microsoft products: While Vevox integrates with many tools, it works seamlessly with Microsoft products like Teams, PowerPoint, and Windows. With other platforms, the integration is a bit more challenging. 
Few interactive features: Many users believe Vevox doesn't offer enough features to engage audiences, especially when compared to similar options. Users also think Vevox doesn't provide enough dynamic ways to present participants' poll answers. 
Data Gathering: Some users report issues getting data exported to another file. 
Main Takeaway
If you want an interactive presentation tool with basic engagement features, then Vevox is a good option. You can include a lot of participants with its free plans and use various integrations, which are bonuses if you typically speak to a large audience and have preferred presentation tools.
However, if you want interactive features that go beyond polling, quizzes, and Q&As to keep your audience glued in, then Vevox may not be the best solution. It's also quite expensive for lacking so many engagement features. 
‍
6. Poll Everywhere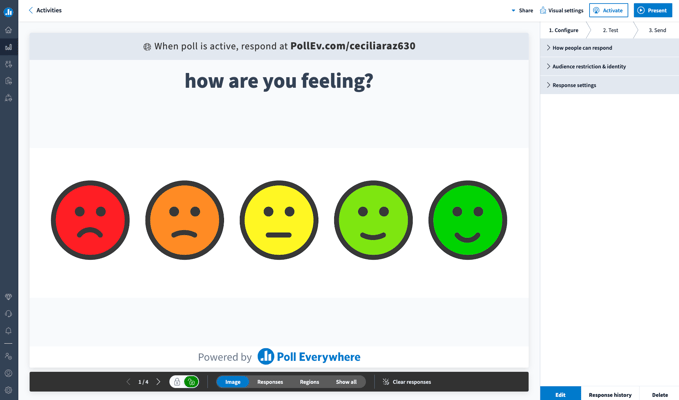 What is Poll Everywhere?
Poll Everywhere is a live polling tool that helps you gather feedback, gauge your audience's thoughts, and receive questions during your presentation. With Poll Everywhere, you can ask multiple-choice questions and open-ended questions and present participants' responses with word clouds. This interactive application also integrates with many presentation tools and meeting platforms, including PowerPoint, Keynote, Google Slides, Microsoft Teams, and Slack. 
How does Poll Everywhere work?
You can access Poll Everywhere after creating an account. From there, you'll need to download Poll Everywhere on your device to enjoy the full, interactive experience. Once you download the application, you can use it when building your presentation by adding interactive poll questions to your slides. 
During your presentation, your audience can answer your poll questions using any device. Just share the activity link provided by Poll Everywhere. Then, participants can use that to see and respond to your questions. You can also dive deeper into participants' responses using the application's reporting capabilities—the tool lets you analyze audience insights using executive summaries, pivot tables, grade books, and participant response history. 
Pros of Poll Everywhere:
Easy PowerPoint integrations: Users believe Poll Everywhere seamlessly integrates with PowerPoint. 
Reporting capabilities: You can better understand your audience using one of the many report types that Poll Everywhere offers.
Customer support: This application has a good tech support and customer service team. 
Easy to use: Presenters and educators agree that Poll Everywhere is simple and straightforward.
Consistently improving: Many users believe the company does a great job implementing feedback and enhancing features.
Cons of Poll Everywhere:
Limited features: Like Vevox and Slido, Poll Everywhere doesn't have features beyond the basic interactive capabilities. 
Learning Management System integration: Some users have trouble integrating Poll Everywhere with BlackBoard and other LMS platforms. 
No enhancements: Other than word clouds, users think Poll Everywhere lacks the visual and audio enhancements that would make participants' responses fun to watch and hear. 
Expensive: While Poll Everywhere isn't the most expensive interactive presentation tool, it's not the cheapest. To get a good amount of features, you need the "Engage" plan, which is a little less than $50/month. 
Main Takeaway
Poll Everywhere is a good live polling tool—and its reporting capabilities are especially great. However, it's like many other interactive presentation tools; it doesn't offer a lot of features, even though it's somewhat pricey. It also doesn't integrate well with platforms outside of Microsoft PowerPoint.
‍
‍Prevent the Glazed Eyes
With an interactive presentation tool, you'll increase your chances of building something that not only sticks but holds your audience's attention—and that's exactly what you need. In an age where people have trouble concentrating and regularly scrolling on social media is normal, you have about ten minutes to grab and keep your audience's attention. Failure to do so means you'll be another statistic people use when explaining the importance of having an interactive presentation. 
You've got 10 minutes. That's the span of time most people can stay mentally engaged with a presentation before they check out. So, unless you can create stimulating content and deliver it masterfully, you will find your audience scrolling through TikTok and checking their email. Studies have shown that 4 in 5 business professionals, regardless of age, shifted their focus away from the speaker in the most recent presentation they watched! - Jane Hanson, The 30-Point Rule, And Other Tips To Prepare A Killer Presentation That Will Keep Your Audience Off Their Phones
So, if you want to nail your presentation, don't go in with slides that only feature bulleted lists and a photo here and there. Liven things up by using a tool that'll enhance your presentation's interactivity. Then, you'll give a presentation so good that it'll prevent people from scrolling and potentially lead to a standing ovation instead.