Are you looking for an alternative to Poll Everywhere — something easier to use, less expensive, or more fun?
We've reviewed over twenty live polling, interactive meeting, and audience response software options (from signup all the way to hosting a live event) and have hand-picked the best five with features similar to Poll Everywhere.
We evaluated each option based on the following criteria:
- Ease of use
- Features
- Flexibility / customization
- Cost
- Advanced options
- Integrations
We've given each tool a rating out of 5 for all items, and selected the top 5 best options to use as an alternative to Poll Everywhere. Every one of the top five alternatives below are great pieces of software, and each have specific strengths and weaknesses. Let's get to the list to see which is best for you:
‍
1. Slides With Friends
Overview
Our first choice for a Poll Everywhere alternative is Slides With Friends. It's an interactive presentation builder that enables instant live polling. If you're familiar with Google Slides or PowerPoint, it is easy to drop in a get started, since it has a very similar "slide deck" functionality. It's one of the cleaner, more intuitie platforms we've tried, plus it offers some really fun and creative interaction types that no other platforms have.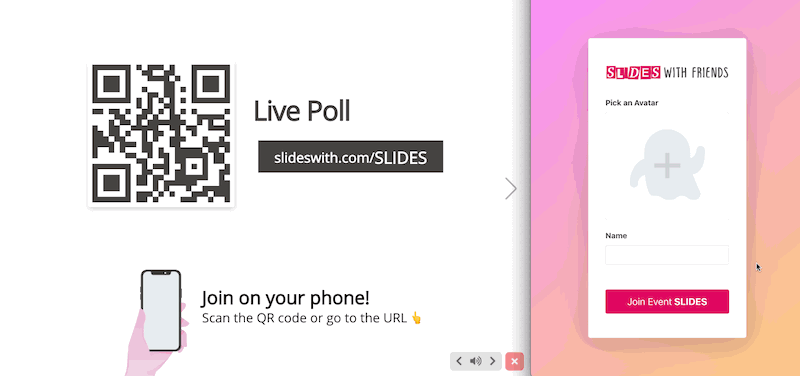 ‍
Pros of using Slides With Friends:
Great live polls: There are a ton of options for polling, including bar charts, graphs, "per player", and more. You can also get ratings, ask multi choice questions, and display responses in multiple ways.
Intuitive and easy to get started: one of the cleanest UIs and easiest-to-understand set ups.
Interesting and unique interactions: there are more than just polls, including ratings, word clouds, trivia question, photo sharing, brainstorming, and team building.
Design capability: You can make a ton of high-level design choices like backgrounds, font pairings, color palettes and more.
No downloads required: some of these platforms make your players download an app to join. Using SlidesWith, players just scan a QR and go directly to the event — no login or app required.
Cons of using Slides With Friends:
If you have a very large group, an upgraded account is needed — you can host up to 1,000 participants, but this isn't available in the free tier.
Slides With Friends vs. Poll Everywhere
SlidesWith is a more robust tool than Poll Everywhere, and its goal is more connective and fun, rather than dry and basic polling. It does a great job of basic polling, but also offers more interesting options that make it more fun and playful (there are options to have emoji avatars and more). While Poll Everywhere feels like older software, SlidesWith is relatively fresh and new feeling.
Key Takeaway
Choose Slides With Friends if you are looking to engage a group with live polls using a newer, more modern platform (that's easier to use).
‍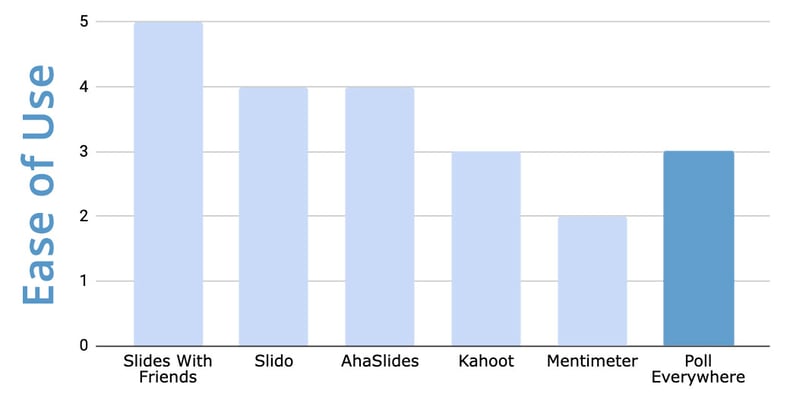 ‍
‍
2. Slido
Overview
Slido is an audience engagement software designed for larger conferences and speaker events. It lets you run Q&A session with a large live group, allows for anonymous participation in Q&As, quizzes, polls, surveys, and real-time feedback during presentations. You can use it online, in-person, or for hybrid presentations. It's targeted mainly at event organizers, and business professionals.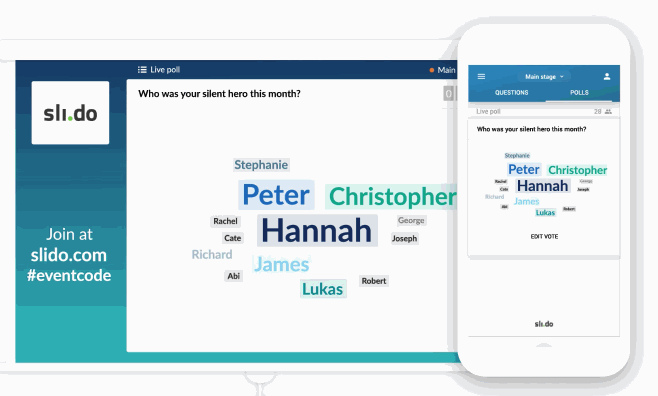 ‍
Pros of using Slido:
Works well for large groups (and very large large groups): 5000 participants possible vs. only 700 with Poll Everywhere
Once you're familiar with the tool, set up of individual events is pretty quick
Integrates seamlessly with Google Slides
Cons of using Slido:
Steep learning curve to get started — it's a different set up from pretty much every other tool on this list, and has its own unique functionality that takes some learning. Many users reported that the UI, navigation, and question/poll creation was confusing.
Limited free version with fewer features: you can only have 3 interactions or polls in any event.
There's  limited ability to do visual customization to match branding or theme
Lack of visibility of participants' names and anonymity means lack of accountability — there is the risk of inappropriate content being sent.
Slido vs. Poll Everywhere
Comparatively, Poll Everywhere and Slido share some similar features, like anonymous polling options and integration with many different presentation softwares. However, Poll Everywhere focuses more on assessment and live feedback, while Slido emphasizes interactive conferences and Q&As.
Key Takeaway
If you're running more straightforward conference talks and want a "live" and "instant" feel, Slido is a great bet. It surpasses Poll Everywhere at Q&As and rolling live audience feedback.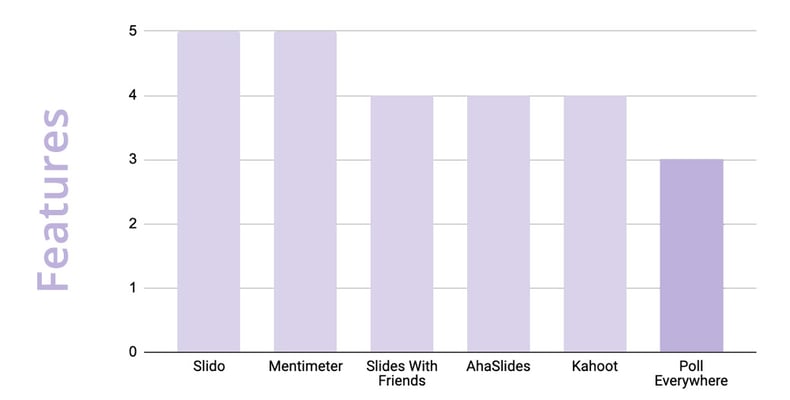 ‍
‍
3. AhaSlides
Overview
AhaSlides started out as what seemed like a pretty straightforward Mentimeter (see #4) copy, but has since surpassed its predecessor. It's now got some great features, and a better, fresher feel than both Mentimeter and Poll Everywhere. Overall it's a fun version of the same setup, an interactive slide deck presentation builder, with a mixture of on-slide editing and side-panel settings.
‍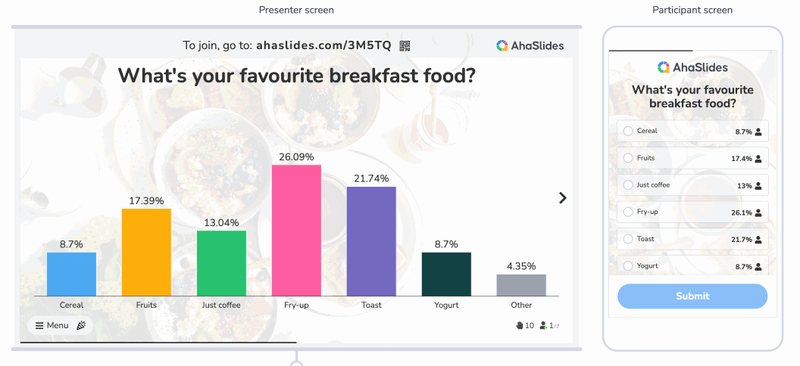 ‍
Pros of using AhaSlides:
More friendly interface: similar setup to other tools, making it more familiar
More on-slide design options than some alternatives
Much larger groups sizes possible (up to 10k participants vs. 700 with Poll Everywhere)
Lowest cost option
Cons of using AhaSlides:
Response time (delay) could be improved
Limited functionality in the types of surveys/questions you can ask
Some users report a steeper learning curve involved for new users
Missing some basic undo/redo functions
Export feature for results could be better in excel format
Cannot customize images in your own way because it's fixed as square-cropped.
AhaSlides vs. Poll Everywhere
AhaSlides feels busier, but also more approachable. It's got more power and is friendlier than Poll Everywhere, which feels much more corporate. AhaSlides offers you tons of templates right off the bat, where in Poll Everywhere they're a bit hidden. This makes getting started with Aha a lot easier than Poll Everywhere.
Key Takeaway
Choose AhaSlides when you want something less corporate, more powerful, or easier to get started with.
‍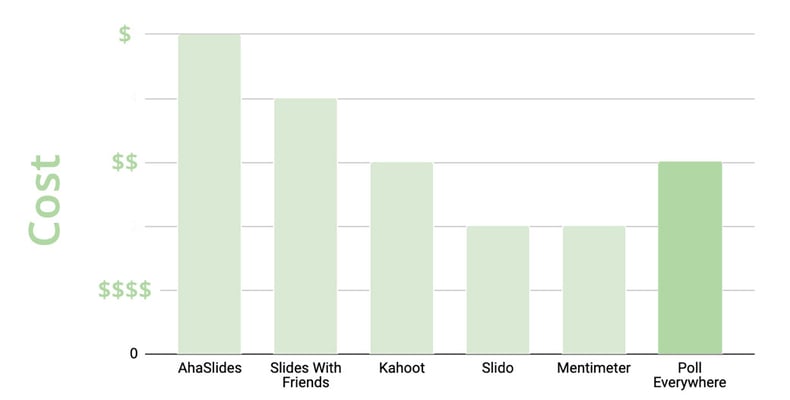 ‍
‍
4. Mentimeter
Overview
Mentimeter is another slide deck presentation type creator. It lets you build decks and launch presentations in a similar way to PowerPoint. The main users are corporate trainers and business professionals, who are running workplace teaching activities.
It's one of the older options and comes with all benefits and drawbacks that that entails: It's a sturdy and mature software; it's also clunky and feels like an older "Internet 2.0" creation. They've added tons of features over the years, which both makes it super-powerful and also a little bloated and with a "menus stacked on menus" feeling.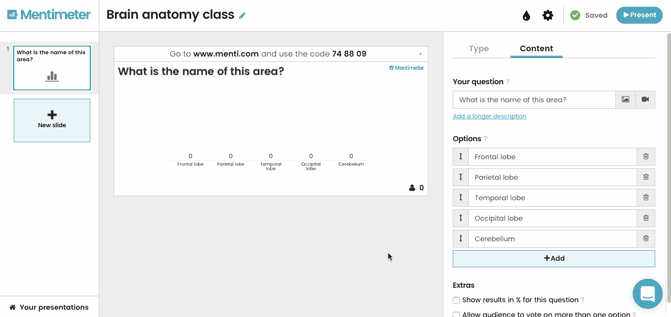 ‍
Pros of using Mentimeter:
Lots of integrations and corporate-friendly tools
Mature software means the basics often work sturdily and reliably.
Corporate design and professional look makes it ideal for business uses
Cons of using Mentimeter:
No on-slide editing: Mentimeter feels very dated in this regard: you can't actually edit anything on the slide interface itself: you instead edit text fields to the side
Limited features and restrictions in the free version, and the pricing is higher than many of the other options
Limited user interface and design customization options: you can't edit slide layout
Inefficient customer support and service: Some users report little to no help available when issues arise
Steep learning curve for first-time users, with so many menu options
Mentimeter vs. Poll Everywhere
Poll Everywhere has a more simple and straightforward UI. Mentimeter is more full-featured but also more overwhelming in terms of options: the learning curve for Mentimeter is steep but once you're in Mentimeter is more powerful and useful. Poll Everywhere feels slightly younger than Mentimeter (which is saying something — they both feel a little dated these days).
Key Takeaway
Choose Mentimeter over other audience response software when you need something super full-featured and corporate-leaning (and when you have ample time to figure out all of its functionality).
‍
‍
5. Kahoot
Overview
Kahoot is popular and starting to be ubiquitous, at least in the classroom. It feels a little childish (eg. answers are shown as colors and shapes you have to pair, rather than being able to actually tap on the text of an answer.)
Overall, while many users enjoyed using Kahoot, there were several common cons mentioned, including expensive subscription plans, lack of customization, complicated user interface, and limited question types.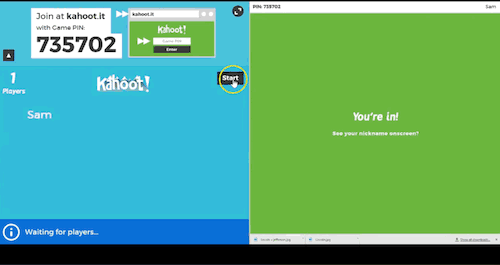 Pros of using Kahoot:
Saves time in lesson planning and review, with lots of ready-made Kahoots available.
Familiar and robust: it's been around for awhile and people are used to it
Once you nkow how to navigate it, it bcomes quick to make your own events
Cons of using Kahoot:
Expensive subscription plans: Several users found Kahoot to be expensive, especially for small companies or one-time events.
Your participants need to download an app to play.
Super limited free tier: Only allows 3 players per event in the free account and many features are only available in the paid version, making the free version quite limited.
Lack of customization: Some users wanted more customizable options, such as custom themes and colors.
Complicated user interface: Some users found Kahoot to be too complicated, with too many options to choose from, making it hard to find what they needed.
Competitive nature can be overwhelming: users found Kahoot's countdowns and time-pressure to add stress to events
Limited number of answer options: Kahoot only allows for four answer options per question, which can be limiting for some users.
Limited availability of quizzes: Some users found that quizzes were not always available for a select amount of time.
Kahoot vs. Poll Everywhere
Poll Everywhere has a much more business-forward brand, while Kahoot was created for the classroom first. Kahoot is more gamified, and leans into a fun, kicky quizzing feel (like, timed answers and more points the faster you respond), while Poll Everywhere is more straight poling, less games.
Key Takeaway
Choose Kahoot for classroom activities, if you need to host larger groups, or have a larger budget.
‍
Overall Choice
Our final choice for the best alternative to Poll Everywhere? Slides With Friends.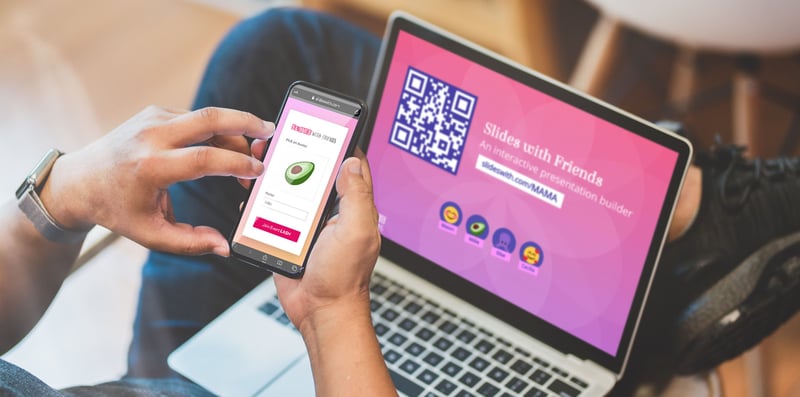 If you're looking to engage your audience, help your team come together, or just run fun interactive live polls, Slides With Friends has the best of all the worlds: a fun and engaging feel, while still hitting all the important points for running professional, useful, and data-collecting live polls.
‍