You deserve a break! And a glass of wine!
Which is why a virtual wine tasting is the perfect idea for your next team get together. Show your team how much you appreciate them while learning about wine and celebrating each other with one of these 11 virtual wine tastings perfect for a bigger group.
Whether you're looking for a casual tasting or something more elevated and professional, we'll go over all the options you need to create an unforgettable virtual wine tasting for your team.
And stick around because at the end, we'll show you how to throw your own interactive virtual wine tasting using a Virtual Wine Tasting slide deck template.
1. Bottles Nation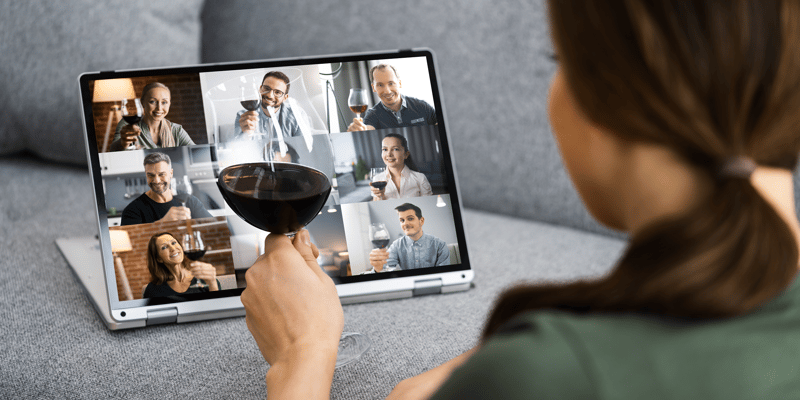 Located in downtown Detroit, Bottles Nation started as in-home sommeliers and podcasters, throwing events in clients' homes and educating others on wine. However, during the pandemic, Bottles Nation had to shift their focus and now exclusively specialize in virtual tastings. And while we're here to discuss their wine tastings, you should also check out their craft beer, cocktail, whiskey, and mocktail offerings!
What's Included
While Bottles Nation does have upgrades available (more on that below), our recommendation is their basic tasting. With a wide range of wines from across the globe, their Virtual Wine Tastings Classic Kit includes:
- 1 hour tasting lead by a sommelier
- Overview of how wine is made
- Digital tasting notes
- 4 full bottles of wine
The typical bottles sent for Bottles Nation's tastings are Spanish Sparkling (Cava), New Zealand Sauvignon Blanc, Montepulciano d'Abruzzo, and Argentinian Malbec.
Pricing
‍The pricing at Bottles Nation is quite simple. The flat rate is $350, then for every device logging on, it's an added $89, which includes taxes and shipping. For higher-tiered wines, it's an additional $150 or $200 per kit.
Extras
‍For an extra cost, you can upgrade the wines for your tastings. Bottles Nations also allows customizations, so you can create an all-reds or all-whites experience. Or even a Champagne only option!
Recently, Bottles Nation also started offering trivia to their tastings, at no extra cost. As for add-ons, you can get snacks, perfectly paired artisan cheeses, and Belgian truffles for an extra cost.
Why We Love It
We're super fans of Bottles Nation because of the ease of setting up your virtual event. Unlike some of the wineries on this list, virtual tastings is all Bottles Nations does, making it a true expert in throwing these events.
Also, the business offers seasonal drinks and wines, so you're not confined to the Classic Kit. The variety offered by Bottles Nation is perfect if you want to style your event just-so.
‍
2. In Good Taste
It's all about flights with In Good Taste and we're here for it!
Every bottle offered by In Good Taste is a mini, or 187ml to be specific. And because of their small sizes, you can get entire flights of varying wines and actually try them all without feeling like you're overindulging or wasting a bottle.
What's Included
In Good Taste does its virtual wine tastings a little differently. Instead of booking the event and then picking out your wines, you pick out your flight of wines and if you meet the minimum, you get a complimentary tasting event. As a result, you can get almost anything in your flight!
Some of our favorites include:
- Wine + Popcorn Pairing
- Wine + Candle Gift Set
- A Dozen Rosés
With In Good Taste, you get to build the event you want around the exact flights you want.
Pricing
The virtual or hybrid tasting event from In Good Taste is complimentary if 6 or more curated flights are purchased. For events with fewer than 6 flights, the tasting costs $75.
As for the cost of the curated flights, there is a lot of variety. The Mini Wine + Candle Gift Set is currently their cheapest at $45 and comes with 4 wines and a candle. On average, the 6 wine flights cost about $49, the 8 wine flights cost about $65, and specials (like A Dozen Rosés) cost $79.
Extras
There are a couple of extras you can get with specific flights, like the above mentioned popcorn and candle. However, In Good Taste keeps the focus on wine.
Why We Love It
We love the idea of smaller bottles of wine for a tasting and love the style and options In Good Taste provides with these smaller bottles. While full-sized wines are great, we appreciate being able to get through the majority of the wine and not have to leave bottles half-finished.
We're also big fans of the prices with In Good Taste! Smaller bottles means less of a cost. And since the virtual tasting is complimentary if you order 6+ curated flights, you're really just paying a nominal fee for the wine.
‍
3. CorkBuzz Restaurant and Wine Bar
A wine-centric restaurant based in New York City, Corkbuzz is focused on making the understanding and enjoyment of wine more accessible. The wine bar often hosts star sommeliers and winemakers and has recently moved its expertise online.
What's Included
Corkbuzz keeps its virtual wine classes simple and concise. With your class, you'll get:
- A Corkbuzz sommelier
- A class on regions, history, and geography of different wines
- A Q&A session
While Corkbuzz does not include wines for its classes, giving everyone the opportunity to open their favorite or for you to gift the group a wine to drink during class.
Pricing
While no current information could be found on the virtual wine classes for 2023, an old guide for 2021 had their virtual class listed at $25 per person with a $400 sommelier fee.
Extras
Corkbuzz does not offer any extras at this time. However, the 2021 guide did mention being able to ship out bottles of wine if you don't want to purchase your own.
Why We Love It
If you're looking for a deeper dive into wine and want to curate your own bottles, Corkbuzz is a great option. The expertise the sommeliers offer is out of this world, making this tasting perfect for those passionate about wine.
‍
4. Priority Wine Pass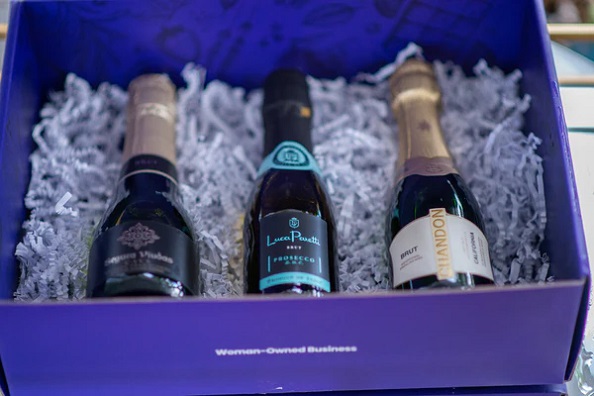 Priority Wine Pass has built its entire business around the art of wine tasting, making them serious experts. And now they have several virtual wine tasting options. However, for this list, we're going to focus on their Around the World Bubbles Tasting Kit.
What's Included
In the decadent World Bubbles Tasting Kit, you'll get:
- 3 bottles of wine
- A host
- A 45 minute guide through the flight
While the average event is 45 minutes, you can add more time if you want.
Pricing
The cost for each kit is $75 with a minimum order of 10. In addition to the per kit cost, there is also a $325 host fee.
Extras
Here is where Priority Wine Pass really shines. While the sparkling wines are more than enough for a full evening, there are several add-ons, starting with a basic cookie or chocolate addition for $25.
You can also add a premium chocolate pairing (+$65/kit), cheese pairing (+$55/kit), or an assortment of snacks (+$30/kit). In addition to yummy goodies, you can also add branded swag, like a cocktail shaker or glassware with your logo on it starting at an additional $30/kit.
Finally, for those who would like a non-alcoholic or mocktail option, it's $75/kit.
Why We Love It
There are a lot of wine options on this list, but not many of them include such fun sparkling wines.
Plus, we're huge fans of all the additional add-ons. You can keep your team wine tasting simple or completely turn up and go all out with snacks and even swag!
‍
5. Orange Glou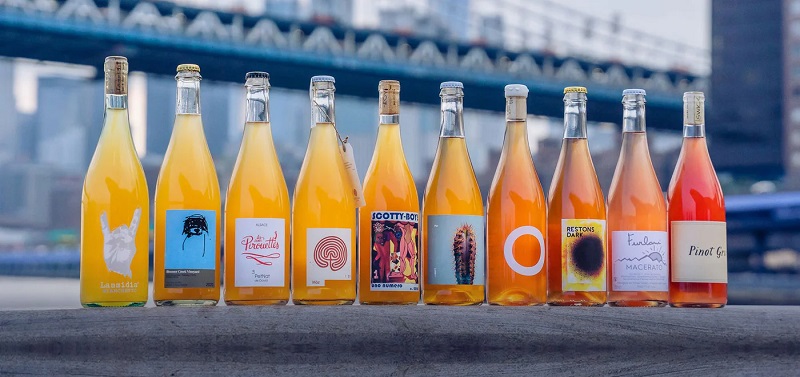 A bit niche, but still delicious, Orange Glou is a wine club that focuses on orange wines from across the globe. Now, with a shop in the Lower East Side of Manhattan, Orange Glou also offers orange wine tastings in their digital tasting room.
What's Included
There are 2 packs available with the Orange Glou Virtual Tasting Events. Both of the packs include:
- Orange wine
- A host to walk through the highlights of the grapes
- A tasting notes guide
- An open forum for questions
The Orange Wine Curious pack includes 2 wine bottles and lasts 20-30 minutes. The Orange Wine Serious pack includes 3 wine bottles and lasts about 45 minutes.
Pricing
For the Orange Wine Curious pack, the cost is $89 with a minimum of 20 boxes or a one-time fee of $199 for the sommelier.
For the Orange Wine Serious pack, the cost is $115 with a minimum of 20 boxes or a one-time fee of $199.
Extras
Orange Glou keeps it pretty simple for its tastings so doesn't offer many extras. However, for an additional $25/person, you can get an Orange Glou glass set to enjoy with your tastings!
Why We Love It
It's orange wine!
Even if you aren't a big fan of orange wine (or if you haven't had it!), it's fun to try something new, especially with your team.
Plus, we're big fans of click it and forget it events, so we like that Orange Glou plans everything for the event.
‍
6. Far Niente Wineries
A classic, foundational vineyard located in the Napa Valley, Far Niente is most well-known for its Chardonnay and Cabernet Sauvignon. And with its new, 100% customizable wine tasting experiences, you can now bring Far Niente and its elevated wines to your team at home.
What's Included
There are 3 different virtual tasting options offered by Far Niente. While they can be customized, their base levels include:
- 3 to 4 wines
- Wine concierge for planning
- Live Zoom presentation
Unfortunately, more details about Far Niente's virtual tastings does require reaching out to their team.
Pricing
For the Epicure Tasting, which includes 3 wines, the cost for the virtual tasting is $255 per person. For the Estate Tasting, which includes 4 wines, it costs $390 per person. If you want to pull out all the stops and really spoil your team, you can try the Terroir Tasting, which costs $540 a person.
Extras
So much is already included in the base price of Far Niente's virtual wine tastings! But, if you're wanting to elevate your experience even more, you can add on a wine-saving Coravin ($185) or a snack board for each person ($85).
Why We Love It
Far Niente is the gold standard for Napa Valley wines. And because we can't always fly out to the valley, we love that this tasting option gives you a sneak peek at California wine country. The full bottles provided for the virtual tasting are handpicked at the estate and you can feel the charm in each sip.
Plus, Far Niente has over 130 years of experience with wine, so you know you're getting the best of the best with their virtual wine concierges.
‍
7. Domaine Carneros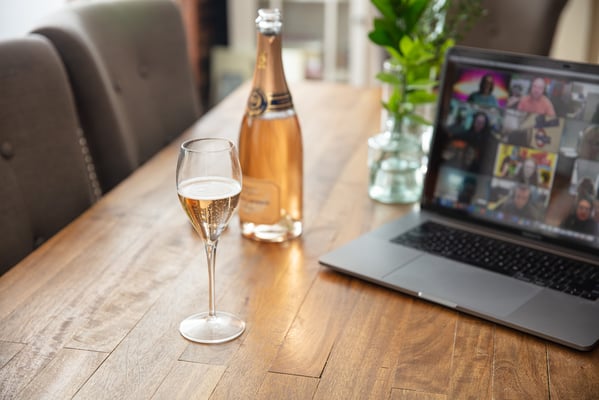 Domaine Carneros is located in California and specializes in méthode traditionelle sparkling and estate Pinot Noir. As a result, they offer varied and complex wine sets, perfect for your next virtual wine tasting.
What's Included
The virtual wine tastings by Domaine Carneros are built around their customized 3 bottle sets. With each set, you'll get:
- 3 bottles of wine
- A wine educator
- A 30 minute Zoom virtual tasting
And everything can be purchased online, with a quick call to schedule the Zoom tasting.
Pricing
There are varying costs for the different Domaine Carneros Personal Tastings. The most popular options are the Colors of Carneros Sampler ($165), Sparkling Classics ($134), Best-Loved Bubbles ($209), and Carneros Pinot Noir ($176).
When any of the samplers are purchased, the 30 minute Zoom tasting is included at no extra charge.
Extras
There are some very fun and classy extras available with Domaine Carneros.
Our favorite is you can add a Classic Caviar ($100) or Deluxe Caviar ($160) to your wine set.
If you're more interested in pairings, the winery offers cheese and salumi with varying wines.
Why We Love It
Because Domaine Carneros is a California-based winery, the educators for the tastings are truly experts in their field.
Even better, we love that the actual tasting is complimentary, so you only have to pay for the wine and whatever extras you want.
‍
8. The Bordeaux Concierge
The Bordeaux Concierge is a bespoke travel planning company that assists those looking for luxury wine experiences in France. And over the years, their business grew to include fully customizable personal and corporate virtual wine tastings.
What's Included
The best thing about a Bordeaux Concierge tasting is it is completely customizable, from length of event to what's included. Some of the items that can be included are:
- Wines from various regions
- Cognac
- Certified sommelier facilitator
- Cheese pairings
- Event for 60 to 90 minutes
The virtual tastings are typically hosted on Zoom, but can be done on any platform of your choice.
Pricing
Because The Bordeaux Concierge experience is so customizable, there are no concrete prices available for the service. However, the planning, logistics, and facilitation of the event costs a flat €1,500 (euros). Wine, cheese, and shipping are charged at cost.
Extras
As mentioned above, you can add quite a few extras to your Bordeaux Concierge experience. You can opt for a wider range of wines (including wines from various regions including Bordeaux, Burgundy, Rhone, Loire, and Champagne), as well as cognac.
And don't forget the cheese! As expected of a French company, the cheese add-on is expertly paired to each wine and shipped in thermos-insulated packaging for freshness.
Why We Love It
Look, we're not wine snobs. We'll take a glass of the boxed stuff if worse comes to worst. But the idea of having real French wine with real French cheese will always be a winner in our books.
And The Bordeaux Concierge is all about a customizable event, which we really appreciate. Whether you're looking to celebrate your team of 5 or 200, The Bordeaux Concierge has your back.
9. Gloria Ferrer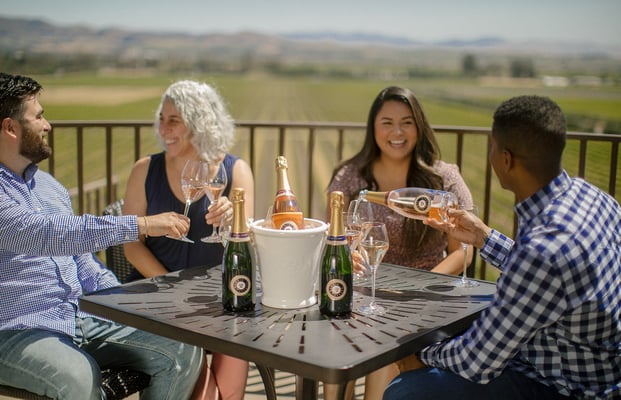 Hailed as the first sparkling winery in Carneros, Sonoma, Gloria Ferrer is all about bringing Spanish sparkling wine methods to California. And with their wine club and corporate virtual wine tastings, you can share a little piece of Spain with your team.
What's Included
The Gloria Ferrer Virtual Tasting Experiences are offered in packages, so you can pick exactly what you want included. However, every taste experience includes:
- Space for up to 100 guests
- A certified wine educator
- A tasting experience for 60 to 90 minutes
Your elevated virtual tasting can then include items like chocolates, cheese, truffles, and caviar. You can also decide on a wide range of sparkling wines.
Pricing
The base group virtual wine tasting costs $125/household.
However, if you want an elevated experience, you'll be paying a bit more. You can decide between options like Sparkling and Chocolates ($120), Wine and Classic Cheese ($220), Sparkling and Truffle ($295), or Sparkling and Caviar Exploration ($325).
Extras
With Gloria Ferrer, the extras you get depend on the experience you pick. So, while you can just get a basic wine tasting, you can also add chocolates, truffles, or cheese for an additional cost. There are no separate add-ons available.
Why We Love It
We love the ease of deciding what package you want and scheduling with Gloria Ferrer. And as one of the only Spanish wineries on this list, this tasting experience offers such a unique look at sparkling Spanish wine.
10. Bouchaine
Another winery operating out of Carneros, Bouchaine offers a wide range of experiences at its in-person location, but has recently moved to virtual tastings.
What's Included
There are 3 kits available for your teams virtual tasting with Bouchaine, each offering slightly different things. However, every kit includes:
- 1 or 2 bottles of wine
- Sommelier host
- 50 minute wine discussion
- Views of Napa broadcasted on 4k camera
If you opt for the Winemaker Kit #1, you'll get 1 etched Bouchaine tumbler and your choice of a Chardonnay, Pinot Noir, or Rosé. If you chose the Winemaker Kit #2, you'll get a bottle of Estate Chardonnay and Estate Pinot Noir as well as 2 etched Bouchaine wine tumblers.
Finally, the Chocolate and Wine Tasting Kit includes a bottle of Howell Mountain Cabernet Sauvignon and chocolates from Woodhouse Chocolates.
Pricing
The Wine Kit #1 costs $95 and the Wine Kit #2 costs $150.
The Chocolate and Wine Tasting Kit costs $175.
Extras
While there aren't any add-ons listed on Bouchaine's site, they are willing to customize your experience if you contact them.
Why We Love It
Sometimes you just want something simple and straightforward, which Bouchaine brings to the tasting reservation process. There are 3 options and with a few clicks you can make your choices and leave everything else in their hands.
Plus, they have an amazing selection of wines and are known in Napa Valley as being the oldest continuously operating winery in Carneros.
11. Stags' Leap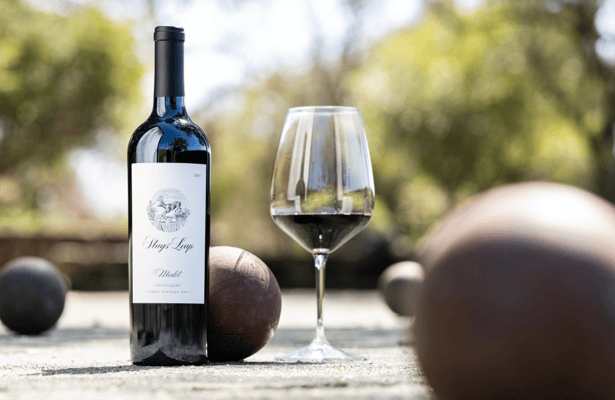 We're going to be honest: We couldn't find a lot of information about Stags' Leap virtual tastings. However, the reviews for the winery and their virtual experiences are absolutely amazing, so we had to include it on the list.
What's Included
Stag's Leap customizes each Virtual Wine Tasting, so what's included is completely up to you. Each option, however, will include at least:
- Wine concierge service
- 3 bottles of wine
You'll need to contact Stag's Head event planners for more information.
Pricing
We couldn't find exact pricing for the Stag's Head Virtual Wine Tasting. However, we do know they require a purchase of at least 20 kits for their virtual experience.
Extras
Stag's Head offers a wide range of add-ons, including custom gift sets. Their complimentary concierge service will work with you to create a budget and custom decorations for your virtual tasting. Plus, they have special corporate offers!
Why We Love It
As we've mentioned before, we're big fans of clicking and forgetting, which is why we love the idea of being able to leave all the event planning in the very capable hands of Stag's Head wine experts.
How to Run Your Own Virtual Wine Tasting
While we're big fans of letting the experts do what they do best, we also support a DIY wine tasting! If you've got the gumption to build and host your own virtual wine tasting, we've got you.
Just remember, as we said in our Best Virtual Beer Tasting post, give yourself plenty of time to create this event. You don't want to feel rushed or unprepared. But we think if you follow our tips, you can host the best virtual wine tasting ever!
1. Pick Your Wines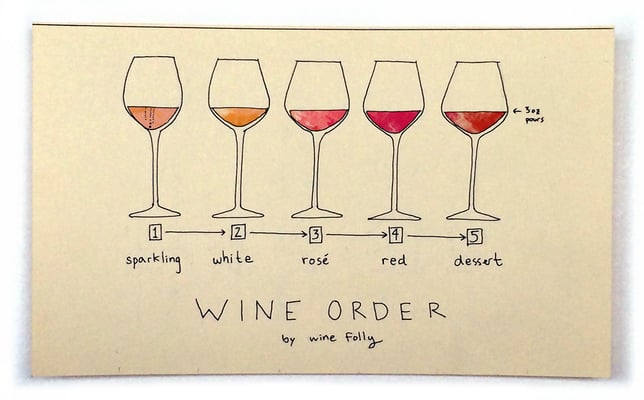 There are 2 ways to go about picking your wines for your virtual tasting with your team:
Have everyone pick their favorite wine and prepare a little presentation on it. While this means you won't know what to expect until everyone logs on, it gives the entire group the flexibility to drink what they want and to talk about their favorite.
We strongly suggest doing all the buying yourself. The typical recommendation is 4-5 wines ranging from sparkling to dessert wines. You're going to want your tasting to go from light to dark, so keep that in mind as you make your picks.
2. Pair Your Wines
If you want to go all out for your tasting, consider picking out a few snacks to pair with your wine choices. Unless you see your team in-person, you're going to want to pick snacks that ship well. Chocolates are, of course, a favorite, but you can also send truffles or cookies.
We won't go into details, but check out Wine Folly's Chocolate Pairing Guide to learn more about how to expertly match wines to chocolates.
3. Find Wine Technical Data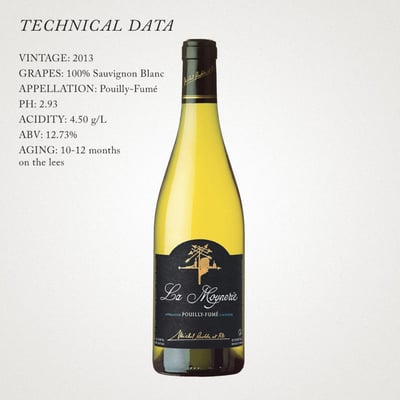 Most wines come with detailed data on their vintage, appellation, acidity, and ABV. If you want to look the expert, find the data sheets for the wines you've picked for added direction.
4. Invite Your Team
Now that you've done the hard work of picking and pairing your wine, you need to invite your team!
Give your group a heads-up on the time of your tasting event, as well as how long you think it will take.
Be prepared to make adjustments for those who don't or can't drink alcohol.
5. Ship the Wine to Your Team
There are 2 ways we suggest getting your wine and pairings to your team.
Find a popular store chain in everyone's location and to purchase the wines there to have them delivered directly.
If you're unable to find a store in common or if no store has your specific vintages, you can ship them yourself. However, we strongly suggest you check out Food & Wine's guide on How to Ship Alcohol for recommendations and state regulations.
6. Plug Your Wines into Our Virtual Wine Tasting Slide Deck
We've done all the hard work to give your virtual wine tasting the structure and fun balance it needs! Just head over to our Virtual Wine Tasting slide deck to throw your next event.
Once you've copied the deck to your account, you can add your wine information to the available slides. We've got prompts for tasting notes, ratings, and of course some fun wine-themed trivia.
7. Sip Sip!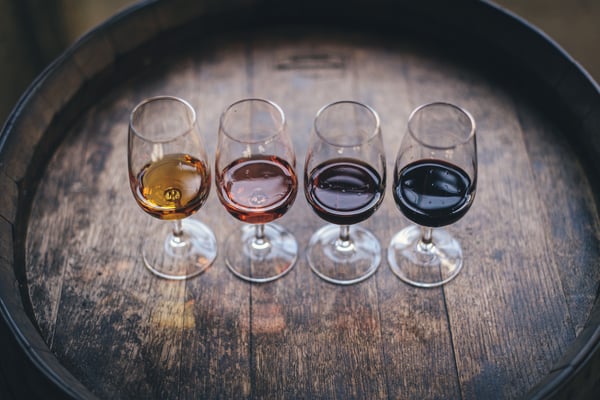 Now you've done all that work, you can log on and enjoy a carefree wine tasting with your team. Click through the slide deck to keep the event moving and to share information about each wine.