If you want your business to succeed, what's one thing you need to do?
Make sales.
This simple truth is so foundational to a company's success, yet the process of achieving it is often overlooked. In many companies, you don't see business leaders investing in their sales team's training, even though it's crucial to bringing in more deals. 
You might reasonably assume that developing a high-performance sales team ranks among the highest priorities within an organization. Yet somewhat inexplicably, sales training is one of the most overlooked aspects of developing sales organizations, resulting in a constant churn of sales professionals that ultimately cost businesses time and capital.
- Bryce Conlan, How to Build a World Class Sales Team
Without proper training, sales reps will cost you more than they're bringing in, leaving your business in a position to crumble. Fortunately, that doesn't have to be your reality. If you want your company to thrive, all you need to do is coach your reps to succeed using sales training software. There's one catch, though. The tools you use must be engaging. Otherwise, what's the point? 
If your sales team doesn't listen or pay attention to your training, all of your hard work will go out the window, and that's not an exaggeration. Studies suggest that 84% of sales training is forgotten within three months. To avoid being in that situation, you must invest in tools that keep your reps engaged, focused, and excited to learn.
Here are 6 sales training software that can do that while giving your team the education it needs. 
1. Slides With Friends
Slides With Friends provides interactive decks designed to keep your sales team's attention while delivering key knowledge to help sharpen their skills. The decks resemble PowerPoint slides, so they're easy to navigate and understand. However, the slides aren't boring or meant to be simple presentations.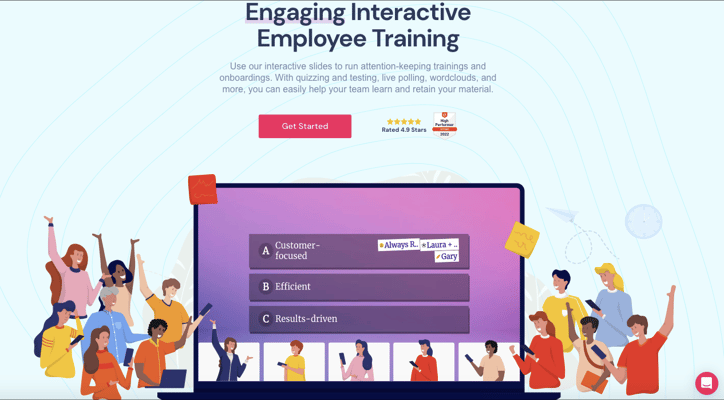 Instead, Slides With Friends offers multiple features to equip and engage your sales team like:
Polling: You can ask sales reps questions and get real-time feedback to see how many answer correctly. 
Interactive word clouds: Do you want to brainstorm with your reps? Then, you use word clouds that update in real-time to strategize with team members on how to solve different sales-related issues. 
Live trivia: If you want to test your reps' knowledge about a specific topic, you can use ready-to-play trivia templates or build a trivia game from scratch. 
Live quizzes: You can help your sales reps learn and retain new material by testing them periodically with interactive quizzes that come with multiple choice questions, ratings, text answers, and more. 
Automatic scoring: While playing trivia or taking a quiz, you and your team members will see the top scorers. That way, the training is more of a game where reps feel motivated to play and win.
One of the best things about Slides With Friends is it's easy to use. You don't need to be tech-savvy or have a tech background to enjoy or build a slide deck. After creating an account, all you have to do is the following steps to get started:
Customize or make a deck from scratch: Slides with Friends has premade templates you can use to design sales training content. While building interactive resources, you can add or remove any features you'd like. ‍
Launch your training: Display your deck on a projector or share your screen if your training is remote. Team members can access the training and submit responses using their mobile devices. They just have to scan a QR code or click a shareable link. ‍
Watch reps learn and engage: Because Slides With Friends offers interactive decks, you can simply watch your sales team learn and engage with the training material, knowing they're improving their skills.
Slides With Friends works for in-person, hybrid, and remote workforces. This flexibility has attracted many brands, like FedEx and IBM. 
2. Brainshark 
Brainshark wears many hats. With its sales enablement and readiness platform, the software company helps brands communicate with, educate, and motivate their sales teams to achieve high performance. One way it accomplishes this is with its training and onboarding program.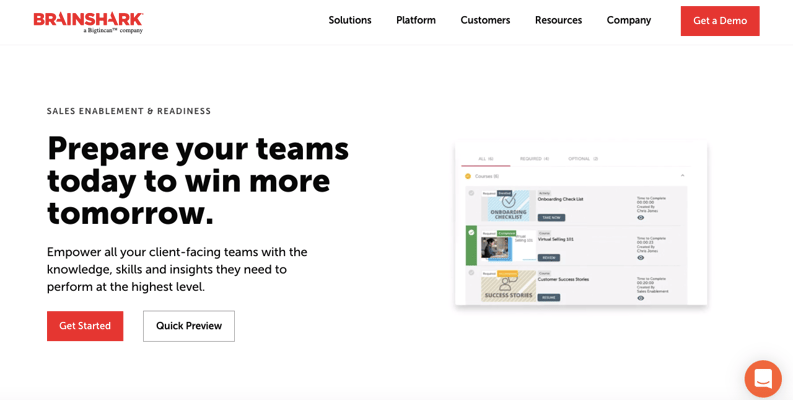 The program works by doing the following: 
Onboarding: It decreases the time it takes new sales reps to close deals by offering engaging, on-demand training.
Reinforcing: By providing resources from any device, Brainshark helps sellers maintain knowledge and retain critical skills. 
Certifying: The platforms immediately send badges and certifications to sales reps who complete mandatory training and meet requirements.  
Brainshark also allows you to build a custom library with skills and topics that align with learning activities. With this, you can monitor activities and see who's acquiring critical skills like account planning, product knowledge, and forecasting.  
Also, Brainshark offers 5 unique features that users typically enjoy: 
Content authoring: You can control who has the authority to make, edit, and publish new resources. 
Accessible: Sales reps can access your content library without an internet connection and with any device.
Readiness scorecards: You can track which team members have completed courses, see the highest scorers, and follow up with anyone who hasn't finished an assignment on time. 
Video support: Your sales reps can record and submit videos of their pitches for colleagues or AI to review. 
Integrations: If you use a CRM, you can add a separate tab with your training material.
As with many sales training software, Brainshark has drawbacks. Some people think the platform isn't intuitive for less tech-savvy reps and the reporting isn't that granular. 
3. EdApp
EdApp is a mobile-first tool, meaning it runs on mobile devices. With this standalone app, you can publish, distribute, and gamify your training resources. Specifically, you can build your sales training content from scratch, convert existing training from PowerPoints into microlearning modules, and use the premade library complete with resources and guides.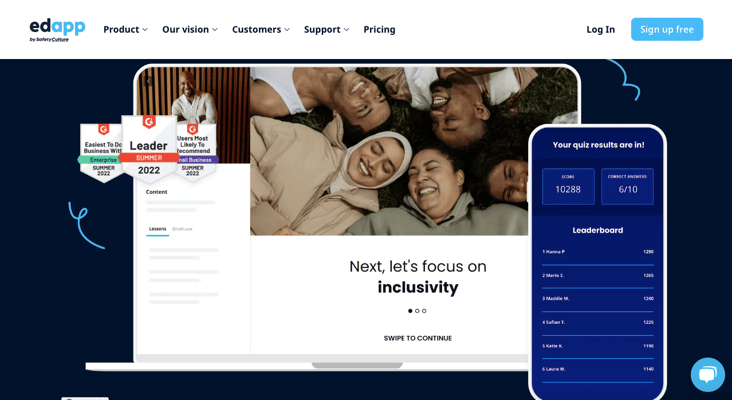 Another great thing about EdApp is that it can integrate with other learning management systems like Canva, Zapier, and Cornerstone. Some other key features include the following: 
Content authoring: You can give anyone on your team permission to create custom sales training content.
Premade templates: If your team doesn't want to spend creative energy designing engaging training, they can use the ready-to-go templates and build from there. 
Gamification: To incentivize your reps to finish their training, EdApp lets team members compete with one another and gives prizes to the top scorers. 
Repetition: After a sales rep completes their training, you can send a follow-up quiz to help improve retention and see if they can answer questions that were previously answered wrong. 
Translation tool: If you have a global sales team, no problem. EdApp can translate content into 100 different languages. 
Analytics and notifications: You can track your sales team's performance and send personalized push notifications to reps who need more training on a specific topic. 
While a great software, EdApp does have one major drawback: Because it's designed to operate on mobile devices, EdApp is not a great solution if your reps spend most of their time on a desktop or if you want team members to decrease time spent on their cell phones.
‍4. Bigtincan 
Bigtincan is one piece of a greater sales training stack and focuses on providing robust training to sales teams. The resources on its platform are designed to deliver foundational knowledge and sales skills reps need to sell effectively.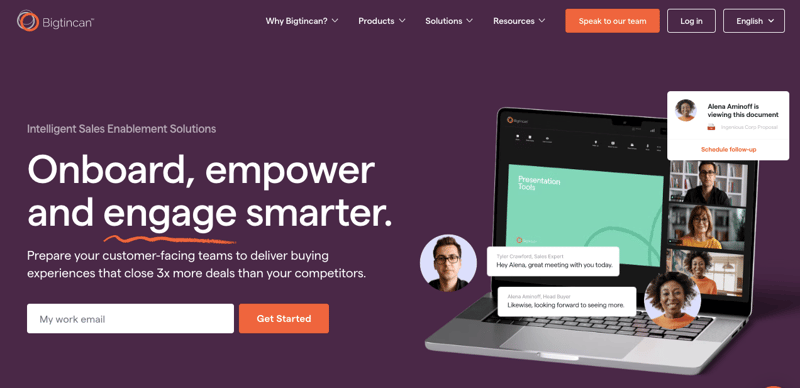 Bigtincan is a good platform because it avoids offering long, generic sales training presentations and instead provides engaging, custom learning experiences to team members. Bigtincan also has the following features to help your sales team: 
Microlearning: The platform breaks content into easily digestible chunks and formats like quizzes, videos, and interactive exercises. 
Adaptive learning: The resources on Bigtincan can be personalized to individual reps and their specific needs. For example, a sales rep's training can refer to the products they sell and the prospects and accounts they manage. 
Just-in-time learning: When your sales team needs to look up something quickly, they can do so with Bigtincan. The platform provides the resources reps need precisely when they need it and uses AI-powered lesson recommendations, search, and a mobile-first design to provide instant answers to questions. 
Video coaching and training: Your sellers can record and submit their pitches to get feedback from managers on how to improve without filling their calendars with one-on-one meetings.  
Gamification: You can encourage your team members to complete training with leaderboards, badges, and incentives that increase motivation. 
Augmented and virtual reality: A fun way to keep your sales team engaged with Bigtincan is to use its augmented and virtual reality features. With these, you can immerse your reps into environments with your product. 
Another great thing about Bigtincan is it's accessible whether reps are online or offline. Additionally, the platform can integrate with CRMs like Oracle, HubSpot, and Salesforce.
Still, Bigtincan does have a few drawbacks. Some users claim the interface isn't user-friendly, the dashboard is difficult to customize, and the tools and documents are hard to navigate. 
5. Mindtickle
If you want to build a content library that mirrors your company, Mindtickle may be a great option. With this sales training software, you can house your resources in one place and track how team members are progressing and performing on training modules. It's a great platform for keeping sales reps updated on critical information.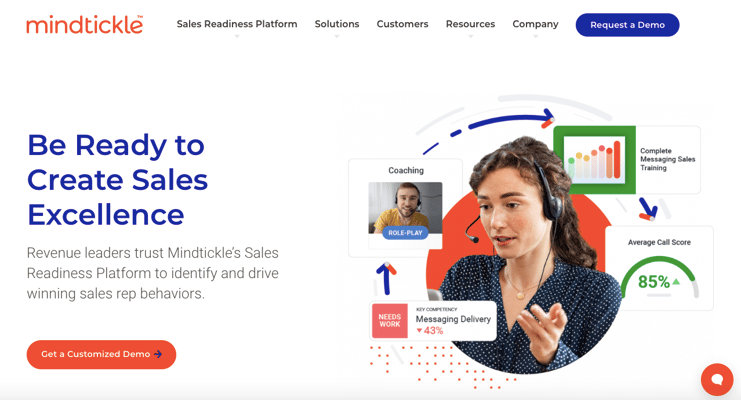 The tool also comes with the following features:
Content management: Get a central hub where you and reps can store, organize, and access training resources. 
Cloud-based: Because Mindtickle is cloud-based, team members can access it anywhere with an internet connection. 
Goal setting: Explain who your ideal sales rep is and give your sales team the opportunity to develop those skills. 
Data and dashboards: Track your sales reps' performance and identify weaknesses and areas for improvement by measuring skills against CRM data. 
Personalized coaching: If you have sales reps who need a little more training, provide custom lessons that address their needs. 
One of the drawbacks of Mindtickle is that it doesn't support just-in-time learning. Also, this platform doesn't integrate with other software. 
6. Spekit 
Spekit is a sales enablement and training software. It provides easy-to-access, bite-size resources that are available during team members' workdays. 
It's also beneficial because it doesn't require reps to access a separate training hub. With Spekit, employees can use the platforms they log into the most. Primarily because Spekit integrates with Slack, Google Chrome, Microsoft Edge, Salesforce, and more.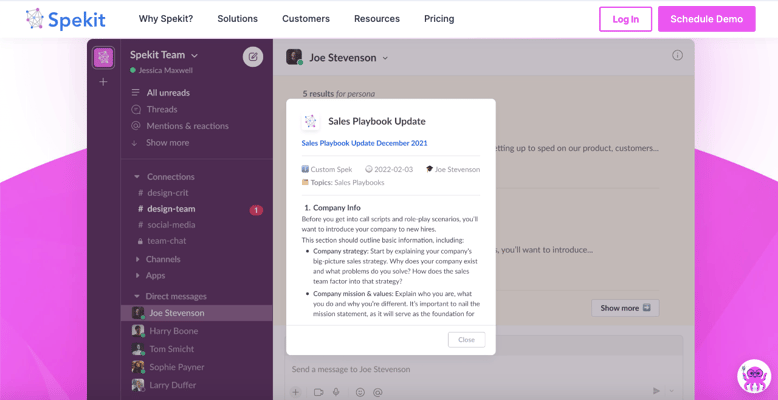 Additionally, key features of Spekit include: 
Content authority: Your team can develop dynamic training materials using slides, videos, and voice recordings. 
Just-in-time learning: Whenever your team needs resources, they can access them to get their questions answered quickly. 
Edits and notifications: You can send push notifications to your reps and send alerts or emails in the app. 
Premade training: Do you want to build on existing content developed by expert sales professionals? You can do so by creating a custom training library. 
Of course, there are some downsides to Spekit. Some users believe certain tools are redundant and the prompts that appear after downloading the extension are annoying and distracting. 
Sales Training Software That's Effective
Improving your sales team starts with training them effectively. You can't expect results and more customers if your reps don't know how to bring in more money. So use one of the platforms in this article to get your team members up to speed in a fun, engaging way. With good training, your sales reps will not only hit goals but exceed them.