Are you looking for an alternative flashcard learning game (especially now that Quizlet's learning mode is no longer free)?
We've got a great list for you here of great, gamified learning platforms that make teaching (at least a little bit) easier. They've all got similar features to Quizlet, plus additional options as well — and many have really usable free tiers.
Quizlet Overview
Before we dive into our top Quizlet alternatives, let's take a quick look at the OG.
Since its creation in 2005, Quizlet has been a go-to website and app for study tools and resources. Through flashcards, quizzes, and games the online learning tool uses spaced repetition to help learners remember things in the long-term.
One of the primary benefits of Quizlet is its absolutely giant library of study sets, textbooks, and questions. Not only do teachers and professionals create content with Quizlet, but learners can also share their materials.
The biggest downside to Quizlet is its recent cost increase. Before 2023, the program offered most of its features to students and teachers free of charge. However, in January of 2023, the free options became very limited, with group orders costing $68.38/year and individual teacher purchases costing $44.99/year.
For teachers already on a tight budget, the increase in price has been devastating. So we decided to look for a few top-notch alternatives, for both Quizlet's quizzing abilities and its flashcard tools.
When looking for a Quizlet alternative, we looked at these criteria:
- Ease of Use
- Cost
- Features
- Integrations
- Customizations
Now let's get started!
1. Slides with Friends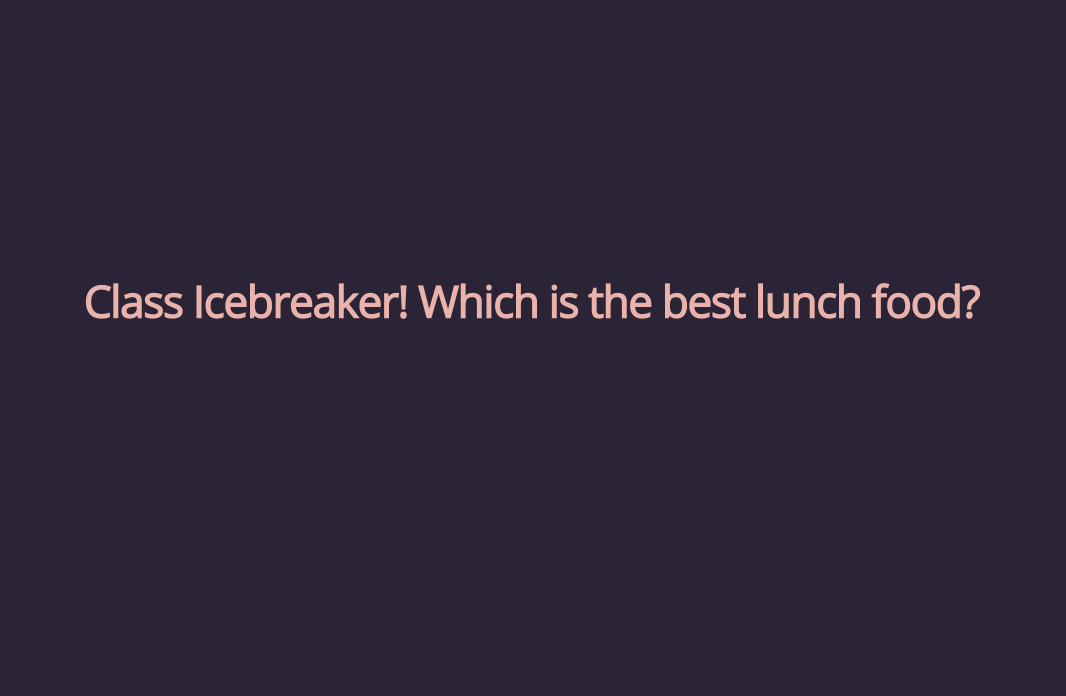 Our top choice for a Quizlet alternative is Slides with Friends. The slide deck builder doesn't just give teachers a way to quiz students, it also uses polls, ratings, and game-like trivia to make learning easy and fun. Slides with Friends is also very easy to use, working like PowerPoint or Google Slides. The interactive, fully customizable experience is quick to put together and grabs (and keeps!) students attention.
Pros of Slides with Friends
Easy to get started making quizzes, tests, and assessments with easy click and go features
Plenty of pre-made quizzes and assessments
Interactive learning experience – Add details with content slides!
Deck recaps can be sent to students to continue studying at home (for premium accounts)
Integrates with some of the most common tools already – Including PowerPoint
Cons of Slides with Friends
Doesn't include flashcard feature
Needs an upgraded account for larger groups
Cost of Slides with Friends
Slides with Friends offers one of the most comprehensive free plans compared to other options on this list. The free plan allows access to a library of quizzes, assessments, and games and hosting up to 10 people.
For larger groups and more custom options, Slides with Friends offers: ‍
Starter Plan for up to 50 people - $8 per month
Pro Plan for up to 500 people - $38 per month
For teachers, Slides with Friends offers a discount of $6 per month for annual subscriptions.
Slides with Friends vs. Quizlet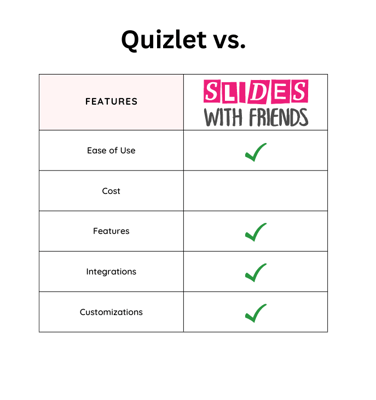 Slides with Friends offers students and teachers a cleaner, more intuitive quizzing and testing tool than Quizlet. While Quizlet does offer flashcards, something not currently available at Slides with Friends, when it comes to in-class quizzing and out-of-class reviewing, Slides with Friends is easier and more affordable than Quizlet.
2. Kahoot!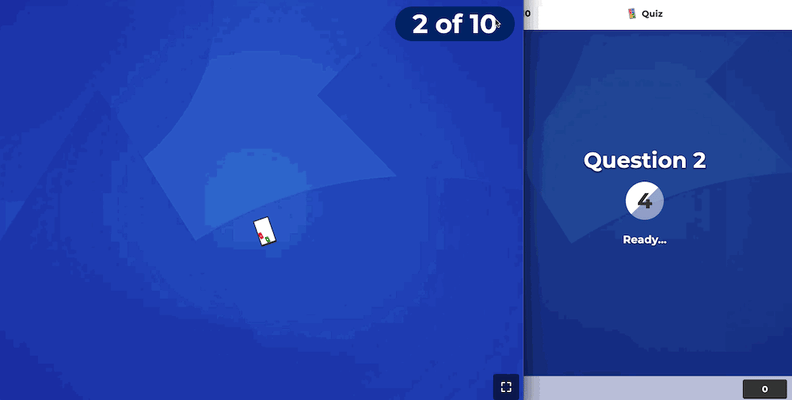 Second on our list for a Quizlet alternative is Kahoot! The absolute powerhouse of a tool is considered one of the first in online learning and quizzing, so it makes sense it's often seen on our alternative lists – Like the Poll Everywhere Alternatives.
Pros of Kahoot!
Gamefies lessons like no other tool available
Includes a wide range of question types to challenge students
Has pre-made lessons and quizzes
Cons of Kahoot!
Free version only offers multiple choice questions for limited players
Does not offer flashcards
Website is quite overwhelming and feels overstuffed
Limits answer options to 4 no matter what style of question
No customization options
Cost of Kahoot!
To avoid the restrictions of the very basic Kahoot! free plan, teachers will need to pay:
‍Starter Plan - $48 per year
Premier Plan - $72 per year
Max AI Assisted Plan - $96 per year
Kahoot! vs. Quizlet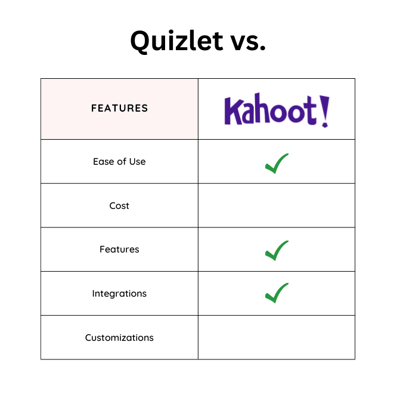 While Kahoot! is more expensive than Quizlet, it offers a much more robust quizzing tool. With different question styles, varying ways to present it to students, and an easy onboarding process, Kahoot! is a really strong option for teachers looking to make studying easier for their classes.
3. Quizizz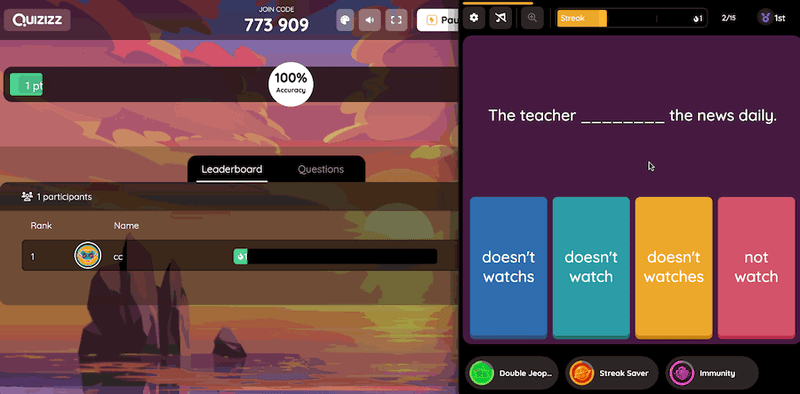 With a teacher-created content library of over 30 million activities, Quizizz offers interactive lessons, intuitive quizzes, and dozens of features for the classroom. As our third choice on this list, Quizizz may be limited in what it offers, but definitely perfected those limited options.
Pros of Quizizz
Includes millions of pre-made quizzes spanning a huge range of topics and grade levels
Allows for easy customization and is quick to learn
Offers different answer options for different question types (assessment, higher order thinking, polls)
Cons of Quizizz
The free version limits activity, storage, and assessment access
Recently switched so a free trial was only 7 days
Users need to be part of specific schools or districts to get access to some plans
Quality of lessons and quizzes widely varies, needing time to sift through to find the best
Cost of Quizizz
Here's where things get a little off-putting with Quizizz. While you can easily sign up for a free account or get a free trial, you'll need to contact Quizizz to get a quote for fuller access.
‍This means, you can't find the actual price of Quizizz on its website! But, thanks to some nifty nosing around, we've found:
Standard Plan - $19 per month
Premier Plan - $48 per month
Of course, we can't confirm these are still the prices, because quotes vary!
Quizziz vs. Quizlet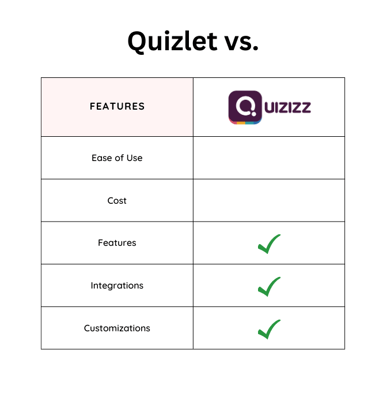 Quizizz is a vast resource and definitely outshines Quizlet with the depth of the courses and lessons available. However, as a crowdsourced product, be prepared to spend extra time shifting through content to find the best.
4. Brainscape
Brainscape is our top alternative for the flashcard feature offered by Quizlet. Brainscape's vast library covering hundreds of topics, concepts, and classes makes it a perfect replacement for those moving away from Quizlets new costs.
Pros of Brainscape
Extensive library of classes, topics, and specific certifications
Sign up is fast and getting started is simple with low to no learning curve
Can be used on your computer, tablet, or phone
Free version allows you to create, share, and study an unlimited number of your own flashcards
Cons of Brainscape
Costs to get access to premium content
Design is a bit simplistic
Premium option offers more advanced flashcard settings, but no quizzing options or practice tests
Cost of Brainscape
While the free version of Brainscape offers amazing value for those looking to plug in their own content, the Pro version offers more access to the premium classes.
There are 4 premium options available at Brainscape and we're actually big fans of how they've structured their upgrades.
Monthly - $19.99
Semester - $9.99 per month (billed every 6 months)
Year - $7.99 per month (billed every 12 months)
Lifetime - $199.99 (one-time payment)
For those in school or looking to stay sharp on certain topics or up-to-date on certifications, lifetime access is actually quite a deal.
Brainscape vs. Quizlet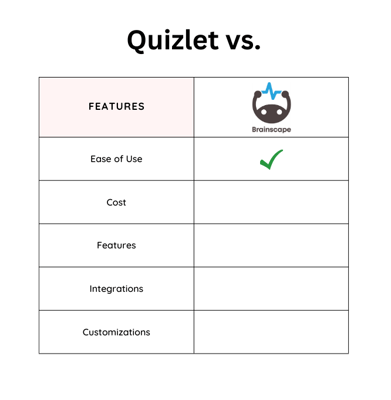 Brainscape knows what it is and does that one thing very, very well. The tool is all about flashcards and has kept its focus on creating the most extensive library of the highest quality flashcards imaginable.
So, when it comes to Brainscape vs. Quizlet just on flashcards, Brainscape blows Quizlet out of the water.
However, once you start looking at additional features, Brainscape is a bit lacking.
5. StudyKit
Like all of the options on our list, StudyKit wants to set students up for success. The methods StudyKit uses to do this, however, are innovative and interesting. By breaking lessons down into bite-sized pieces and including games, quizzes, and flashcards, StudyKit has really begun to make a name for itself with educators.
Pros of StudyKit
Offers 'Tracks' – guided, interactive study plans using multiple learning methods
Adds a layer of accountability and competition through leaderboards and games
Recently started a Beta program for educators to create home bases for their classrooms with notes, quizzes, flashcards, and real-time tracking
Deck Designer is easy to get started using
Cons of StudyKit
While getting started is easy, fully understanding the features of the StudyKit can get complicated
Not a lot of upfront support for learning how to use StudyKit
Very basic in its design, not offering a lot of extra zhuzh to the slides or games
The games take a long time to load and are very glitchy, plus not that versatile
Cost of StudyKit
The best thing about StudyKit is it is a completely free tool!
And while some of the features are lacking, if you join their Beta now, you'll get to experience the rollouts as they happen.
StudyKit vs. Quizlet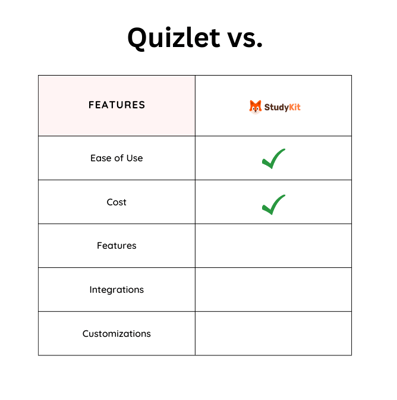 Quizlet is a more fleshed out tool than StudyKit. It's been a titan in the study industry for years and with good reason. However, if you're more interested in the barebones, flashcard aspect of Quizlet, StudyKit is a fantastic alternative.
Plus, you can use it for free.
6. GoConqr
GoConqr offers near identical features to Quizlet with a clean, easy to start system. With tools for teachers and students, ranging from course building and quizzes to flashcards and mind maps, GoConqr makes classroom management and studying easier.
Pros of GoConqr
A truly comprehensive tool that allows teachers to create, borrow, customize, and present content
Easy for students to sign up and start learning from several course-specific subjects
The free version is fairly comprehensive and there aren't any pesky 'upgrade to access' prompts
Offers a unique set of features: Mind Maps, Notes, Flowchart Makers, and subject-specific groups
Cons of GoConqr
Because much of the content offered by GoConqr is user-made, you'll need to vet any content used for accuracy
The content library isn't as robust as other options on this list, making GoConqr more of a tool for creation than a click-and-go option
The basic plan is very limited in resource creation capabilities
Cost of GoConqr
GoConqr offers a free basic plan with full access to all its tools. However, the free plan does limit users to 1 resource creation and limited media storage.
GoConqr also offers student and teacher plans:
Student - $1.08 per month (paid annually)
Teacher - $1.42 per month (paid annually)
With either plan, you'll get unlimited resource creation, no ads, and private resources. The teacher's plan allows for SmartLink and SmartEmbeds, reporting, and resource sharing.
GoConqr vs. Quizlet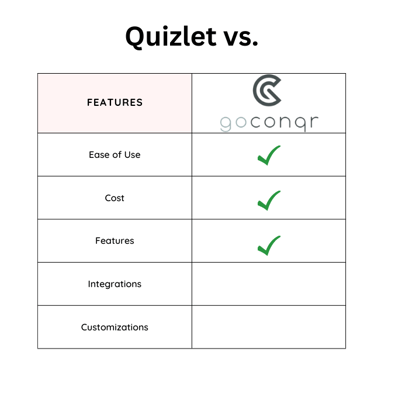 GoConqr is a clean, easy to use tool. It also offers all the same features Quizlet does, plus some we haven't seen from any other alternative on this list (mind maps! Flow chart makers!).
However, to even get a fraction of its capabilities, you will have to upgrade. At such a low monthly cost and with awesome additional features, we really feel like a Teacher Plan at GoConqr goes above and beyond Quizlet.
Overall Choice
Our pick for the best Quizlet alternative? Slides with Friends!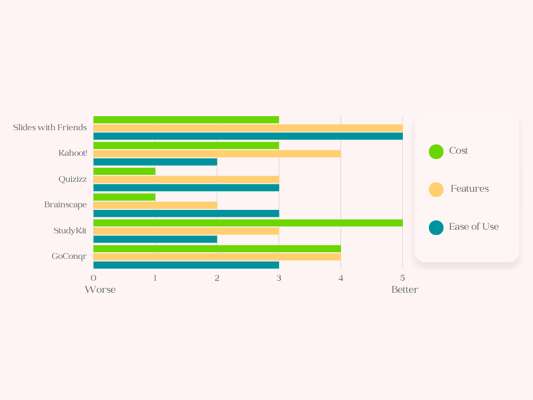 Even without offering the flashcard feature, the ease of use, features, and integrations of Slides with Friends makes engaging a classroom simple. Plus, with options for out-of-class reviews, deck recaps, and plenty of fun learning games, Slides with Friends is an ideal studying tool.