Whether it's the price tag, older technology, or general feeling of clunkiness, Mentimeter Isn't It anymore.
But interaction is pretty much the expectation during presentations and lectures these days. So what's the best tool like Mentimeter, that enables your audience to participate and engage with you? As experts in the field of interactive presentation software, we've put together a list of the top tools and apps like Mentimeter so you can get your group interacting, engaging, and having a great time during your talk.
Without further ado, here's the list:
Slides With Friends
Slido
AhaSlides
Kahoot
Now let's get into the in-depth reviews of each tool.  For each platform, we've included lists of pros and cons, pricing info, and our key takeaways.
‍
‍
Slides With Friends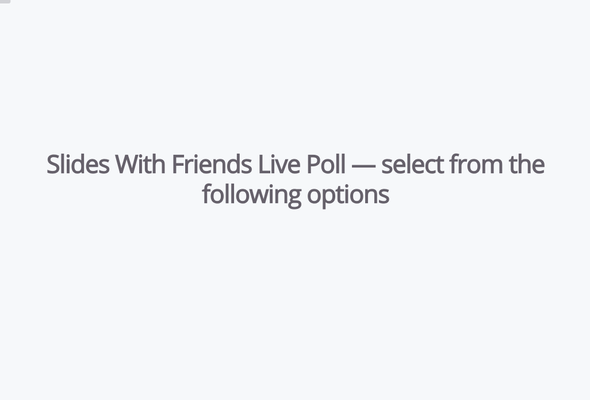 ‍
What is Slides With Friends?
One of the highest rated interactive presentation tools. SlidesWith has a "slide deck" type interface, that allows you to build presentations similarly to how you would in PowerPoint. Then you launch an event and your audience joins in on their phones, where they can interact with and send resposes to your content.
Pros of Slides With Friends
Customizable and Brandable: Out of all the tools we tried, SlidesWith lets you design the look and feel of your interactive presentation the most (and the best). You can add your own logo and branding, and make it look pretty bespoke, like you built it.
User-Friendly to Build: Building interactive presentation decks is easier with this tool than some of our other selections. If you're familiar with the set up of PowerPoint or Google Slides, you'll be able to understand the functionality pretty quickly.
User-Friendly to Play: Audience-joining and responding is seamless and simple.
Competitive Pricing: The pricing is on the low end of all of the tools, especially as you get to bigger group sizes.
Engaging: SlidesWith has the most interesting and audience-enjoyment-oriented interactions of the tools we've seen. It's really good for live polling plus outside the box interactions like word clouds, live trivia, photo sharing, and more.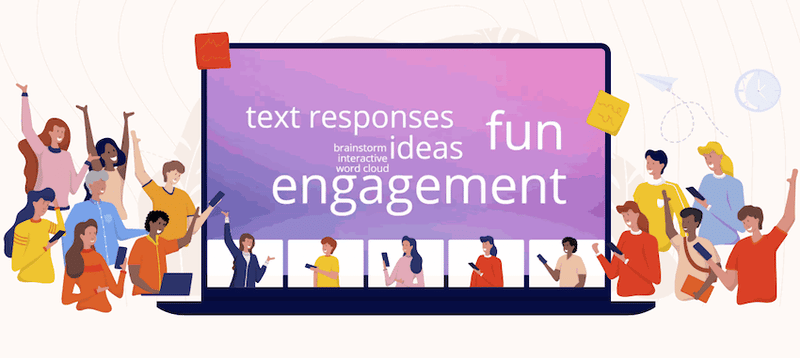 Cons of Slides With Friends
Free tier limited to 10: If you want to host more than 10 participants, you would need an upgraded account.
Slides With Friends Pricing
Slides With Friends has a generous free tier where you can use the entire tool for free: all interactions, unlimited events, unlimited decks, unlimited slides/interactions. To host larger groups  you'd need to upgrade, starting at $8 per month.
Key Takeaways
Slides With Friends is one of our favorite interactive presentation tools. It does all of the basics like live polling, multiple choice and text answer questions (with auto-scoring) pretty seamlessly, plus fun and interesting additional interactions that will make your talk stand out. It's easy to get started and easy to host and play, and works really great with large groups.
‍
‍
‍
Slido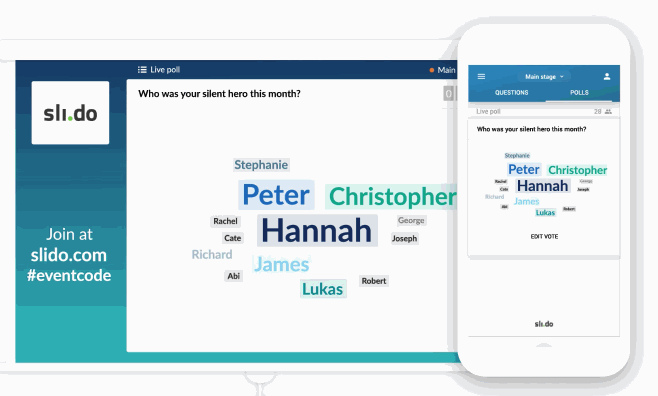 What is Slido?
Slido is an interactive presentation platform designed to make audience interaction seamless. It offers a range of engagement features, including live polls, Q&A sessions, quizzes, and surveys, all accessible through participants' smartphones or devices.
Pros of Slido
User-Friendly for Participants: Slido's intuitive interface for your audience participants makes it easy for your players to navigate.
Real-Time Insights: Get immediate feedback and insights from your audience with live polling and Q&A features.
Customization: Tailor your presentations with branding options and customizable themes to match your company's style.
Integration: Seamlessly integrate Slido with popular presentation software like PowerPoint and Zoom.
Analytics: Access detailed analytics and reports to assess your presentation's impact.
Cons of Slido
Pricing: While Slido offers a free plan, some advanced features require a subscription, which may not be budget-friendly for all users.
Learning Curve: While user-friendly, it may take a bit of time to explore and utilize all of Slido's features fully.
Slido Pricing
Slido offers a range of pricing plans, including a free option with limited features. Paid plans start at $199 per year, with customized pricing available for larger organizations.
Slido Key Takeaways
Slido is an excellent choice for professionals seeking a versatile, user-friendly interactive presentation tool. Its real-time engagement features and analytics make it a valuable asset for presenters looking to enhance audience participation and gather valuable insights.
‍
‍
‍
AhaSlides
‍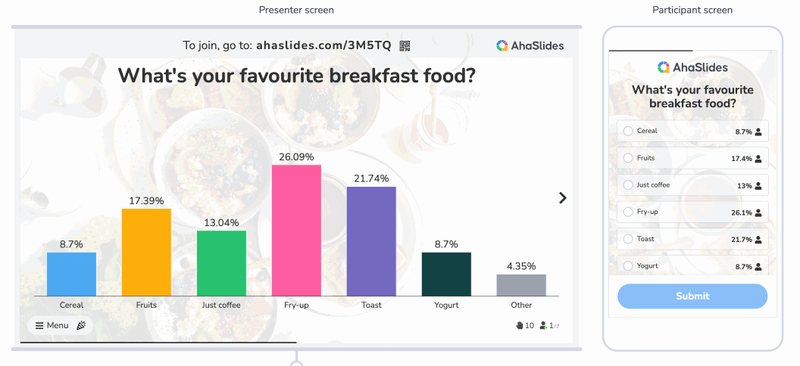 What is AhaSlides?
A deck builder that's very similiar to Mentimeter, with a little more playfulness/fun built in. The setup comes from Mentimeter at its root, so if you're familiar with one you'll be able to use the other.
Pros of AhaSlides:
Low price-tag: AhaSlides is one of the least expensive tools on the list.
Good for large groups: You can interact with up to 10k participants during your presentation, making this tool great for big conferences and large events.
Feature-rich: like Mentimeter, Ahaslides has a lot of options and integrations (though many are hidden in menus on menus)
Cons of AhaSlides:
Limitations: There aren't many different types of surveys and poll questions you can ask.
Cropped photos: All of your images on AhaSlides are presented square.
No undo: If you make a mistake while building your presentation on AhaSlides, you can't undo any changes.
AhaSlides KeyTakeaways
As one of the cheapest options, you get what you pay for. It is still great to use with much larger groups.
‍
‍
Kahoot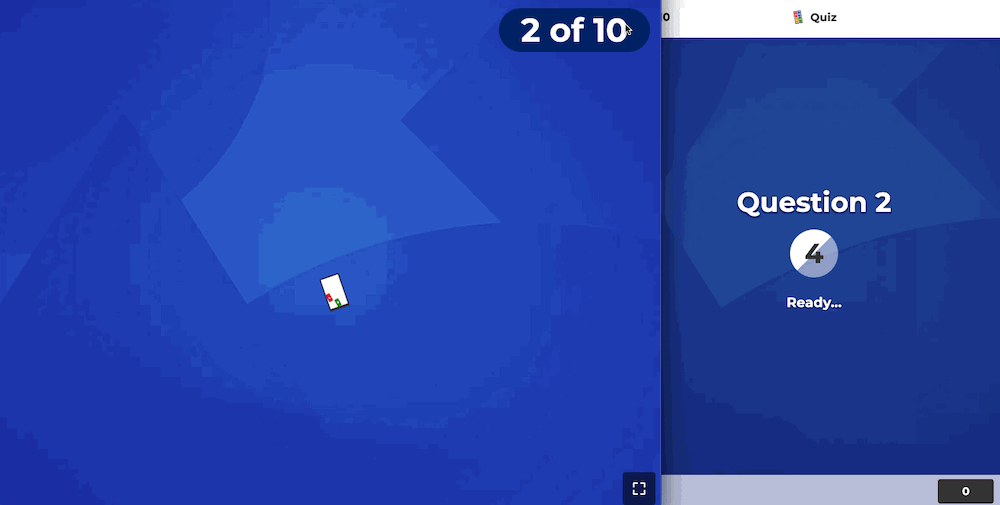 What is Kahoot?
Kahoot is a gamified learning platform that turns presentations into fun, interactive quizzes and challenges. It's widely used in educational settings but can also be effective for corporate training and engagement.
Pros of Kahoot
Engaging Gamification: Kahoot's game-based approach makes learning and presentations highly engaging.
Extensive Library: Access a vast library of ready-made quizzes and challenges or create your own.
Accessibility: Kahoot is accessible to users of all ages and technical backgrounds.
Team Collaboration: Collaborate with colleagues to create interactive presentations together.
Reports and Analytics: Gain insights into participants' performance through detailed reports.
Cons of Kahoot
Limited Customization: Kahoot's design options are somewhat limited compared to other tools.
Primarily Education-Focused: While versatile, Kahoot's primary focus is on educational settings.
Kahoot Pricing
Kahoot offers a free basic plan with limited features. Kahoot Plus, the paid plan, starts at $9 per month per host.
Kahoot Key Takeaways
Kahoot is the go-to choice for those who want to infuse an element of fun and competition into their presentations. It's ideal for educators, trainers, and anyone looking to create an engaging learning experience.
‍
‍
General Overview of Mentimeter
What is Mentimeter?
Mentimeter is a real-time interactive presentation tool that empowers presenters to engage their audience through polls, quizzes, word clouds, and more.
Pros of Mentimeter
Wide Range of Features: Mentimeter offers an extensive suite of interactive tools to keep your audience engaged.
Ease of Use: Creating interactive content is straightforward, even for those new to the platform.
Audience Collaboration: Allow your audience to contribute ideas and feedback in real-time.
Integration: Integrate Mentimeter with popular presentation tools like PowerPoint and Google Slides.
Data Export: Easily export and analyze the data collected during your presentations.
Cons of Mentimeter
No on-slide editing: You have to use a side menu to edit anything, which feels very web 2.0 and older-style
Limited Free Plan: Mentimeter's free plan has limitations on the number of participants and interactive elements.
Pricing: Some advanced features, such as unlimited audience size, require a paid subscription.
Mentimeter Pricing
Mentimeter offers a free basic plan with limited features. Paid plans start at $15 per month per user.
Key Takeaways
Mentimeter is a versatile and user-friendly tool suitable for a wide range of presenters. Its collaboration features and ease of use make it a strong contender for enhancing audience engagement.
‍
‍
‍
Our Overall Choice
With years of experience in interactive presentation software, our overall choice is Slides With Friends.
Of course, it all really depends on your use case. We've divided these up into which uses they're best for:
Slides With Friends for overall interactive presentations. It's got the most designable/brandable look, plus it's the easiest to set up for you and to play for your participants.
‍
Slido for large in-person conference talks — great for Q&A sessions and professional / corporate needs.
Kahoot for its educational / student-oriented feel. Younger audiences. Plus great for competitions and high-pressure quizzing or trivia.
Slides With Friends for the most content-oriented presentations — you can build your existing PPT and google slide presentations into them.
No matter which tool you choose, these interactive presentation platforms can elevate your presentations, ensuring your audience remains engaged and actively involved in the content. 
So, go ahead and transform your next presentation into an unforgettable interactive experience!
‍