Meetings. Whether you're running them or attending them, they're easy to dislike. It's hard to have a perfectly efficient — but still positive and team-building — meeting. But don't worry — it's not impossible! Today, we're going to take a look at how you can host the perfect all-hands meeting with just a little bit of prep work.
10 steps to run a successful all-hands meeting with remote or hybrid teams
There are a lot of moving parts when it comes to planning a remote or hybrid all-hands meeting. And let's be completely honest, Zoom fatigue is only going to make your job harder. However, with a little bit of prep work and a focused plan, you can create an informative, entertaining, and bonding all-hands meeting.
The goal of these hands-on meetings are to make moving from one event to the next seamless. And, as you'll read below, part of that includes strategically scheduling breaks to prevent that Zoom fatigue that haunts our every attempt to get together online.
We've put together a comprehensive list of how you can make sure your all-hands meeting will run smoothly, whether it's a remote town hall or a hybrid one.
Step 1 - Start engaging before your meeting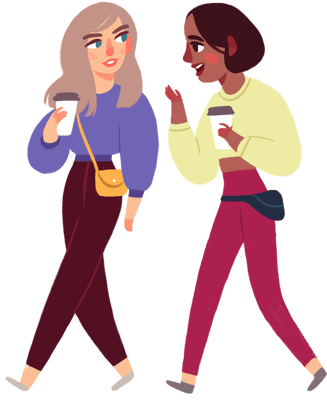 The best way to make sure the tone is set for your all-hands meeting is to start relaying that information before you actually have the meeting. As you begin the process of informing and inviting employees to your town hall, start asking for engagement.
Are you going to have a Q&A during your meeting? Let your team know to submit their questions beforehand. Send out a poll to find out what your employees feel are important topics to discuss. If you start building your all-hands meeting around what your teams tell you is important, you're going to get much more engagement.
Step 2 - Test your software beforehand

There is nothing worse than sitting on a Zoom call as you wait for the speakers to figure out how to unmute their mic or adjust their camera.
Take the time to test all your software and equipment before the meeting. There still might be the occasional hiccup, but a little prep work can iron out most of the wrinkles if you take the time.
Step 3 - Include a moderator
One way to keep things consistent and moving in an all-hands meeting is to have a moderator. Having someone in place to open the meeting and guide the group through icebreakers will make the meeting so much more enjoyable.
Moderators are also great for keeping track of the schedule and leading any Q&A sessions.
Step 4 - Open and close with the whole group
This may seem like a no-brainer, but starting together and ending together will help your team feel like a team. With so much going on in an all-hands meeting, having the group bookend the event will keep things focused.
Step 5 - Celebrate highlights and achievements

Spend some time in your all-hands meeting celebrating both company achievements and the achievements of specific members of your team. Everyone likes a pat on the back.
Step 6 - Provide breaks throughout the event
Even adults need recess.
As you're creating your all-hands meeting schedule, include a couple 10 to 15 minute breaks. Not only will this give team members time to stretch and go to the bathroom, it will give the moderator a chance to refocus and get ready for the next steps on the agenda.
Step 7 - Include breakouts or team-building activities
In the same vein of providing breaks, give your teams a chance to interact during your meeting. Rotate people through multiple groups throughout the meeting and have them discuss projects or answer questions together.
When you bring the team back together, lead them in some team-building exercises. Use live polls or word clouds to gather what your teams discussed in their breakout groups.
Step 8 - Host some events fully online
If you're leading a hybrid all-hands meeting, with some team members tuning in remotely and some in the office, include some events that are fully remote. Having everyone online for parts of your meeting will put everyone on the same footing for a bit, adding to the cohesiveness of your team.
Step 9 - For Hybrid events, use TVs and projectors
Take the time to make your meeting feel well put-together. Set up a conference room with a TV and projector so your in-office team can see your remote team and vice-versa.
The key to making these hybrid all-hands meetings work is to make even your remote employees feel like they're right there and part of the local team.
Step 10 - Play online, interactive games
And finally, keep things light and fun by having your local and remote team members play online, interactive games. You can use Slides with Friends to create fun trivia or icebreaker games to play together as a group. And since you can use Slides with Friends on your phone, the whole team can play together, whether remote or local.
‍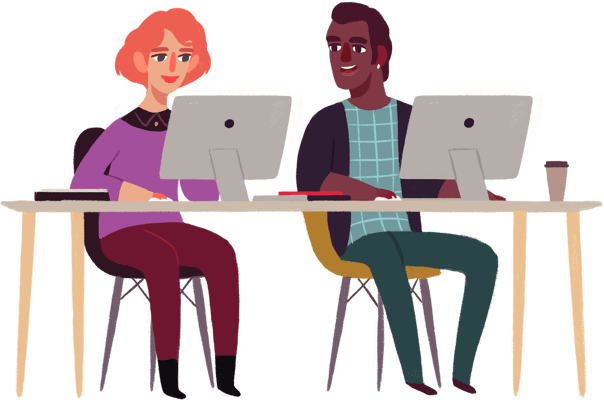 ‍
‍
All-Hands presentation deck
Want to start with a boost? Here's a free template for a full All-Hands meeting deck and agenda, so you don't have to start from scratch. It's ready to play as is — there are prompt slides for you to make any specific announcements, and built-in interactions and brainstorming — or you can make it your own by adding your company mission, announcement information, logo, and anything else you want to customize, in our custom builder.
‍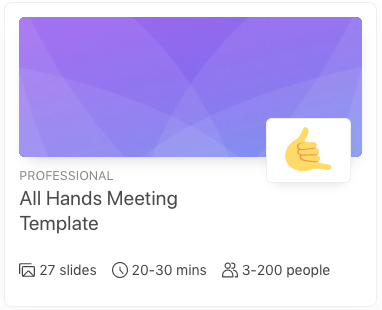 ‍
A 7-part agenda for a successful all-hands meeting
Want to create your own agenda but still not quite sure where to start in planning your all-hands meeting? We've created a simple agenda that includes most of the tips we've mentioned above so you have something to start.
‍
1. Run an icebreaker to set the mood
Have a little fun before you get too deep into your meeting! There are some great icebreakers pre-made that you can just pop in and use with no extra work. For instance, Word Blurt or this meeting icebreaker: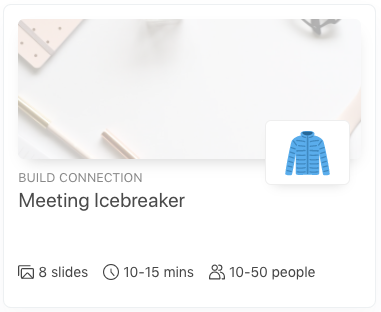 2. Deliver a clear purpose and goal for the company
Bring together leadership, management, and teams by getting everyone on the same page to start. Reiterate the goal for the all-hands meeting and how that goal will help the company, your teams, and the culture of the company.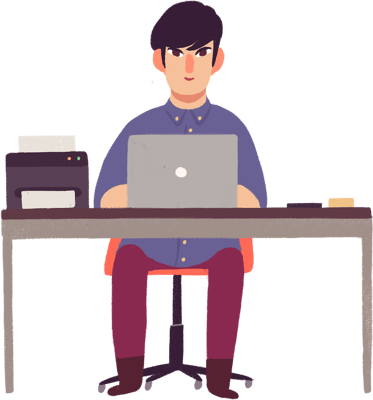 ‍
3. Make time for employees to meet each other and interact
Time to mingle!
Allow time for a little one-on-one conversation or a few breakout groups. Make sure to divvy up the remote workers with local team members.
4. Address company news, wins, losses, and other important updates
Take time to celebrate goals met, employees who have gone above and beyond, while not ignoring where things have fallen short.
This is also a great time to provide updates on any important changes in the company.
5. Gather feedback from employees
Ask questions and then allow your teams to answer, either anonymously or through live surveys. If you've planned for it, now would be a good time to do a Q&A, either live or with previously submitted questions.
(Whenever it makes sense). Plan breaks
Encourage people to get up, take a stretch and move around. They'll return more awake and invigorated.
In fact let's take this moment to take a breath and have a reading break ;)
6. Play a motivational or competitive game
As you near the end of your all-hands meeting, play a game to get people relaxed. Use Slides with Friends to create fun team building games that match your theme or goals as an organization. You can create your own, or here's a great one to start from (or just play as is):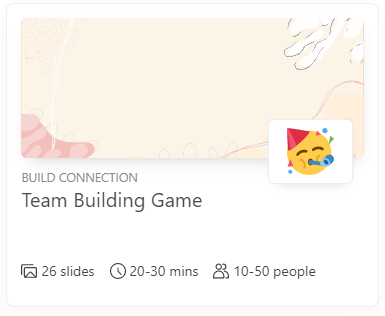 7. End with a celebratory mixer
And finally, create time for both your local and remote teams to celebrate together. We have some amazing virtual event ideas here.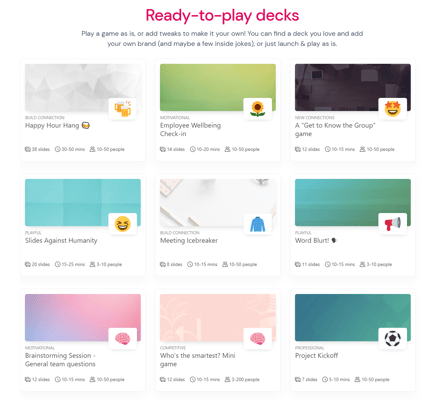 Fun ideas for your next all-hands meeting
Hosting hybrid all-hands meetings are by no means easy. If you're looking for a few more ideas on how to keep things fun and light, check out our list of entertaining activities.
Breakout brainstorm
Create some group bonding by breaking your workers into smaller teams. Give them a problem or task to solve, with a set time, in their respective breakout rooms. Or do a whole-group brainstorm using interactive tools that let each person have a voice. We have some great pre-made options for this!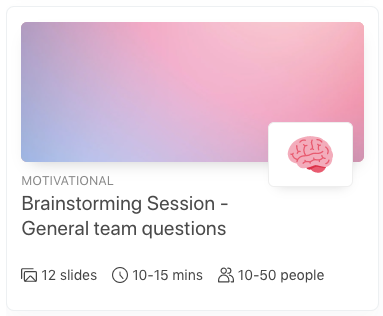 Company trivia battle
Use the Slides With Friends deck builder to create a trivia quiz for your team members. Or, take a shortcut and use one of our many ready-made options, like the Travel Trivia deck. Extra points if you provide the person with the highest score a fun prize, like a gift card.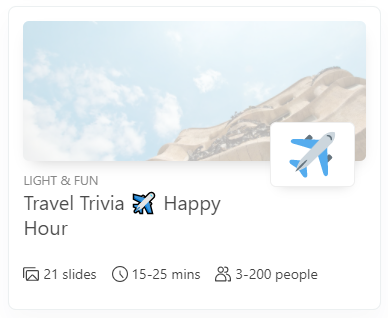 Cross-team mixer
During one of your completely remote times, break your employees into random groups to mix and mingle. There are so many tools perfect for these types of mixers, like Remo, Gatheround, or gather.town.
Employee pulse survey
Make sure to check in with the team as a whole — but use this as a way to motivate not wallow. You can create a group survey or pulse check to get your team members thoughts on specific topics. Here's a ready made check in (slash motivational) deck: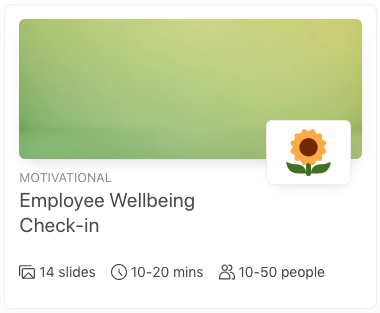 Live WordCloud brainstorm
Word clouds are a perfect way for a team to brainstorm and for management to sort through feedback. Take the deck below and add your own brainstorming questions!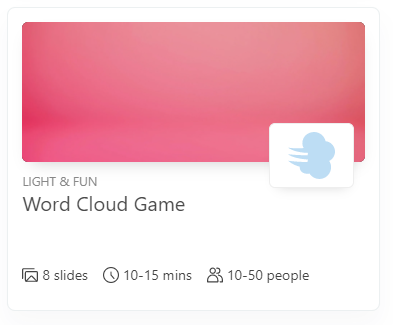 Scavenger Hunt
Have your team hunt down things they have at home, then send in a pic! The slides are timed, and the prompts give people some leeway to share things they find important, making this a really positive and friendly game.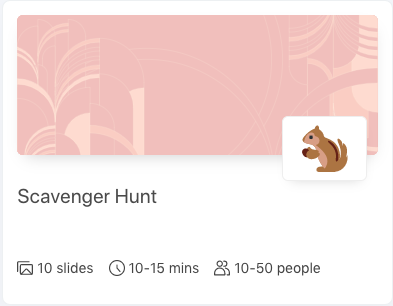 ‍
Why all-hands are still important
We believe all-hands meetings are more important now than they've ever been. With people working remotely, it's possible they can feel disconnected. And this disconnect isn't just with their co-workers, it's also with what the company is doing. As employees feel more and more disconnected, company culture can also start to crumble, resulting in lower satisfaction and productivity in the workplace.
If you use an all-hands meeting properly, you can update and realign your teams while fostering a strong company culture. Taking moments during these town halls to highlight achievements of your employees can also be uplifting.
All-hands meetings are a great way to reconnect employees and refocus on very specific goals. And now you don't even need to gather everyone together to have these meetings! They can be done remotely.
‍
‍