Your team wants to connect and enjoy each other's company, and you want to enable them to do it. Trivia is a surefire hit — friendly competition combined with fun facts (and maybe even prizes).
So what's the best trivia app to use? We've searched for tools that are easy to set up for you, easy to play for them, and super fun for all. Here's the top list:
‍
1. Slides with Friends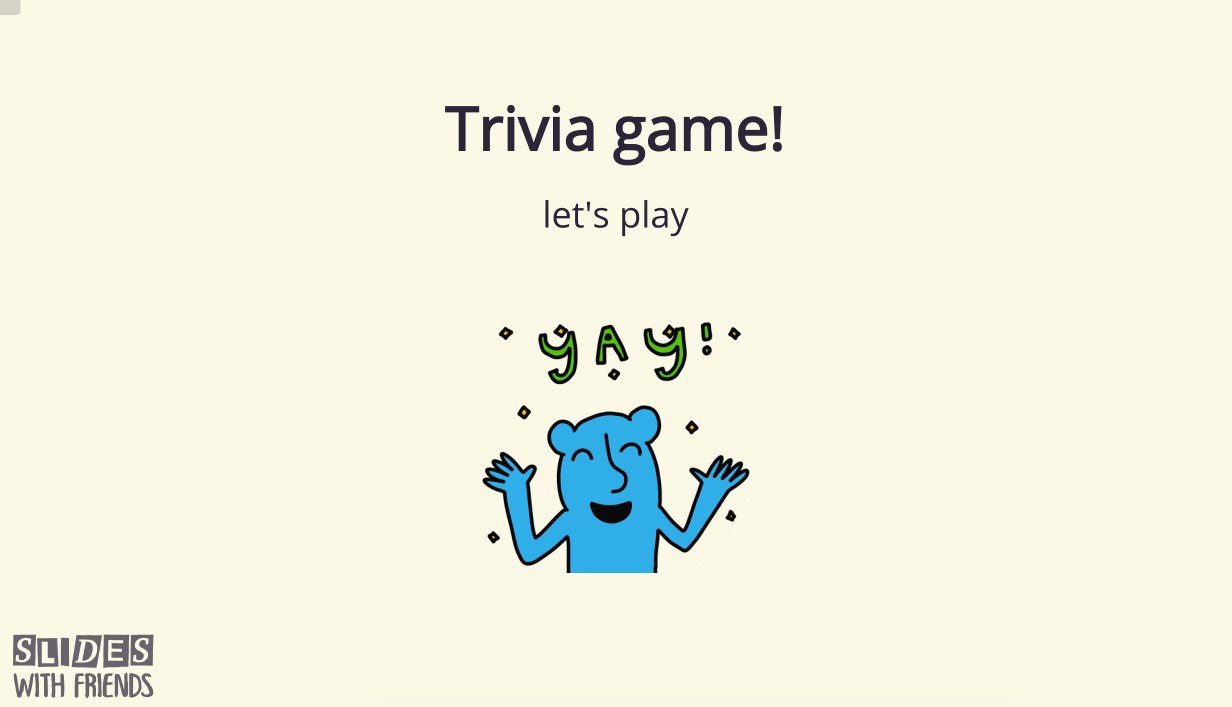 Slides With Friends is one of the best group trivia apps. If you're looking to run a trivia event for your group this is the best bet.
You can choose from lots of ready-to-play trivia games, (and tweak them to fit your group, if you want). Then you launch a game (like a google slides presentation type of idea), join in on your phone with your group, and advance through the questions one by one by clicking. There's a fun sound board for your group to send live, silly responses like applause or more cow bell. It's also great if you want to create your own trivia games from scratch based on your group.
‍
‍
2. Sporcle
Sporcle is home to the largest trivia library on the planet, with quizzes played over 5 billion times. 
Choose from hundreds of ready-made quizzes in various formats like multiple choice, crossword, and picture box. Alternatively, you can create your own. Add a time limit for an extra challenge, or host a live competition to find out who's the quickest thinker on the team.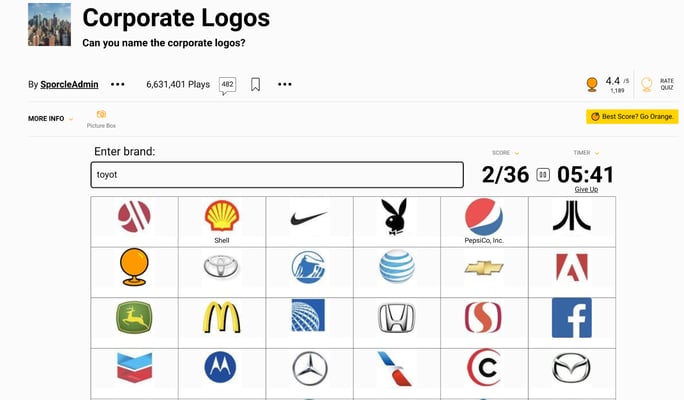 Sporcle's main issue is its overwhelming interface: As soon as you log in you are bombarded with what feels like endless options. 
‍
‍
3. TriviaHub
TriviaHub is a powerful trivia hosting platform with a variety of features designed to build interactive trivia events. 
Pick one of the ready-made games that fit your time schedule, share the game's URL/QR code to the participants, and you're good to go. 

However, while TriviaHub provides a streamlined game flow for easy participation, it requires a DIY Pro subscription — priced at $199/month — to permit custom quizzes/events creation.
‍
‍
4. Kahoot!
Whether you want to craft a fun team building experience or an interactive sales training, Kahoot! has got you covered.
The platform comes with lots of starter templates you can customize in a few clicks. You can include sliders, audio quizzes, and puzzle-style questions for a memorable experience. The app also comes with an AI-powered questions generator to help you explore topics from a new angle.

This customization power, however, comes at a price: usability. The user interface will take some time to familiarize with, but once mastered, it will reward you with extensive flexibility.
‍
‍
5. Slack Trivia
Slack Trivia is a great solution if your company is already using Slack.
It seamlessly integrates trivia games into your existing workspace, making it an accessible and convenient option for team leaders. 
You can create custom trivia questions or choose from a vast library of pre-made questions, the software will do everything else.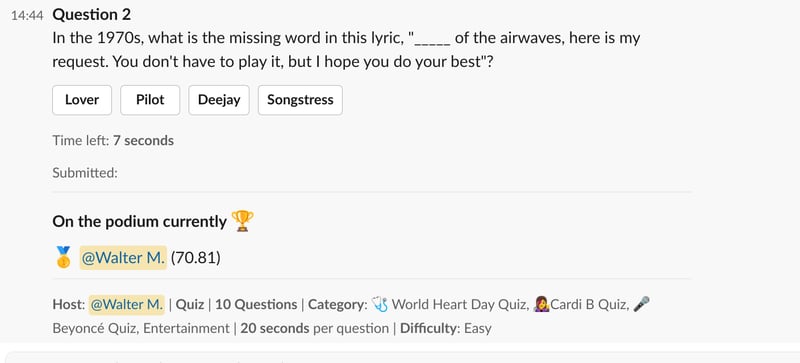 Slack Trivia lacks advanced options like generating word clouds, and using anything more complex than text for questions.
‍
‍
TriviaMaker
TriviaMaker is the ideal solution for team leaders and event organizers looking for a quick and simple way of creating custom trivia games.
Creating a set of questions is as straightforward as typing them into the platform. You can add multiple choice options, true or false questions, and even image-based questions, while picking between different game styles, including unique formats like TicTacToe. 

TriviaMaker trades features for simplicity. If you want advanced options like collaborative answering, this isn't the tool for you. 
‍
‍
Mentimeter
Mentimeter is another excellent solution for anyone looking to organize fun team bonding sessions. 
The questions are organized as a set of slides. With Mentimeter you can interweave them with informational content like videos to provide context for the questions, explain complex concepts, or simply to entertain and engage your audience. This multimedia approach can make your team bonding sessions more dynamic and memorable.

Mentimeter's main drawbacks are the lack of templates and the 50 participants/month limitation on the free plan.
‍
‍
Crowdpurr
Crowdpurr is an interactive platform that's perfect for creating engaging experiences.
It offers a live trivia feature that allows participants to compete against each other, with live rankings and a variety of question types, including image/GIF-based questions.
Crowdpurr's standout feature is its ability to create multi-round trivia games with advanced team & survivor trivia modes.

Crowdpurr's extensive features can make the platform seem complex at first. Plus, you'll need a subscription to upload your own images.
‍
‍
JeopardyLabs
JeopardyLabs is your ticket to hosting a trivia night that'll have everyone buzzing. 
With JeopardyLabs, you've got over 6,000 ready-to-use templates at your fingertips. Whether you're a math whiz, a science buff, or a pop culture guru, there's a quiz for you. You can build your own quizzes too. 

While Jeopardy Labs is great for creating straightforward, no-frills trivia games, it's not for you if you wanted a more automated experience, with features like collaborative answering and integrated chat function.
‍
‍
QuitzWitz
QuizWitz is a versatile tool that turns any smart device into game buzzers and answer sheets. 
With QuizWitz, you can design your own quizzes with a variety of question and round types, or import pre-written quizzes.

QuizWitz's highlight is its Quizmaster App, which allows you to control the game from start to finish, add your script lines via the quiz editor, and even control image, video or audio files. 
But it lacks collaborative features like dividing participating into teams with private chats.
‍
‍
Quiz Maker
Quiz Maker provides an intuitive platform to create and share quizzes online. 
Its main strength is its AI quiz generator. You can input a prompt and ask the website to generate a series of questions with multiple-choices answer. Next, pick a visual theme and you're good to go. 

‍
While geared towards B2C lead generation activities, it works reasonably well as a standalone trivia group app, though it is barebone —it has no way of tracking scores or dividing people into teams.
‍
‍
Jotform
Jotform offers a powerful form builder that lets you choose between classic and card layouts, and even include multiple questions on each page. 
Jotform also boasts a wide range of integrations and form templates, providing you with the flexibility to create a unique and engaging trivia game. 

The platform will take some work to create a fully-fledged trivia experience, as it lacks support for real-time interaction, a scoring system, and the possibility to include multimedia in your questions.
‍
‍
Quizlet
While not specifically built for trivia — it's a study app based on flashcards — Quizlet offers a unique approach to group trivia. 
Its flashcard-based system allows you to create custom trivia questions or choose from a vast library of pre-existing sets. This makes it a versatile tool for exploring a wide range of topics, from academic subjects to pop culture trivia.

Quizlet's main drawback is its interface. It's more suited for individual study than live trivia games. With some adaptation, Quizlet can be a unique tool for group trivia sessions.
‍
‍
Fun Trivia
Fun Trivia is a trivia website that offers a vast library of over one million trivia questions.
Whatever topic you had in mind, Fun Trivia has a quiz on it, including obscure topics and cryptic riddles. Not satisfied with what's available? You can create custom quizzes.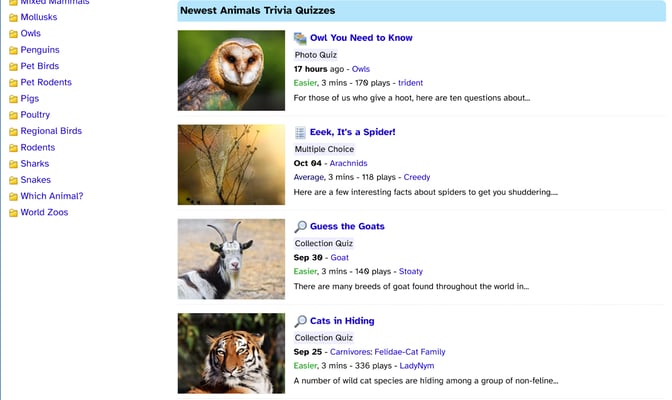 But you, the host, will be responsible for managing the event, including explaining the rules, asking the questions, and tallying up the scores. 
‍
‍
Opinion Stage
Opinion Stage is an online trivia quiz maker that comes with a simple UI and lots of templates ready to use.
Its main feature is its detailed reporting system that lets you know how engaged the audience is. After all, there's no point playing group trivia if people aren't enjoying it.

Opinion Stage's main drawback is its limited features and usage in the free plan, which only allows up to 25 responses per month.
‍
‍
PowerPoint
PowerPoint is a competent software to make interactive presentations, and by extension, trivia quizzes. 
Simply create a series of slides with your questions as the header, and then create multiple answer options for each question. You can use hyperlinks to connect each answer to a feedback slide, letting the participant know if they were correct or incorrect, and even add a timer to the questions. 

But PowerPoint is also resource heavy and gets sluggish at times, which is the last thing you want to happen during trivia night. 
‍
Promote camaraderie between your team members
Group trivia apps help you set up fun trivia challenges to promote friendly competition and team play. And all you have to do is send a link or stream your computer screen. 
Get started today creating proper trivia challenges:
‍