Looking for something a little less distracting or a little more educational than Gimkit? Whether it's overwhelm or underwhelm, there are tons of great alternatives to Gimkit out there.
We've put together a list of the best games like Gimkit: we focused on apps that reinforce lessons and help students learn (and take some work off of your plate). They're all cost-effective, and many are free or have very usable free options.
1. Slides with Friends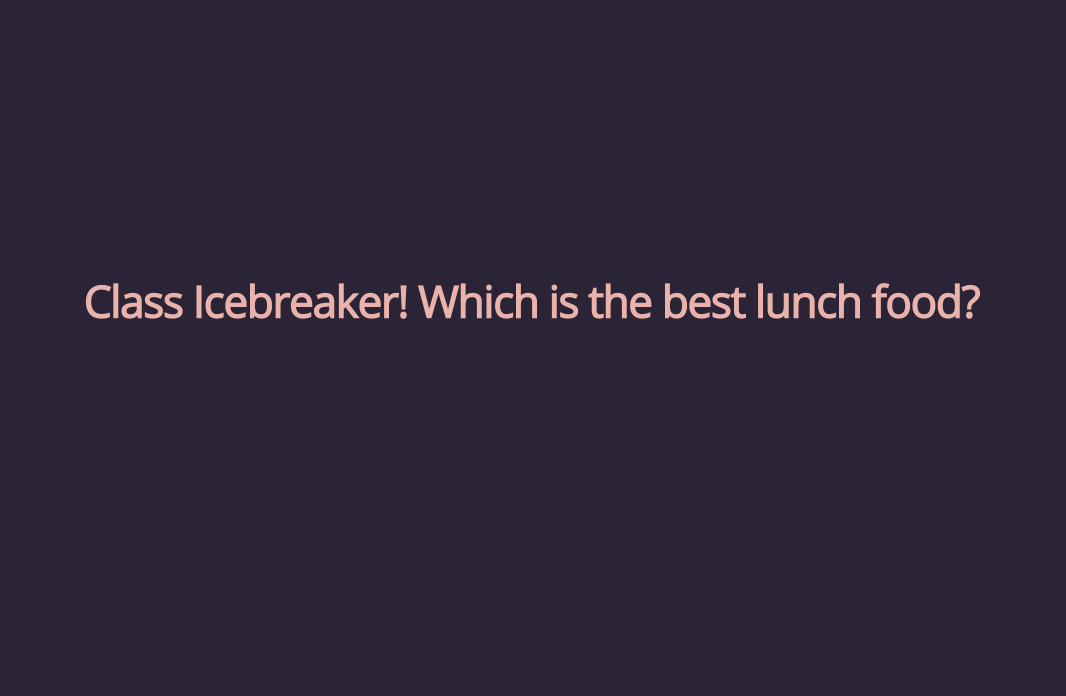 Slides with Friends is our top choice for a Gimkit alternative. Started as a fun way to connect during the global pandemic, Slides with Friends quickly became a way for teachers to review content with students, give quizzes and tests, and boost engagement in the classroom. Designed like PowerPoint and Google Slides, the system is easy to learn and integrates with existing programs loved by teachers.
Pros of Slides with Friends
Extensive library of ready-made quizzes, tests, and assessments on varying subjects
Makes gamification of assignments easy through trivia, polls, word clouds, and different ways to share
Simple deck building, with the ability to add and edit with just a few clicks
Includes automatic scoring, grading, and deck recaps for records
Cons of Slides with Friends
Doesn't include games students can play individually
Needs an upgrade for groups larger than 10
Cost of Slides with Friends
For what it offers, Slides with Friends free plan is extremely robust. You'll get access to the same tools with a free plan, with the only restriction being on the number of people you can host (10).
The premium plans are billed annually so they can be discounted minthly:
Starter Plan (up to 50 People) - $8/month
Pro Plan (up to 500 People) - $38/month
Slides with Friends offers a discounted price of $6/month for teachers.
Slides with Friends vs. Gimkit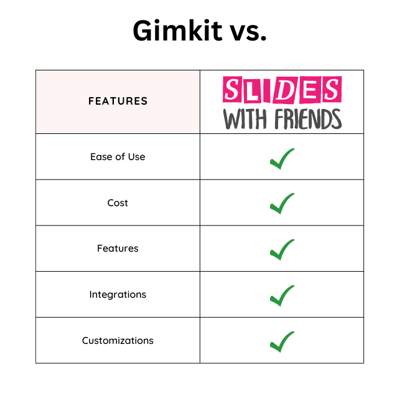 Even without the depth of gamification Gimkit offers, Slides with Friends makes a worthy contender. With many fun features, like image sharing, pass the mic, and quiz favorites (polls! Word clouds! Trivia!), Slides with Friends offers just as much versatility as Gimkit for a fraction of the price.
2. Blooket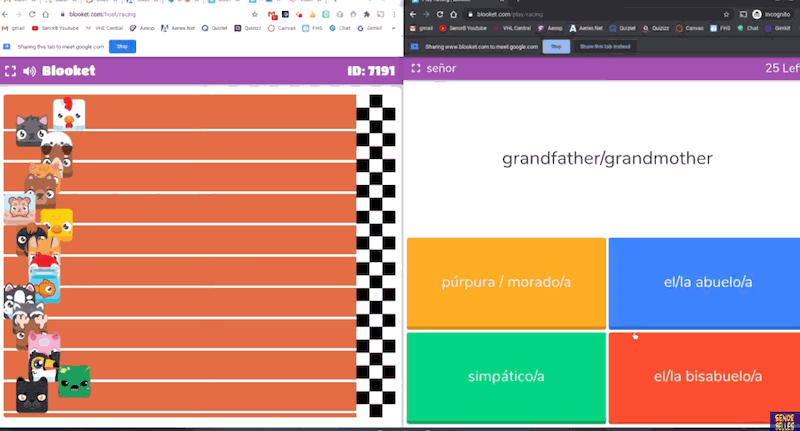 Our second option to a Gimkit alternative is Blooket. Blooket offers versatile features, like the ability to play strategy games with student's moves/points being determined by their answers. It also allows you to create customized quizzes or tests that can be integrated with your existing curriculum, all while showcasing the little "Blooks" (or avatars) students can pick.
Pros of Blooket
Allows flexibility in creating tests or quizzes (called 'question sets') and then picking which game mode you want to use
Offers several games to engage students – Including the ability to steal points!
Includes easy review and analyze tools so you can track how your students are doing
Cons of Blooket
The look of Blooket is a bit childish and might make getting older kids involved more difficult
Picking the right game for the right question sets can be a bit sticky if you don't know the games well
The game pace is student led, meaning once it starts you have no control over how fast the games will move
Free feature doesn't allow you to duplicate or edit question sets
Cost of Blooket
Blooket does have a free version which offers unlimited sets and edits, unique game modes, and up to 60 players. For more players and features like duplicating question sets, bonus tokens, and enhanced game reports, you can try their paid plans:
Plus - $2.99 per month
Plus Flex - $4.99 per month
Blooket vs. Gimkit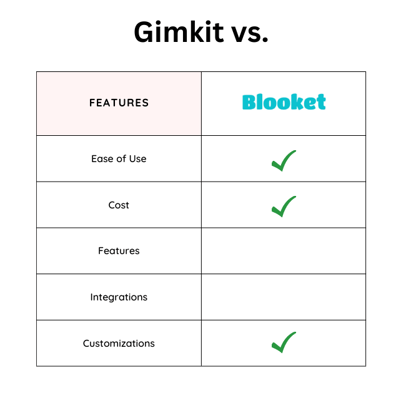 There are quite a few similarities between Blooket and Gimkit. Both offer gamification of quizzes and tests, though Gimkit is teacher-led and Blooket is student-led. The biggest difference is in price, with Gimkit costing 5 times as much as Blooket!
3. Kahoot!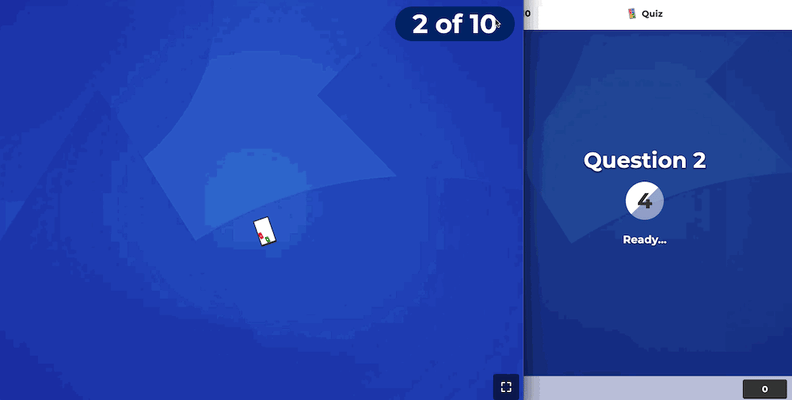 You know it, you love it: Kahoot! has become a staple in classrooms.
The tool offers an extensive library of quizzes and tests, designed like games for that competitive edge for the classroom. The Kahoot! platform allows you to run quizzes in the classroom or even assign them to students to compete against themselves or study at their own pace.
Pros of Kahoot!
Offers ready-made content for studying, quizzing, and testing
Encourages independent study through student-paced practice and assessments
Allows for a mix and match of question types
Cons of Kahoot!
Free version is severely limited – You can only use multiple choice questions for a small number of students
The website can be tricky to understand and maneuver – A bit intimidating for newcomers
The games definitely feel more like quizzes than actual games
Cost of Kahoot!
While you can definitely use the free Kahoot! plan, it is very limiting. The premium plans cost:
Starter Plan - $48 per year
Premier Plan - $72 per year
Max AI Assisted Plan - $96 per year
Kahoot! vs. Gimkit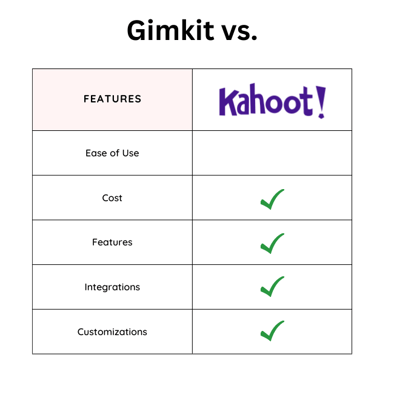 The biggest difference between Kahoot! and Gimkit is the style of gamification used on the platforms. Kahoot! does offer different question types, but keeps it pretty basic, with the games being built around the point systems. Gimkit offers more versatile games and game modes.
However, Kahoot! does offer a more cost-effective option with its Starter Plan.
4. Quizlet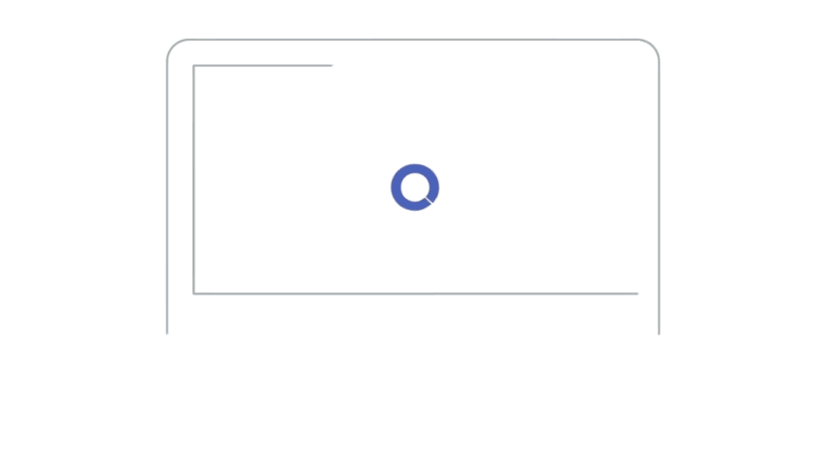 Quizlet is a popular online study tool and quiz-creator that offers teachers the ability to create customized quizzes, assessments, tests, and games. One of Quizlet's most popular features is its flashcards, which allow for in-person testing and at-home studying.
Pros of Quizlet
Includes study sets for specific subjects as well as some of the most common exams
Uses spaced repetition for its flashcards so studying is more efficient and specialized
Offers quizzes, tests, and homework solutions with step-by-step instructions
Cons of Quizlet
Recently put most of its features behind a paywall and increased its prices
Majority of the focus is on studying, so its gamification is minimal
App works better than the website, which requires students to have phones and service
Cost of Quizlet
As mentioned above, Quizlet used to be a powerful and free tool, but recently increased its prices. Now the cost of Quizlet is:
Group Orders - $68.38 per year
Individual Teacher Order - $44.99 per year
Quizlet vs. Gimkit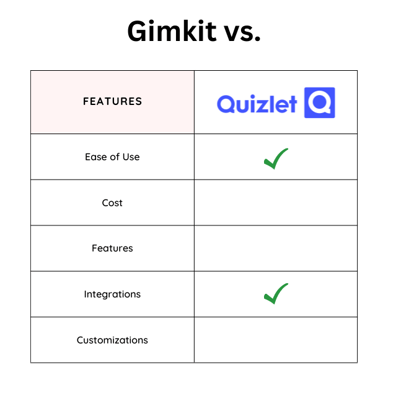 The biggest difference between Quizlet and Gimkit is the goal of each tool. Quizlet does offer quizzes, but its main use is as a study tool. Plus, Gimkit definitely has superior game options for in-person engagement. However, if you're looking for something your students can take home with them to study, Quizlet is the winner.
5. Quizizz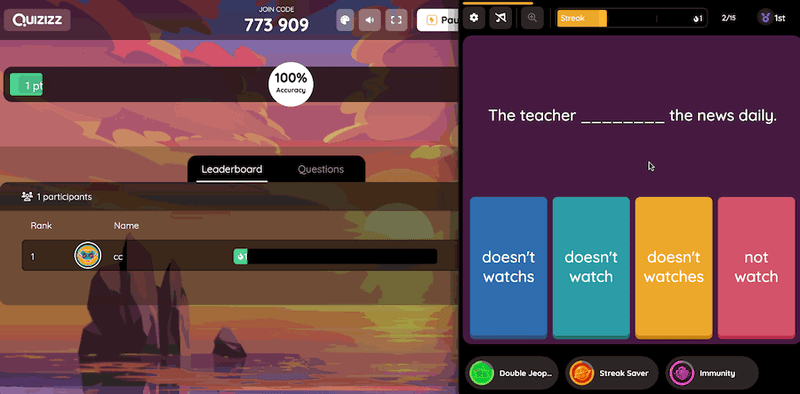 Quizizz offers many of the basic quizzing features popular with all the games on this list, but with a very interesting twist: The platform connects you with content created by other educators in your school district. While we're all about being able to build, customize, and present fun quiz games, it's this feature that gets Quizizz a place on our list.
Pros of Quizizz
Super simple to learn and set up so you can launch your first activity quickly
Connects you with other educators in your school district
Offers game-like tests and quizzes that can be done individually or in groups
Cons of Quizizz
Very limited free version (with ads!)
While being connected within your school district allows for easy access to specific content, it limits those who can get access
Most quizzes and assessments are made by educators, so there can be differences in quality
Some of the gamification features seem a bit dated
Cost of Quizizz
We've included Quizizz in previous lists and discussed how we don't like having to contact the company to get a quote. While a free account is easy to make, there's no information available about the cost of the tool.
While you should take these numbers with a grain of salt, we've found the prices listed at:
Standard Plan - $19 per month
Premier Plan - $48
Quizizz vs. Gimkit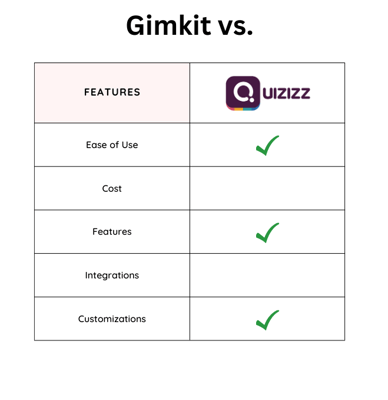 Quizizz and Gimkit share several of the same quizzing features, but Quizizz does lack the excitement offered by the various Gimkit games. However, if you work for a specific county and want to collaborate with other educators, Quizziz offers connections unlike any other option on our list.
6. Mentimeter
Clean, simple, and one of the most mature options on our list, Mentimeter keeps things basic, which we all need at times. With a wide range of integrations and an easy to browse library, Mentimeter is a great option for those looking to launch a quick quiz game.
Pros of Mentimeter
Operates very much like PowerPoint, making it easy to learn the basics
Has been around for quite a while and has worked out the bugs
Very focused on engagement within classrooms and for work presentations
Cons of Mentimeter
While older means fewer bugs, it also mean fewer of the newer gamification features seen on this list
Customization is either very difficult or not available with many of the features
Requires a Pro membership for even basic privacy and control options
Help, support, and onboarding leave a lot to be desired
Cost of Mentimeter
The free version of Mentimeter gets you access to 34 different slide types (quiz, word cloud, poll, etc) and the Q&A feature. However, to get any customizations, import or export options, or to keep your presentations private, you'll need one of these upgraded plans:
Basic Plan - $11.99 per month
Pro Plan - $24.99
For plans with 10+ presenters, you'll need to contact Mentimeter for a custom quote.
Mentimeter vs. Gimkit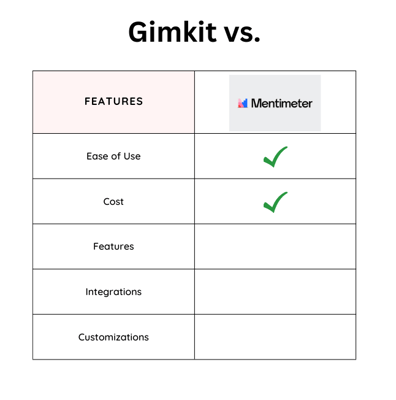 If this is your first foray into creating online classroom quizzes, Mentimeter is a good place to start. The backend is much more like PowerPoint than other options on this list, so those with PowerPoint experience will feel more comfortable. Mentimeter has a very strong quizzing system, but lacks the pre-made games, making it more of a DIY experience.
7. Slido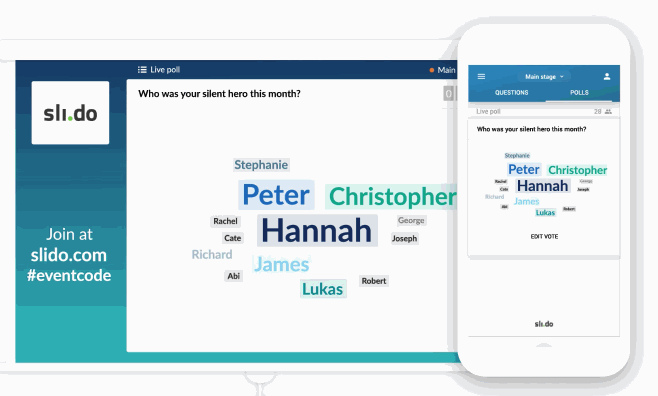 Slido was originally created to be a corporate presentation tool, but has moved into the educational market recently. Because of this corporate focus, Slido is excellent for larger groups and classes where you might want an added layer of interaction with your quiz games.
Pros of Slido
Free plan allows up to 100 participants
Multiple integrations available
Keeps things simple and clean, with a focus on engagement
Cons of Slido
Free version greatly limits the number of features
Building out quizzes on the platform is quite difficult – Many users end up building in one of the integration options and transferring it over
While great for quizzing, adding game elements will require some DIY
There have been recent reports of glitches with larger groups – Specifically responses not coming through
Cost of Slido
The pretty limited free Basic plan offered by Slido allows you to throw unlimited events with up to 100 participants, but seriously stifles the number of engagement options you're allowed. For example, with the free plan, you can only do 1 quiz, 3 polls, or brainstorm 1 topic. Surveys and custom imagery are not available with the basic plan.
Upgraded plans cost:
Engage - $7 per month
Professional - $12 per month
Institution - $80 per month
The cool thing is Slido offers specific plans for educators at more than 50% off its corporate prices.
Slido vs. Gimkit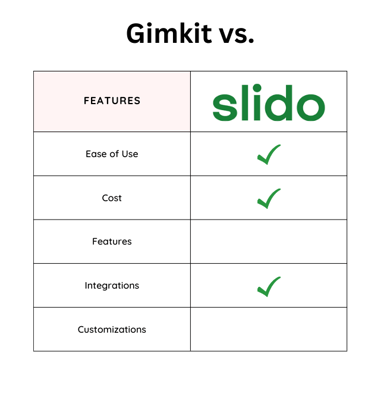 Slido beats Gimkit on price, but with a bit of a caveat: It definitely doesn't offer the gamification Gimkit does. However, the low-barrier interaction makes it a perfect tool for introducing electronic responses from students.
8. Baamboozle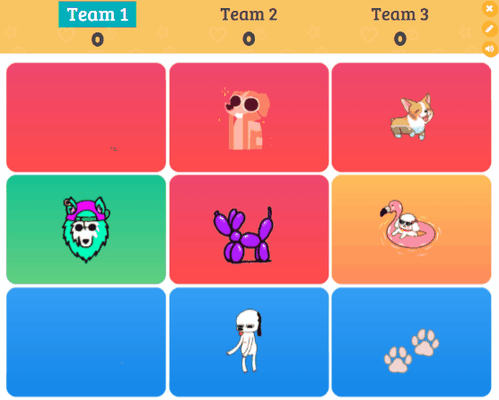 Baamboozle is a new one for us, but we're excited to review it! The quiz game tool allows educators to create a list of questions that can then be used in any of their many games (for premium members!). With options for students to play together in the classroom as well as to study at home, Baamboozle may by new, but it's definitely making an impression.
Pros of Baamboozle
Offers a wide selection of games that can be used with preset 'flashcards' or question sets
Easy plug-and-play options with ready-made sets from other educators
Allows you to share online lessons and set individual homework assignments
Cons of Baamboozle
Free plan has only public games, very little customization, and runs ads
Difficult to determine which games work best with which question sets
There's no quality control, so you'll either have to make your own question sets or very closely go through the pre-made ones you want to use
Cost of Baamboozle
The Basic plan of Baamboozle is pretty weak, being ad supported and only allowing the use of public games. If you'd like to get the full (or at least fuller) experience, we recommend getting Baamboozle+:
Baamboozle+ - $4.99 per month
Baamboozle+ (month to month) - $7.99 per month
Thankfully, if Baamboozle doesn't work for you, they have a very quick and easy cancellation process.
Baamboozle vs. Gimkit
Baamboozle meets Gimkit when it comes to the gamification of quizzes and assignments. Because Baamboozle is so new, we'd recommend creating a free account and keeping an eye on it for now. Gimkit offers a cleaner experience, but we're excited for the collaboration and game versatility offered by Baamboozle.
Overall Choice
Our pick for the best Gimkit alternative? Slides with Friends!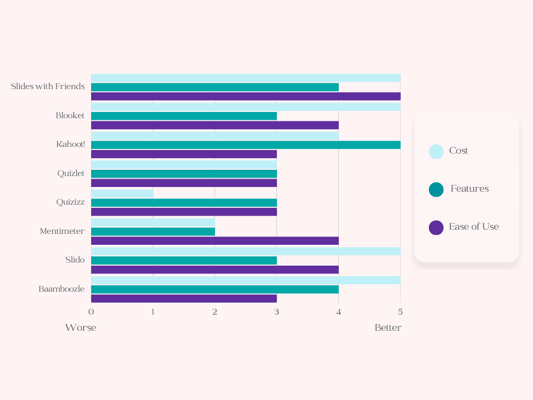 With the number of pre-made games and the simplicity of launching a quiz, Slides with Friends just can't be beat. The platform takes the guesswork out of classroom planning and offers so many integrations. You'll get game overviews and recaps students can use to study with the easy-to-use Slides with Friends quiz feature.
‍
Gimkit Overview
With these alternative articles (like the ones you can find on Poll Everywhere Alternatives, Games like Blooklet, and Quizlet Alternatives), we like to take a quick look at the original - Gimkit in this case!
Gimkit is an online learning platform that uses the gamification of quizzes and tests to encourage learning. The platform is designed to make learning and studying engaging and fun. With games like Trust No One, The Floor is Lava, and Humans vs. Zombies, Gimkit has quickly become an entertaining staple in classrooms.
The learning tool also offers robust customization options, allowing you to tailor quizzes according to your students' learning needs. However, this feature is buggy at the time this article was written and seems to be out of commission.
Gimkit offers a free (or Basic) plan which can be used with a limited number of game modes to be played with an unlimited number of students. The Basic Plan also allows for rostering and the collection of reports. However, you never know which free modes will be available, with only 3 being available at any given time.
Gimkit Pro allows unlimited access to all game modes at all times, the assignments feature for homework, and the option for customizable images and audio. Gimkit Pro costs $14.99 a month or $59.88 a year.
When looking for Gimkit alternatives, we looked at the following criteria:
- Ease of Use
- Cost
- Features
- Integrations
- Customization
Have fun interactiving!
‍