Want to run interactive lessons and games for your students, but need something different from Blooket? We've done the work of finding the best alternatives to Blooket. We selected for two main criteria: ease of use and set up, and best at creating student engagement.
Curious about Blooket vs. Kahoot? See a full Blooket vs. Kahoot comparison below, (or check out our list of games like Kahoot, that has a lot of great alternatives to both Blooket and Kahoot).
1. Slides With Friends
Our favorite alternative to Blooket is Slides With Friends.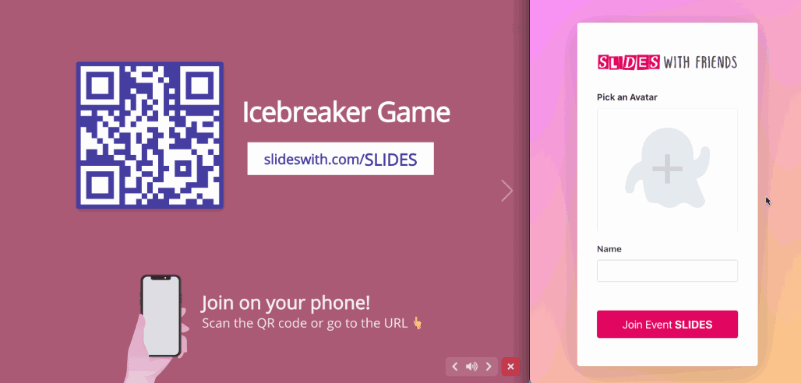 It has some of the most interesting interactions and ways to engage students that we've seen, and it's one of the more straightforward platforms. You can get started in just a few minutes, since it's simple to set up and play (especially if you're familiar with Google Slides or PowerPoint — it's a similar slide deck presentation builder). It gives you a ton of control over the look, feel, and pace of your lesson or game.
What you can do with Slides With Friends:
- Create your own custom interactive slide decks or choose from pre-made decks and lessons
- Run quizzes, interactive lessons, formative assessments, classroom games, student check-ins, icebreakers, etc.
- Ask multiple choice or text-answer quiz questions, run live polls, play show & tell with photos, create word clouds live, play "Apples to Apples" type games, send fun sounds, and more
To get started, you can check out the popular decks library, copy any deck into your account, and launch a presentation. Students join in on any device that has the internet, like a tablet, desktop, or smartphone. Overall it's fun, inventive, and easy to use. Students love the soundboard and silly avatars.
Pros:
Simple, clean, and professional-looking
Intuitive and easy to get started
Easy to create your own custom interactive presentation decks
Easy for your students to join, with no downloads or apps required
Works well anywhere you can share your screen (in person on a projector, over Zoom, or with a mix of in-class and remote students)
Cons:
The free tier lets you do everything (unlimited lessons, games, etc) but if you have a larger class than 10 you'd need to upgrade to the paid account
‍
2. Kahoot!
Kahoot is one of the most well-known platforms for a reason: it's one of the first and more full-featured interactive quizzing and classroom game platforms for teachers.
It's super-powered with tons of games and lessons, offering an almost overwhelming amount of gamified learning opportunities for you to choose from. In some ways it feels a little bloated — there's just so much going on on every page that it can be tough to just drop in and figure things out. Once you're in, the platform has a ton to offer, from pre-made
‍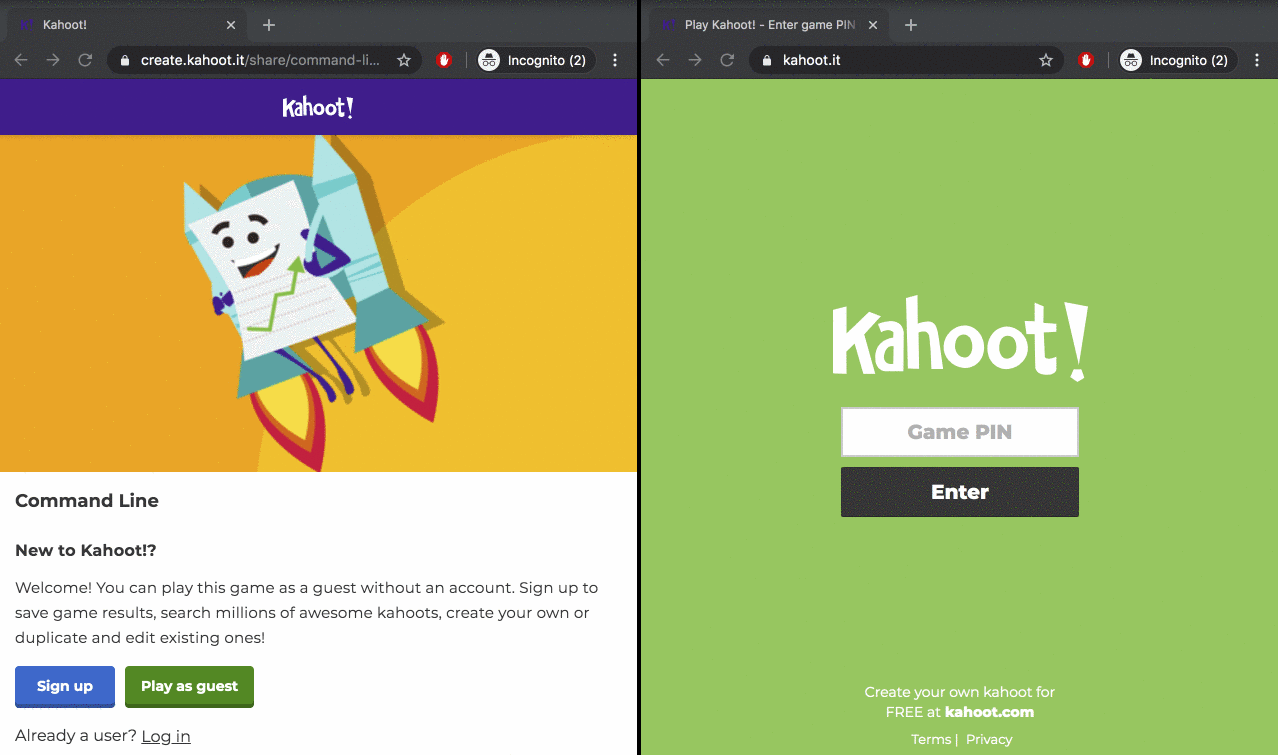 Pros: 
Familiar to most students: Less confusion and "what is this" type questions — Kahoot is an industry standard
Versatility: Kahoot can be used for a wide range of purposes, from educational quizzes to corporate training.
Customization: Kahoot offers the ability to create custom content, allowing teachers to tailor their quizzes and games to their specific needs. However the design and style aren't as customaizable as some of the other options.
Preexisting templates: Teachers can choose from a wide range of preexisting templates to quickly and easily create their own quizzes.
Cons:
Price: it's one of the pricier options out there, with a really limited free tier
Can feel high-pressure: The platform's competitive nature could induce anxiety or stress in some students, affecting their learning experience
Very busy design and complicated interface: It can be tough to drop right in, since there are so many options to wade through. Many teachers complain that it's tough to get started if you're not super tech savvy
Difficulty formatting math: Some users find it challenging to format mathematical symbols and equations in the platform.
Lack of customization in premium accounts: Users with premium accounts may still find customization options, such as colors and branding, to be limited.
3. Quizizz
Quizziz is one of our favorite interactive quizzing platforms — it's got some of the better design and overall functionality, plus it's super teacher-friendly.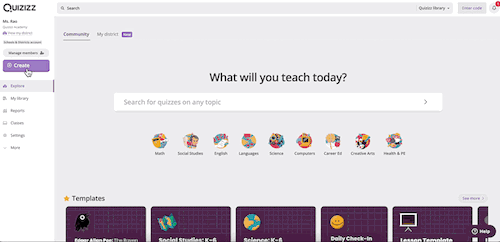 Pros:
User-friendly: The platform is easy to navigate for both teachers and students.
Real-time results: Teachers can track student progress, identifying areas for review and guiding instruction.
Google Classroom integration: The platform links seamlessly with Google Classroom for sharing quizzes and tracking progress.
Cons:
Limited diversity in music and visuals: The platform's audiovisual options could use more variety.
More characters, please: Introducing video game-style characters could make Quizizz more vibrant and interactive.
LMS integration restrictions: The learning management system (LMS) integration policy is only available for enterprise licenses.
Voice recording isn't free: The platform's voice recording feature comes at a cost.
Limited options for spending in-game coins: Students would appreciate more ways to spend their hard-earned coins.
No option to change answers: Quizizz doesn't allow students to go back and modify their responses, which might affect their overall performance.
Inadequate review summary: A more comprehensive summary of missed questions for students to review before attempting the quiz again would be helpful.
‍
4. Edpuzzle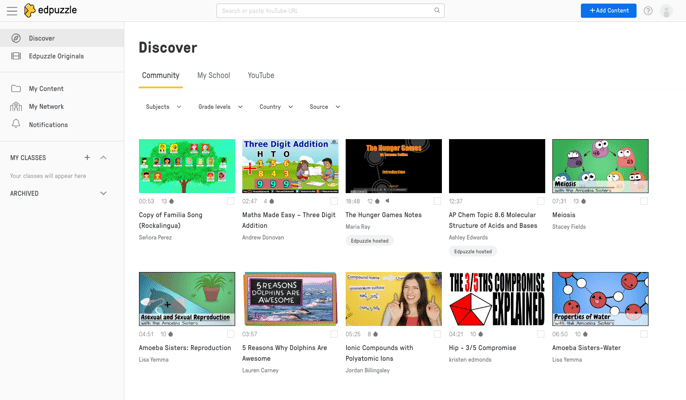 Edpuzzle is a slightly different option — it's a library of video lessons that you can add widgets to, like questions, comments and quizzes. So if you're looking for the "already made lessons" aspect of Blooket, the Edpuzzle is a great alternative.
Pros:
Student engagement: It's videos, but with interaction. This helps avoid the glazed eyes of a another youtube tutorial.
Immediate feedback: Get real feedback from students immediately with questions about the material (and whether they're retaining it)
Easy integration: The platform connects with popular content sources like YouTube and Khan Academy, making it easy to find and import videos.
Cons:
Tought to get started: Some users report a learning curve when editing videos and adding questions.
Limited captioning: EdPuzzle doesn't automatically add captions to videos, which could impact accessibility.
Inability to cut portions of videos: While it's possible to select segments from longer videos, removing sections from the middle of a video isn't currently supported.
Video upload issues: Users have experienced difficulties when uploading videos directly to the platform, often resorting to uploading on YouTube first.
Limited storage space: The free version of EdPuzzle has limited storage for video content, requiring an upgrade to EdPuzzle Pro for more space.
Slow loading: The platform's grade sheet can take time to load, especially with frequent usage and numerous assignments.
‍
5. Quizlet
Quizlet is a good option for flashcards and team-quizzing. If you're looking for a study aid in an interactive flashcard format, it's a great choice: students love the style and fun animations. However, some of its most useful features, such as "Learn," "Test," and "Match" modes are now hidden behind a paywall, leaving only the basic "Flashcards" available for free. Although the platform has been praised for its interactivity and ease of use, some users have expressed concerns about incorrect information and the lack of a verification system. Overall, Quizlet can be a helpful tool for engaging students, but it may not be the most comprehensive or reliable resource.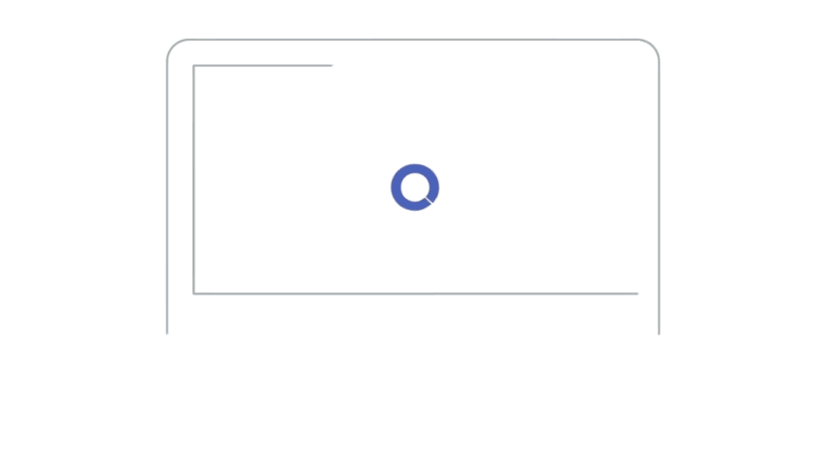 Pros:
Variety of study tools: Flashcards, games, and quizzes keep students engaged and cater to different learning styles. You do have to pay to upgrade to use more than the flashcards.
Course organization: Teachers can organize units and limit access, ensuring students focus on relevant content.
Ease of use: Quizlet's user-friendly interface makes it simple for both teachers and students to navigate.
Language learning support: The platform offers spelling suggestions, including accents, for foreign languages.
Cons:
Paywall for advanced features: Some of the platform's most useful features are now limited to paid subscribers.
Inaccurate information: Not all content on Quizlet is verified, meaning students may encounter incorrect information.
Limited templates: Users have noted that the preset templates are somewhat restrictive and may not cater to all teaching styles.
Mobile optimization: The website could use improvement for mobile users, as some have reported formatting issues.
‍
6. Nearpod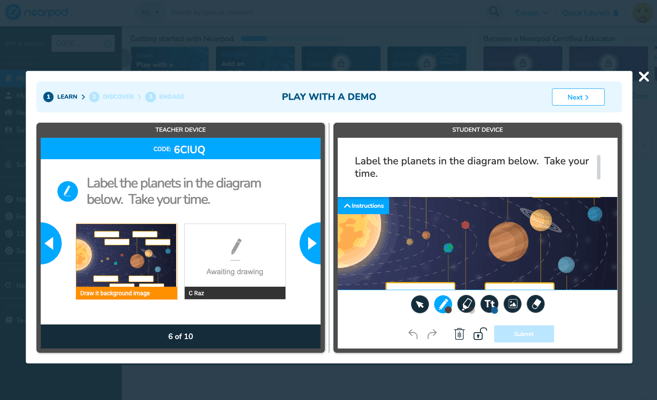 Nearpod is a platform that helps educators create interactive content and share it with their students. It offers features like screen-sharing, self-paced and teacher-led options, and a library of pre-made lessons. Teachers can track student progress with data reports and incorporate quizzes and polls directly into their presentations. However, the platform can be expensive for individual teachers, and slide creation might not always be intuitive. Collaboration between co-teachers on editing and running a Nearpod lesson is also limited.
Pros:
Increases student engagement: Nearpod offers interactive activities and multimedia content to keep students interested and engaged.
Library of pre-made lessons: Teachers can access and use a wide range of ready-to-use lessons, saving them time and effort.
Real-time data reports: Teachers can track student progress and gather data on work completion, enabling targeted remediation.
Variety of assessment options: Nearpod allows educators to embed quizzes and polls within lessons to assess student understanding.
Compatibility with Google Classroom: Nearpod integrates with Google Classroom, making it easy for teachers to manage and share content.
Cons:
Costly for individual teachers: The platform can be expensive for teachers whose districts or companies do not cover the cost.
Limited collaboration options: Co-teachers cannot simultaneously edit and run a Nearpod lesson, which can be inconvenient when one teacher is absent.
Slide creation challenges: Some users find creating slides in Nearpod to be less intuitive than other platforms, which could slow down lesson preparation.
Limited customization options: Customizing the appearance and formatting of information slides can be difficult in Nearpod.
Occasional technical issues: Users have reported occasional bugs and synchronization issues, which can affect the user experience.
‍
‍
Blooket vs. Kahoot
Lots of teachers are familiar with Kahoot and are looking for something similar (but with a lower price tag). So if you're interested in trying out Blooket, but want to compare it to Kahoot, we've tried both tools out and can give you a great overview of the pros, cons, and difference between the two (as well as our final choice).
Or if you want to see other alternatives to Kahoot beyond Blooket, check out a full list of Games Like Kahoot.
Overall
While selecting the "better" platform ultimately comes down to individual preferences, teaching styles, and learning objectives, overall our choice would be Kahoot. It's one of the industry standards and offers so many options for learning that it's more likely to meet your needs than Blooket.
In getting started, neither platform really distinguishes itself in terms of ease of just dropping-in. Both Kahoot and Blooket are super full featured, which also means each page and interface is just packed with options, buttons, and big "look over here" flags. The end result leaves a feeling of overwhelm if you're not already familiar with either tool. There are other tools we'd recommend if you're looking for something easier to get started with.
Engagement-wise, both Blooket and Kahoot! excel at capturing students' attention with their game-based approaches. Blooket distinguishes itself by offering a variety of game modes, catering to different learning styles and preferences. Kahoot!, on the other hand, focuses on a live, game show experience, promoting competition and collaboration. Blooket is an arcade style feel, while kahoot is more basic / standard in its look and feel.
‍
‍
‍
‍
‍
Subscribe for more articles like this
Subscribe to our newsletter for research-based content on community building, remote culture, and employee well-being. Get critical tools for a remote world.