Technology in the classroom is not only the expectation — it's an important part of what your students need to learn, and what instructors need to make teaching better. If you're an educator, faculty, instructional technologist, or just looking to find the best technology tools for the classroom — here's your list.
‍
‍
Quizzing & Interactive Lessons
The traditional lecture model, where students passively absorb what the teacher is saying, is effective, but often dull. Keep students engaged by picking a quizzing & interactive lessons tool — you'll find that they learn better and that the lesson becomes more pleasant.
‍
Slides With Friends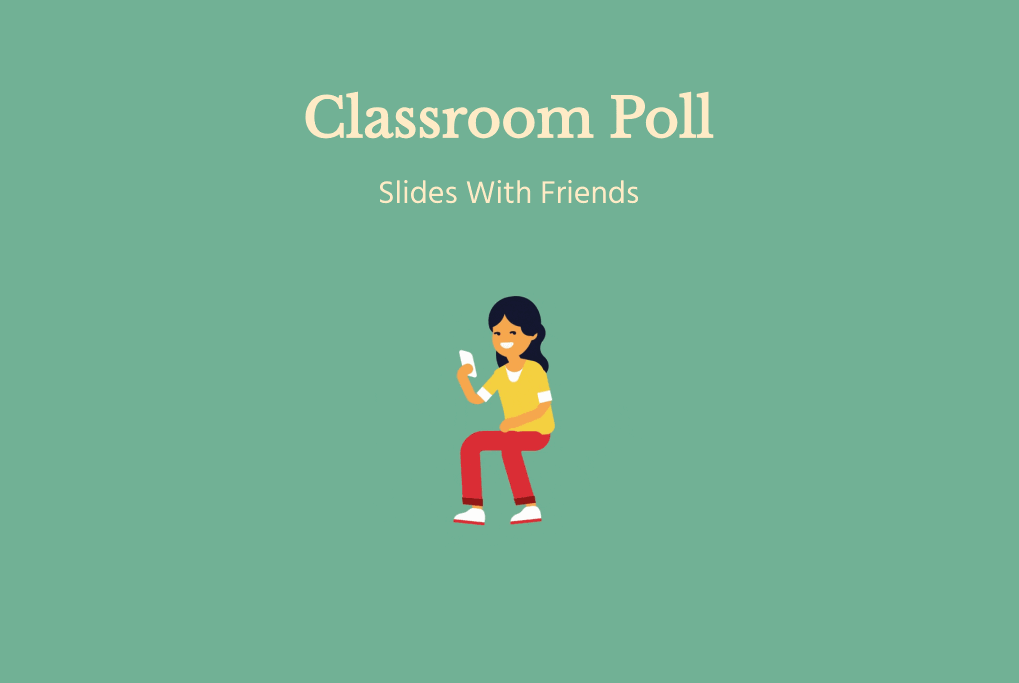 ‍Slides With Friends offers a flexible and simple platform to build interactive lessons. Creating a slide deck is a matter of a few clicks, through which you can add quizzes, polls, or discussion prompts. The students can answer directly on their device, giving you real-time feedback on their understanding.  
And, you don't need design expertise to craft a deck. The platform provides many starter templates to pick from. That way, you save design time you can spend crafting engaging learning experiences. All of this comes at a reasonable price tag of $15/month to host up to 50 people (psst, it's $8/month for teachers if you get an annual subscription).
‍
Kahoot!
Kahoot! makes interactive learning an enjoyable and accessible experience for educators and students alike. But it's interface can feel overwhelming when you're new to it  — it will take some time to get used to.
‍Kahoot! has long been a staple in the world of technology tools for the classroom. The platform offers a robust design functionality that allows anyone, with a bit of a learning curve, to create an interactive quiz-type learning experience. Students can take part to your lesson via any device with internet access. They have a ton of pricing tiers, but it starts at $29 per month.
‍
Quizziz
‍Quizziz is another classroom technology that helps educators create immersive learning experiences. Its interface makes it simple to create interactive quizzes. The import from spreadsheet feature lets you craft engaging tests in minutes.
The platform has all the features necessary to captivate your students' attention. Thanks to leaderboards and live chats, they can compete with each other, while providing educators with real-time feedback on their learning. But, Quizziz has a big flaw: its steep price of $50/month.
‍
‍
‍
Interactive Whiteboards
Interactive whiteboards are the easiest way of introducing technology in the classroom. These platforms let teachers and students interact on a shared canvas. They make a solid choice if you're looking for a way to make lessons more engaging without altering them.
‍
Miro
‍Miro offers a virtual canvas for educators and students. It offers all necessary tools — pen, highlighter, and text — to build a visual depiction of the information your class is dealing with. These features come with a clean interface; they don't get in the way of learning.
Templates are Miro's forte. Whether you're charting a mind map or leading a brainstorming session, the app has got you covered. But you can just as easily create your own material. Up to three whiteboards are free, or you can get unlimited boards starting at $8/month.
‍
Whiteboard.chat
Whiteboard.chat offers educators a no-nonsense interactive whiteboard. You can add text, draw, and even save your board as a PDF for easy offline view. The tool also lets you import files from Google Drive, Microsoft 365, and Gsuite.
Getting started with it is as simple as clicking "start class" and sharing the classroom's code with your students. Students can also join your board via a QR code, they don't need an account.
‍
Microsoft Whiteboard
If you're already using Microsoft Teams, Microsoft Whiteboard is a great classroom technology to add to your toolbox. Notably thanks to how easy it is to upload to Team Assignments what you create on the whiteboard. Teachers can create engaging content ahead of class with an array of tools, like digital ink, shapes, and stickers.
This platform shines in group projects. It's simple to upload digital worksheets or create new ones using structured organizers provided. Live cursor identities let you see who's engaged and who might need extra help, promoting a collaborative learning environment.
‍
‍
‍
Review and Studying
Tech is of great help in the review and study process. The following technology tools for the classroom turn the often daunting tasks  of review and studying into engaging, interactive activities.
‍
Slides With Friends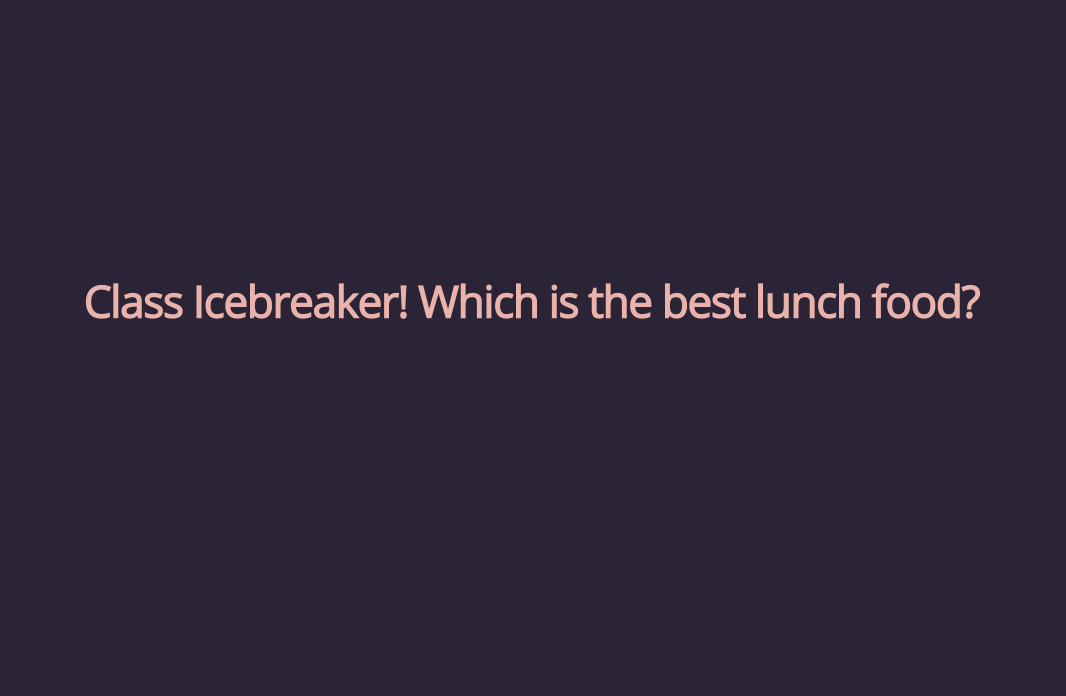 ‍Slides With Friends' platform makes it simple for educators to create or upload interactive review materials. Quizzes and questions make students engage actively with the material. This involvement enhances their focus and concentration, improving retention.
Learning with Slides With Friends becomes an enjoyable activity. Students learn better and in a more pleasant way. Teachers get more gratifying learning outcomes. And you can have up to 10 (12 if you ask nicely 😉) students in a session for free, or up to 50 for a modest fee.
‍
Factile
‍Factile gives teachers a Jeopardy-style quiz game interface to make interactive review sessions. Teachers can create their own games or pick from a vast selection of pre-made game templates to quickly build a review sessions.
The games can be played in a classroom or remotely, supporting various learning environments. With options for team or individual play, it allows for a collaborative or self-paced review process, catering to different learning preferences.
‍
EdPuzzle
‍EdPuzzle is an excellent choice of classroom technology to support students' reviewing. Teachers can use existing videos or upload their own, editing out irrelevant parts, and adding voiceovers or questions to focus on key concepts.
Students can't proceed watching assigned videos until they answer the questions. This system forces them to pay attention while they review the material. And you get unlimited storage space for video lessons for an affordable price of $13.50/month.
‍
‍
‍
Learning Toys & Robots
Learning toys and robots are hands-on classroom technology tools that make learning interactive and fun. Students get to apply the concepts to the real world and see the results of their learning come to life. This makes them more interested in learning, as it moves from abstraction to real-life application, sparking their curiosity.
‍
Microduino
Microduino brings real-world technology in the classroom, empowering young minds to explore the world of STEM by combining play and learning. Their captivating kits and video tutorials help students gain develop a deep love for learning.
‍Microduino offers a range of educational STEM kits that are easy to build, play with, and code. These kits, targeted at children ages 5 and up, progressively teach coding, electronics, and product design. Their goal is to make learning a fun and interactive experience through hands-on activities.
‍
Ozobot
‍Ozobot offers a versatile platform for teaching coding and STEAM (Science, Technology, Engineering, Arts, and Mathematics) across all grades and subjects. It provides two distinct ways to engage with coding: screen-free with Color Codes and on-screen with Ozobot Blockly.
Ozobot provides an hands-on, interactive learning environment for all students. They get to see their efforts come to life, giving their learning a purpose.
‍
LEGO Mindstorms
The key advantage of LEGO Mindstorms is its intuitive and user-friendly programming environment. It introduces students to coding logic in a fun and accessible way. With a wide range of sensors and motors, students can create robots that can respond to the environment.
‍LEGO Mindstorms is an exceptional robotics platform that brings together the worlds of creativity and engineering. These kits provide students with the tools to design, build, and program their robots using LEGO elements, sensors, and motors.
‍
‍
‍
Gamified Learning
Gamified learning infuses educational content with game-like mechanics to make learning fun. Instead of making learning feel like a chore to slog through, it gives it an extra oomph to make it feel like an exciting challenge.
‍
Blooket
‍Blooket is a web-based quiz platform that transforms quizzes into competitive activities. With its many games modes — Tower Defense, Cafe, Racing  — you will find the best activity to reach your classroom goals.
The ease of setup and competitive aspect make it a solid choice for any educator looking to improve classroom learning. And its generous free plan gives lets up to 60 players join a game.
‍
Slides With Friends
‍Slides With Friends offers educators easy ways of gamifying learning. Once you've created your deck (which will take you a few minutes at most), students can join in and play along on any device. You also get fun features like icebreakers, soundboards, and word clouds to create a welcoming learning environment.
Leaderboards add a competitive edge to the learning experience, allowing students to track their progress and compare their performance with classmates. These competitions let students track improvements, promoting a growth mindset.
‍
Socrative
‍Socrative is a platform for gamified learning and interactive assessments in the classroom. It lets educators create quizzes, polls, and assessments that engage students. The platform offers in-depth feedback tools that help teacher find out which students are struggling.  
Socrative offers a range of question types, including multiple choice, true/false, and short answer. Thus, it's a versatile app for various subjects and assessment styles. Teachers can launch quizzes in "Space Race" mode, where students work by themselves or in teams to answer questions.
‍
Quizlet
‍Quizlet is another solid platform to use the power of technology in the classroom. It's designed to aid students and teachers in mastering educational content through interactive tools and games. The platform organizes information into study sets which can be created by teachers or students for tailored reviewing experiences.
Quizlet's main flaw is the presence of ads on every page in the free tier. These can disrupt students' focus during a lesson, killing the point of the app.
‍
‍
‍
Classroom Community
Technology tools for the classroom offer a great aid in creating a sense of community among students. Their goal is to promote an environment where participants feel safe, engaged, and motivated to learn, by making learning more collaborative.  
‍
ClassDojo
 ClassDojo is a digital platform aimed at building a positive classroom community. It connects teachers, students, and parents, allowing them to share updates, photos, and videos on a private feed. This way, the classroom becomes a vibrant online hub, rather than a dreadful, disconnected place.
Through ClassDojo, students and parents are not just passive observers but active participants in the educational journey. They can celebrate achievements, offer encouragement, and seek support when challenges arise. However, some educators might find the initial setup a bit cumbersome.
‍
Flip
‍Flip (formerly Flipgrid) is a video discussion platform whose goal is to promote engaging and interactive learning experiences. It supports video-based discussions where students can share their thoughts and respond to their peers or teachers.
Students can reply to prompts in creative ways, such as record videos, text, images, stickers, and GIFs. But, most importantly, the platform promotes peer interaction; students can share perspectives, give feedback, and comment on each other's videos.
‍
Edmodo
‍Edmodo is a classroom technology tool that offers educators powerful community-building tools. Features like interactive assignments and real-time updates make students and parents play an active role in education.
Edmodo empowers teachers, students, and parents to collaborate in the education process. This makes the platform a valuable addition to any classroom seeking to embrace digital learning.
‍
Google Classroom
‍Google Classroom is a powerful and easy-to-use platform for educators aiming to build a classroom community. It turns the classroom into a digital center, enabling interactions between teachers, students, and parents.
One of its standout features is the ability to hold live virtual classes using Google Meet. This allows real-time interactions among everyone in the community. Furthermore, it offers tools for scheduling announcements and handling comments. All for free.
‍
‍
‍
Virtual Field Trips
Virtual field trips, while often ignored, are terrific technology tools for the classroom. They give students a virtual tour of museums, historical sites, and other points of interest. These platforms offer teachers a way to spark students' curiosity about the context of what they're learning.
‍
Museums
Virtual field trips to historical sites transport students back in time, offering immersive experiences that bring history to life. From ancient civilizations to pivotal moments in history, these digital journeys provide students with a firsthand look at the past.
Destinations include the Smithsonian Museum of Natural History, the Guggenheim in New York, and the Musée d'Orsay in Paris.
Not finding what you like? You can build your own, here's a video on how to do it:
‍
Teachers can choose specific historical sites that align with their lessons, fostering a deeper understanding of historical events and contexts.
‍
National Geographic
‍National Geographic's experiential learning section is a treasure trove of virtual adventures. Captivate your student's mind with documentaries, interactive maps, and breathtaking photo galleries. This online platform brings the wonders of the world right into your classroom.
You can embark on virtual journeys to distant lands. Explore the mysteries of the deep sea, or follow the footsteps of ancient civilizations. These resources provide students with eye-opening experiences, and also serve as educational tools that can ignite their curiosity and expand their horizons.
‍
Zoos & Aquariums
Many zoos and aquariums worldwide offer virtual tours of their facilities. Students can explore different ecosystems, observe animals, and learn about conservation efforts. You can pause the video and explain concepts, or let it flow to wow students with the incredible species that inhabit this planet.
YouTube is a great source for walkthrough videos of these experiences. Teachers can access a vast library of virtual field trips that engage their students in immersive learning adventures. These videos offer educators a convenient way to supplement their lessons and foster a deeper understanding of various subjects and environments.
‍
‍
‍
Exploring the Educational Toolkit
Technology gives you the opportunity to enrich the classroom experience. Experiment with these resources and inspire your students.Technology in the classroom is not only the expectation — it's an important part of what your students need to learn, and what instructors need to make teaching better.