As a teacher, it feels like the options for how to gamify lessons are exploding. Some of the top players are Blooket, Kahoot, Gimkit, Quizizz, and Slides With Friends — but what is each one and which one fits your needs the best?
We've got years of experience with these technologies, and we've done a comprehensive comparison and overview:
‍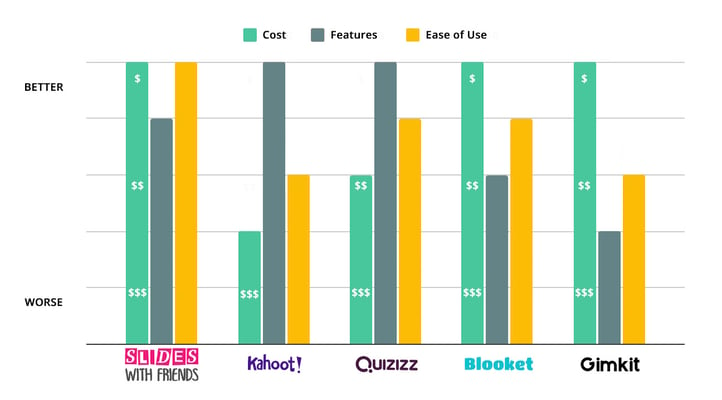 Quick Comparison
Kahoot: 7/10 - We love how many ready-to-play games there are and the gamified feel while still focusing on education. We don't love how predatory and expensive the tool feels to teachers who are building with it.
Quizizz 8/10 - We love the nice design and teacher-friendly feel plus all the homework and asynchronous options.  We don't love the pricetag or the learning curve to get started.
‍Gimkit and Blooket 6/10 - These tools feel very similar to each other. We love the fun and attention-grabbing style of these. We don't love that it's basically computer games with "quizzing" shoehorned in. Not flexible enough to make actually instructive lessons.
Slides With Friends 9/10 - We love how it's the simplest and easiest to use / understand, and that it's the most flexible to use for all different kinds of lessons. We also love the reasonable pricetag.
‍
Jump to a full review:
‍
And now, let's get to the in depth reviews of each platform. For each tool, we've included pricing information, a Pro Con list, a gif of the tool in action, and an overview of our key takeaways.
‍
Slides With Friends
Overall, our favorite tech tool that enables interaction in the classroom is Slides With Friends.
What it is
A slide deck builder that you can create presentations in (think like PowerPoint or Google Slides). The cool part is when you launch your slide show, your students can join in to your deck, and play along. They can send answers to quiz questions, ratings and poll answers, and even make funny sounds from an emoji soundboard (this is an optional feature on any deck — in case your students like it a little TOO much). Overall it's a good mix between gamification (with scoring and voting) and professional and instructional.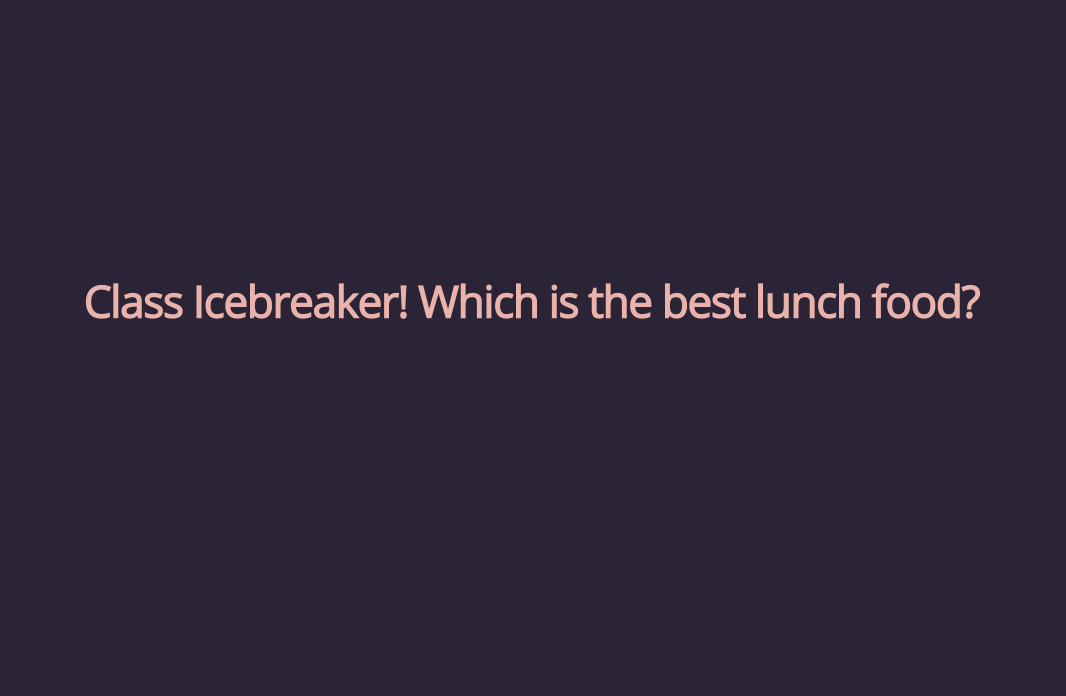 Pros of Slides With Friends
Super easy to get started and understand (for both you and your students)
Makes you look professional
No downloads needed to play, your students can just join in on their computers or phones with a QR code / link.
Easy to use pre-made games, or to create your own interactive lessons from templates or scratch
Good for the non-tech savvy. It works pretty much anywhere you can share your screen, and doesn't require much explaining to your students
Cons of Slides With Friends
You can do pretty much everything on the free tier, but if you want to run larger lectures you'd need to upgrade to let more than 10 students participate
Slides With Friends Pricing
SlidesWith is one of the more affordable options out there, especially for teachers. They've got special education pricing for teachers, that drops the cost to $6 per month per teacher when you get an annual subscription.
Overall: Slides With Friends
Slides With Friends is one of the best new tools out there, combining an easy-to-understand set up with super fun-to-play events, and it's much more affordable than a lot of the other options.
‍
‍
‍
Blooket
Blooket really takes the idea of "gamifying" to heart: its goal is to combine quizzing with gameplay. It's quite similar to Gimkit (see below).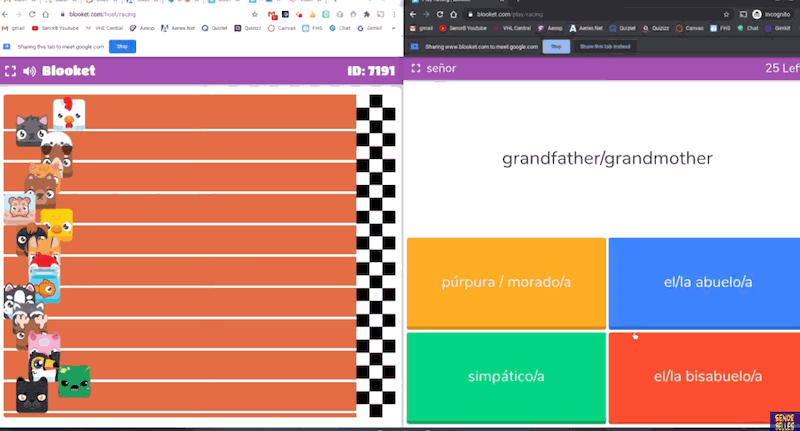 What it is
A mixture between a video game or Jackbox game, and Kahoot. Blooket looks a lot like a Kahoot quiz embedded with an external incentivizer, eg. a race or other game mode.
Like Quizizz, students individually answer multiple-choice questions at their own pace on their devices, earning "money" for correct answers. The objective is to accumulate the most "money" by the game's end. Even in team mode, answers are submitted individually, but the "money" earned contributes to the team's total.
Pros of Blooket
The free tier lets you do a lot, including host up to 60 students. You can't get post-event results in the free tier however.
Self-paced: Many games allow students to progress at their own speed.
Competitive: Games foster healthy competition, enhancing engagement.
Reusable questions: A single question set can be used across multiple games.
Highly engaging: Students find the game options highly appealing.
Cons of Blooket
Not group-oriented: if you want your students to come together / find connection, or to learn as a group with you, this isn't possible.
Reading requirement: As teachers can't read out each question and no immersive reader is available, it's better suited for older students.
Requires numerous questions: To prevent question repetition, a large set of questions is needed.
No editing of others' question sets: If you find a near-perfect set of questions, you'll need to create your own set.
Limited data access: Without a paid account, data access is limited, making Blooket ideal for review games, not assessments.
Game complexity: Some games, like Cafe and Factory, require more skill and strategy which would be ok except clear instructions are not readily available.
Blooket Pricing
Blooket's free tier is super generous. Play for free with up to 60 students, and then it's $36 a year to host up to 300 students or $5 a month. However you get more and better reporting with the paid plans, and more game options.
Overall: Blooket
We like Blooket for homework or async learning. For in the classroom, it feels a little bit screen-focused for real life / in-person learning.
‍
‍
Kahoot
The OG (original game). Kahoot makes it clear that it is the first of this kind, given that most of the options below feel like an ecosystem set up around a Kahoot game. It's a quizzing and gamified group formative assessment tool. It enables live, interactive quizzing, letting you create or find a quiz, launch it as a presentation on a computer / tv / projector screen, and your students join in on their own devices (phone, tablet, desktop) through a link or downloaded app. You then run through questions one by one with your students, live as a group.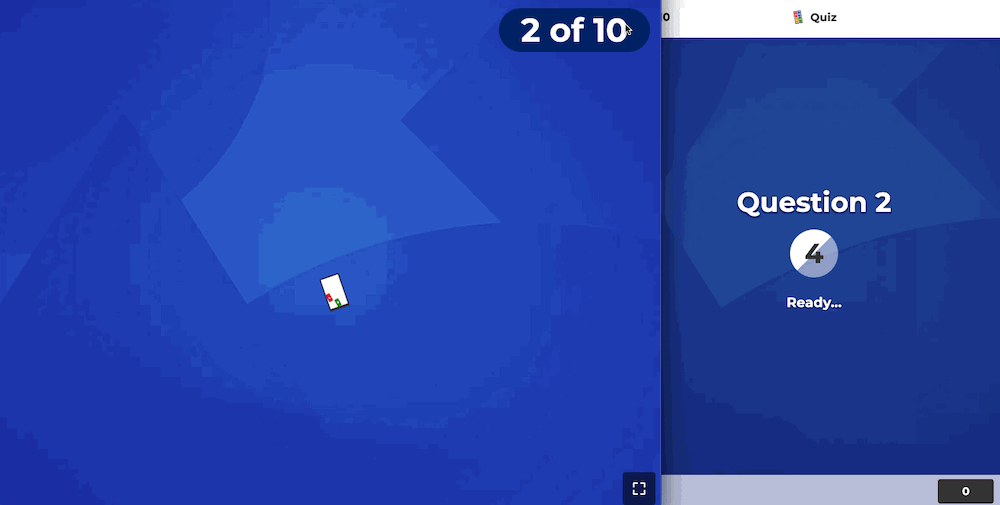 What it is
Kahoot has a somewhat kid-glove and early-technology feeling, for instance answer options are given colors and shapes and you have to tap on the matching color/shape on your player screen (rather than being able to make a direct selection of an answer's text). Despite numerous users expressing satisfaction with Kahoot, large review sites have many people noting several recurring drawbacks, such as costly subscription options, limited personalization capabilities, a complex interface, and a restricted variety of question formats.
Pros of Kahoot
Efficient for lesson preparation and recap: There are numerous pre-made Kahoots available, saving time in lesson planning and review.
Well-established and reliable: It's been in use for some time, and students are accustomed to it.
Swift to set up events: Once familiar with its navigation, creating your own events can be a speedy process.
Cons of Kahoot
High-cost subscription options: Some users find Kahoot's pricing steep, particularly for smaller businesses or one-off events.
Requirement for app download: Participants must download an app to participate, an outdated requirement that takes away from lesson time.
Highly restricted free version: The free account only allows for 3 participants per event and many features are reserved for the paid version, severely limiting the free version's usefulness.
Limited customization options: Some users desire more flexibility, such as the ability to personalize themes and colors.
Complex user interface: Some users perceive Kahoot as overly complex, with a multitude of options making it challenging to find what they're looking for.
Intense competition: Kahoot's countdowns and time pressure can add stress to events, overwhelming some users.
Restricted number of answer choices: Kahoot only permits four answer options per question, which could be restrictive for some users.
Restricted quiz accessibility: Some users noted that quizzes are not always available for a specified duration.
Kahoot Pricing
Kahoot is one of the less affordable options on the list. To get the bare minimum you'll need to pay $50 a year. To get reporting and access to better lesson content, it's $72 a year.
Overall: Kahoot
Kahoot is powerful and sturdy software. If you want to run simple gamified quizzes, it's one of the most obvious choices (as long as you can afford the price tag).
‍
‍
‍
Gimkit
Gimkit is similar to Blooket: Both have the idea to embed and incentivize quizzing (and therefore hopefully learning) while your students are playing video games.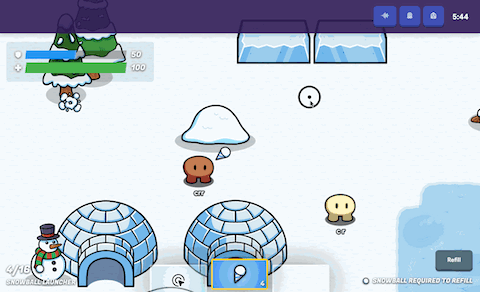 What it is
Gimkit is a little like a kid's video game with Kahoot built in. It's not that different from Blooket is quite a few ways, but the quizzing is a little more separate. To play, you find a "kit" (game or questions set) you want to have your kids answer, you choose a "game mode" (like speed of answers, points earned, number of questions answered, etc) and then launch an event. Joining looks very similar to Kahoot (in fact the design and font are pretty much the same).
Based on your game mode selection a game type and there's a console game esque element that incentivizes answering questions.  For example the gif above is of the game version "Snowbrawl", where avatars run around shooting each other with snowballs (think like Super Smash Brothers), and you can refuel your snowball ammo by answering quiz questions correctly. Here's a great Re:EdTech video of Gimkit Gameplay of how launch, join, and the quizzing portion of gameplay looks.
Pros of Gimkit
Kid-friendly. The game's upgrades and power-ups keep students interested and eager to continue.
Importing convenience: Questions can be easily imported from existing Quizlet Live sets or a CSV file.
Kits can be assigned as homework, allowing students to progress at their own pace
Cons of Gimkit
It's a restricted way of learning: if you want your students all participating together rather off and immersed in their own screens, it doesn't enable this
Restricted free version: The free subscription allows for only 5 kits and a single edit per kit.
Simple interface: The platform offers only multiple-choice questions, lacking audio or multiple answer options.
Limited feedback: Incorrect answers are only followed by the correct answer, without explanation for the mistake, unlike Kahoot's review process.
Game length and variety: The game's time or combined total length and repetitive questions can make it monotonous without a sufficient number of questions.
Cost: The free version is limited to 5 kits and 1 edit per kit.
Pricing
Gimket's free tier is very usable. The main restriction is that you only have access to three of the game "modes" or types (like Snowbrawl). If you want more game options, you'll have to upgrade to Pro. This gets you access to all the game modes.
The Gimkit Pro annual plan is $60 for the year, and the monthly plan is $10 a month ($120 a year).
Overall: Gimkit
It's best used as a way to get kids feeling like they're playing, with some formative assessment snuck in around the edges. If you want some time off, it's a good way to get a rest during the day, since it basiaclly keeps the kids occupied with a video game.
‍
‍
‍
Quizizz
‍Quizziz is one of our favorite interactive quizzing platforms — it's full featured and gamifies lessons while still being education-focused. (It's also one of the most expensive option on the list). It's similar in its basic idea to Kahoot: you build or find a quiz, present it live, and let your students join in and play through. It's a little more slick and souped-up looking, and has a better design feel than Kahoot. It's also got more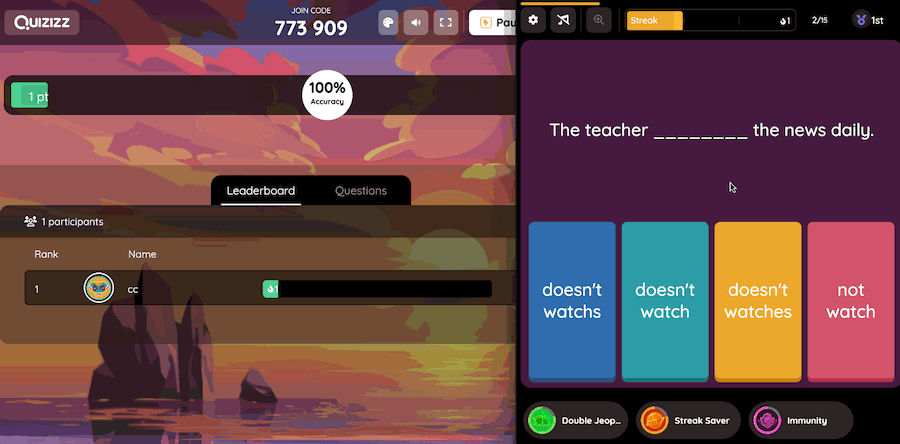 What it is
Quizizz lets you build, edit, and share interactive quizzes and lessons, including both teacher-led and self-paced quizzes or lessons. The editor lets you incorporate various question types and multimedia elements in customized quizzes.
Pros of Quizizz
Creation of lessons, quizzes, and presentations is straightforward and flexible
Blogs and teacher resource section provide a good amount of guidance and updates
Extensive library of pre-existing quizzes and presentations
Cons of Quizizz
The free plan is pretty mean: There are ads, it restricts number of questions per quiz/presentation, and you can't use featured content
Restricted options for spending virtual coins: Students would appreciate more avenues to spend their in-game earnings.
No option to edit responses: Quizizz doesn't let students modify their answers, which may affect their scores.
Inadequate review summary: A more thorough summary of incorrect responses for review before re-attempts would be beneficial.
Pricing
A Quizizz upgrade runs $12 a month, and lets you have more players and more power during your events (eg. you can do things like pause a game with the upgrade).
Overall: Quizizz
Quizizz may be expensive, but you get a lot for the pricetag. There are so many pre made lessons and quizzes to choose from, and it's our second favorite option on this list.
‍
‍
‍

Overall Choice
Our final choice for the best interactive software for the classroom? Slides With Friends.
If you're looking to engage your students while still looking professional and keeping things not feeling like "let's just play a video game", Slides With Friends is the best option.
What you can do with Slides With Friends:
- Create your own interactive lessons and slide deck games
- Run quizzes / exams or formative assessments, classroom games, icebreakers, review games, and more
- Ask multiple choice or text-answer quiz questions, run live polls, play show & tell with photos, create word clouds live, play "Apples to Apples" type games, send fun sounds, and more
To get started, you can check out the popular decks library, copy any deck into your account, and launch a presentation. Students join in on any device that has the internet, like a tablet, desktop, or smartphone. Students love the soundboard and silly avatars.
‍Overall it's fun, inventive, and easy to use.
‍
‍
‍