Whether you want to test your colleague's knowledge, run a team training, or help your students learn, these days it's easy to create interactive quizzes.
Here's a list of the best tools to build your own fun, live quiz, all chosen for their engaging and dynamic quizzes (and easy set up for you).
Here's the top online quiz creators:
‍
Slides With Friends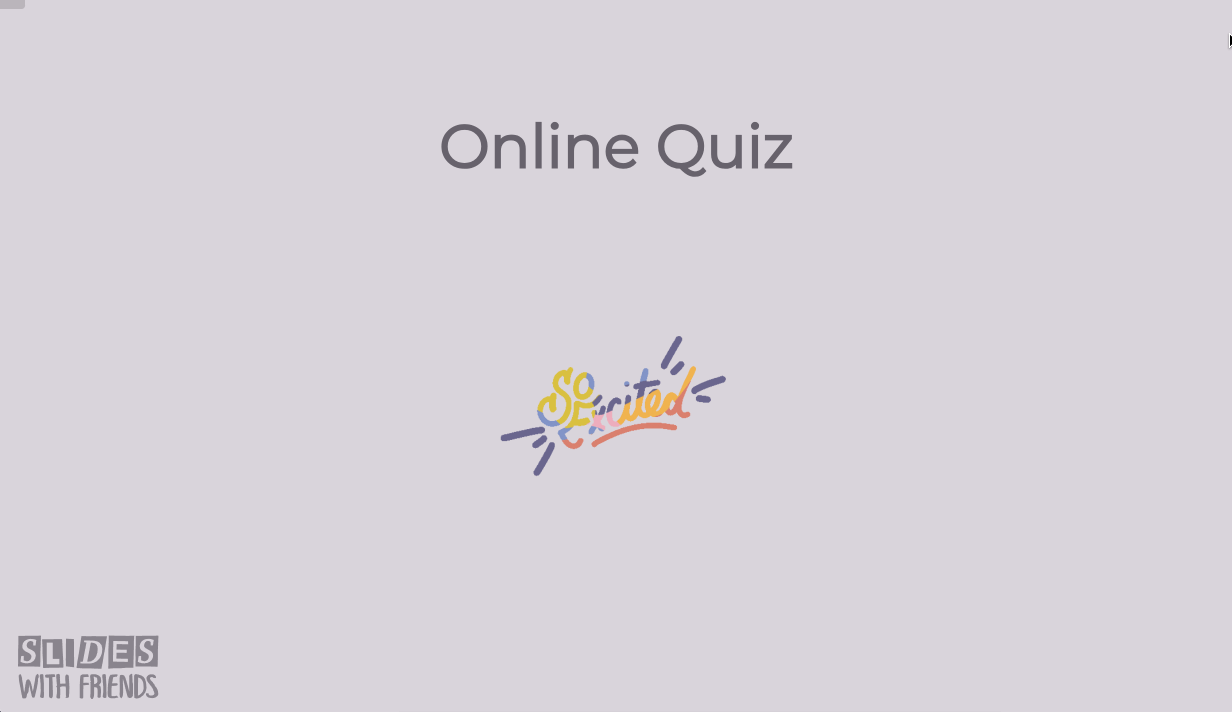 Slides With Friends is our favorite from these options. It enables you to drop in and build a quiz like a slide deck presentation. It's simply to use, you don't need to know any code, and you can create a quiz in minutes.
It works like a slide deck presentation builder, like PowerPoint or Google slides. Except that each slide you add is a different type of interaction, like a multiple choice question, text answer question, or score leaderboard slide. Then you launch your presentation like a slide deck, and your players join in with a QR code to answer on their phones. Easy, quick, and fun. Our top pick.
‍
Quizizz
‍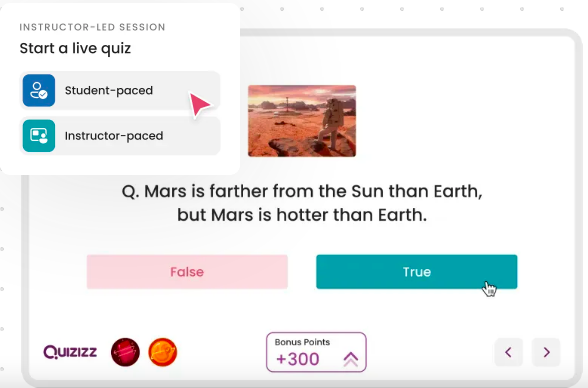 ‍
Overview: 
Quizizz is an online quiz creator that is designed to make learning fun. It is used in over half of the schools in the United States and in 150 countries worldwide. This live quiz maker has widespread use in the education market. Quizizz has a teacher-created library of over 30 million activities. 
Pros: 
Millions of pre-made quizzes across an enormous array of topics 
Easy customization 
Many different answer types 
Cons: 
Free trial is only 7 days 
Some plans are only available to certain schools and districts 
Pricing: 
Standard Plan: $25 per month
Premier Plan: $48 per month
Enterprise: Custom 
‍
‍
Interact  
‍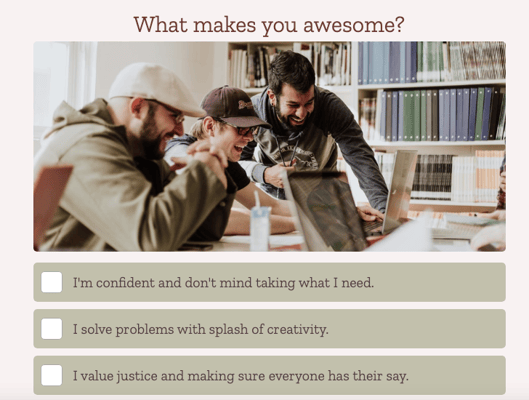 ‍
Overview: 
Interact is a sophisticated quiz builder that can be easily integrated into a variety of marketing tools. This live quiz maker boasts some impressive statistics such as having a company use it to generate a 78% opt-in rate and another company generating 2,500+ leads with a single quiz. 
Pros: 
800+ pre-made templates 
Allows AI to create quizzes for you 
GDPR- Compliant 
Cons: 
Support isn't always great outside of the U.S.
The Lite version only offers 5 quizzes 
Pricing: 
Lite: $27 per month 
Growth: $53 per month
Pro: $125 per month
‍
‍
Kahoot!
‍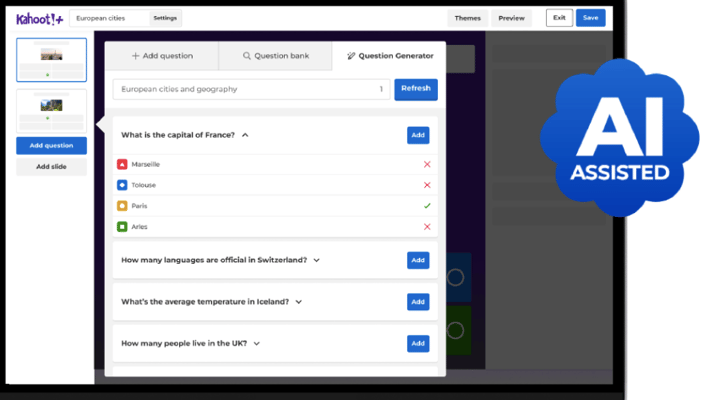 ‍
Overview: 
Kahoot! Is a game-based learning platform and online quiz maker. The company is based in Norway. Kahoot@ is one of the best tools for the gamification of learning. With Kahoot!, users can easily generate multiple-choice quizzes called "Kahoots!" on a variety of topics. 
Pros: 
 Has a library of 100 million+ pre-made quizzes 
 Many different question types are available  
Kahoots can be created in seconds or minutes
Cons: 
No flashcards 
The free version is very limited 
Pricing: 
‍Start for Teachers: $3.99 per month
Premier for Teachers: $7.99 per month
Max for Teachers: $9.99 per month 
‍
‍
Brainscape Quiz Builder 
‍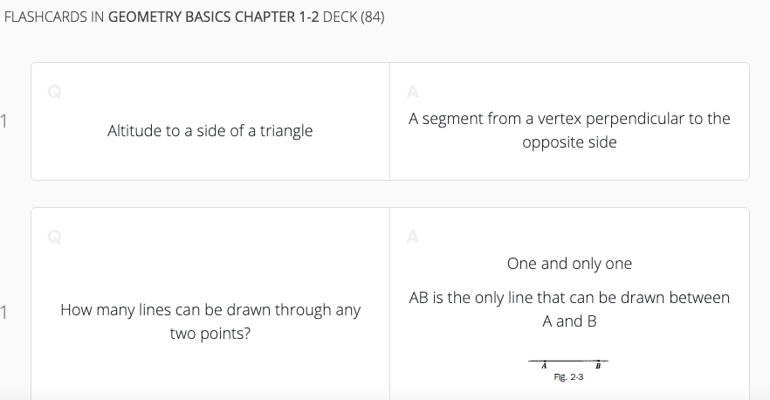 ‍
Overview:
Brainscape is a flashcard-style quiz app that is designed to help users to study more efficiently. It is trusted by millions of people around the world. Brainscape is a good alternative to the flashcard feature that is offered by Quizlet. 
Pros: 
There are flashcards for thousands of different subjects 
It can be easily used by both schools and companies 
It is very easy to get signed up and going 
Cons: 
The premium option does not have practice tests 
Design is a little basic 
Pricing: 
Monthly: $19.99
½ Yearly: $59.99 billed every six months
Yearly: $95.99  
‍
‍
Riddle 
‍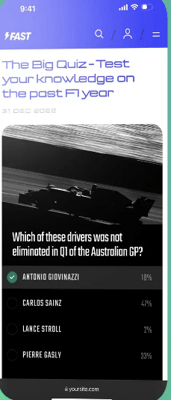 ‍
Overview: 
Riddle is a "world-class quiz maker." This quiz making tool is designed to create higher levels of customer engagement and unlimited first-party data. This quiz maker is fully GDPR/CCPA compliant. This means that it provides a lot of privacy and it makes compliance easier. 
Pros: 
Wide range of quiz types including personality quizzes, audience polls, timed quizzes, and more 
Optimized for privacy 
Does not require a credit card to try out 
Cons: 
Prices are on the higher side 
Designs appear a little old and outdated 
Pricing: 
Essential: $59 per month
Pro: $119 per month
Business: $249
Enterprise: Prices on request
‍‍
‍
Quiz Maker 
‍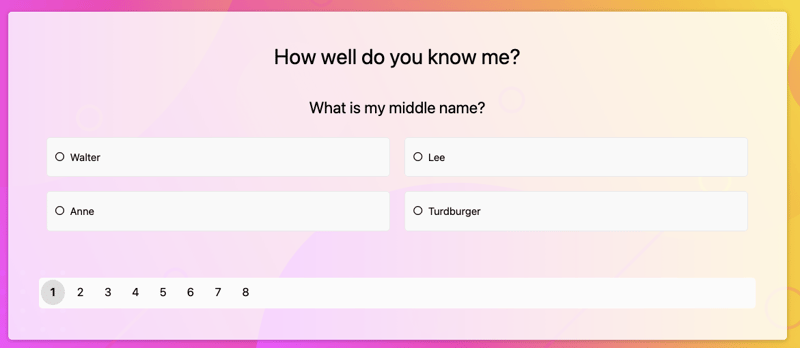 ‍
Overview: 
Quiz maker is an online quiz maker that was created to be extremely simple to use. In fact, it is one of the easiest quiz makers to use available on the market. Because of this, it is an excellent option for beginners or people who are not used to making online quizzes. 
Pros: 
38 question types 
Timers for quizzes 
Custom branding and themes
Cons: 
Does not have an abundance of advanced features 
Prices are relatively high considering the lack of advanced features 
Pricing: 
Limited free version: $0 
Student: $23 per month 
Professional: $39 per month 
Business: $55 per month 
Enterprise: Custom
‍
LeadQuizzes 

‍
Overview: 
LeadQuizzes is a quiz making tool that is designed for marketers to be able to get more leads and learn more about their audience without the assistance of a developer. This tool is primarily used by small and medium-sized businesses. It offers cloud, SAAS, and Web-based implementation. 
‍
Pros: 
Chat support 
Training webinars 
Extremely user-friendly 
‍
Cons: 
It requires a credit card for the free trial 
Pricey 
Pricing: 
Standard: $37 per month
Pro: $74 per month
Premium: $186 per month
‍
‍
Quizlet 
‍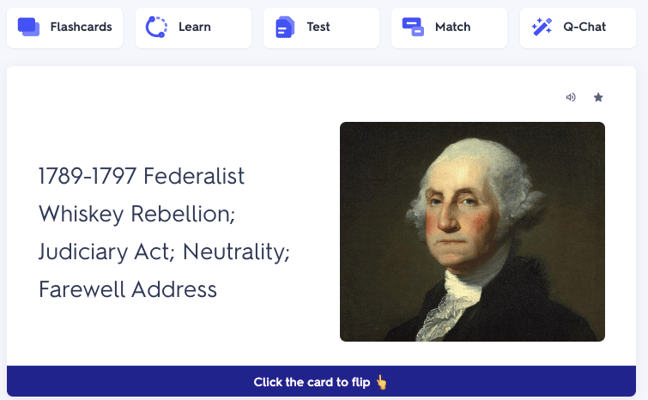 ‍
Overview: 
Quizlet is a global learning platform that has over 300 million users. This company offers flashcards, quizzes, AI tutoring, and more. It also provides detailed step-by-step explanations for complicated topics. Quizlet was founded in 2005 by a 15-year-old student and it is based in the United States. 
Pros: 
94 percent of Quizlet users say that Quizlet helps them get better grades 
Has sophisticated AI features that help with learning and note-taking
Has a "Brain Beats" feature that uses music to help users remember specific flashcard answers 
Cons: 
The ads within Quizlet can be a bit distracting 
A lot of the best features are only available with the most expensive version
Pricing: 
$35.99 per year or $7.99 per month
‍
‍
Mentimeter 
‍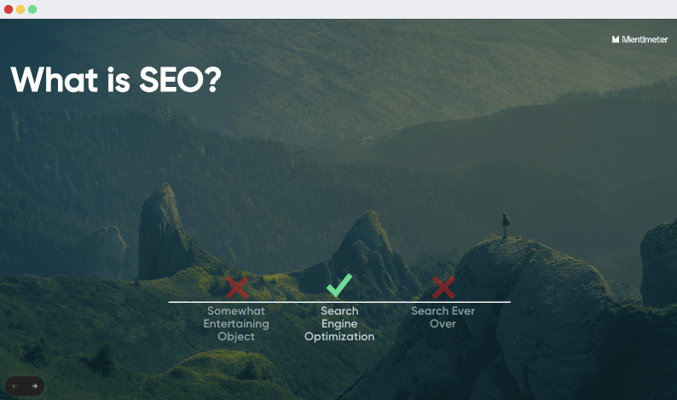 ‍
Overview: 
Mentimeter is an online quiz builder and interactive presentation software company based in Stockholm, Sweden. With over 270 million users, Mentimeter is an extremely popular quiz maker. Mentimeter is commonly used in both education and business environments. This is because it has an array of features and tools that can be useful for both companies and schools. 
Pros: 
Live polling 
Users can create presentations in addition to quizzes 
It has a free version as opposed to just a free trial 
Cons: 
At times getting support can be difficult 
The app sometimes takes a while to load 
Pricing: 
Free - $0 
Basic - $11.99 
Pro - $24.99 
Enterprise - Custom 
‍
‍
‍
Jotform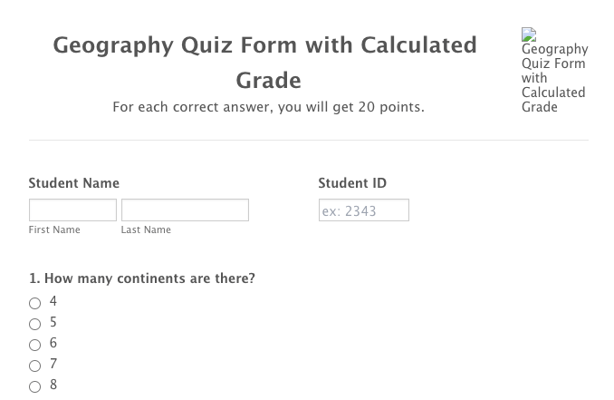 ‍
Overview: 
Jotform is an online quiz maker and form builder. The company is based in San Francisco and it has over 20 million users. In addition to quizzes, there are many different forms that can be built with Jotform including product order forms, information, request forms, feedback forms, and many more. 
Pros: 
It easily integrates with a wide variety of software such as Zoom, Slack, Mailchimp, and more. 
Its quiz format is clear and concise 
Can create many different forms besides just quizzes 
Cons: 
The website can seem a bit overwhelming and difficult to navigate 
The paid subscriptions are pricey
Pricing: 
Starter - Free 
Bronze - $34 per month 
Silver - $39 per month 
Gold - $99 per month 
‍
Bonus —WordPress Plugin Quiz Makers 
Formidable
‍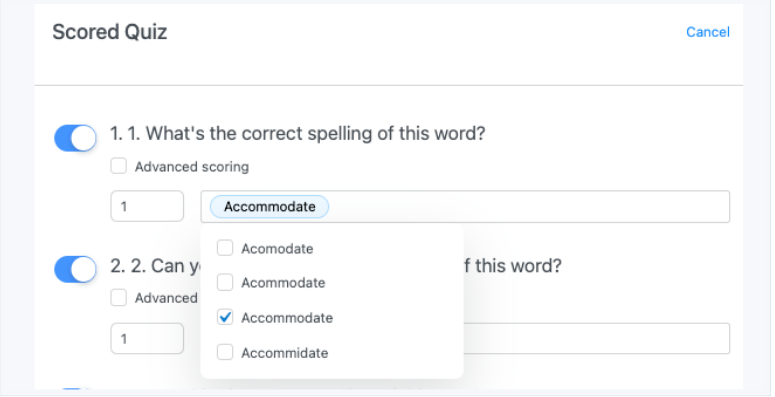 ‍
Overview: 
Formidable is a WordPress quiz plugin that has a variety of useful features. This quiz maker can be used for education, business, or going viral. With this handy quiz maker, you can easily add your questions, images, conditional logic, automatic scoring, and a results page. 
Pros: 
Flexible quiz types 
Customizable results pages 
Easy integrations with email platforms, multi-language sites, social sharing, CRM, and more
Cons: 
Not as intuitive as many other quiz makers 
Can require you to watch a lot of tutorials because their wording is a little unclear 
Pricing:   
Basic: $39.50 per year
Plus:  $99.50 per year 
Business: $199.50 per year 
Elite: $299.50 per year 
‍
‍
ARI Stream Quiz 
‍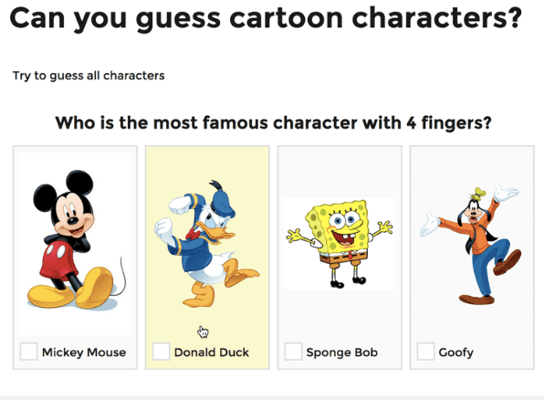 ‍
Overview: 
ARI Stream Quiz is a low-cost WordPress plugin for quiz making. It is an excellent option for people who have WordPress sites and need to integrate quizzes to create leads, collect user data, and/or educate their users. 
Pros: 
One of the cheapest quiz making tools on the market 
You can install it on an unlimited number of WordPress sites for $25 
It's easy to use 
Cons: 
Lack of customization options and advanced features 
No branching logic 
Pricing: 
Personal License: $17 
Developer License: $25
‍
‍
Thrive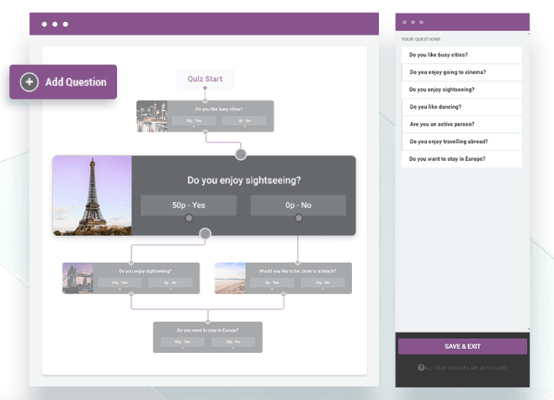 ‍
Overview: 
Thrive is one of the most popular and arguably one of the best online quiz makers for WordPress. This quiz builder allows you to build extremely complex quizzes with no coding with branching logic. It also has a "builder window" that makes it super easy to see what your quiz will look like while you build it. 
Pros: 
You can install quizzes on up to 25 websites 
Extremely intuitive 
You can split-test different designs for the results page 
Cons: 
There's no free trial available 
Only for WordPress sites
Pricing: 
Thrive Quiz Builder: $99 / year
Thrive Suite: $299 / year
‍
‍
Overview
Out of all the options, we've selected Slides With Friends as the bet online quiz maker/ It's the most engaging for teams, and the easiest to build for new users.

‍
Subscribe for more articles like this
Subscribe to our newsletter for research-based content on community building, remote culture, and employee well-being. Get critical tools for a remote world.