Do you want to know what your employees think about your company, culture, and leadership?
Then, you need to implement a feedback program, an initiative 36% of companies still need.
But before you launch anything, know your program shouldn't be just any program—it should be one that allows your team members to use anonymous feedback tools.
The reason?
‍According to The State of Employee Feedback, 74% of workers would be more willing to share their thoughts and feelings if they could deliver them anonymously.
According to our report, 74% of employees would be more inclined to give feedback about their company, workload and culture if the feedback channel was made truly anonymous. This also means that by not having access to anonymous channels, employees are less likely to give feedback, and employers may be missing out on key information about their workplace because of it.
- Claire Schmidt, Five Reasons Your Organization Needs An Anonymous Employee Feedback Program
Creating Space for Anonymous Feedback 
If you think my team would never have issues giving public feedback because I'm approachable and understanding, take a minute to understand why their hesitation makes sense. Have you always been someone who provided feedback to your superiors in the workplace, even if it was constructive and helpful? For most people, the answer is "no." 
Whether you're an entry-level employee, manager, or executive, delivering feedback to someone whose title has more weight than yours isn't always easy. The fear of getting treated differently, ostracized, or blamed for the issues you've mentioned can be paralyzing. 
Fortunately, anonymous feedback tools eliminate the nerves and anxiety associated with giving honest insights.
‍But which ones should you use?
Below are the top five platforms that gather anonymous employee feedback.
1. Slides With Friends 
While gathering workers' thoughts can be a serious matter, it doesn't have to be boring! Slides With Friends makes surveying your team fun and easy. The platform offers tons of interactive, ready-to-use poll templates that resemble PowerPoint slide decks. 
You can immediately choose and use any Slides With Friends deck to get your team's insights and opinions. You can also customize the templates or build your own to incorporate specific questions, videos, images, fonts, brand colors, logos, and whatever else you think is necessary to engage your employees. 
Even better, team members can submit anonymous feedback using their mobile devices.
Slides With Friends works for in-person, hybrid, and remote teams, so all you have to do is make sure the slide deck is visible. That means you'll need to share your screen if you're meeting with your team virtually or make your monitor observable if you're all in the office. Once everyone can see the deck, you can go through each slide, allowing team members to provide answers to every question they see.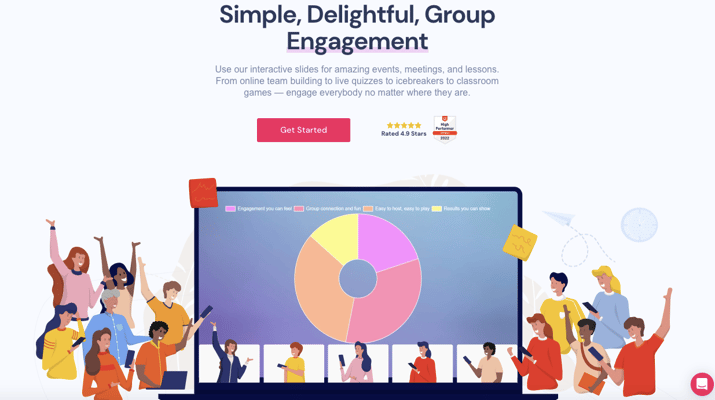 Advantages of Slides With Friends
‍Regardless of the slide deck you choose, customize, or create, you have access to tons of interactive features, including: 
Word Clouds: team members can submit words and vote on their favorites to help share popular opinions. 
Live Polls: workers can answer short polls and see real-time results with graphs, donut charts, or ratings.
Live Photo Sharing: employees can submit images to display how they're feeling or thinking. 
Multiple Choice: participants can answer multiple choice questions that you've created.
Text Answers: team members can write longer responses to questions. 
Trivia: staff members can enjoy a gamified experience to deliver anonymous feedback. 
Analytics: you can save and export data to analyze insights more thoroughly, share feedback, and identify recurring themes. 
Price
‍Slides With Friends is free for up to 10 participants. The paid packages range from $8-$24 per month. 
2. Motivosity 
Motivosity is an employee engagement software that provides companies with a rewards and recognition program. The platform offers anonymous pulse surveys and employee net promoter scores (eNPS). With this tool, you can regularly collect insights from team members to discover areas of improvement, identify trends, make decisions to increase employee engagement, and see how your company is performing compared to others in your industry.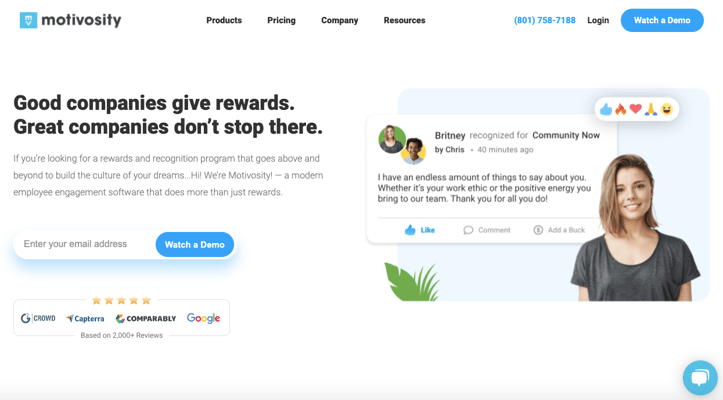 Advantages of Motivosity
‍While Motivosity allows you to collect anonymous feedback, it offers other products since its main focus is employee engagement. Those products include the following: 
Connect: employees and peers can learn more about each other by viewing personal profiles, joining interest groups, and looking at personality maps.  
Recognize: team members can recognize each other on the platform and show public appreciation. 
Lead: managers can access training and tools to become the leaders their teams need. 
Price
‍"Connect" is free. However, the other products—including the ability to gather anonymous feedback—require a monthly payment per user. 
‍3. Bonusly
Bonusly is designed to foster a culture that encourages workers to provide honest opinions and acknowledge their peers, managers, and direct reports. 
With Bonusly, you can build surveys for team members to deliver actionable, meaningful feedback. The tool comes with survey templates you can utilize, but also allows you to create surveys from scratch.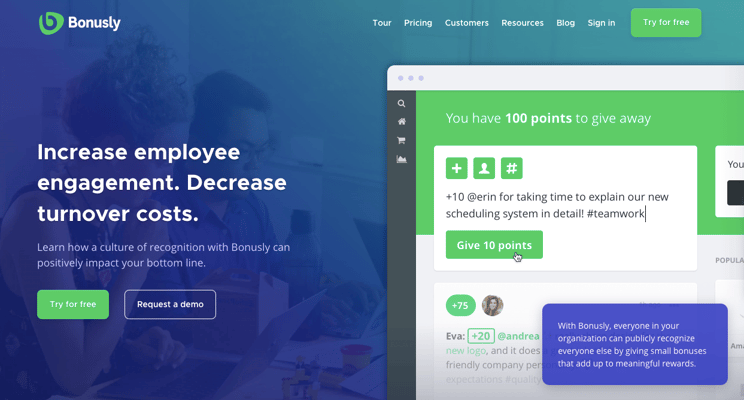 ‍Advantages of Bonusly
‍If you're interested in using Bonusly, here are a few features you can enjoy: 
Signals: with this feature, you can use a point system to incentivize employees to participate in the anonymous survey. 
Integrations: this tool integrates with Microsoft Teams, Slack, Chatter, and Yammer. 
Global Catalog: team members can access a digital rewards catalog to award those in the workplace with gift cards from popular brands. 
Price
‍Unfortunately, there is no free option with Bonusly. The cheapest plan is $2.70 per user per month when billed annually, but doesn't include critical features like incentives for employee feedback.
4. Vevox
Designed primarily for hybrid meetings, Vevox is an anonymous feedback tool team members can use to contribute opinions, questions, and ideas. You can use it as a standalone app or enjoy its integrations with PowerPoint and Microsoft Teams. Either way, team members can use their mobile devices to submit answers to questions, making Vevox a simple, straightforward platform. 
After collecting data from employees, you can download the insights as an Excel file to analyze and identify common themes. Vevox also provides a dashboard that lets you view data in real time and save information as stats, charts, or polls so you can determine the best way to view and share feedback.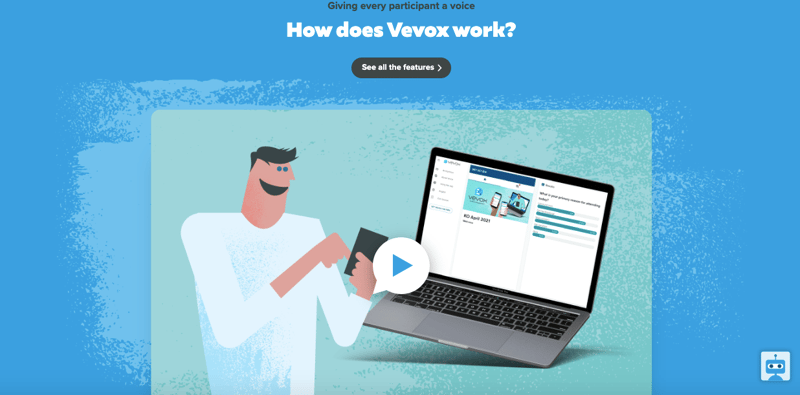 Advantages of Vevox
‍This tool offers various features such as: 
Live Polling: employees can answer questions from live polls and see real-time results.
Q&As: participants can voice their questions by upvoting specific comments that they want to be answered.
Surveys: workers can take surveys that include star ratings, multiple-choice polls, and more to provide quick feedback.
Word Clouds: team members can submit words and vote to make ones bigger to express their primary feedback.
Price
‍The introductory tier is free but doesn't include surveys. Individual plans also fail to come with certain integrations that team plans include. Paid plans range from $6-$799 per user or per month. 
5. TINYpulse  
Created to help you get employee feedback on a continuous basis, TINYpulse lets you design and send quick surveys with one question every week. Once your survey is ready, you can email a link to employees so that they can access it, or you can tell team members to respond using the iOS or Android app. If workers forget to respond to a survey, TINYpulse can send reminders to ensure they provide feedback. 
Another great aspect of TINYpulse is its questions, which are reportedly based on science. The insights gathered allow the system to spot patterns in employee turnover and engagement. However, one of the major downfalls of this tool is that some of its feedback collection methods aren't anonymous.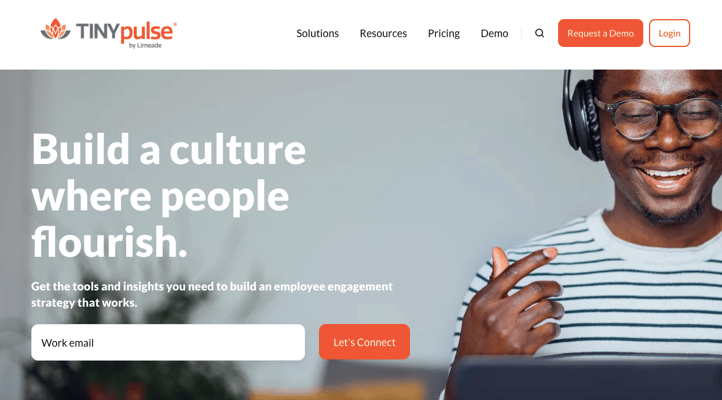 Advantages of TINYpulse
‍This platform offers various beneficial features, like the following:
Cheers for Peers: you can recognize employees' hard work to acknowledge their contribution to the team.
Coaching: if employees say they want more guidance, TINYpulse provides coaching tools that managers can use with team members. ‍
Integrations: TINYpulse can integrate with many platforms, including Gmail, Slack, Microsoft Teams, and Microsoft Outlook.
Price
‍You have to contact the company for a quote. 
Get necessary insights
Gathering employee feedback is such a significant part of having a successful business. Knowing how team members feel and think will give you the opportunity to make changes to increase engagement levels, productivity, and goal achievement. 
Implement a feedback program with tools that let workers share their opinions anonymously so you get the honest insights you need to move your team and company in the right direction.